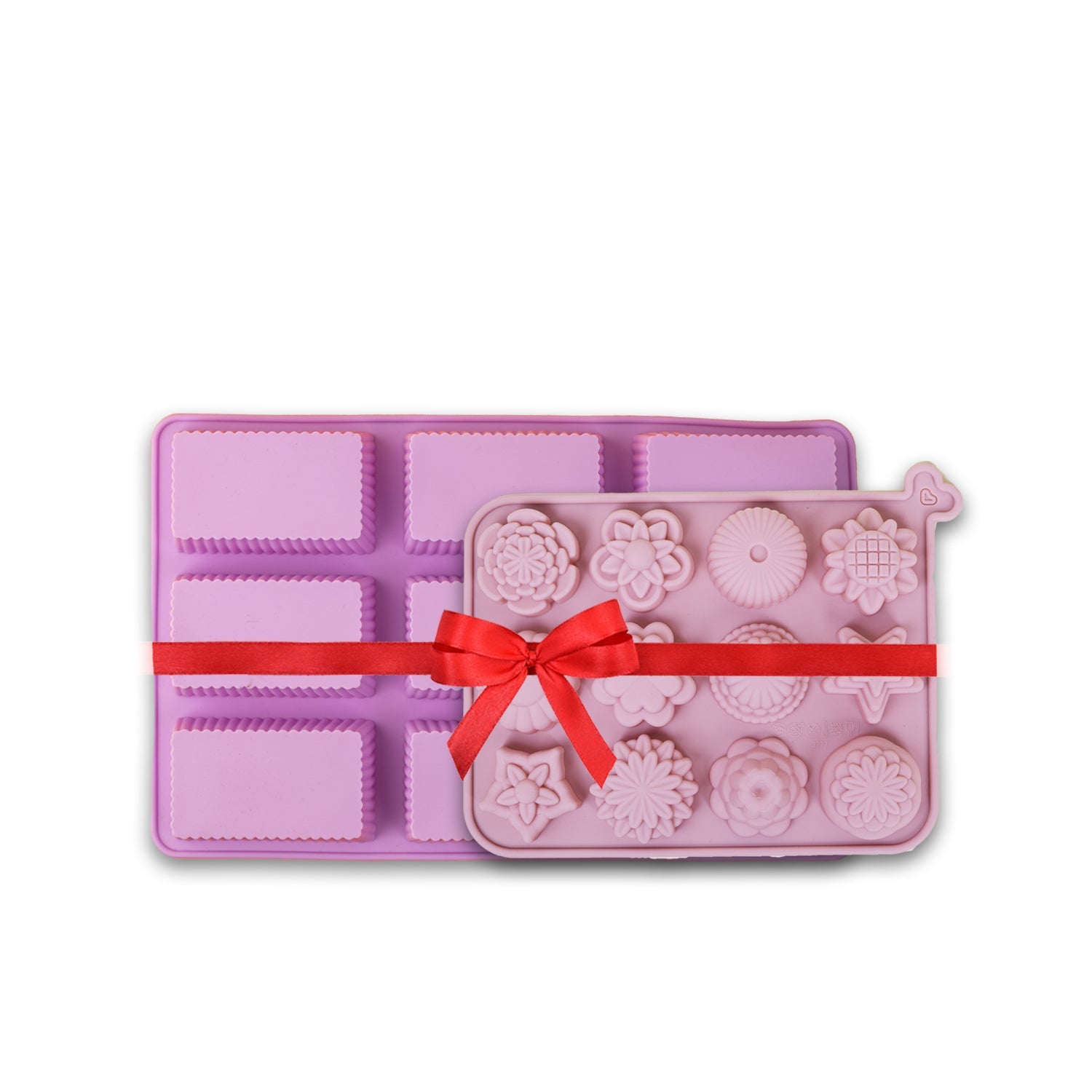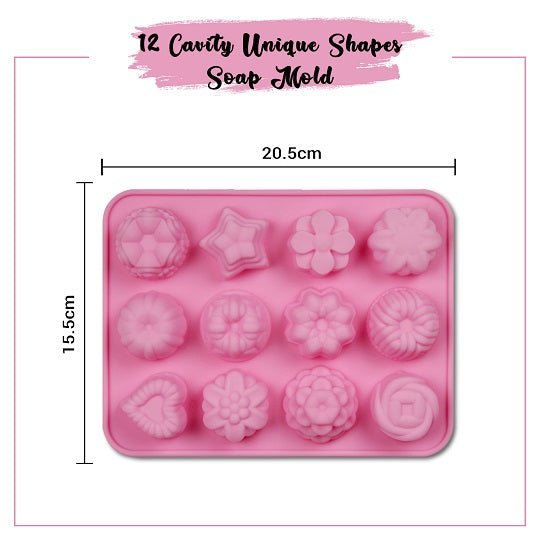 Our Certifications
9 & 12 Cavity Combo Pack Soap Mould
High Quality Soap Mould
VedaOils is offering a Unique Multi Shape Soap Mould that is made from high-quality silicone. It comes with perfect finishing and is both durable and flexible when it comes to setting soaps.
Combo Pack Soap Mould
One multi-purpose soap mould useful for making multiple shaped soaps simultaneously. It is cost-effective as instead of buying 12 different soap moulds, you can buy single 12 shaped soap mould,
emperature Resistant
Soap Mould is heat-resistant up to 440 Degree- Fahrenheit. Our 100% food-grade silicone can be used in the microwave, dishwasher, freezer, oven or any other electronic equipment without risk or issues.
Multiple Uses
Multi purpose soap mould is also perfect for making candle making, Baking, Skincare & Bath care applications. Utilize Multi Shape Soap Mould for making candles, massage bars, resin, sugar scrubs, and other DIY products.
Durable & Flexible
Made from premium-grade silicone material, you can set and retrieve soaps easily with Multi Shape Soap Mold. After use, you can conveniently clean soap mould base with a dishwasher and use it countless times to make soaps.
Easy to Clean & Reusable
Multi Shape Soap Mould is made from non-toxic material that does not react with your soap making ingredients. Its non-stick finish enables you to push out the soaps cleanly once they are set.
Product Specifications
| | |
| --- | --- |
| Brand: | VedaOils |
| Product Name: | 9 Cavity Rectangle Shape + 12 Cavity New Multi Shape Soap Mould - Combo Pack |
| Colour: | Any Colour |
| Item Dimensions LxWxH: | 29.5 * 19 Centimeters & 21x15.9x2.4 Centimeters ( 12 Cavity) |
| Item Weight | 200 gm |
| Soap Weight: | 50-60 gm & 10- 20 Gm |
| Shape | Oval |
| Material: | Silicone |
| Packaging Type: | Any Colour Soap Mould be delivered, if required Colour is not available in Stock. |
Where To Buy 9-Cavity Rectangle and 12-Cavity Multi-Shape Moulds
VedaOils is a leading Supplier & Exporter of 9-Cavity Rectangle and 12-Cavity Multi-Shape Moulds supplies at a Wholesale rate in the UK. We are offering premium-quality Oval Shape Silicone Soap Mould that facilitates easy soap-making activity. Make attractive and high-quality soap bars, sugar scrubs, candles, and other DIY products by using Oval Shape Silicone Soap mould.
Order non-toxic and non-stick 9-Cavity Rectangle and 12-Cavity Multi-Shape Moulds with High heat resistance capacity. Easy to Clean, Flexible and reusable mould helpful in creating lots of high-quality soaps. Multipurpose super soft soap mould gives you the luxury of making 4 different shaped luxury soap bars at once.
We ensure quick delivery and standard packaging for soap moulds. Available in bulk quantities and at affordable rates, this soap mould is suitable for personal and commercial use. So get Oval Shape Soap Mould and re-discover your soap-making skills!
You can now place orders in bulk quantity of 9-Cavity Rectangle and 12-Cavity Multi-Shape Moulds in Bulk Quantity at the lowest price in the market. We ensure timely delivery of the products through the competitive and broad connection of our logistic partners. We also export our high-quality Silicone Soap Moulds to the US, Canada, Australia and other countries.
Frequently Asked Questions
WE NOTICE YOU ARE FROM
US & CANADA LOCATION