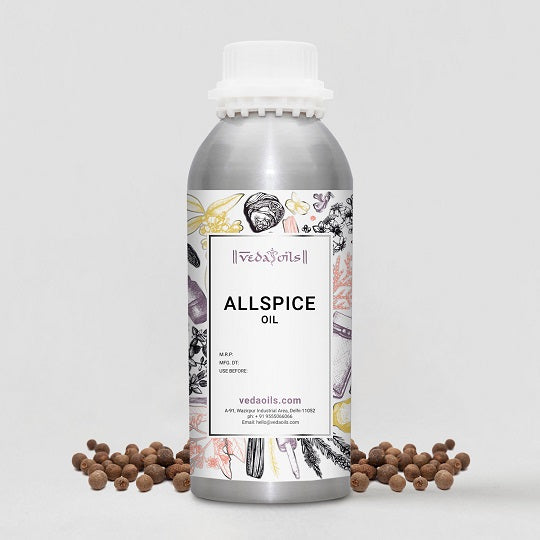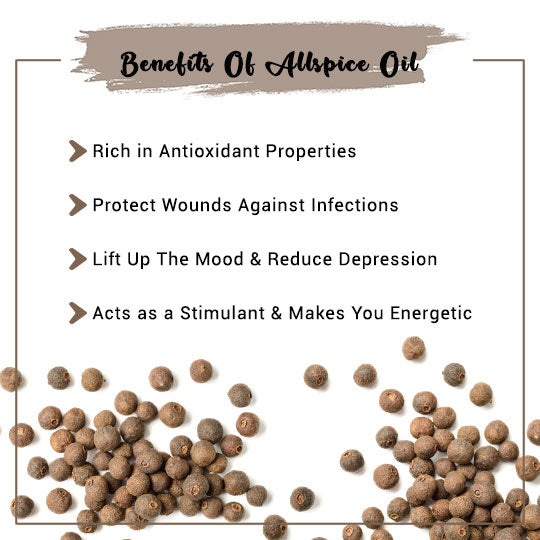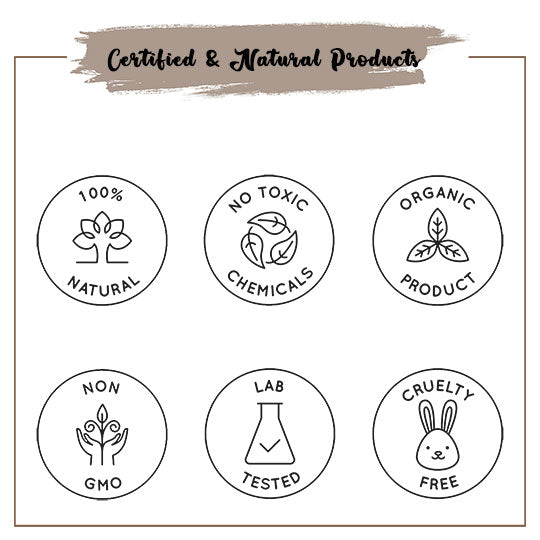 Our Certifications
Allspice Oil
Allspice essential has a long history in folk medicine; it comes from the unripe, dried berries of a tree called Pimenta diocia. Infused with many health and ayurvedic benefits, this essential oil relieves colds, eases breathing problems, and relieves headaches. Allspice essential oil is rich in anesthetic and analgesic properties that help relax strained muscles and ease the pain.
Devoid of any harmful preservatives, additives or chemicals, our Allspice Oil is 100% pure and safe to use in topical and aromatherapy applications. This oil contains aromatic compounds such as limonene, alpha-terpinene, eugenol, alpha-pinene, etc., that give it anti-inflammatory properties. These compounds also contain powerful antioxidants that help you to use them for skin and hair care purposes.
VedaOils provides pure and natural Pimento Berry Oil, which is used widely in cosmetic products due to its antifungal, antiseptic, and antibacterial properties. No artificial preservatives and synthetic ingredients are used for making it, which makes it safe for everyone.
Our organic allspice oil is also used for flavouring recipes due to its spicy and delicious flavour and aroma. Use it against infection due to its antiviral qualities. It is also healthy for hair and is used for numerous hair care purposes. Get this multi-faceted natural oil today and use its advantages for your skin, hair, and overall health.
Pimento Berry Essential Oil Uses
Acne Care Products
Allspice oil can be used in skincare products to prevent acne and pimples. It is possible due to its powerful antioxidants and anti-inflammatory properties. It also curbs the issues that are caused due to bacteria and fungus.
Hair Growth Products
Our Pure Allspice Oil proves to be healthy for your hair, and it improves blood flow in the scalp area. As a result, it directly contributes to hair growth and can also cure baldness to some extent.
Pain Relieving Oil
Strong anti-inflammatory qualities of allspice oil make it effective against muscle cramps and joint pain. It is also used for reducing the pain associated with arthritis and muscle stiffness.
Aromatherapy
AllSpice Oil has a calming effect on your mind and relaxes your nerves quickly. These uses can prove to be effective for dealing with stress, anxiety, and other mental issues. For this, you can diffuse this oil or use it via massage therapy.
Candle Making
Warm and spicy scent of our natural allSpice oil can be used for making scented candles. These candles can be beneficial for creating a comforting and warm feeling during the cold winter season. You may also diffuse it to eliminate foul odour from your surroundings.
Scented Soap Making
Therapeutic properties of allSpice oil make it suitable for use in cosmetic products and soaps. It can soothe skin irritation and provide relief from fungal and bacterial infections when used in soap-making formulas.
Allspice Oil Benefits
Heal's Nausea
People who are suffering from nausea can use it for getting faster relief. This is possible due to the energizing aroma of our pure pimento berry oil that refreshes your mind and soothes any issues related to indigestion. It also provides relief from diarrhea and vomiting.
Improve Digestion
Regularly incorporating it as a flavouring agent for your food items will ensure that your digestive process runs smoothly. You can replace the spice powder you use for curries, vegetables, beverages, and other cuisines with this oil as it contains all the spicy flavour.
Prevent Insomnia
Sedative properties of pimento berry oil make it effective against sleeplessness, i.e. insomnia. For that, you can use it as a bath oil or diffuse it before going to bed. Massaging it on your body may also relax your nerves and assist you in sleeping peacefully.
Improves Concentration
Inhaling our organic AllSpice Oil regularly or diffusing it will strengthen your cognitive function. Therefore, it can be used for improving concentration and can be helpful to those kids who suffer from a lack of motivation when it comes to studies.
Reduces Dandruff
Ability of natural pimento berry oil to boost circulation in the scalp area can be used to reduce dandruff. It may also prevent scalp irritation and may contribute to the overall health of your hair follicles. Manufacturers of hair care products will find these benefits to be impressive.
Aids Weight Loss
By improving digestion, our organic allspice oil aids weight loss and helps you to maintain body weight and shape. It also helps control body heat and prevents bloating and other issues related to improper digestion.
Product Specifications
| | |
| --- | --- |
| Product Name: | Allspice Oil |
| Botanical Name: | Pimenta dioica |
| CAS No: | 8006-77-7 |
| Country: | United Kingdom |
| F.E.M.A: | 2018 |
| Specific Gravity: | 1.024-1.055 @20°C |
| Optical Rotation: | 0°32' to -5°0 @20°C |
| Refractive Index: | 1.525-1.536 @20°C |
| Flash Point: | 93.33 °C |
| Origin of part used: | Berries |
| Form: | Liquid |
| Shelf Life: | 2 years |
| Packaging Type: | As Per Requirement |
| Extraction or Processing Method: | Steam Distillation |
| Solubility: | It is soluble in alcohol and some oils. |
| Color: | Pale Yellow |
| Odor: | Fresh, Warm, Spicy |
| Major Constituents: | N/A |
| Blends with: | Cinnamon, Clove, Geranium, Ginger, Lavender, Neroli. |
| Consistency: | Thin |
| MSDS: | |
CAUTION: It is meant only for external use. Therefore, do not consume rose fragrance oil internally and also keep it away from your eyes as it might irritate.
Packaging Sizes
Please Note: The packaging shown above is a General Representation of the various sizes and types of packaging available for this product. Not all sizes and types of packaging for this product maybe available at all times.
Buy Allspice Oil Online at Best Price in UK
VedaOils is one of United Kingdom's leading Wholesale supplier, manufacturer, and exporter of Allspice Essential Oil and other Essential Oils. We offer the purest forms of essential oils to our customers. No chemicals, additives, or fillers are added to them. They also do not contain any artificial colours, preservatives, and fragrances. Therefore, they prove to be ideal for daily use. Though entirely natural, you should dilute essential oil before using it for topical application as it is highly concentrated.
We employ numerous tests and quality checks to ensure that only premium-quality allspice leaf essential oil reaches you. The highest quality and packaging standards are employed to deliver desirable results on usage. Also, our portal uses a secure payment gateway to safeguard your transactions. Buy Allspice Essential Oil from VedaOils online according to requirements at the best competitive prices in the market.
You can order allspice berry essential oil for your daily purposes such as dark circles, skin lightening, hair growth, arthritis, digestion, and better oral health. Check out allspice oil price per Kg, and even you can purchase this essential oil in bulk quantity.
VedaOils offers its Allspice leaf Oil in packages of different quantities (100gm, 500 Ml, 1 Litre, 5 Litre, 10 Litre & 25 Litre ) so that you can order them as per your needs from our website. We also export our high-quality Allspice Essential Oil to the US, Canada, UK, Australia and other countries.
Our products follow the highest standards when it comes to quality and purity. We assure you that you will not regret choosing us! We also deliver the products worldwide using our logistic partners DHL, FedEx, etc. Do not miss this excellent opportunity to buy chemical-free, fresh, and multi-purpose allspice oil from VedaOils.
Frequently Asked Questions
WE NOTICE YOU ARE FROM
US & CANADA LOCATION