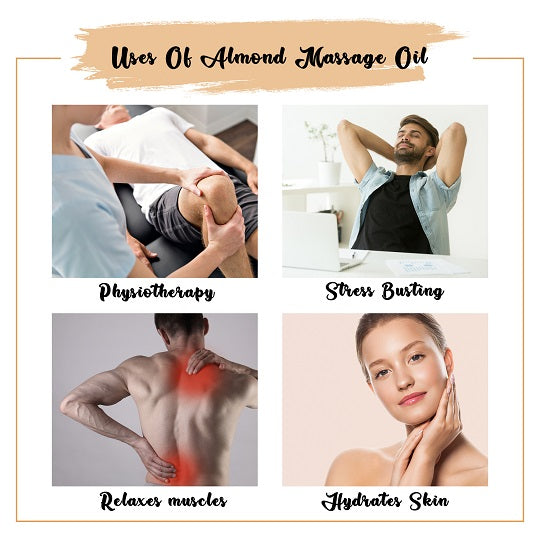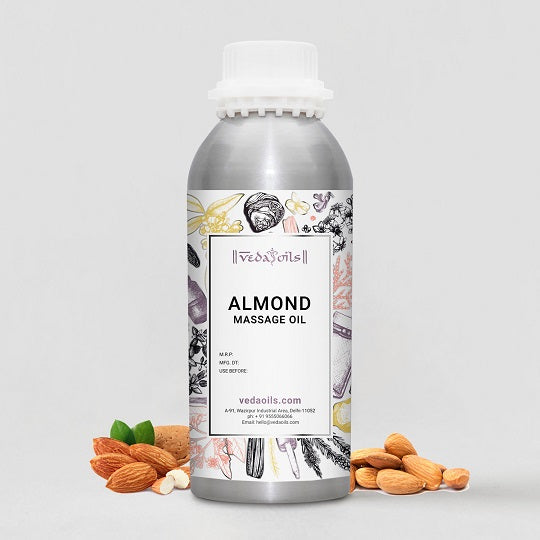 Our Certifications
Almond Massage Oil
Almond Massage Oil is obtained by pressing almonds so that most of the essential nutrients are preserved. Almonds are packed with nutrition, containing vitamin E, vitamin A, Omega-3, and fatty acids. It is also rich in proteins, potassium, magnesium, phosphorus, copper, and zinc. Having a high content of nutrients, this oil is extremely nourishing and hydrating, affecting the reduction of stretch marks, dryness, and dullness.
DHA and EPA components in Almond Body Massage Oil nourish and improve complexion as well as restore the skin's natural shine. Its emollient properties prevent the skin from losing its natural moisture, and it enables it to retain even more moisture. These properties improve skin complexion as well. Due to these benefits, it is highly beneficial to use oil massages on the scalp and the entire body.
Almond massage oil is naturally endowed with its highly potent antioxidant properties, minerals, vitamin, etc that helps to promote healthy blood circulation. Using Organic Almond Oil for aromatherapy massage relieves muscle tension and eases joint pain and stiffness. It also acts as a tension relief remedy for the reason that it helps to calm anxiety, depression, and stress. This massage oil is a classic base oil that is used by many therapists since it has been made using only natural oils. It is not allergenic so it does not irritate the skin.
How to Use: Take a few drops of Almond massage oil and apply it all over your body. Gently massage the body in a circular motion for 25-30 minutes. Leave it on for at least 30 mins so that nutrients can absorb deeply into the skin.
Almond Massage Oil Benefits
Nourishes Skin
Emollient properties of almond massage oil help to improve skin texture and tone. This oil contains a number of nutrients that provide intense nourishment to the skin and it also helps to naturally moisturize and hydrate the skin by preventing moisture loss from the skin.
Combat Dryness
Almond massage oil contains fatty acids that help to retain moisture and Vitamin E helps to soothe irritation caused by dryness. The zinc content in Almond oil eases rough, calloused skin, which is why it has been used to treat eczema and other dry skin conditions.
Relieves Muscle Tension
Almonds provide micronutrients such as calcium, which is important for bone health. Using almond oil to massage babies as well as mothers helps to strengthen their delicate muscles and improves blood circulation. It also helps relieve pain and stiffness in their muscles.
Stimulates Blood Circulation
Almond massage oil improves blood circulation and can counteract oxidative stress, soothe muscle spasms, inflammation, and promote healthy skin. Massage on your scalp improves blood circulation and promotes healthy hair growth.
Reduction of Strech Marks
Rich in Vitamin E, monounsaturated fatty acids, proteins, zinc, and potassium, almond massage oil helps in improving skin tone, thus fading away stretch marks. It also increases the supply of nutrients to the skin, making it more supple and flexible.
Reduces Stress and Anxiety
Deep tissue massage with almond massage oil helps to induce relaxation and sleep, to relieve anxiety and stress from the body. It purges toxins for a smoother and youthful appearance. The mild smell of this oil also increases energy levels.
Product Specifications
| | |
| --- | --- |
| Product Name: | Almond Massage Oil |
| Brand: | VedaOils |
| Country of Origin: | United Kingdom |
| Form: | Liquid |
| Color: | Light to Dark Yellow |
| Aroma: | Strong & Nutty |
| Alcohol-Free: | Yes |
| Usage/Application: | Body Massage / Aromatherapy |
| Packaging Type: | As per requirement |
| Storage: | Store in a Cool & Dry place. |
| Shelf Life: | 2 years |
Packaging Sizes
Please Note: The packaging shown above is a General Representation of the various sizes and types of packaging available for this product. Not all sizes and types of packaging for this product maybe available at all times.
Buy Almond Massage Online In UK at Low Price
VedaOils is one of the leading suppliers of Almond Massage Oil and other massage Oils in India. We offer the purest forms of natural oils to our customers. Our natural oils do not contain any additives, chemicals, artificial colors, or fragrances. Our raw almond massage oil goes through numerous tests and quality checks to ensure that only premium quality reaches you.
VedaOils Almond Body Massage Oil is 100 % organic and naturally extracted. It is beneficial for massaging the face, hair, and overall body. You can order the natural massage oil at the best price in United Kingdom from VedaOils. Our online portal uses a safe payment gateway for smooth transactions and hustle-free shopping.
We also deliver products all over the world using our logistic partners DHL, FedEx BlueDart, India Post etc. Do not miss this wonderful opportunity to buy chemical-free, fresh, and multi-purpose organic almond massage Oils from VedaOils.You can also buy carrier oils in bulk from us as we offer them at wholesale prices. Leave a bulk inquiry and we will get back to you right away!
Frequently Asked Questions