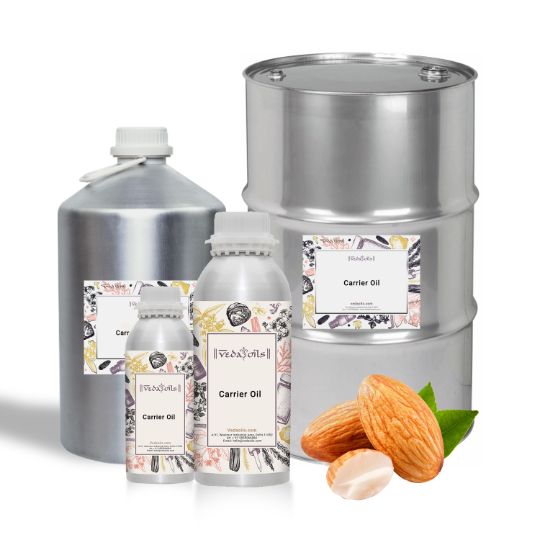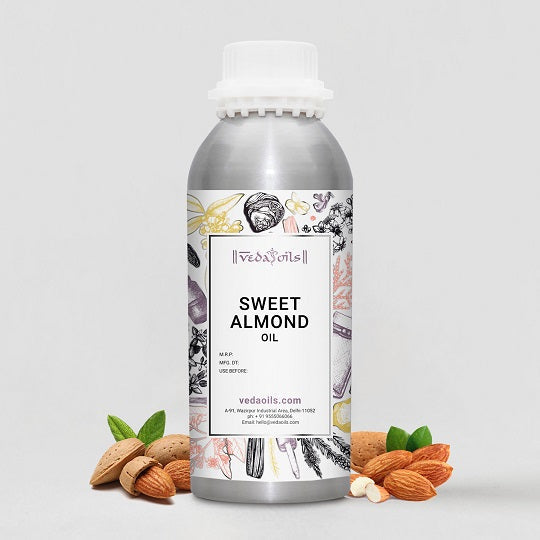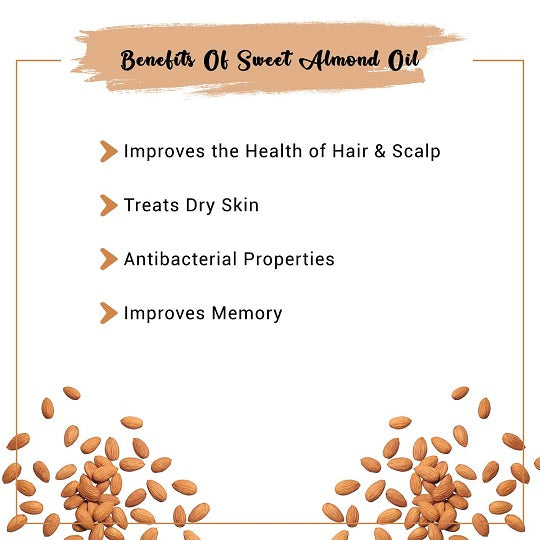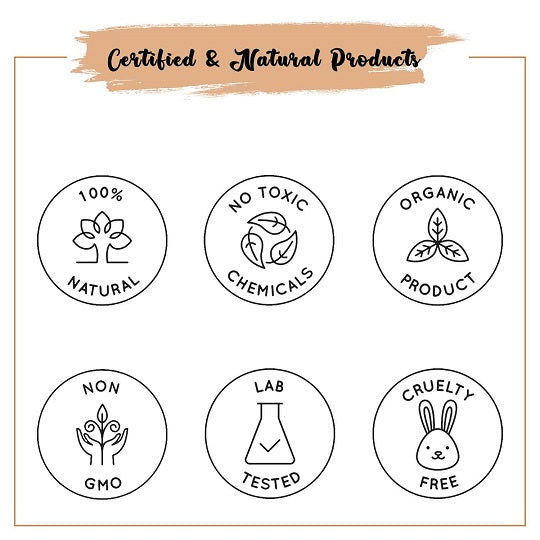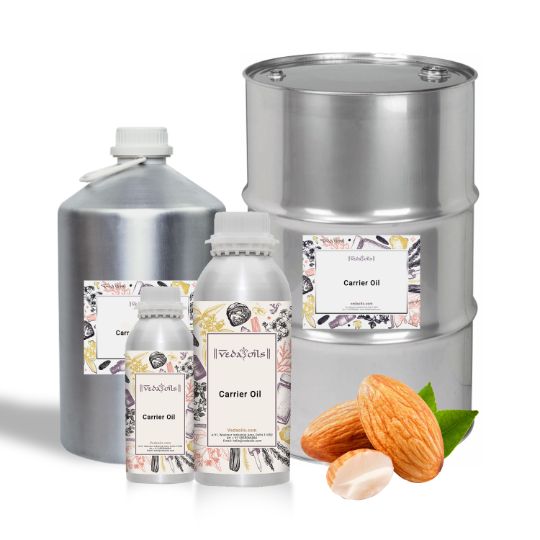 Our Certifications
Almond Oil
The oil extracted from almond seeds is known as Almond Oil. It is commonly used for nourishing skin and hair. Therefore, you will find it in many DIY recipes that are followed for skin and hair care routines. It is known to provide a natural glow to your face and also boost hair growth. When applied topically, natural Almond Oil helps your skin cells to retain moisture and nutrients for a long time. As a result, your skin does not become dry or irritated.
Apart from improving the condition and texture of your skin, it can also improve its complexion. Organic Almond Oil is known to be an effective ingredient for reviving the skin that is damaged due to pollution, sunlight, dust, and other environmental factors. The presence of vitamin E and other nutrients enables it to resolve hair issues like hair fall and split ends.
We offer fresh and pure Almond Oil that is unrefined and raw. No chemicals or artificial preservatives and added to organic sweet almond oil. Therefore, you can incorporate it into your skin and hair care regime without any issues. The anti-inflammatory properties of Almond Oil make it ideal for treating wounds, sub burns, and inflammation. The powerful antioxidants present in organic cold pressed sweet almond oil protect your skin from sunlight and other external factors.
Almond Oil Uses
Face Care Product
Add 3 tbsp of Almond oil in 1 or 2 teaspoons of Rose geranium, lavender, or lemon oil and massage it gently on your face. It will make your skin glow and will also eliminate the harmful toxins that accumulate inside your skin cells.
Skin Care Product
Mix 8 tbsp of gram flour in a blend containing 3 tbsp of almond oil, 1 tbsp of lemon juice, 4 tbsp of curd, 1 tbsp of turmeric, and 2 tbsp of pure honey and apply it all over your skin for removing the skin tan and impurities. Wash it after 15 minutes with lukewarm water.
For Beard Growth
Blend 3 tbsp of almond oil in 1 tbsp of rosemary, cedar wood, and lavender essential oil. Add 2 tbsp of argan oil and 1 tbsp of jojoba oil to it and use it as beard oil for improving the beard hair growth or for grooming it.
Eliminate Dandruff
Add few petals of hibiscus to a mixture containing 3 tbsp of Almond and Castor Oil. Massage it nicely on your scalp for getting instant relief from dandruff.
Healthy Lips
Add a few drops of peppermint oil in a mixture containing 2 tbsp of honey, 1 tbsp of brown sugar, and 2 tbsp of Almond oil. Use it as a lip scrub for making your lips pink, lustrous, and healthy.
Get Rid of Dry Skin
Blend 4 tbsp of curd in 3 tbsp of almond oil and apply on the areas where the skin is dry. Repeat this procedure at least once a day to rejuvenate dry skin quickly.
Almond Oil Benefits
Skin Whitening
As natural Almond Oil is enriched with vitamin A and vitamin E, it nourishes your skin deeply and enhances its complexion. Therefore, you can add a few drops of cold pressed sweet almond oil to your body lotions and face creams to get an instant improvement in your skin tone.
Hair Growth
The presence of Vitamin E enables you to use this oil for hair growth. Regular application of Almond oil on your scalp and hair roots will boost hair growth and make it long and silky.
Abolish Dark Circles
The skin lightening effects of pure Almond Oil prove to be effective in removing dark circles as well. You just need to dab a few drops of Almond Oil in a cotton pad and apply them under your eyes gently to get instant relief from dark circles.
Enhance Eyes
Almond Oil can be added to coconut or some other carrier oil to get relief from eye irritation or conjunctivitis. It also soothes the skin under the eyes and reduces wrinkles that may form below or around your eyes.
Diminish Stretch Marks
The skin repairing and regenerative properties of Almond Oil make it ideal against all types of stretch marks. Even the rigid stretch marks that women get after pregnancy can be reduced by regular application of Almond Oil over the affected area.
Fights Acne
The retinoid present in the Almond Oil make it effective for fading acne marks and the fatty oils present in sweet almond base oil dissolve unwanted oils from the skin and prevent acne. Therefore, it can be used for both acne prevention and treatment.
Product Specifications
| | |
| --- | --- |
| Botanical Name: | Sweet Almond Oil |
| Botanical Name: | Prunus dulcis |
| CAS No: | 8007-69-0 |
| Country of Origin: | India |
| F.E.M.A: | N/A |
| Specific Gravity: | 0.92 |
| Optical Rotation: | +48.00 to +78.00 |
| Refractive Index: | 1.467 |
| Relative Density @ 20̊C: | 0.912 g/ml |
| Flash Point: | > 200 C |
| Origin of part used: | Seeds |
| Form: | Liquid |
| Shelf Life: | 2 years |
| Packaging Type: | As Per Requirement |
| Extraction or Processing Method: | Cold Pressed |
| Solubility: | Soluble In Alcohol And Most Fixed Oils |
| Color: | Colorless To Pale Yellow Oily Liquid |
| Odor: | Nearly Odorless |
| Major Constituents: | Almond Seeds |
| Almond Oil Blends with: | Essential Oils & Carrier Oils |
| COA: | |
| MSDS: | |
CAUTION: It is meant for external purposes. Avoid direct exposure to sunlight. Do not let it come in direct contact with your eyes. Keep out of the reach of children.
Packaging Sizes
Please Note: The packaging shown above is a General Representation of the various sizes and types of packaging available for this product. Not all sizes and types of packaging for this product maybe available at all times.
Buy Sweet Almond Oil Online in UK
VedaOils is one of the leading suppliers of Sweet Almond Oil and other carrier Oils in India. We offer the purest forms of the carrier to our customers. Our carrier oils do not contain any additives, chemicals, artificial colors, or fragrances. Our food grade sweet almond oil go through numerous tests and quality checks to ensure that only premium quality reaches you.
VedaOils Carrier Oil is 100 % organic and naturally extracted. It is beneficial for face, skin, hair, and massage purposes. Order Natural Carrier Oil at the best price in India from VedaOils. Our online portal uses a safe payment gateway for smooth transactions and hustle free shopping.
We also deliver products all over the world using our logistic partners DHL, FedEx BlueDart, India Post, etc. Do not miss this wonderful opportunity to buy chemical-free, fresh, and multi-purpose Carrier Oils from VedaOils.You can also buy carrier oils in bulk from us as we offer them at wholesale prices. Leave a bulk inquiry and we will get back to you right away!
Frequently Asked Questions
WE NOTICE YOU ARE FROM
US & CANADA LOCATION