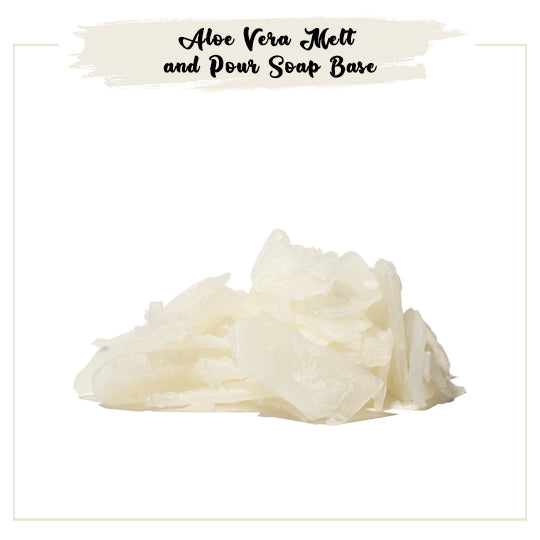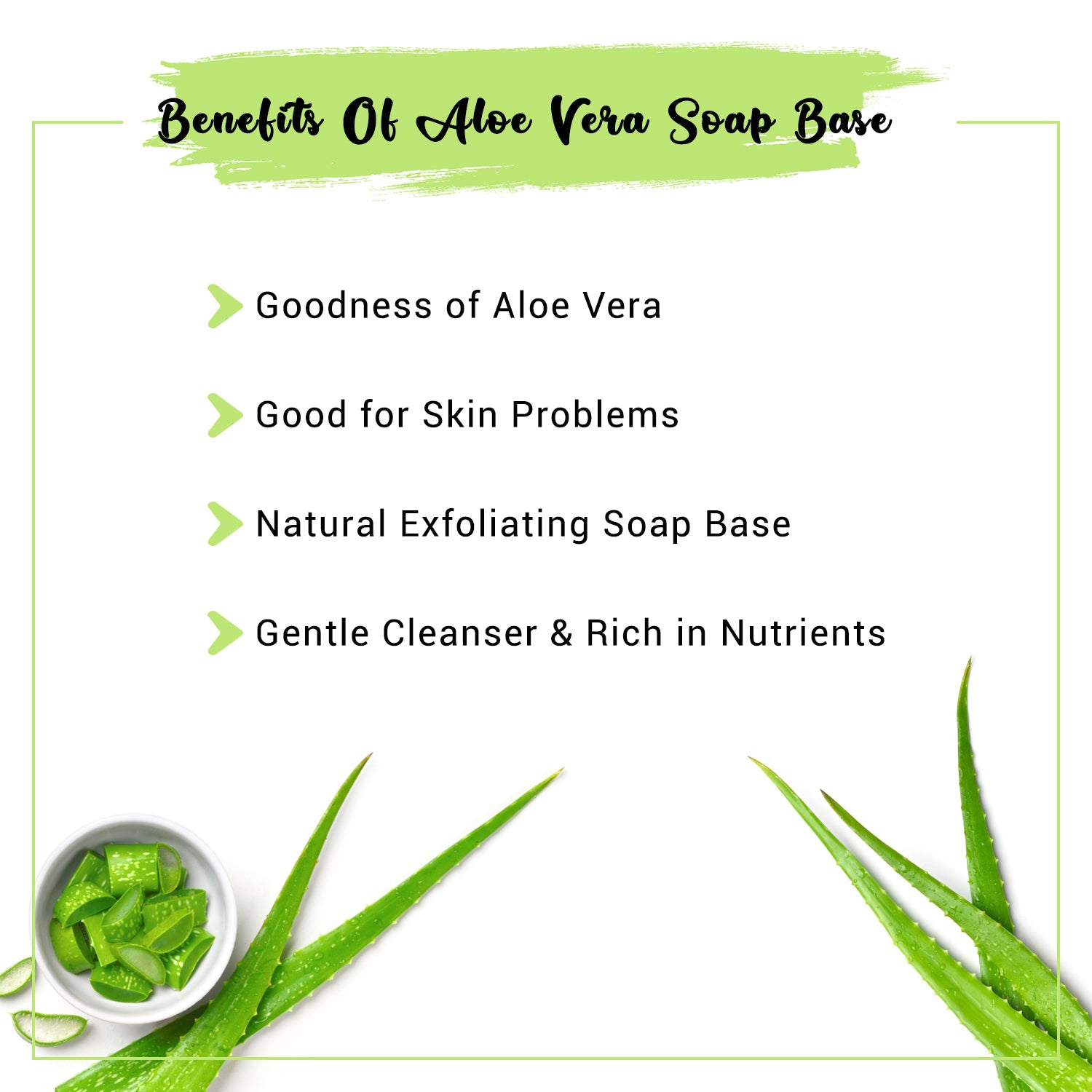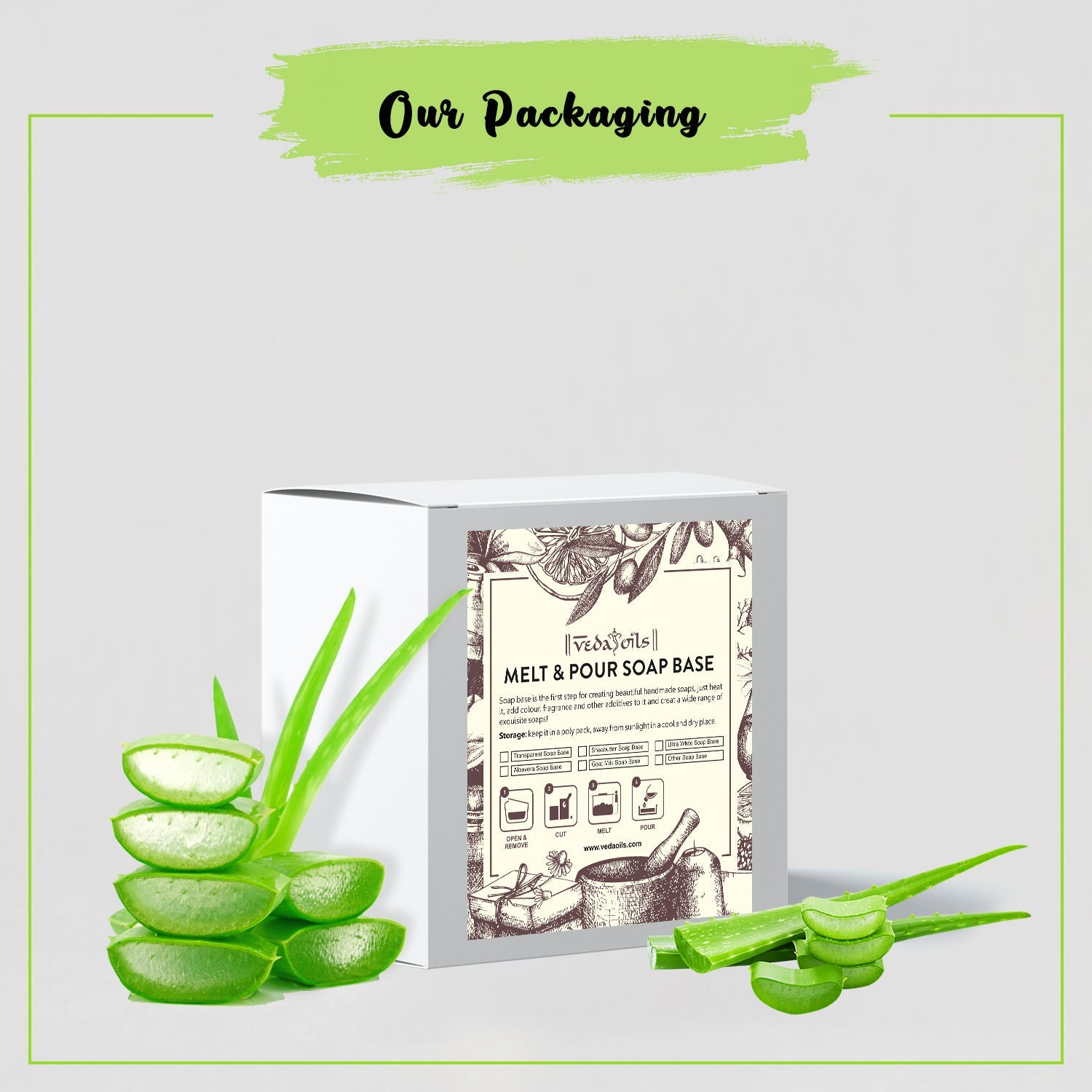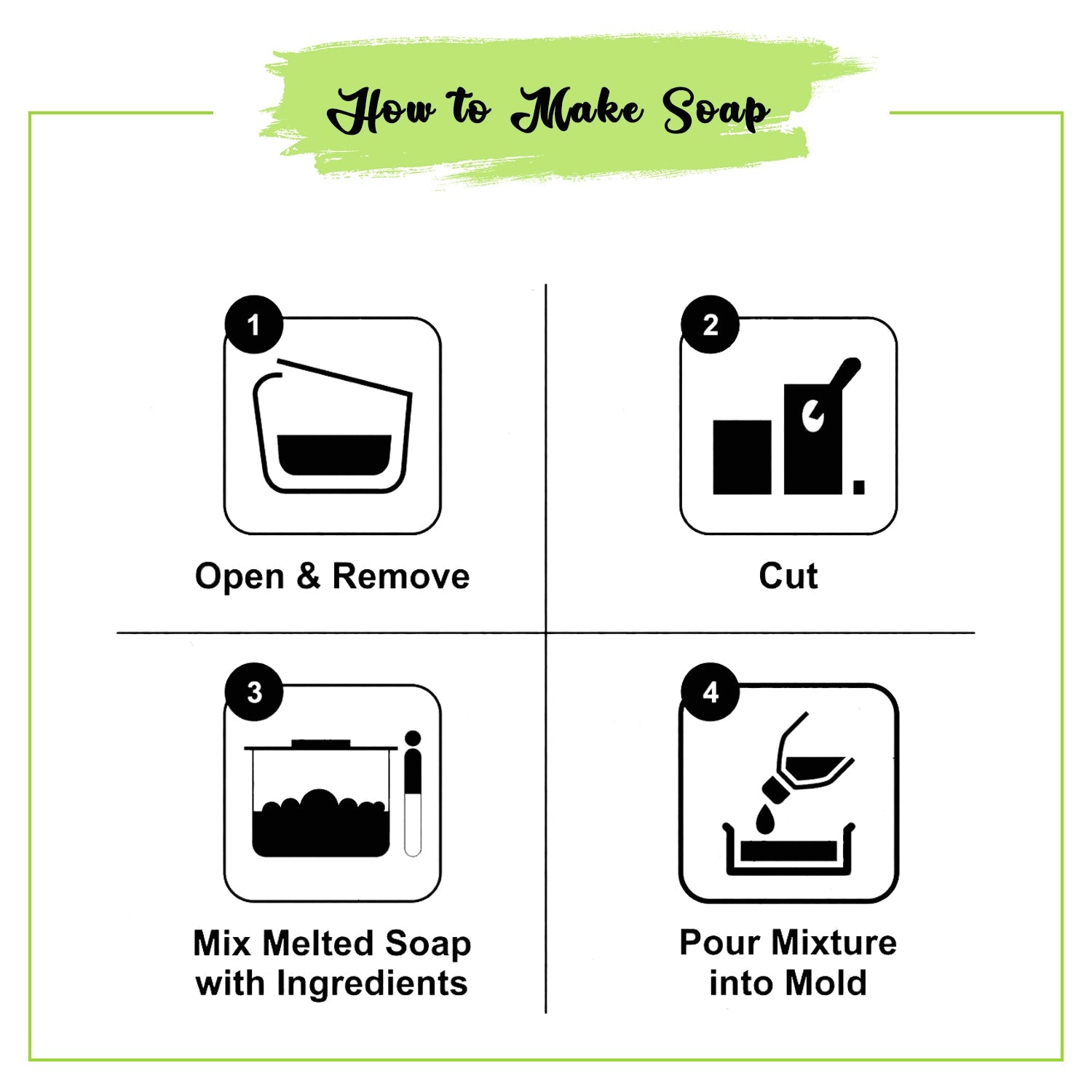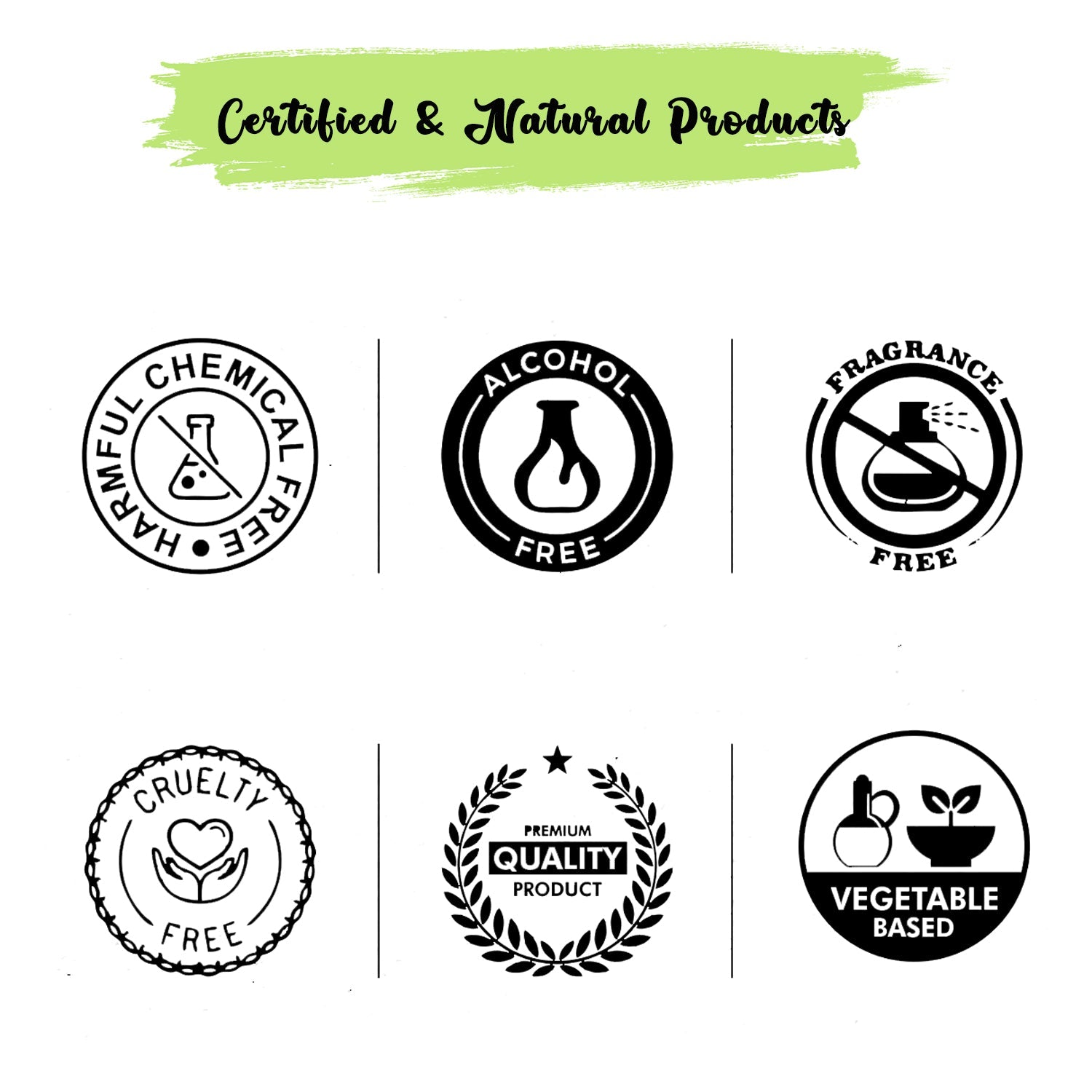 Our Certifications
Aloe Vera Melt and Pour Soap Base
Aloe Vera is known for its nourishing properties that are immensely beneficial for our skin and hair. Its ability to repair skin and restore its natural moisture has been cashed in by many skincare and cosmetic manufacturers. Even soap makers are using Aloe Vera as a vital ingredient in their soaps. The best way to include the benefits of Aloe Vera in soaps would be by using an Aloe Vera Soap Base. This is because adding pure Aloe Vera gel directly to formulas can be a bit tricky due to its composition and gel-like consistency. Therefore, adding the required ingredients to an Aloe Vera Soap base after melting it can be a much better idea.
VedaOils is offering premium grade natural Aloe Vera Soap Base that is ideal for making clear and transparent soap bars. The high-quality organic ingredients used in the soap base are not only ideal for your skin but make it safe for your hair and body as well. As it is soluble in various oils and alcohols, our organic Aloe Vera Soap Base enables the soap makers to experiment with different ingredients and raw materials.
The cleansing ability of our pure Aloe Vera Soap Base makes it perfect for eliminating dead skin cells, dirt, sweat, dust, and other toxins from the skin and hair. The anti-inflammatory properties of this soap base make it soothing various skin conditions and issues. Unlike some other soap bases and ingredients that are used for soap making, Aloe Vera Soap Base is known to condition both skin and hair. Therefore, skincare products and soaps made from Aloe Vera are in great demand in the market. Also, this 100% transparent and natural soap base allows soap makers to enhance their soap-making skills and abilities.
Aloe Vera Soap Base Benefits & Uses
Moisturizing Effects
Aloe Vera soap base is rich in polysaccharides that trap moisture in your skin cells and lock in the moistness for a long time. Soap base aloe vera ensures that your skin does not suffer from dehydration and prevents dryness as well. This is also said about scalp and hair follicles. It improves scalp health and keeps your hair in good condition for a long time.
Anti-Aging
Application of soaps made from natural Aloe Vera soap base promotes the production of elastin fibers and collagen in your skin cells. Aloe melt and pour soap fight against wrinkles, fine lines, and other aging signs effectively. As a result, your skin remains soft, supple, youthful, and beautiful by using our soap bases made from pure Aloe Vera gel.
Convenient for Soap Making
Low melting point of our organic Aloe Vera soap base enables soap makers to use it easily for making soaps of different shapes and sizes. It sets faster and enables soap makers to manufacture large batches of soaps without wasting any time. Aloe soap base is perfect for making crystal clear soaps and it also blends with different fragrance oils.
Soothes your Skin
People who suffer from sunburns, itching, rashes, and skin redness can use the soaps made from Aloe Vera soap base. The soothing effect of Aloe Vera reduces all types of itching and inflammation and provides quick relief. The cooling sensation created by it can also be used to reduce tanning and it can also be used to heal sensitive and dry skin.
Safe & Vegan-Friendly
Our Organic Aloe Vera soap base is free from alcohol and harmful chemicals. Also, it does not contain any sulfates, paraben, SLS, and artificial preservatives. It is safe for regular use. Only vegetable-derived oils are used in our soap bases and they do not contain any components that are obtained from animals. Therefore, they are suitable for vegan as well.
Strengthens Hair Roots
Nourishing properties of our natural Aloe Vera soap base strengthen your hair roots. It also repairs the hair follicles that are damaged due to environmental pollution and aging. Moreover, it may also induce hair growth and it is also suitable for oily hair as Aloe Vera Soap Base cleanses excess oil and dirt from your hair effectively.
How to Use Aloe Vera Soap Base?
Open & Cut Soap Base
Cut the Aloe Vera Soap Base into small chunks of 1 inch (2.54-centimeter) with a clean, sharp knife. You do not have to cut it into the exact size, but make sure the pieces are not too large, as small chunks will help the soap base melt faster and smoother.
Melt Soap Base in Microwave
Place Aloe Vera Soap base chunks in a microwave-safe dish and melt the soap base for 3 minutes. Set the timer to 3 min and stop every 30 sec to check the soap base. Stir once or twice if required. Do not boil the soap base or put it directly on flames.
Add Oils to Melted Soap Base
After the Aloe Vera soap base is melted completely, let it cool down for few minutes. Now add your favorite Essential Oils and Fragrance Oils to attain your soap's desired fragrance and qualities. Make sure to use oils that are pure and safe for use.
Mix Ingredients in Melted Soap Base
Stir in soap-making ingredients such as Pigment powder, Colors, or Dry Flowers to give your soap a unique essence if you desire. Use ⅛ teaspoon of dye or pigment powder per 1 pound (450 grams) of soap. Stir it well before you move onto next step.
Pour Soap Base into Mold
Now all additives are added into the Aloe Vera soap base. Mix it well and pour it into your desired soap-making molds. If you are using a plastic mold, coat the inside with petroleum jelly for effortless results. Let it cool down for 12 to 24 hours at room temperature.
Release Soap Base from Mold
Remember patience is a virtue, do not get impatient while releasing soap from mold. Instead, gently pull the edges of the mold away from the soap, then turn the mold upside-down and pop the soap out. Allow the Aloe Vera Soap to complete drying.
Product Specifications
| | |
| --- | --- |
| Product Name: | Aloe Vera Melt and Pour Soap Base |
| Brand: | VedaOils |
| Color: | White |
| Melting Point: | 135 Fahrenheit |
| TFM: | Above 40% |
| pH: | 9-10 |
| Sulfate-Free: | Yes |
| Origin: | India |
| Detergent: | No |
| Organic: | Yes |
| SLS Free: | Yes |
| Paraben Free: | Yes |
| Alcohol-Free: | Yes |
| Ingredients List: | Water, Propylene Glycol, Aloe Vera Gel, Sodium Stearate, Glycerin, Surcose, Sodium Laurate, EDTA. |
| Mixing Temperature of Fragrance Oil : | Approx 138-140 degrees |
| Mixing Temperature of Soap Color: | Approx 180° - 185° |
| Fragrance Scent: | Odorless |
| Type: | Bathing Soap |
| Application Area: | Face, Hair, Body |
| 100 % Vegetarian: | Yes |
| Shelf Life: | 2 years |
| COA: | |
| MSDS: | |
Packaging Sizes
Please Note: The packaging shown above is a General Representation of the various sizes and types of packaging available for this product. Not all sizes and types of packaging for this product maybe available at all times.
Buy Aloe Soap Base Online at Wholesale Price
VedaOils is one of the largest manufacturers, suppliers of Bulk Aloe Vera Melt and Pour Soap Base and herbal products in the UK with a promise to instill health and freshness in your everyday life through its wide range of products. VedaOils offers 100% naturally organic Aloe Vera Melt and Pour Soap Base is ideal for making a customized soap bar to suit your skin and body type. Our Natural Aloe Vera Melt and Pour Soap Base is Vegetable Oil-based with no alcohol or toxic content. It cleanses and enhances your skin quality without stripping off the natural oils of your skin.
Devoid of animal fat content, our raw Aloe Vera Melt and Pour Soap Base does not lather like artificial soaps and neither leaves a soapy film behind. Free from surfactants and propylene glycol, Our ultra white swirling soap base base is smooth, buttery rich with natural emollient properties making us a front-runner in the Shea butter soap base wholesale business.
Frequently Asked Questions
WE NOTICE YOU ARE FROM
US & CANADA LOCATION