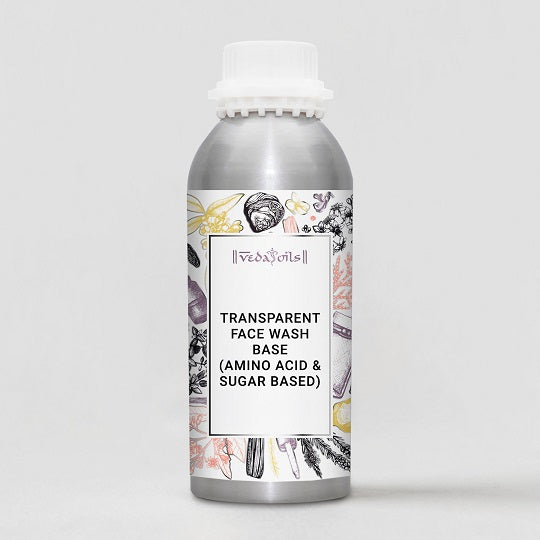 Our Certifications
Transparent Face Wash Base
Transparent Face Wash Base contains sugar-based surfactants and it is highly moisturizing for the skin. It is a transparent solution that is used as a base for face washes. It includes surfactants that are sugar-based and amino acids. It is safe to use because it does not contain any paraben and sulfates.
Transparent Face Wash Base has rich moisturizing properties that can prove to be useful for enhancing the skin-softening properties of the face washes and other skincare products. It does not contain any animal-derived ingredients and is made from 100% vegetarian components. Therefore, it is suitable for vegans as well. Check the stability of this liquid base by performing a small test with different essential oils and fragrances since it might not be compatible will all of them.
Packaging Sizes
Please Note: The packaging shown above is a General Representation of the various sizes and types of packaging available for this product. Not all sizes and types of packaging for this product maybe available at all times.
Buy Sugar Based Transparent Face Wash Base Online at Wholesale Prices
VedaOils offers Transparent Face Wash Base as we are one of the Shampoo & Liquid Soap Bases, Body Wash manufacturers in India. We manufacture them by following a standard method that enables us to tap all the beneficial active ingredients present in the liquid bases. The concentration of the diluent used in the liquid extracts depends on the concentration and the number of active compounds that are derived from them.
You can now place orders of Bulk Transparent Face Wash Base, and we ensure timely delivery of the products through the competitive and broad connection of our logistic partners. Our payment gateway is secure and enables you to complete the payment process quickly without any issues.
We offer SLS & Paraban Free Transparent Face Wash Base at Wholesale prices in Bulk Quantity. We ensure that all our products are of top-quality at the time of delivery by employing the highest standards of packaging and quality checks. We also export our high-quality Liquids Bases to the US, Canada, UK, Australia, and other countries.
Frequently Asked Questions