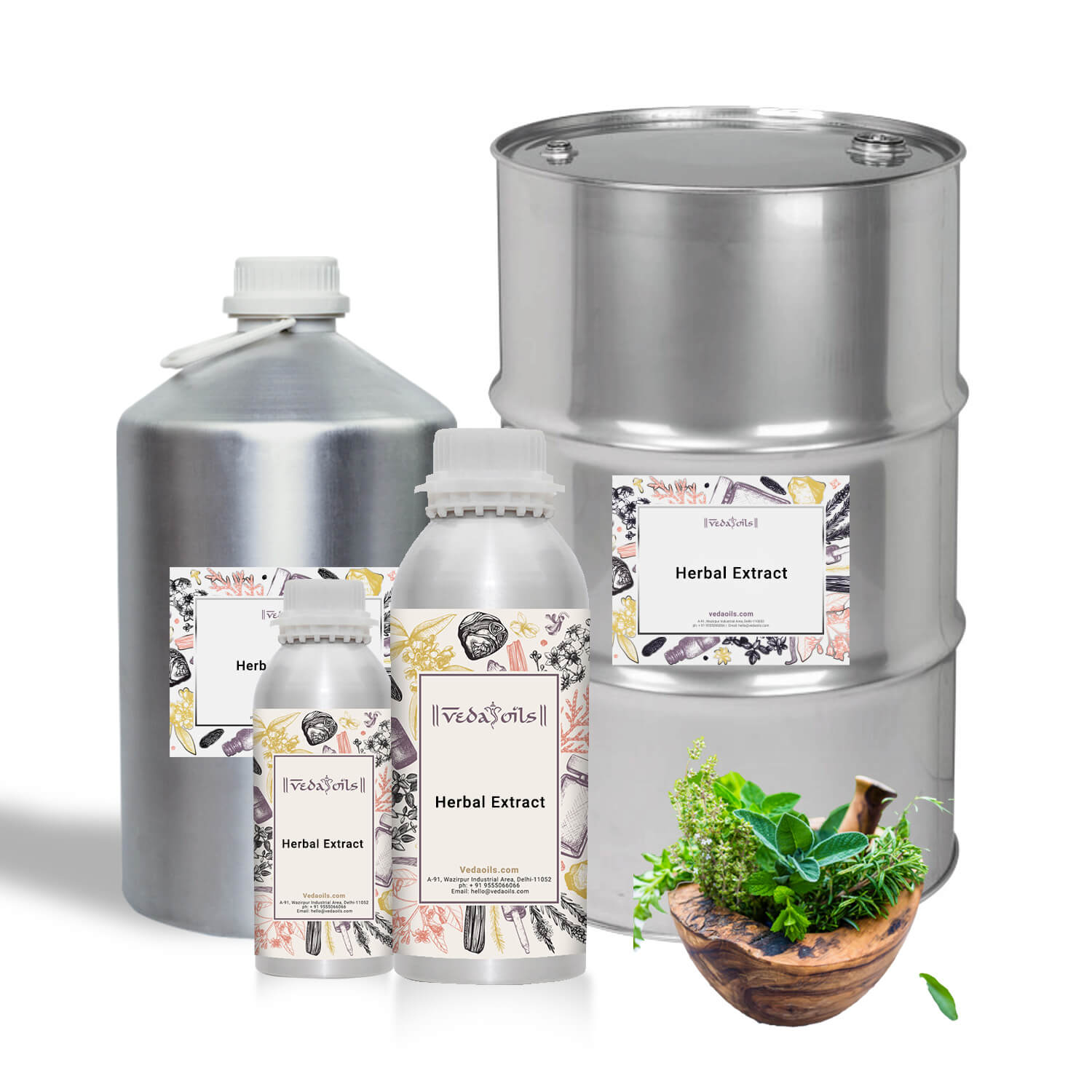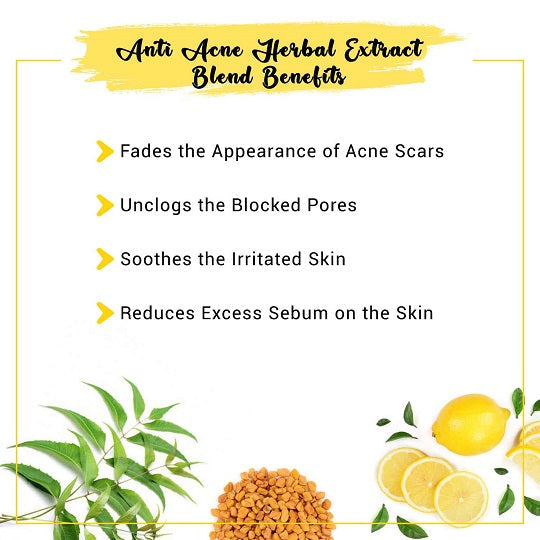 Our Certifications
Anti Acne Herbal Extract Blend
Get over the nightmare of nasty acne and pimple marks with the Veda Oils Anti-Acne Extract Blend that gives you clear, hydrated skin free from blemishes and dark spots. Rich in Vitamin C and Vitamin E, it nourishes the skin protecting it from sun damage and external pollutants that contribute to acne-causing bacteria. In addition, it absorbs impurities and excess oil, unclogging pores and reducing both blackheads and whiteheads.
Unique blend of more than a dozen herbal extract blends contributes to making your skin healthy, soft, smooth, and supple. It speeds up the healing of the acne-prone skin reducing inflammation and redness and giving you a clear skin tone. The non-sticky and lightweight formula get absorbed quickly in the skin, treating acne scars, acne marks, dark spots, and pimples.
A rich source of Vitamin C and phenolics, Neem soothe the skin and reduce the swelling and inflammation caused by acne. Removes excess oil from the skin and kills the acne-causing bacteria. Fenugreek present in blend rich in medicinal and therapeutic properties, it helps to inhibit acne-causing bacteria, clearing skin pores, and removing dead cells. Soaks up excess oil of the skin and removes toxins from the skin.
Our Anti Acne Blend Effective in killing bacteria and healing acne breakouts. Lemon present in blend helps to calm skin irritations and reduce the redness caused by acne. Fades acne scars and clears the skin with a bright glow. Blend loaded with Vitamin C and other essential vitamins, it helps heal the redness and swelling caused by acne. Fights free radicals that make acne worse by increasing inflammation.
Anti Acne Herbal Extract Blend Ingredients
Neem
Powerful anti-bacterial properties of neem help to disinfect the skin. It prevents the clogging of pores that leads to pimples and acne. Helps to control sebum production and oil secretion of the skin.
Manjistha
Rich in anti-inflammatory, anti-bacterial, and anti-androgenic properties, it helps prevent and effectively treat acne. It controls the acne-causing bacteria and also the inflammation associated with acne.
Fenugreek
With a soothing effect on the skin, fenugreek is known to possess antiseptic and anti-inflammatory properties. It helps to remove acne scars and clears the skin of dark patches.
Lemon
Rich in Vitamin C and citric acid, it acts as a detoxifying agent for the skin. It has high astringent qualities because of its excessive acidic levels. It controls oil secretion and prevents breakouts on the skin.
Calendula
Loaded with antibacterial properties, it helps to neutralize the bacteria in the skin pores that lead to the formation of acne and skin breakouts. Its anti-fungal properties keep the skin free from infections.
Arnica
Reduces redness and inflammation caused by acne. It acts as an anti-bacterial agent inhibiting the growth of bacteria that contributes to pimples and acne.
Anti Acne Herbal Extract Blend Benefits
Treat Acne
Anti Acne Blend controls hyperpigmentation and melanin secretion, thus helping to even out skin tone and treat acne, blemishes, and pimples. In addition, prevents acne-causing bacteria from growing and increases in the clogged pores.
Promotes Skin Hydration
Natural ingredients of the anti acne extract prevent trans-epidermal water loss, allowing the skin to retain moisture better and stay hydrated for long. Well-hydrated skin looks clear, smooth, and clean.
Avoid Sun Damaged Skin
Constant exposure to the sun makes the skin dull and lifeless, which is more prone to pollutants and increased acne. By protecting the skin from harmful Ultra-violet rays, the extract blend tightens pores and prevents breakouts.
Reduces Inflammation & Redness
Natural antioxidants of the extract blend effectively treat the redness and inflammation caused by acne and pimples. In addition, it reduces skin irritations and itchiness caused by skin disorders.
Reduces Brown Spots
Acne and pimples can leave stubborn dark spots, acne scars, and brown spots that mar your beauty. Regular use of anti acne blend reduces melanin production in the skin and fades away brown spots and blemishes.
Chemicals Free
Non-sticky and lightweight anti-acne extract blend contain herbal extracts that are holistically healthy and free from silicones, parabens, toxic chemicals, and artificial colours. Made of 100% natural products, they suit almost all skin types.
Product Specifications
| | |
| --- | --- |
| Product Name: | Anti Acne Herbal Extract Blend |
| Country of Origin: | India |
| Form: | Liquid |
| Odor: | Characteristic |
| Packaging Type: | As Per Requirement |
| Major Constituents: | Neem, Manjistha, Fenugreek, Lemon, Calendula, Arnica |
| Recommended Usage For Formulations: | 2-6% in Formulations |
| Applications: | Lotions, Creams, Balms, Serums, Face / Hair Body Oils & cosmetic formulations |
| Storage: | Keep in Dry & Cool Place |
| Shelf Life: | 1 years |
| COA: | |
| MSDS: | |
Packaging Sizes
Please Note: The packaging shown above is a General Representation of the various sizes and types of packaging available for this product. Not all sizes and types of packaging for this product maybe available at all times.
Buy Anti Acne Herbal Extract Blend In UK at Low Price
Veda Oils is one of the largest manufacturers of Anti Acne Herbal Extract Blend and Herbal Extracts in United Kingdom. We aim at delivering quality goods to our customers so that they get the goodness of nature and purity of natural ingredients that are a treasure house of health and wellness. Shop from our wide range of Extract Blends that pamper your skin with the goodness of herbal and fruit extracts adding a natural glow and bringing out your true beauty.
Anti Acne Herbal Blend manufactured after passing rigorous quality checks to ensure that we bring nothing but the best to you. They are 100% natural, free from harsh and toxic chemicals ensuring goodness with safety. When it comes to your health and beauty, we cannot compromise with quality and adopt highest quality standards both in extraction and in packaging so that that the ultimate product delivered to you is of premium quality and standards.
Buy Pure Anti Acne Extract from Vedaoils online from the comfort of your home at the most affordable prices and using absolutely safe payment methods. Our Anti Acne Herbal Blend not only helps you reduce your dark circles but also combats everyday problems like puffiness of eyes and soothes tired, dull eyes. Check out bulk prices of our products and avail some attractive discounts on your huge purchases.
Besides catering in the markets, Vedaoils is fast emerging as the leading manufacturer, supplier and exporter of global quality Anti Acne Herbal Blend and natural products across the globe. We are taking products on the world map by exporting to countries like US, Canada, Australia and many other countries across the length and breadth of the globe.
In association with our logistic partners DHL, FedEx, Blue Dart, India Post, etc. we assure you of the highest quality service that is safe, secure and on time. So, shop from our wide range of herbal and natural products today and bring the goodness of nature into your life. Happy Shopping!
Frequently Asked Questions
WE NOTICE YOU ARE FROM
US & CANADA LOCATION