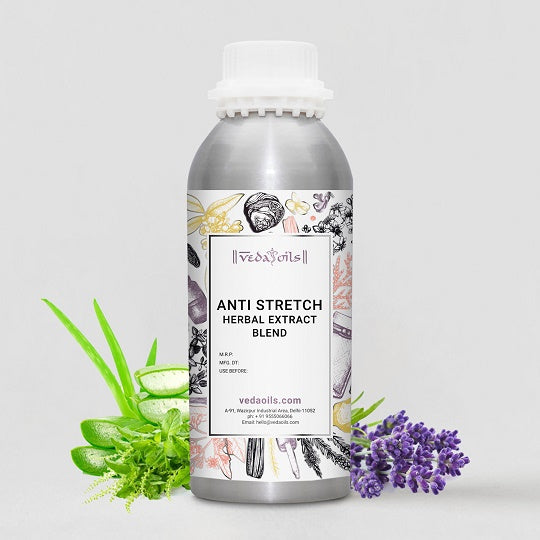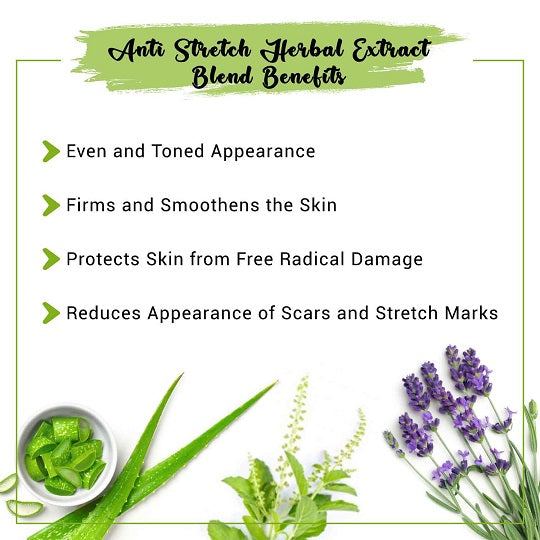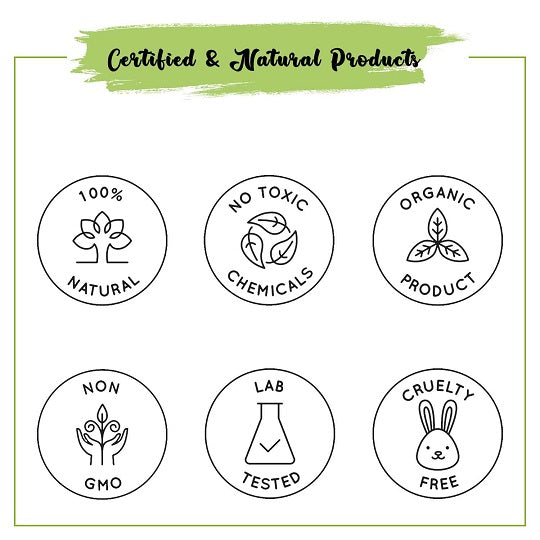 Our Certifications
Anti -Stretch Marks Herbal Extract Blend
Troubled by the annoying stretch marks that impair your beauty or lower your confidence? Worry not, because the VedaOils Anti-Stretch Marks Herbal Extract Blend fades your stretch marks effectively with the promise of reducing their appearance with regular use. To combat these stretch marks, a perfect blend of natural ingredients and herbs as those contained in our Organic Anti-Stretch Marks Herbal Extract Blend acts as an elixir and reduces them pretty soon.
Though mostly associated with pregnancy, the fact is that stretch marks can appear because of multiple reasons and they affect both males and females. Besides pregnancy in women, other reasons for the occurrence of stretch marks are obesity, puberty, quick weight gain or quick weight loss, and some medical conditions. Stretch marks are narrow and long lines that appear along the skin when the skin is suddenly stretched due to any of the reasons cited above. You can use Stretch Marks Removal Herbal Extract Blend to reduce these kinds of stretch marks.
Anti -Stretch Marks Herbal Extract Blend Ingredients
Tulsi
A natural remedy for treating skin scars, dark spots, bleeding tissues, and various other skin disorders. It lightens the appearance of stretch marks and prevents them from re-occurring.
Aloe Vera
With natural compounds like glucomannan and gibberellin, aloe vera accelerates collagen synthesis that helps to fade stretch marks and clear the skin.
Gotu Kola
An Ayurvedic herb that cures various skin conditions like scars, pigmentation, and stretch marks effectively. It increases the elasticity of the skin through increased collagen production.
Wheat Germ
High antioxidant properties of Anti-Stretch Marks Extract Blend help in tissue regeneration. Rich in minerals, vitamin E, and proteins it works well to reduce wrinkles and scars over time.
Calendula
Friendly to most skin types, it helps in faster skin cell turnover thus disappearing stretch marks faster and more effectively. Removes marks left behind by scars, acne, and pimples.
Manjistha
Flushing toxins out of the body, this natural herb helps in treating dry skin, skin inflammation, and itchiness all of which are related to stretch marks and complications arising out of it.
Anti-Stretch Marks Herbal Extract Blend Benefits
Reduces Stretch Marks
Natural ingredients of the Anti-Stretch Marks Herbal Extract Blend are high in antioxidants and vital nutrients that contribute to fading away stretch marks and other scars on the skin caused by acne or pimple.
Promotes Collagen Production
Stretch marks removal herbal extract blend promote the production of collagen- a substance that is responsible for skin firming and increasing the elasticity of the skin thus reducing stretch marks.
Prevents Tearing of Skin Tissues
Natural ingredients in Stretch marks reduction blend are loaded with Vitamin A, Vitamin D3, and Vitamin E all of which contribute to repairing skin tissues and the epidermal layer of the skin.
Increases Skin Cell Turnover
Anti-Stretch Marks Herbal Extract Blend Promotes skin cell turnover, removing dead skin cells and accelerating the growth of a new epidermal skin layer that is free from stretch marks.
Easily Penetrates in Skin
Anti-stretch marks herbal extract blend is a lightweight formula and gets easily absorbed in the skin lightening the stretch marks and keeping the skin firm.
Free from Chemicals
Non-sticky and lightweight anti-stretch herbal extract blend contain natural extracts that are holistically healthy and free from silicones, parabens, toxic chemicals, and artificial colors.
Packaging Sizes
Please Note: The packaging shown above is a General Representation of the various sizes and types of packaging available for this product. Not all sizes and types of packaging for this product maybe available at all times.
Buy Anti-Stretch Marks Herbal Extract Blend In UK at Wholesale Price
VedaOils is one of the largest manufacturers of Natural Anti-Stretch Marks Herbal Extract Blend and Herbal Extracts In United Kingdom. We aim at delivering quality goods to our customers so that they get the goodness of nature and purity of natural ingredients that are a treasure house of health and wellness. Shop from our wide range of Extract Blends that pamper your skin with the goodness of herbal and fruit extracts adding a natural glow and bringing out your true beauty.
All Anti-Stretch Marks Herbal Extract Blend are manufactured after passing rigorous quality checks to ensure that we bring nothing but the best to you. They are 100% Natural, free from harsh and toxic chemicals ensuring goodness with safety. When it comes to your health and beauty, we cannot compromise with quality and adopt highest quality standards both in extraction and in packaging so that that the ultimate product delivered to you is of premium quality and standards.
Buy Pure Anti-Stretch Marks Herbal Extract Blend from VedaOils Online from the comfort of your home at the most affordable prices and using absolutely safe payment methods. Our Stretch Marks Reducing Herbal Extract Blend not only helps you reduce your Stretch marks but also combats everyday problems like puffiness of eyes and soothes tired & dull Skin. Check out bulk prices of our products and avail some attractive discounts on your huge purchases.
Besides catering in the markets, Veda Oils is fast emerging as the leading manufacturer, supplier and exporter of global quality Stretch Marks Removal Herbal Extract Blend and natural products across the globe. We are taking products on the world map by exporting to countries like US, Canada, Australia and many other countries across the length and breadth of the globe. In association with our logistic partners DHL, FedEx, Blue Dart, India Post, etc. we assure you of the highest quality service that is safe, secure and on time. So, shop from our wide range of herbal and natural products today and bring the goodness of nature into your life. Happy Shopping!
Frequently Asked Questions
WE NOTICE YOU ARE FROM
US & CANADA LOCATION