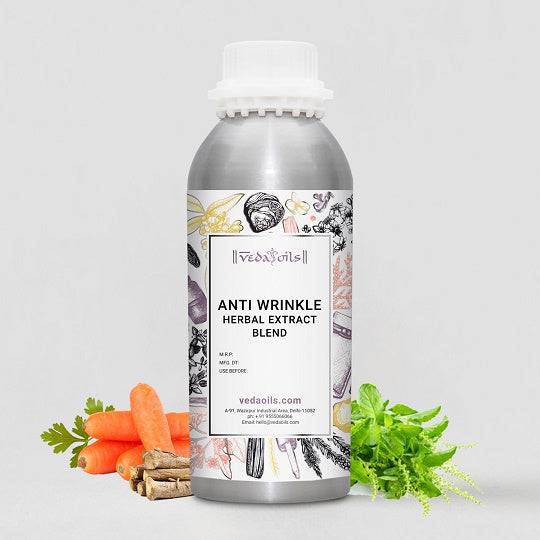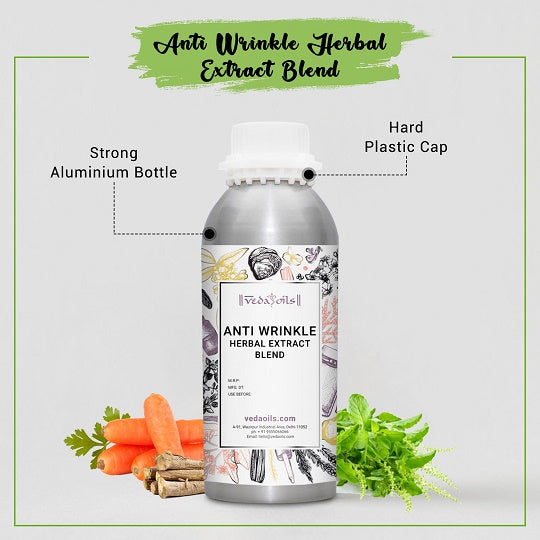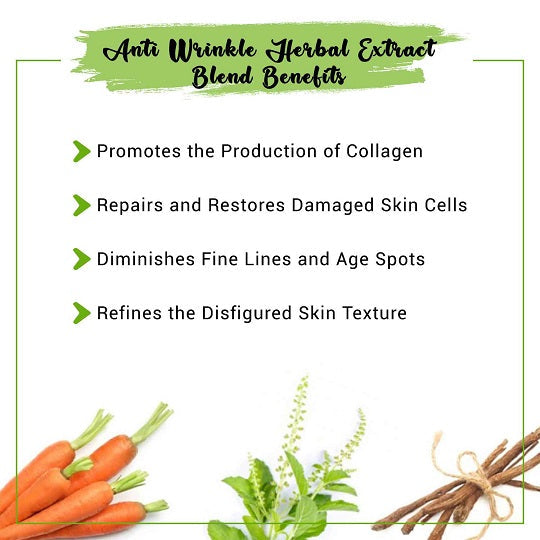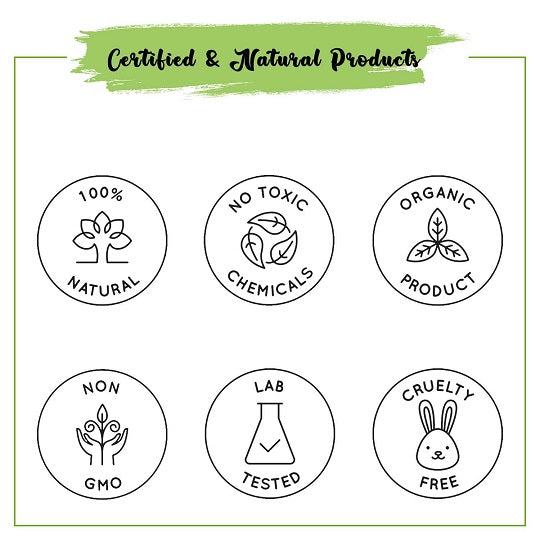 Our Certifications
Anti Wrinkle Herbal Extract Blend
Powered with natural ingredients, VedaOils Anti-Wrinkle Extract Blend helps you get over the early signs of aging by removing wrinkles, firming the skin, and adding life and radiance to your dull skin. It improves the texture of the skin, making it look plumper and smoother. Its advanced formula boosts youthfulness to your skin, increasing collagen production and increasing its elasticity.
The unique combination of Aloe vera, Lavender, Tulsi, and Wheat Germ increases skin hydration and acts as a natural barrier to protect the skin from external stressors and pollutants. Regular application of the extract blend visibly reduces wrinkles, fine lines, and crow's feet, especially near the eyes and around the mouth area.
Reveal the magic of smooth, soft, and tighter skin with this anti-wrinkle blend that is both safe and easy to use. Brings freshly oxygenated blood to the skin surface, giving your skin a radiant and youthful appearance. In addition, it acts as a skin conditioner that fortifies and strengthens the facial skin. Tightens the skin muscles and prevents crow's feet around the eyes and the mouth. Protects the formation of laugh lines around the lips and mouth.
Anti Wrinkle Extract Blend Ingredients
Tulsi
Loaded with antioxidant properties, tulsi fight against oxidative damage caused by free radicals and balances the antioxidant enzymes. Its electrolytes and phytonutrients tighten skin pores.
Aloe Vera
Rich in sterols, it helps produce collagen and hyaluronic acid that helps retain moisture in the skin, visibly diminishing the appearance of fine lines and wrinkles.
Lavender
Helps to battle premature signs of aging by providing anti-aging botanicals through its natural ingredients. It refreshes the skin through its soothing essence and fights free radical damage.
Gotu Kola
Helps in quick skin cell repair, calms inflammation, and promotes new cell growth. Improves blood circulation in skin cells and boosts collagen production that aids in fighting signs of aging.
Wheat Germ
Rich in Vitamin E, B6, and Folic Acid, a strong anti-aging agent that promotes healthy skin and fights skin irritations. It keeps the skin healthy, firm, and naturally glowing.
Calendula
Amplifies the skin's ability to retain moisture keeping the skin hydrated and youthful. By boosting collagen production fosters the growth of new skin cells and prevents the appearance of aging symptoms like fine lines and wrinkles.
Anti Wrinkle Herbal Blend Benefits
Reduces Wrinkles
Anti Wrinkle extract blend is loaded with natural antioxidants and helps shrink pores and reduce visible blackheads and whiteheads. It boosts collagen production that promotes skin cell production, and tightens loose skin. Offers skin firming and adds natural radiance to the skin.
Promotes Youthful Skin
Helps you take the years off your skin by providing tighter and firm skin that makes you look youthful and much younger. Anti Wrinkle Herbal Extract Blend super-hydrating formula moisturizes the skin and makes it look softer and plump.
Protects Skin from Sun Damage
As exposure to the sun causes damage to the skin, making it look older than your age, the natural nutrients and antioxidants of the extract blend protect the top skin layer from the harmful effects of the sun forming a natural barrier.
Reduces Flaking and Peeling
Besides combating wrinkles, it stops the aging process by controlling dryness, flaking, and peeling skin. Natural ingredients like aloe vera and calendula balance the skin's natural oils, locking moisture and preventing excessive dryness.
Brightens & Tightens Skin
Lifting your sagging skin, especially under the eyes and near the jawline area, gives you a youthful and brighter appearance. The tight skin reflects your skin tone more radiantly, showing visible improvement results within a few days.
Chemicals Free
Nonsticky and lightweight anti-wrinkle extract blend contain herbal extracts that are holistically healthy and free from silicones, parabens, toxic chemicals, and artificial colors. Made of 100% natural products, they suit almost all skin types.
Packaging Sizes
Please Note: The packaging shown above is a General Representation of the various sizes and types of packaging available for this product. Not all sizes and types of packaging for this product maybe available at all times.
Buy Anti Wrinkle Herbal Extract Blend Online In UK at Wholesale Rate
VedaOils is one of the leading Wholesale suppliers, manufacturer, and exporters of Anti Wrinkle Herbal Extract Blend in United Kingdom. Our Herbal Extract Blend do not contain any harmful preservatives, additives, or filler. Order Anti Wrinkle Herbal Extract Blend raw ingredients at a low price for Industrial & Personal end products.
We employ numerous tests and quality checks to ensure that only Premium-quality Anti Wrinkle Herbal Extract Blend reaches you. The highest quality and packaging standards are employed to deliver desirable results. Also, our portal uses a secure payment gateway such as Visa, Mastercard to safeguard your transactions. Order Anti Wrinkle Herbal Extract Blend online in Bulk Quantity at Wholesale different packages so that you can order and use them as per your needs.
We export our Anti Wrinkle Herbal Extract Blend to the US, Canada, Australia, and worldwide. Our products follow the highest standards when it comes to quality and purity. Your orders are delivered to your doorstep, so you don't have to worry about going outside. We assure you that you will not regret choosing us! We also deliver the products worldwide using our logistic partners DHL, FedEx, Blue Dart, India Post, etc. Get great cashback, combo offers, deals, and discount offers while buying Anti Wrinkle Herbal Extract Blend online from the VedaOils store.
Frequently Asked Questions
WE NOTICE YOU ARE FROM
US & CANADA LOCATION