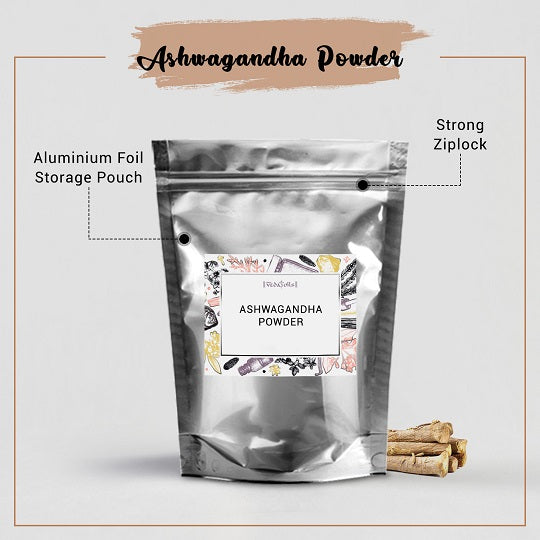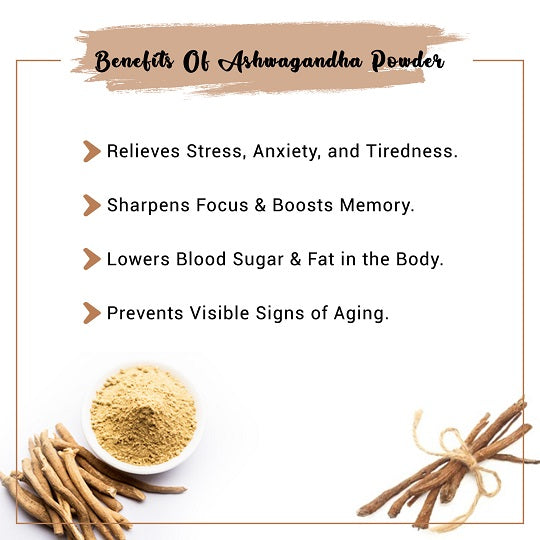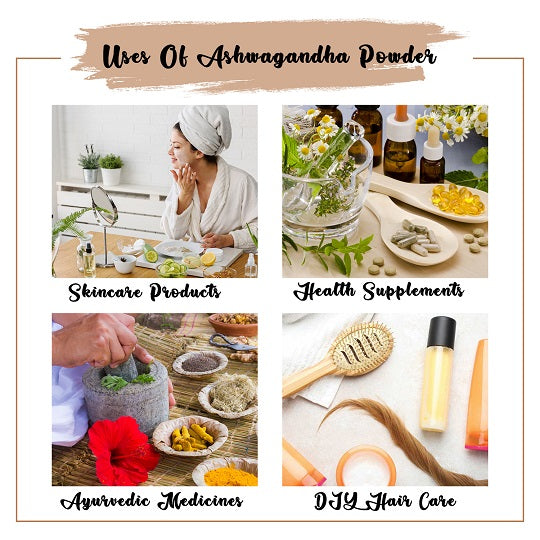 Our Certifications
Ashwagandha Powder
The Ashwagandha plant's roots and red-orange fruit are widely used for a number of therapeutic uses. Indian Ginseng or White Berry is another name for it. 'Ashwa' refers to a horse, and 'Ashwagandha' refers to the odor of root plants.
The medicinal properties of natural ashwagandha powder are well-known. Anti-stress, anti-depressant, anti-inflammatory, anti-cancer, anti-microbial, and anti-bacterial effects are all present in it. Pure ashwagandha powder is a one-stop natural solution.
This herbal powder is recommended by practitioners for boosting energy and immunity. Arthritis, skin problems, ulcers, sleeplessness, and a variety of other medical conditions can all be treated with Ashwagandha powder.
Ashwagandha powder is known to stimulate insulin secretion and improve insulin sensitivity, lowering blood sugar levels. Ashwagandha powder also promotes heart health by lowering cholesterol and lipid levels. It also lowers blood fat levels, lowering the risk of heart problems such as cardiac arrest and stroke.
Ashwagandha Powder Uses
Pain Reliever
Along with its potent anti-inflammatory effects, our natural ashwagandha powder is an effective pain reliever. It can be used to treat rashes on the skin, joint discomfort, and muscle stiffness, among other things. It also aids in the treatment of swollen body regions and may provide relief from bug bites.
Ringworm Healer
Organic ashwagandha powder's antiseptic and antibacterial characteristics help it heal ringworms, blisters, sores, and other skin and fungal infections. Because of its antibacterial properties, it is also used in a variety of antiseptic lotions and creams. When it combined with olive oil, it produces the best results.
Soothes Wounds
Natural ashwagandha powder's anti-inflammatory qualities help heal wounds and provide immediate relief from cuts, scars, and scrapes. Its skin regeneration and healing capabilities also aid in speedier injury recovery. The cooling sensation that ashwagandha powder provides helps to alleviate the discomfort associated with cuts and scrapes.
Face Scrub
Strong antioxidants in Ashwagandha powder aid in the removal of dead skin cells and the elimination of pollutants such as dust, dirt, and oil from your skin, resulting in a clear and healthy complexion. These qualities of this powder will be valuable to makers of face scrubs, body scrubs, and skin cleansers.
Dark Spot Remover
Our natural ashwagandha powder is commonly used in blemish and dark spot removal lotions. Vitamin C's high level aids in the successful treatment of scars and blemishes. As a result, after using skincare products containing this powder, your face will be immaculate.
Shampoos
Since ashwagandha powder helps to keep your hair healthy, it's a great addition to shampoos. It also adds shine to your hair and protects it from pollution and sun damage thanks to the antioxidants. Shampoos with this Powder as a primary ingredient also help your scalp's health and condition.
Ashwagandha Powder Benefits
Reduce Weight
Ashwagandha powder is high in antioxidants, which are important for weight loss and general health. These antioxidants boost your metabolism, reduce inflammation, and aid in the burning and breaking down of stored fat in your body, allowing it to be flushed out with waste.
Immunity Booster
Pathogens, germs, and insects are kept at bay by Ashwagandha powder's antibacterial qualities. It also relieves skin irritation caused by conditions like psoriasis. As a result, our organic Ashwagandha powder helps you stay fit and healthy by naturally supporting your overall health and immunity.
Relaxes Mind
Ashwagandha powder's medicinal properties can be utilized to relax the mind and body, as well as provide treatment for anxiety, stress, headaches, insomnia, and other mental difficulties. Indigo powder can help with a variety of different concerns such as exhaustion, bad mood, and lack of energy.
Skin Care
Ashwagandha powder is beneficial to the skin and supports a healthy lifestyle. Ashwagandha powder is high in bioactive compounds such withanolides, saponins, and alkaloids, all of which help to cleanse, moisturize, and relax the skin. Because of its antioxidants and purifying powers, it reduces dark spots and balances the complexion.
Hair Care
Tyrosine, an amino acid included in Ashwagandha powder, increases melanin formation and prevents melanin loss in the hair. It's also been said to help with postpartum hair loss, and it's typically found in shampoos to help with scalp circulation and hair strength.
Natural Hair Dye
Hair dye makers can use the natural hair coloring pigments found in Ashwagandha powder to include them in their products. When you combine it with natural Henna powder, it becomes much better. People who want to dye their hair dark brown or black prefer it the most.
Frequently Asked Questions
WE NOTICE YOU ARE FROM
US & CANADA LOCATION