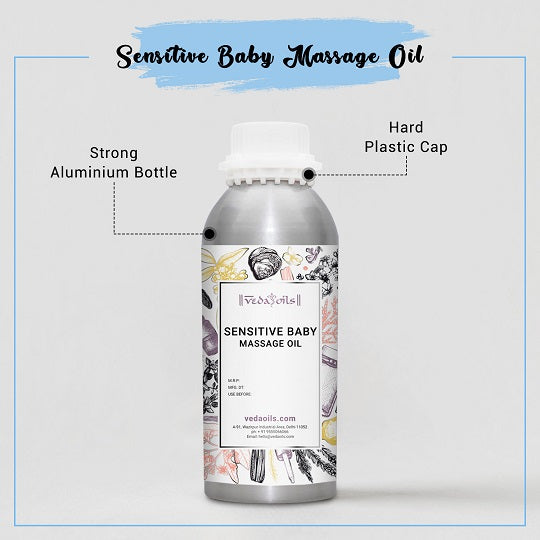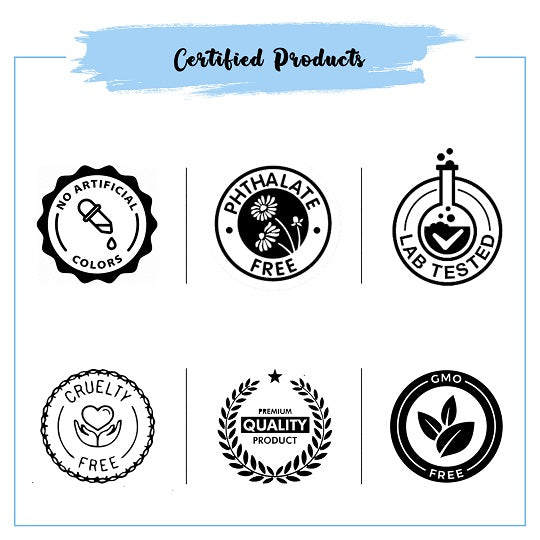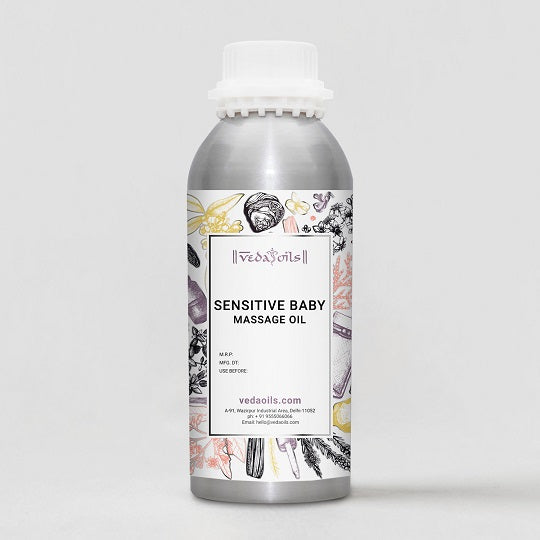 Our Certifications
Baby Massage Oil
VedaOils Baby Massage Oil is ultra-pure and natural oil for your baby. It is an ultimate health protector for your baby for the reason that all the natural health-benefiting properties are preserved in it. In addition, it protects your baby's skin from moisture loss and irritation, making it soft, smooth, and supple. Baby massage oil, with its antifungal and antibacterial characteristics, may also be used to prevent and treat dryness on your infant's skin, as well as for regular baby skincare.
Our 100% natural top-to-toe Pure Baby Massage Oil nurtures, softens, and calms the delicate skin of babies to keep it healthy and beautiful. Regular massages using this oil promote healthy bone growth and strengthen the baby's muscles. In addition, the benefits of Olive Oil, Mustard Oil, Jojoba Oil, Sesame Oil, Vitamin E & Avocado Oil protect and soothe your baby's sensitive skin, preventing rashes and irritation. Baby Massage Oil has been professionally verified to be gentle enough for use on infants. It is a lightweight and non-staining oil that can be used for massaging before bathing and hydrating after bathing. This oil's no-mineral and chemical-free composition quickly absorbs into the skin, leaving the baby's skin naturally smooth and healthy.
How to Use: Dispense a few drops of baby massage oil in your hands and gently massage it into the baby's hair, face, and body for 20-25 minutes. Leave the oil on the body for some time and then cleanse with a mild baby cleanser in lukewarm water.
Baby Massage Oil Ingredients List
Olive Oil
Fats, vitamin E, and vitamin K, and a high amount of antioxidants found in the Olive oil helps to reduce inflammation in the baby's body. It is also beneficial for enhancing skin tone because it is a superb moisturizer with a regenerative impact on the skin's tissues.
Mustard Oil
Mustard oil works as an insulator and helps to maintain body heat in an infant's body. This oil is also excellent for newborn massage since it promotes appropriate growth and strengthening of your child's sensitive and delicate bones.
Jojoba Oil
Jojoba oil is particularly useful in treating skin issues in babies. It also addresses skin conditions such as diaper rashes and irritation in newborns. This oil also soothes and strengthens your baby's skin barrier, protecting him from allergies, dry skin, and even dust.
Sesame Oil
Sesame oil is high in zinc which enhances skin elasticity and smoothness. This oil forms a barrier that shields the baby's skin from the sun's damaging UV radiation. Its high nutritional value also delivers a significant quantity of energy to newborns.
Vitamin E
Vitamin E is good for babies as it effectively helps to improve skin thickness and strength. This oil provides your child with intense nutrition, and it also stimulates the senses of babies. Massages using this oil provide joyful and healthy growth for your babies.
Avocado Oil
It is a non-fragrant oil produced from fresh and organic Avocado that leaves the baby's skin smooth and hydrated. This oil's calming and restorative effects promote restful and relaxing sleep, which leads to the baby's overall growth.
Baby Massage Oil Benefits
Nourish Skin
The natural nutrients in the baby massage oil nurture and for your baby's skin. It also moisturizes, hydrates, and softens the baby's sensitive skin, keeping it healthy and nourished. In addition, massages using this oil will help in the growth of tissues and muscles.
Gentle and Safe
Natural Baby massage oil is suitable for newborn babies' delicate and sensitive skin as it contains plant-based natural oils that are Hypoallergenic and chemical-free. Its no-mineral, paraben and toxin composition makes it gentle and safe for the baby's skin and hair.
Strengthens Bones
Our natural baby massage oil helps to ensure better physical growth and overall health of the baby. In addition, the richness of calcium, omega fatty acids, and other strengthening nutrients helps in building bone and muscle power.
Soothe Rash & Irritation
The fatty acids and Vitamins present in Baby massage oil are used to moisturize baby's skin, help treat diaper rash and irritation. In addition, the natural soothing, protecting, and healing capabilities of this massage oil helps to treat the skin from allergies and rashes.
Soft & Supple Skin
VedaOils baby massage oil contains natural sesame, jojoba, almond, olive, and coconut swiftly seep into the skin's basal layer, making it soft, smooth, and supple. This oil is also Infused with Vitamin E, which aids in preventing skin dryness by trapping in moisture for a longer period.
Healthy Hair Growth
Baby Massage Oil's natural antifungal and antibacterial characteristics assist in caring for the scalp and soothe cradle cap. It also inhibits protein loss and prevents hair damage and dryness, resulting in longer, stronger, smoother, and shinier infant hair.
Product Specifications
| | |
| --- | --- |
| Product Name: | Baby Massage Oil |
| Brand: | VedaOils |
| Country of Origin: | United Kingdom |
| Foam: | Oil |
| Ideal For: | Kids |
| Color: | N/A |
| Aroma: | N/A |
| Alcohol-Free: | Yes |
| Skin Type: | All Skin Types |
| Packaging Type: | As per requirement |
| Storage: | Store in a Cool & Dry place. |
| Shelf Life: | 1 years |
CAUTION: It is meant only for external use. Do a patch skin test before applying it to your skin. Dilute it before topical application. Avoid direct exposure to sunlight. Pregnant women should consult a doctor before using it.
Packaging Sizes
Please Note: The packaging shown above is a General Representation of the various sizes and types of packaging available for this product. Not all sizes and types of packaging for this product maybe available at all times.
Buy Baby Massage Oil Online In UK at Low Price
VedaOils is a reputed name for manufacturing, supplying, distributing, and exporting Baby Massage Oil and other natural oils. Our products are not only trending in United Kingdom but are also in great demand internationally. We supply our essential oils and carrier oils to countries like the US, Australia, Canada, and other countries as well.
Our exceptional quality of our Natural Baby Massage Oil and the highest purity and safety standards enable us to deliver effective results to our customers. Our massage oils are highly concentrated and pure. They are completely natural as no chemicals, fillers, additives, and synthetic preservatives are used while extracting them. In addition, we adhere to the highest standards of safety and packaging for the convenience of our customers.
You can even place bulk orders of Baby Massage oil for commercial purposes as we are offering them at reasonable and discounted rates. A secure payment gateway ensures that you don't face any hassles while completing the payment process. We have partnered with the best logistics companies like FedEx. India Post, DHL, BlueDart, etc. to ensure timely delivery of orders. The Baby Massage oil offered by us is effective enough to meet your expectations.
Frequently Asked Questions
WE NOTICE YOU ARE FROM
US & CANADA LOCATION