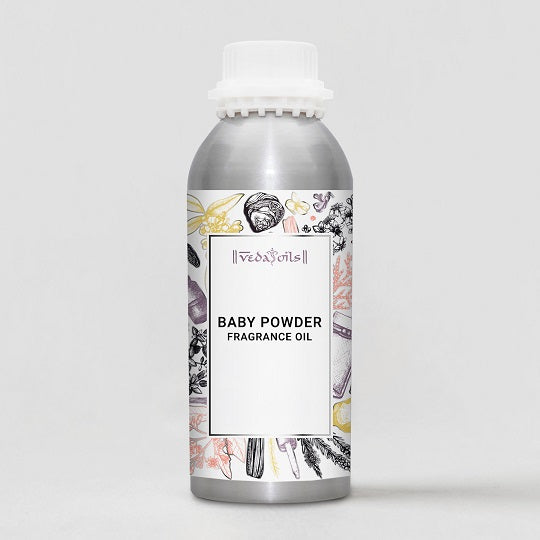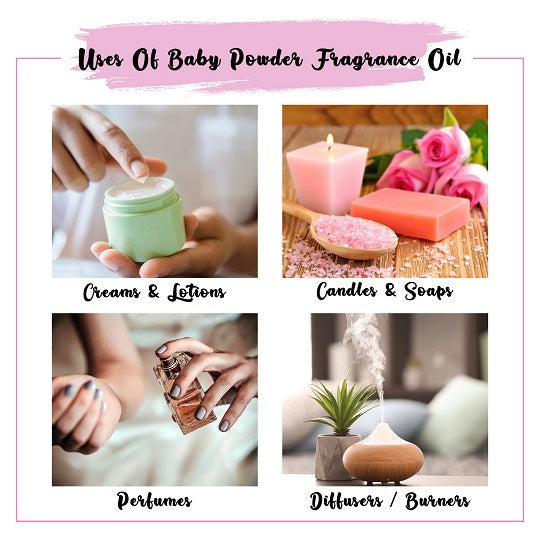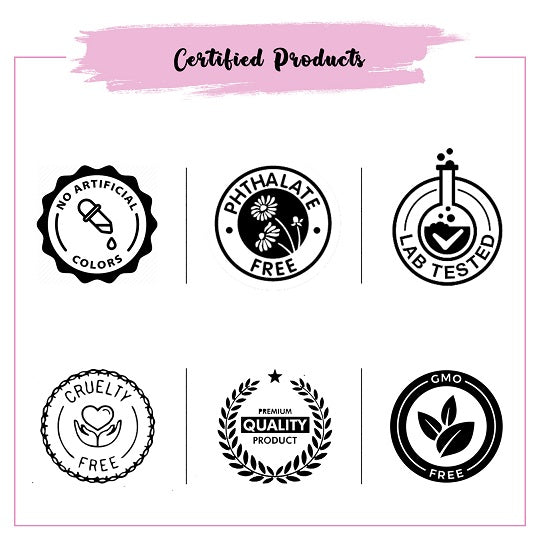 Our Certifications
Baby Powder Fragrance Oil
Our Baby Powder fragrance oils clean, easily recognizable scent will freshen any area. Sweet orange and airy ozone mingle with delicate florals like violet, rose, and orange blossom in the top notes. This traditional scent is finished with cedar and powder tones in the base notes. Candles and wax melts give any room a powdered, clean freshness.
Its a go-to for baby shower favors and creating a calming and friendly environment. Baby Powder fragrance oil is commonly regarded as a great scent for manufacturing perfume, deodorant, and cologne due to its wonderful aroma. Its widespread use in creating candles, incense sticks, and other DIY items has contributed to its appeal. It has a well-known aroma in bathing and cosmetic products.
Baby Powder Fragrance Oil Benefits and Uses
Scented Soap Making
Baby Powder Fragrance Oil is excellent for creating perfumed soaps because of its luxurious and reassuring aroma. It can make both cold processes and melt & pour soap.
Bathing Products
As Baby Powder Fragrance Oil is devoid of phthalates and parabens, it can be used to make skin-friendly bath and body products such as shower gels, body scrubs, and bathing bombs.
Baby Perfumes
The delicate and refreshing aroma of Baby Powder Fragrance Oil is used to create luxury perfumes and mists that last all day without triggering allergy symptoms.
How to Use Baby Powder Fragrance Oil?
Soap Making: A refreshingly fragranced soap bar gives a luxurious and rich feel to the skin. You can add your favourite 10 ml of Baby Powder aroma oil in a 150 grams soap base to get perfectly scented soap bars.
Scented Candle: Scented candles with calm and comforting aromas are made using Fragrance Oil in a calculated quantity. To obtain perfect smelling scented candles, you can use 15 ml of Baby Powder perfume oil for 250 grams candle wax flakes. Make sure you measure your quantities correctly so that the fragrance doesn't get overpowered.
Skin Care & Cosmetic Products: Mild and gentle scented cosmetic products are made using Baby Powder fragrance oil in very little proportion to not react to the skin.
Aromatic Bath: A good aromatic bath in a bathtub helps to relax and calm the body. You can add 5-6 drops of Baby Powder fragrance oil in a bathtub to enjoy the aromatic bath's rejuvenating and relaxing session.
Note: The concentration of pure Baby Powder scented oil needs to be varied according to the purpose of use.
Product Specifications
| | |
| --- | --- |
| Product Name: | Baby Powder Fragrance Oil |
| INCI Name: | N/A |
| Country of Origin: | India |
| Foam: | Liquid |
| Flash Point: | N/A |
| Color: | Pale yellow to amber in color. |
| Aroma: | Fresh, Earthy, and Sweet Floral fragrance |
| Suitable for: | Bath Bombs, Lipsticks, Lip Balms, Facial and Body Scrubs, Creams, Perfume Oils |
| Packaging Type: | As per requirement |
| Storage: | Store in a Cool & Dry place. |
| Shelf Life: | 2 years |
| COA: | |
| MSDS: | |
Packaging Sizes
Please Note: The packaging shown above is a General Representation of the various sizes and types of packaging available for this product. Not all sizes and types of packaging for this product maybe available at all times.
Buy Baby Powder Fragrance Oil at Wholesales Price In Uk
This fragrance oil is usually associated with baby care products because of its great aroma of Jasmine, Violet, and White Musk. VedaOils creates the most refined and safe fragrance oil that may be used in various baby care products. VedaOils is a prominent manufacturer and wholesaler of the cleanest Baby Powder Fragrance Oil at affordable pricing In United Kingdom. For more information and discounts, go to VedaOils website.
In the manufacture of our Baby Powder Fragrance Oil, no SLS, parabens, phthalates, or other chemical-based substances are used. Our Baby Powder fragrant oil is Vegan-friendly because it is made from plant-based components. This scented oil has a long shelf life and can be used in several DIY projects. Our customers can transact with VedaOils in the most simple and secure ways imaginable. We accept debit and credit cards and use a secure payment gateway to protect your purchases.
While packing our high-grade Baby Powder fragrance oil, we adhere to particular packaging standards and quality control techniques to ensure that you receive them in great condition at your doorstep. Baby Powder Fragrance Oil is available from VedaOils in a variety of sizes (100ml, 500ml, 1L, 5L) so that you can get just what you need. Through our logistic partners DHL, FedEx Blue Dart, India Post, and others, we export our Baby Powder Fragrance Oil in bulk quantities to Europe, the United Kingdom, Canada, and Australia.
Frequently Asked Questions
WE NOTICE YOU ARE FROM
US & CANADA LOCATION