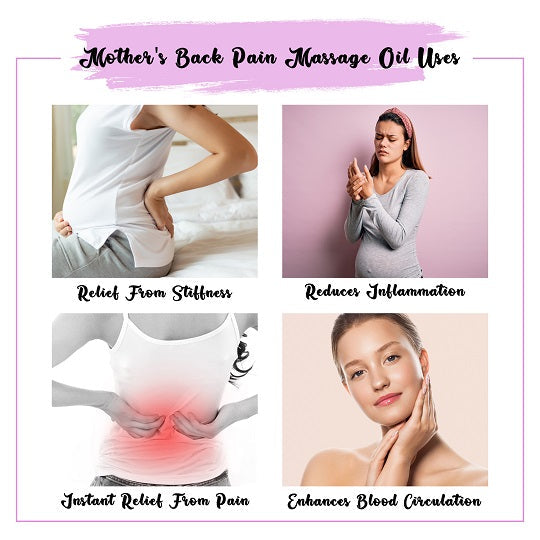 Our Certifications
Back Pain Massage Oil
Back Pain Massage Oil is made from Eucalyptus, Camphor, Ginger, Black Sesame, Rosemary, and Turmeric Oil. The biologically active compounds present in this oil provide a warming sensation to the body. Massage Oil for Back Pain also relaxes the body completely, thereby, relaxing the sore and tensed muscles. It also eases the discomfort in the lower back and pelvic bones, joints, and other soft tissues.
By increasing circulation and moving fluid in the body, massages using this oil can help with sleep and improve mood. Postpartum Back Massage can also ease nerve pain, including sciatica, by loosening up muscles that clench and tighten around nerves. Massage therapy using Spine Massage Oil also targets other pains that come with motherhood. Apart from relieving physical pain and discomfort, this massage oil also helps to get rid of stress and tension.
Deep tissue massage using lower back pain massage oil work effectively in restoring the energy and rejuvenating the body. It also enhances the mood by reducing anxiety, depression, and tension. Back Pain Massage Oil serves well as an analgesic and a natural anti-inflammatory for the reason that it has natural warming and healing properties. Its benefits and health-enhancing properties make it one of the best oils for pain-relieving.
How to Use: Slightly warm the back pain massage oil and massage well on the back, shoulder, hips, and other parts of the body. Leave the oil on the body for fifteen to twenty minutes and follow with a warm bath.
Back Pain Massage Oil Ingredients
Eucalyptus Oil
Besides helping to reduce pain and inflammation caused by postnatal and prenatal symptoms, eucalyptus oil is also beneficial for people suffering from back pain or recovering from injury. Its healing properties make it useful for almost all types of pain.
Black Sesame Oil
Black sesame oil has a variety of nutritional benefits, including reducing stress and blood pressure. Its high linoleic acid content makes it an effective anti-inflammatory, anti-bacterial and antioxidant agent. It also prevents dry skin by moisturizing it.
Camphor Oil
Camphor oil is used to massage topically in order to relieve pain, irritation, and itching. It also relieves chest congestion and inflammatory conditions. It has a pleasant scent, which makes organic back pain massage oil even better.
Rosemary Oil
Biologically active ingredients in Rosemary oil, provide relief from aches and pains in the back, shoulder, neck, knee, and leg. It also decreases inflammation in discomfort causing muscles and tissues. It also effectively reduce swelling and redness.
Turmeric Oil
Turmeric oil has soothing properties that can relieve sore muscles as well as relieve cramping and spasms. It has warming properties that help in easy absorption of excess fluid. It can even help with fluid retention as well as increase blood flow.
Ginger Oil
Ginger oil is warming and healing properties that work well as an excellent analgesic and anti-inflammatory. It is an effective oil for relieving pregnancy aches and pains in the back as well as assisting those experiencing tension and stress.
Back Pain Massage Oil Benefits
Relax Sore Muscle
Regular massages can relieve sore, swollen, and stressed muscles associated with pregnancy, including stiff hips, shoulders, and lower backs caused by contractions. Back pain oil offers strength and relief from tension in muscles after and before pregnancy.
Reduce Inflammation
Back Pain Massage oil can be used for relief of symptoms of inflammation during labour, including swelling, body aches, joint pain, etc. In addition, the oil can help to re-distribute water within the body and encourage fluid drainage and circulation.
Relives Muscle & Joint Pain
Back massage oil relieves body aches and joint stiffness. It also stimulates blood circulation, which aids joint pain. It also reduces Skeletal Pain by reducing inflammation and swelling in between joints and muscles.
Strengthening Back Muscles
Healing and nurturing properties of different oils in a back massage oil helps to Nourish The Bones, Muscles & Tissues. Deep tissue massage using this oil strengthens the backs bone and restores a healthy and strong body.
Moisturize & Nourish Skin
Massage oil is incredibly nourishing as it restores the skin's natural smoothness and flexibility. It is ideal for dry or dehydrated skin as well as a wrinkle treatment. It also quickly enters the skin's layers, leaving it nourished and moisturized.
Promote Flexibility & Mobility
Back massage oil aids in joint flexibility and pain relief. It promotes flexible and stable joints by minimizing joint stiffness and soreness. Particularly for the shoulder. This oil improves mobility and reduces inflammation in the backbone and lower back.
Product Specifications
| | |
| --- | --- |
| Product Name: | Back Pain Body Massage Oil |
| Brand: | VedaOils |
| Country of Origin: | United Kingdom |
| Foam: | Liquid |
| Color: | light Yellow |
| Aroma: | N/A |
| Alcohol-Free: | Yes |
| Usage/Application: | Body Massage / Aromatherapy |
| Packaging Type: | As per requirement |
| Storage: | Store in a Cool & Dry place. |
| Shelf Life: | 2 years |
CAUTION: It is meant only for external use. Do a patch skin test before applying it to your skin. Dilute it before topical application. Avoid direct exposure to sunlight. Pregnant women should consult a doctor before using it.
Packaging Sizes
Please Note: The packaging shown above is a General Representation of the various sizes and types of packaging available for this product. Not all sizes and types of packaging for this product maybe available at all times.
Buy Back Pain Massage Oil Online at Low Prices in UK
VedaOils is one of the leading Wholesale Suppliers, Manufacturer, and Exporter of the best Back Pain Massage Oil in United Kingdom. We offer the purest forms of natural massage oil to our customers. No chemicals, additives, or fillers are added to them. They also do not contain any artificial colors, preservatives, and fragrances. Therefore, they prove to be ideal for daily use.
We employ numerous tests and quality checks to ensure that only Premium-quality Natural Lower Back Pain Massage Oil reaches your doorsteps. The highest quality and packaging standards are employed to deliver desirable results on usage. Also, our portal uses a secure payment gateway to safeguard your transactions.
We also export our high-quality massage oils to the US, Canada, Australia, and other countries. Our products follow the highest standards when it comes to quality and purity. We assure you that you will not regret choosing us! We also deliver the products throughout the world using our logistic partners DHL, FedEx Blue Dart, India Post, etc. Do not miss this excellent opportunity to buy chemical-free, fresh, and multi-purpose back pain oil from VedaOils.
Frequently Asked Questions
WE NOTICE YOU ARE FROM
US & CANADA LOCATION