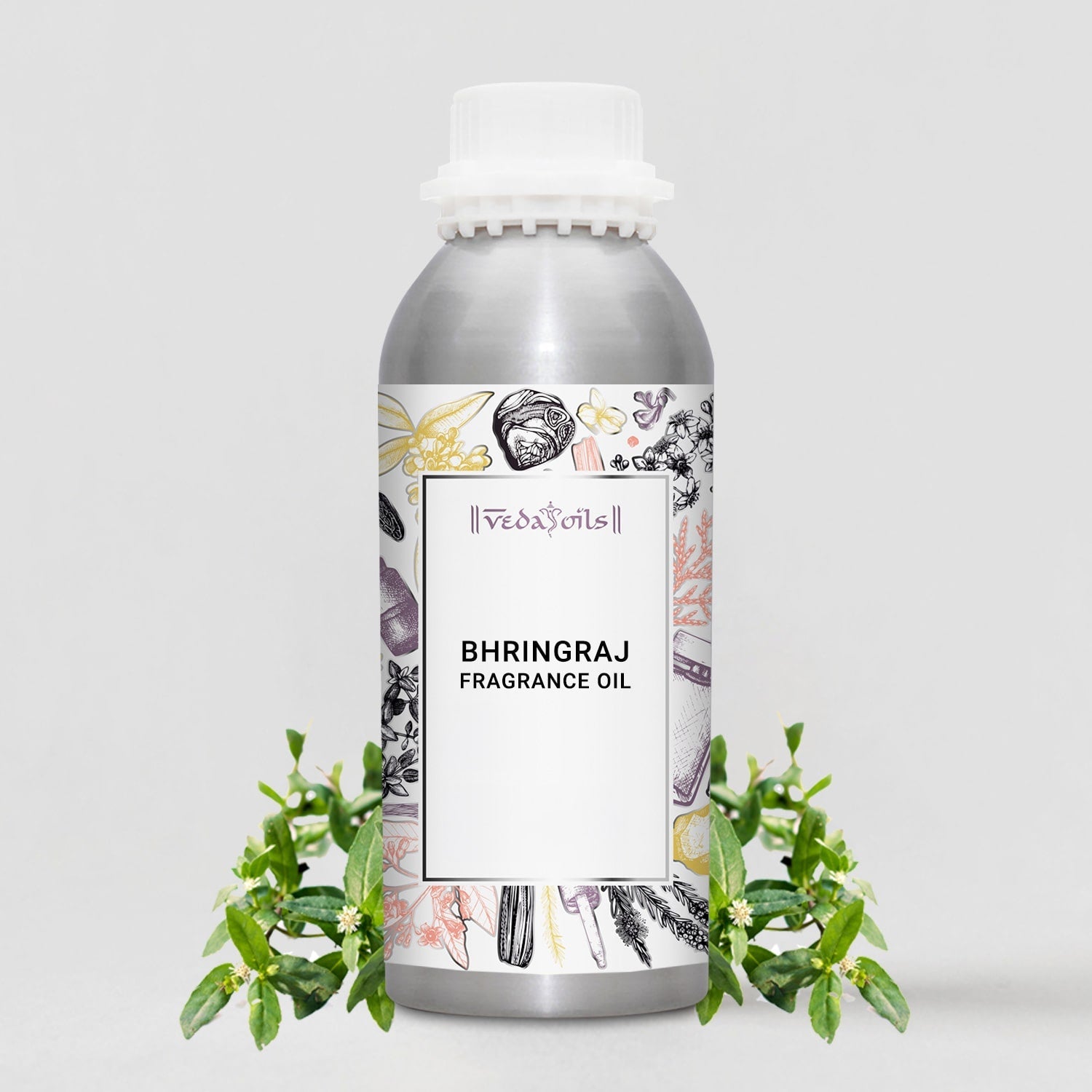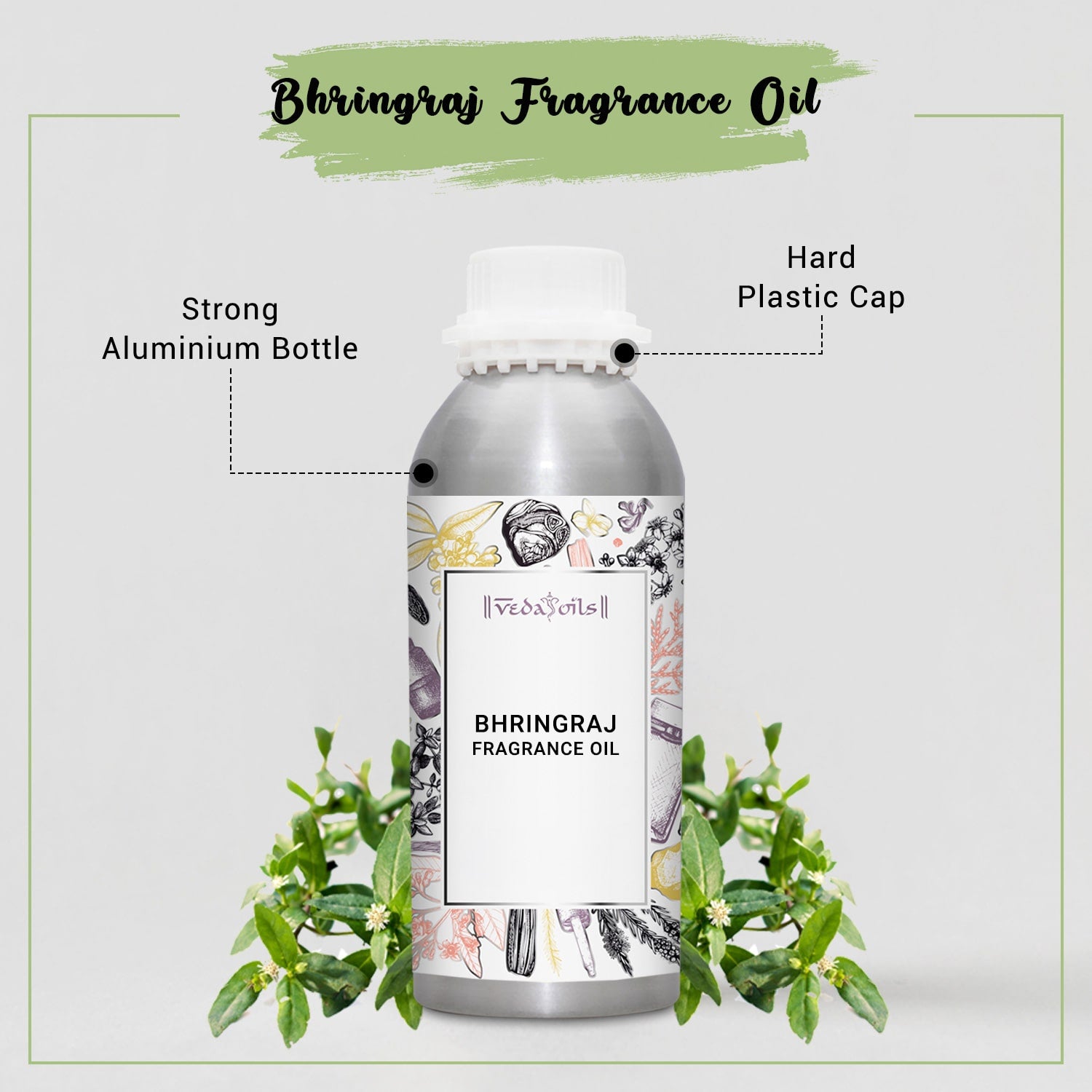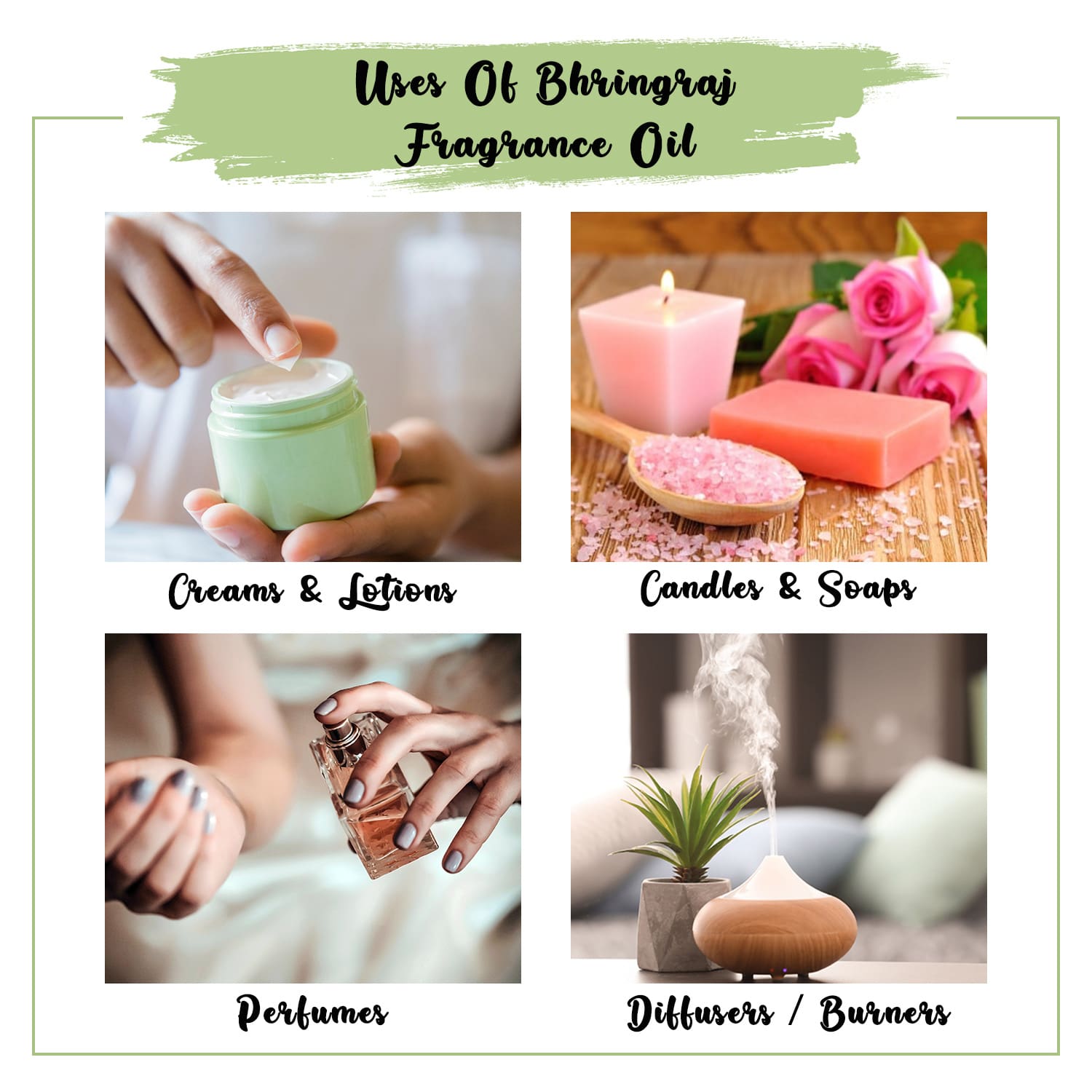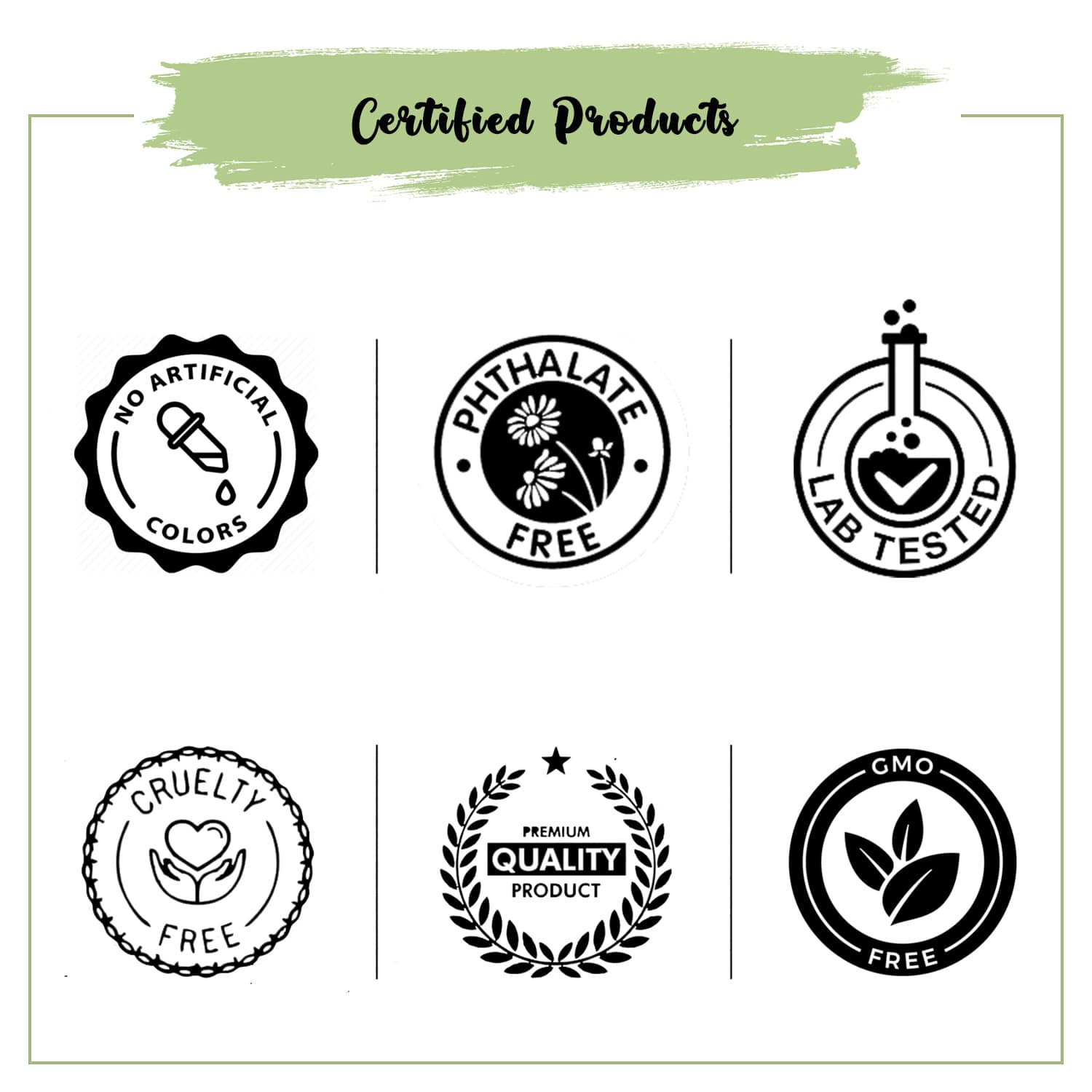 Our Certifications
Bhringraj Fragrance Oil
Bhringraj fragrance oil exudes a strong herbal aroma that has a fatty or oily fragrance. These notes are preferred in ayurvedic and herbal cosmetics, skincare, hair care, and soaps. This aromatic oil is free from allergen so it can be used for making skin care and cosmetic products.
Our Bhringraj fragrance oil is made from leaves of the Bhringraj tree. Completely pure and organic, it possesses several medicinal properties too. Retail users can even include it in their skin care and hair care routines! VedaOils offers the premium quality Bhringraj fragrance oil that is completely natural and free from Chemically infused Ingredients. Our fragrance oil is ideal for creating products that are inspired by nature.
Bhringraj Fragrance Oils unwraps a beautiful floral scent that is used to make DIY scented candles and soaps. This premium-grade scented oil is also used to make perfumes, deodorants, body mist, and cologne that flings a sweet fragrance of real leaves of the Bhringraj tree on the body. Many air fresheners and aromatic diffusers also use Bhringraj Fragrance Oil because of its charming aroma. VedaOils offers premium quality Bhringraj herbal aroma Fragrance Oils that helps to imbue the fragrance of blossoming Bhringraj into a different variety of products.
Bhringraj fragrance oil Uses & Benefits
Bathing Products
Bathing products that can include the energising and fatty notes of Bhringraj fragrance oil include soaps, bath bombs, bath oils, shower gels, and more. It not only adds an authentic herbal aroma to these products but also enhances the overall benefits of the bathing products. The aroma of these products lingers throughout the day.
Room freshers or perfumes
Bhringraj fragrance oil can be used in blends where a strong herbal note is required. It can be even used in room fresheners to eliminate awful odour from the surroundings. Unique aroma which can catch attention of many people. Apart from its use in perfume blends, manufacturers can even incorporate it in body sprays and deodorants.
Skin care products
Moisturising properties of Bhringraj fragrance oil can be useful for dry and parched skin. The anti-inflammatory properties of this oil can heal skin inflammation to some extent. Body lotions, moisturisers, face creams, antiseptic lotions, and other skin care products can contain it as one of the primary ingredients or simply to improve the fragrance.
Soapmaking
Bhringraj fragrance oil is a perfect addition to soaps that need a strong herbal note. It not only proves to be ideal for improving the aroma of the soaps but also integrates soothing and nutritive properties in them. For instance, Bhringraj fragrance oil proves to be good against wrinkles and fine lines due to its anti-ageing properties. All these benefits make it an ideal component of herbal and ayurvedic soaps.
Candlemaking
Scented candles which need a powerful fatty and herbal fragrance can be made using Bhringraj fragrance oil. The long lasting effects of this fragrance oil will enhance the overall impact of the scented candles. Moreover, its ability to gel instantly with wax makes it a favourite choice of candle makers. This relaxing scent makes the atmosphere more comforting.
Cosmetic products
Bhringraj fragrance oil is often included in cosmetic products because of its nourishing and hydrating properties. Its anti-inflammatory and antibacterial properties enhance the overall uses and benefits of cosmetic products. Cosmetic products that need to have skin lightening, anti-ageing, anti-pigmentation, and anti-acne properties can also be made by using this fragrance oil.
Product Specifications
| | |
| --- | --- |
| Product Name: | Bhringraj fragrance oil |
| INCI Name: | Bhringraj |
| Country of Origin: | India |
| Foam: | Liquid |
| Flash Point: | N/A |
| Color: | N/A |
| Note: | Herbal & Oily, Fatty Fragrance |
| Suitable for: | Bath Bombs, Bath and Body products, Lipsticks, Lip Balms, Facial and Body Scrubs, Creams, Shower gels, Shampoo, Conditioners |
| Packaging Type: | As per requirement |
| Storage: | Store in a Cool & Dry place. |
| Shelf Life: | 2 years |
| COA: | |
| MSDS: | |
Packaging Sizes
Please Note: The packaging shown above is a General Representation of the various sizes and types of packaging available for this product. Not all sizes and types of packaging for this product maybe available at all times.
Bhringraj Fragrance Oil At Wholesale Price
Bhringraj Fragrance Oil from VedaOils is made from the blossoming Bhringraj leaves. This aromatic oil contains floral and vegetal scents, which give out a refreshing and rejuvenating scent. It is a versatile product, so it can easily be added to instill the fragrance of Bhringraj leaves in different kinds of products.
VedaOils is a leading manufacturer, distributor, supplier, and wholesaler of premium quality Bhringraj Fragrance Oil We offer all of the fragrance oils at affordable price and in bulk quantities. We do not add any chemical-based ingredients like SLS, parabens, phthalates, etc., in the manufacturing of our Best Bhringraj Fragrance Oil. Our aromatic oil is Vegan-friendly because it is made from plant-based ingredients. This scented oil is highly stable, so it can easily be added to various DIY products.
We follow certain packaging standard methods and quality check measures while packing our high-grade fragrance oil so that you can receive them in perfect condition at your doorsteps. VedaOils offer its Bhringraj Fragrance Oil packages of different quantities (100ml, 500ml, 1lt, 5lt) so that you can order them as per your needs from our website. We export our Bhringraj Fragrance Oil in bulk quantities to various countries like The USA, Canada, Australia, etc., through our logistic partners DHL, FedEx Blue Dart, India Post, etc.
Frequently Asked Questions
WE NOTICE YOU ARE FROM
US & CANADA LOCATION