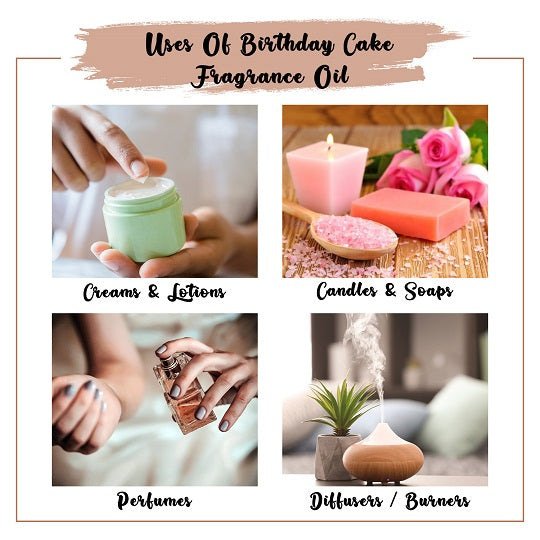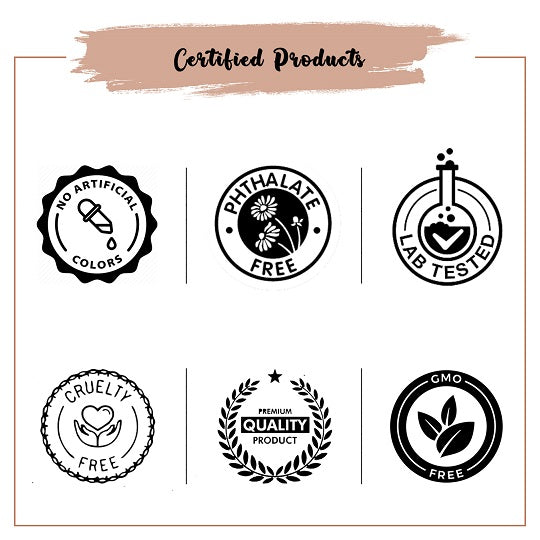 Our Certifications
Birthday Cake Fragrance Oil
With mid notes of pink hawthorn and melting butter, Birthday Cake Fragrance Oil has a delicious creamy bouquet of coconut flakes and sweetened berries. Sweet caramel and creamy vanilla notes round out this aroma, creating the perfect blend that smells like a freshly baked birthday cake.
Birthday cake fragrance oil is of the highest quality, made with the most advanced technology, and is used to make perfume, deodorant, and cologne. It is often used in the production of candles, incense sticks, and other DIY items due to its pleasant creamy scent. It has a well-known aroma in bathing and cosmetic products.
Given the fact that our Birthday Cake Fragrance Oil is Phthalate-free and fully safe to use in the specified consistency, a trial run to see if you are intolerant to the constituents is advised.
Birthday Cake Fragrance Oil Benefits and Uses
Scented Candle Making
Lovely creamy perfume of a birthday cake fragrance oil candle is useful in offering comfort and relaxation, when lighted. It is absolutely safe to use because it is phthalate-free. This fragrance oil is extensively used in the making of birthday candles
Air Freshener
Silky smell of birthday cake fragrance oil is simple to inhale, making it ideal for use in air freshener items for your home, automobile, and workplace. It is an excellent fragrance oil for diffusers and humidifiers due to its chemical-free qualities
Soap Making
For its creamy and sweet scents, the top note of birthday cake fragrance oil is utilized to make soap bars. Birthday cake scented oil is compatible with any sort of soap base. Its soap products have a smooth texture because of the usage of this oil
Bathing Products
Baths with Birthday cake oil have a nice creamy, butterfly, and sweet aromatic scent. Birthday Cake Fragrance Oil can be found in body cleansers, shower gels, body wash, exfoliating scrubs, bath bombs, bath salts, and other bath products
Perfume Making
Fragrance of Birthday Cake oil is revitalizing and delicate scent, oil's rich and lovely fragrance is utilized as a base scent in various perfumes and deodorants. Perfumes prepared with this perfumed oil have a long-lasting effect
Cosmetic Products
Birthday Sake Aromatic Oil is used in many toners, moisturizers, lotions, face packs, and other products to give them a silky creamy caramel scent. This fragrance oil's skincare products are safe to use on the skin, although a patch test is advised
How to Use Birthday Cake Fragrance Oil?
Soap Making: A refreshingly fragranced soap bar gives a luxurious and rich feel to the skin. You can add your favourite 10 ml of Birthday Cake aroma oil in a 150 grams soap base to get perfectly scented soap bars.
Scented Candle: Scented candles with calm and comforting aromas are made using Fragrance Oil in a calculated quantity. To obtain perfect smelling scented candles, you can use 15 ml of Birthday Cake perfume oil for 250 grams candle wax flakes. Make sure you measure your quantities correctly so that the fragrance doesn't get overpowered.
Skin Care & Cosmetic Products: Mild and gentle scented cosmetic products are made using Birthday Cake fragrance oil in very little proportion to not react to the skin.
Aromatic Bath: A good aromatic bath in a bathtub helps to relax and calm the body. You can add 5-6 drops of Birthday Cake fragrance oil in a bathtub to enjoy the aromatic bath's rejuvenating and relaxing session.
Note: The concentration of pure Birthday Cake scented oil needs to be varied according to the purpose of use.
Packaging Sizes
Please Note: The packaging shown above is a General Representation of the various sizes and types of packaging available for this product. Not all sizes and types of packaging for this product maybe available at all times.
Buy Birthday Cake Fragrance Oil at Wholesales price In UK
VedaOils is a prominent manufacturer and wholesaler of the High Quality Birthday Cake Fragrance Oil Online at affordable pricing In the United Kingdom. For more information and discounts, go to VedaOils website. VedaOils offers the most refined and Phthalate-free fragrance oil on the market, which may be used in a variety of goods.
Birthday Cake Fragrance Oil is made without SLS, parabens, phthalates, or other chemical-based ingredients. Birthday Cake fragrant oil is Strict vegetarian as it is made from organic components. With notes of coconut shavings and sugared berries, as well as pink hawthorn and melting butter in the middle notes. Sweet caramel and creamy vanilla notes round out this aroma, creating the perfect blend that smells like a freshly baked birthday cake.
Birthday Cake scented oil has a long shelf life and can be used in a number of DIY projects. Our customers can interact with VedaOils in the most transparent and secured manner possible. To protect your purchases, we accept debit and credit cards and use a secure payment gateway.
While packing our high-grade Birthday Cake fragrance oil, we adhere to particular packaging standards and quality control techniques to ensure that you receive them in great condition at your doorstep. Birthday Cake Fragrance Oil is available from VedaOils in a variety of sizes (100ml, 500ml, 1L, 5L) so that you can get just what you need. Through our logistic partners DHL, FedEx Blue Dart, India Post, and others, we export our Birthday Cake Fragrance Oil in bulk quantities to nations such as Europe, Canada, and Australia.
Frequently Asked Questions
WE NOTICE YOU ARE FROM
US & CANADA LOCATION