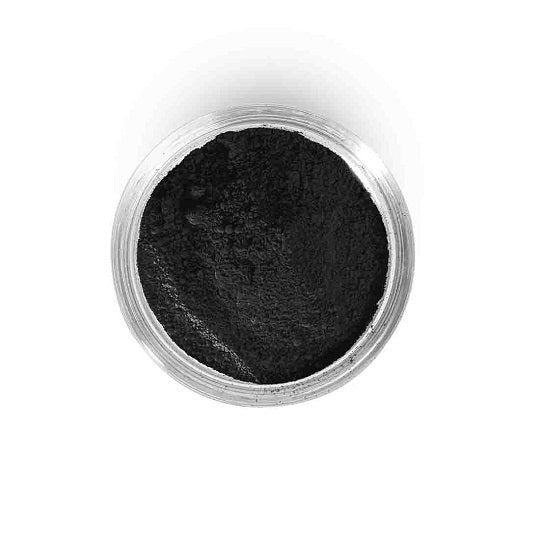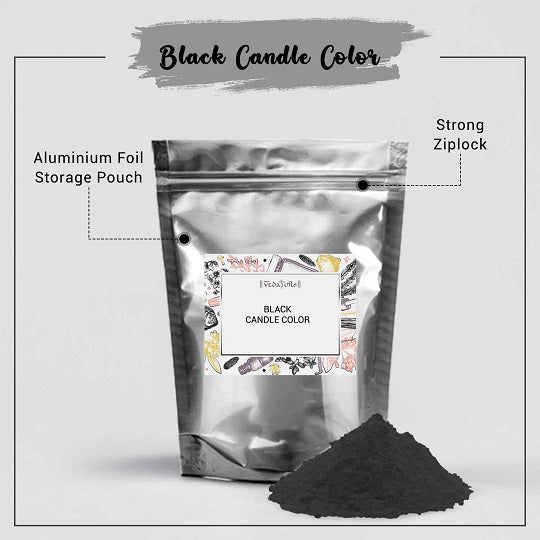 Our Certifications
Black Candle Color
Black Candle Color , earlier referred as ultramarine Black, is a pigment powder pure in form and is used popularly as a colourant in the cold process candle making activity. When used in candle making, as major pigmenting powder, gives your candles a bright, natural and a brilliant Black colour. This product can be used to add colour to a product, the colour of which may range from matte light pastel Black (matte baby Black colour) to a very deep, matte, dark intense Black (prussian Black colour).
Black Soluble Candle Pigment Powder is enriched with mica, an essential component in the preparation of modern day cosmetic items and beauty products. Also, when Black Candle Color is suspended in tap water at room temperature, it disperses into a lighter Black colour, indicating the high levels of purity of our product.
Our Black Pigment powder can be used in combination with other colourant powders to prepare your own custom made colour. For instance, Black Pigment Powder mixed with green pigment powder in varied ratios can produce turquoise, teal and aqua colours. However, the matte Black oxide pigment powder must be used with utmost caution in candle-making activities, since overheating of the pigment powder might cause it to speckle.
It is a true guaranteed fact that even a tiny amount of the Vedaoils Black Candle Powder goes a very long way in the preparation of Black tinged products, which may range candles to cosmetic items. Dark Black colour obtained from the Black pigment powder may be lightened in tone by using our white titanium dioxide candle powder, whereas light Black colour obtained from the same may be darkened in tone by using our Vedaoils Matte Black Oxide Pigment Powder
Black Candle Color Uses
Candle Making
Brilliantly coloured candle powder has high quality pastel Black coloring ingredient in Candle-making industry. It fabulous ability to create the matte and depth effects in the various types of Candle prepared.
Easy Soluble
Pigment powder serves in the process of candle-making. Having the ability to work in all types of wax, including paraffin, soy, gel or beeswax, Black Candle Pigment powder serves its purpose naturally.
Art and Craft
Pigment Powder used in Candle making, candle making or cosmetic care products, DIY projects and art & craft items. Candle Powder also help in DIY art projects. It is safe for use, non-toxic and ethical.
Lipsticks & Lip Gloss
Used as colorant in lipsticks, lip gloss, lip balms, mineral make up items. Black Candle Pigment Powder is enriched with mica, highly popular ingredient in beauty industry due to non-bleeding and non-morphing properties.
Nail Paints & Eye Shadows
Black Pigment Powder used in shade of nail paints and eye shadows. Vibrant in nature, nail paints and eye shadows prepared using Candle Powder shown massively effective results and color depths.
Cosmetic Products
It is effective ingredient in cosmetic products like blushes, eye shadows, foundations and other beauty items. Mineral enriched Black Pigment Powder gives make up smooth, silky texture and easy to apply.
Product Specifications
| | |
| --- | --- |
| Product Name: | Black Candle Pigment Powder |
| INCI Name: | N/A |
| Country of Origin: | India |
| Foam: | Powder |
| Flash Point: | N/A |
| Color: | Black |
| Aroma: | Fresh |
| Suitable for: | Candle Making |
| Packaging Type: | As Per Requirement |
| Storage: | Store in a Cool & Dry place. |
| Shelf Life: | 2 Years |
Buy Black Candle Color At Wholesale Price
Vedaoils Black Pigment Powder is manufactured after a long, strenuous passage through strict, standardized quality procedures which ensure to bring nothing but the best to you. Vedaoils do not compromise with quality of products when it concerns your health and beauty. We assure you that we adopt the highest quality standards both in production and packaging, delivering to you the ultimate, premium quality product.
Largest manufacturer and seller of varied types of pigment powders, Vedaoils promises to indulge you in the freshness and quality of our wide-range products, including matt pigment powders. We aim to provide you with the finest of the goods, giving to you the richness and the goodness of pure natural ingredients. So, shop from our treasure house of ethical, natural and organic products, thereby pampering your daily skincare, hair care and cosmetic care needs.
Purchase VedaOils Black Candle Powder from our online store, from the comfort of your home at the most affordable prices and safe payment methods. Our Black pigment powder not only caters to your cosmetic and beauty needs, but also to your art and DIY projects. Check out the bulk prices of our products and avail huge discounts.
Frequently Asked Questions
WE NOTICE YOU ARE FROM
US & CANADA LOCATION