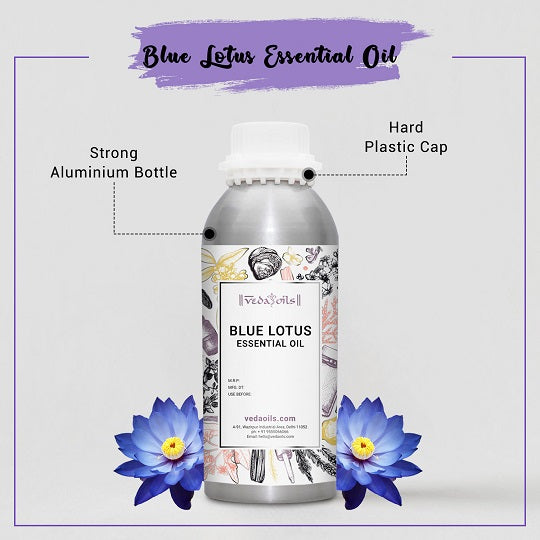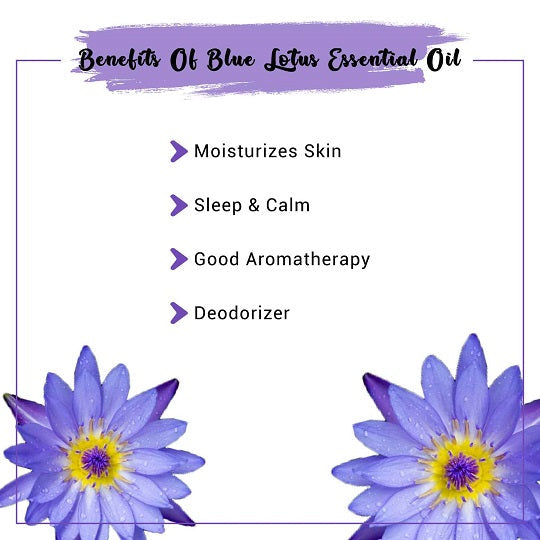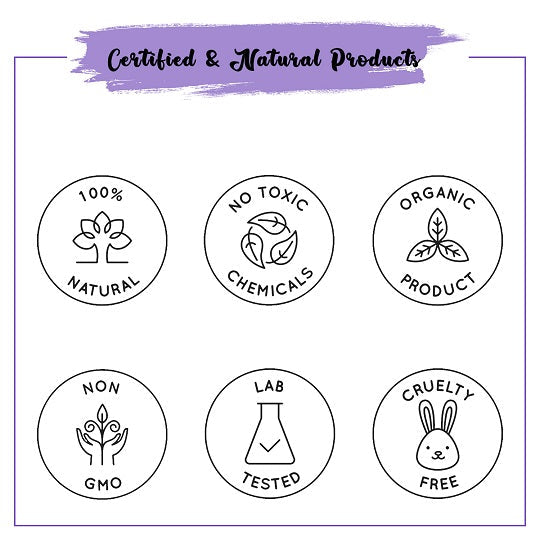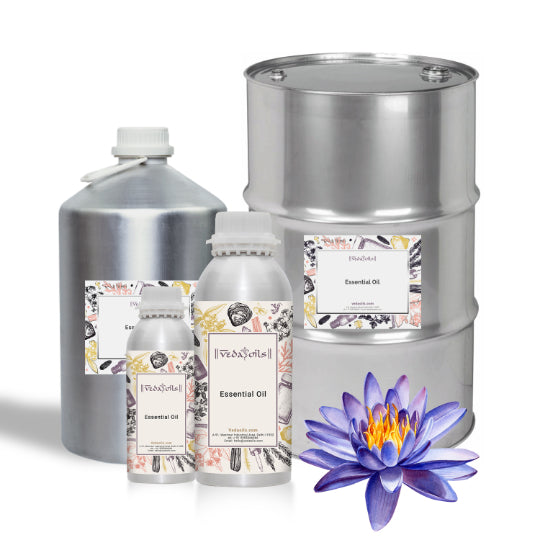 Our Certifications
Blue Lotus Essential Oil
Blue Lotus Essential Oil is extracted from the petals of the blue lotus which is also known popularly as a Water Lily. This flower is known for its mesmerizing beauty and is widely used in sacred ceremonies across the world. The oil extracted from Blue Lotus can be used due to its medicinal properties and ability to provide instant relief from skin irritation and inflammation.
Blue Lotus flower essential oil is also popular as an aphrodisiac. Therapeutic grade properties of Blue Lotus oil make it ideal for massages as well and it is widely used in cosmetic products such as soaps, massage oils, bath oils, etc. Candles and incense sticks may also contain blue lotus oil as an ingredient to induce a subtle yet enchanting fragrance.
VedaOils provides High-quality & Pure Blue Lotus Essential Oil that is used for Soap Bars, Candle Making Aromatherapy session, Perfumery, Cosmetic & Personal care products. Our Natural Blue Lotus Essential Oil is known for its fresh fragrance and soothing effects on the mind and body. You can also gift this auspicious blue lotus flower essential oil to your friends and relatives on special occasions like birthdays and anniversaries.
Blue Lotus Essential Oil Uses
Making Perfumes & Candles
Exotic fragrance of our scented Blue Lotus Essential Oil enables you to use it for making different types of homemade Soap bars, Colognes, Scented candles, Perfumes, Deodorants, etc. It can also be used as an ingredient in room fresheners and to eliminate bad odor from your living spaces.
Sleep Inducer
Someone who is facing issues of lack of sleep or insomnia can inhale blue lotus essential oil before going to bed to enjoy a deep slumber. Sprinkling a few drops of water lily oil on your bed and pillows might also provide similar benefits.
Massages Oil
Mix a couple of drops of organic blue lotus essential oil in a carrier oil and massage it on your body parts. It will boost the blood circulation in the body and make you feel light and energetic.
Improves Concentration
If you are not able to concentrate on your studies or work then you can pour a few drops of blue lotus oil in a tub of hot water and inhale it. This will clear your mind, relax your mind, and boost your concentration levels as well.
Skincare Products
The astringent properties of Blue Lotus Essential Oil can be used to treat pimples and acne. The presence of vitamin C, linoleic acid, proteins, etc. in blue lotus oil also improves the overall texture of your skin and keeps skin issues at bay.
Hair Conditioning Products
Natural conditioning properties of our organic Blue Lotus Essential Oil can be used in the hair conditioners to make your hair silky, strong, and long. It also restores the natural shine of your hair and repairs damaged hair cuticles.
Blue Lotus Essential Oil Benefits
Aromatherapy Massage Oil
Our Organic Blue Lotus Essential Oil is used by numerous aromatherapy practitioners due to its ability to relieve your mind from stress, fatigue, anxiety, and depression. It cheers your mood and relaxes your mind when diffused alone or by blending it with other oils.
Spiritual Purposes
Many people believe to reach a state of sublime meditation after inhaling blue lotus oil. Blue lotus oils widely used for spiritual purposes and to make the ambiance peaceful during religious ceremonies.
Reduces Headache
Relaxing properties of our fresh Blue Lotus Essential Oil can be used to reduce headaches, migraines, and other issues. It also boosts confidence and reduces issues like nervousness. Massage a diluted form of blue lotus oil on your head for instant relief from headaches.
Moisturizes Skin
Presence of polysaccharides, flavonoids, iron, and phosphorus makes Blue Lotus Essential Oil healthy for your skin. It can prove to be a useful ingredient in skin lotions, moisturizers, etc. Your skin becomes smooth and soft after its use.
Enhances Libido
Refreshing scent of Pure Blue Lotus Oil proves to be effective for enhancing libido. It creates a romantic environment in your room when diffused. Use it as an aphrodisiac.
Reduces Inflammation
Our Pure Blue Lotus Essential Oil can be used to treat skin burns and inflammation due to its anti-inflammatory properties. Blue lotus oil soothes your skin and provides relief from the burning sensation immediately.
Product Specifications
| | |
| --- | --- |
| Botanical Name: | Nymphaea Caerulea |
| CAS#: | 476-66-4 |
| Country of Origin: | United Kingdom |
| F.E.M.A #: | 2334 |
| Specific Gravity: | 0.860 to 0.950 @ 25°C |
| Optical Rotation: | -27 to +244° |
| Refractive Index: | 1.459 @ 20°C |
| Flash Point: | 100 °C |
| Origin of part used: | Leaves |
| Form: | Liquid |
| Shelf Life: | 2 years |
| Packaging Type: | As Per Requirement |
| Extraction or Processing Method: | Steam Distillation |
| Solubility: | Soluble in alcohols and fixed oils and slightly soluble in water |
| Color & Odor: | Green & Floral Sweet |
| Major Constituents: | Blue Lotus Petal Extract |
| Blends with: | Lavender, Orange, and Patchouli essential oils and all types of carrier oils. |
| COA: | |
| MSDS: | |
CAUTION: It is meant only for external use. Therefore, do not consume Blue Lotus Essential Oil internally and also keep it away from your eyes as it might irritate.
Packaging Sizes
Please Note: The packaging shown above is a General Representation of the various sizes and types of packaging available for this product. Not all sizes and types of packaging for this product maybe available at all times.
Buy Blue Lotus Essential Oil Online in UK at Best Price
VedaOils is one of the leading Best Blue Lotus Oil Wholesale Supplier, Manufacturer & Exporter of United Kingdom. We ensure that all our Blue Lotus Oil adhere to the highest standards of safety and quality. We offer the purest forms of Blue Lotus essential oils to our customers without chemicals, additives, or fillers. They also do not contain any artificial colours, preservatives, and fragrances. Therefore, they prove to be ideal for daily use. Get Blue Lotus Oil in Bulk Quantity directly from a wholesale supplier in UK. We Export Blue Lotus Oil to different industries to use in Personal & Cosmetic Care Products, Beauty, and Aromatherapy. Though completely natural, you should dilute essential oil before using it for topical application as it is highly concentrated. Order Certified Blue Lotus Oil from our safe and secure payment gateway to safeguard your transactions. You can purchase blue lotus online for your daily purposes. You can also order Blue Lotus essential online in bulk quality. We also export this oil around the globe including the Australia, USA, Canada, and other countries. We also deliver products throughout the world using our logistic partners DHL, FedEx, etc. Do not miss this wonderful opportunity to buy chemical-free, fresh, and multi-purpose blue lotus oil from VedaOils.
Frequently Asked Questions
WE NOTICE YOU ARE FROM
US & CANADA LOCATION