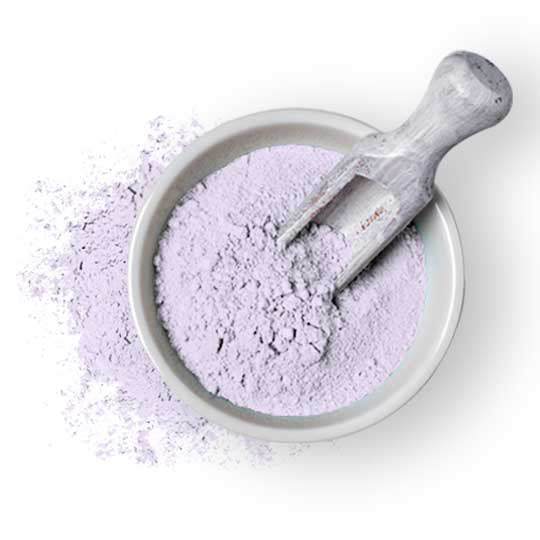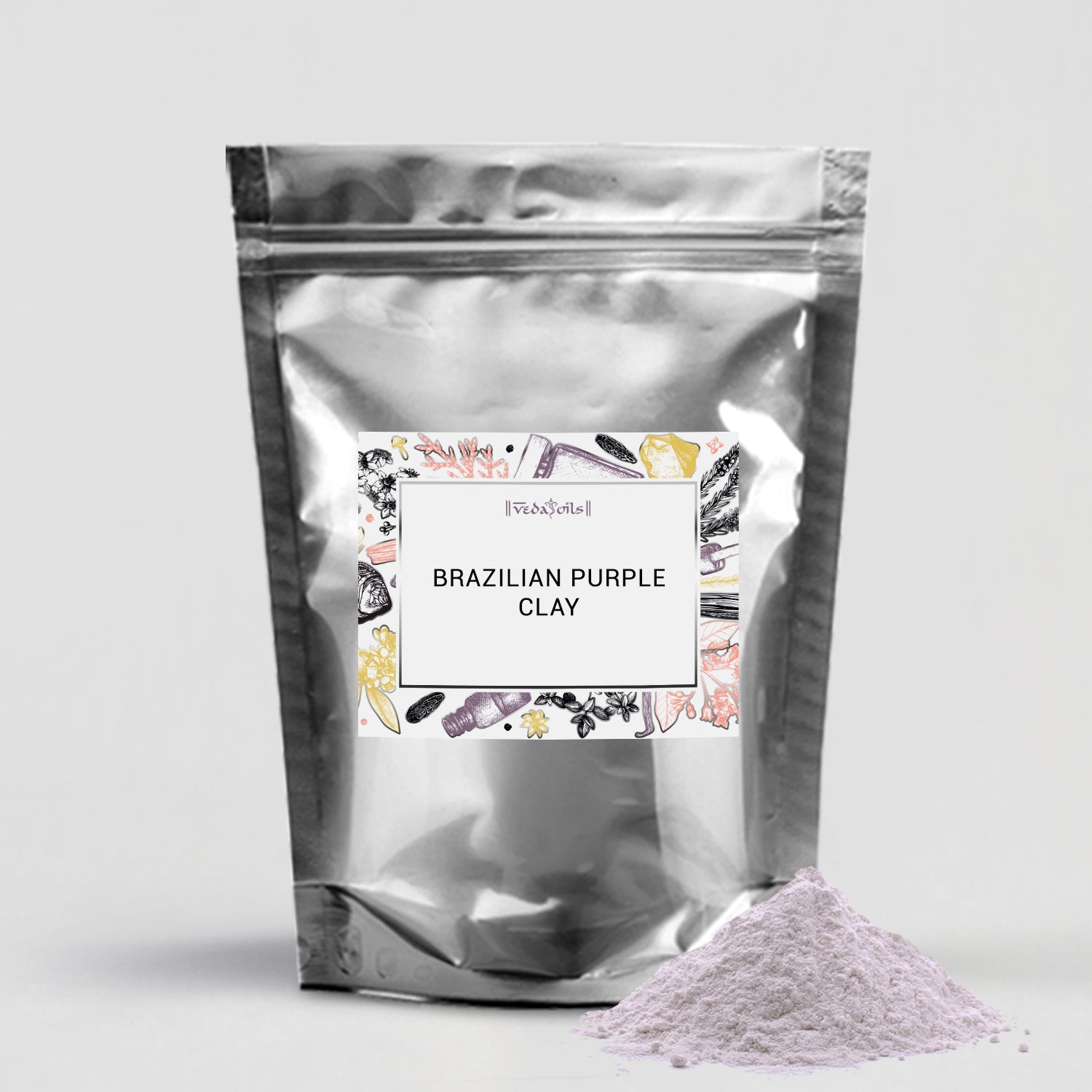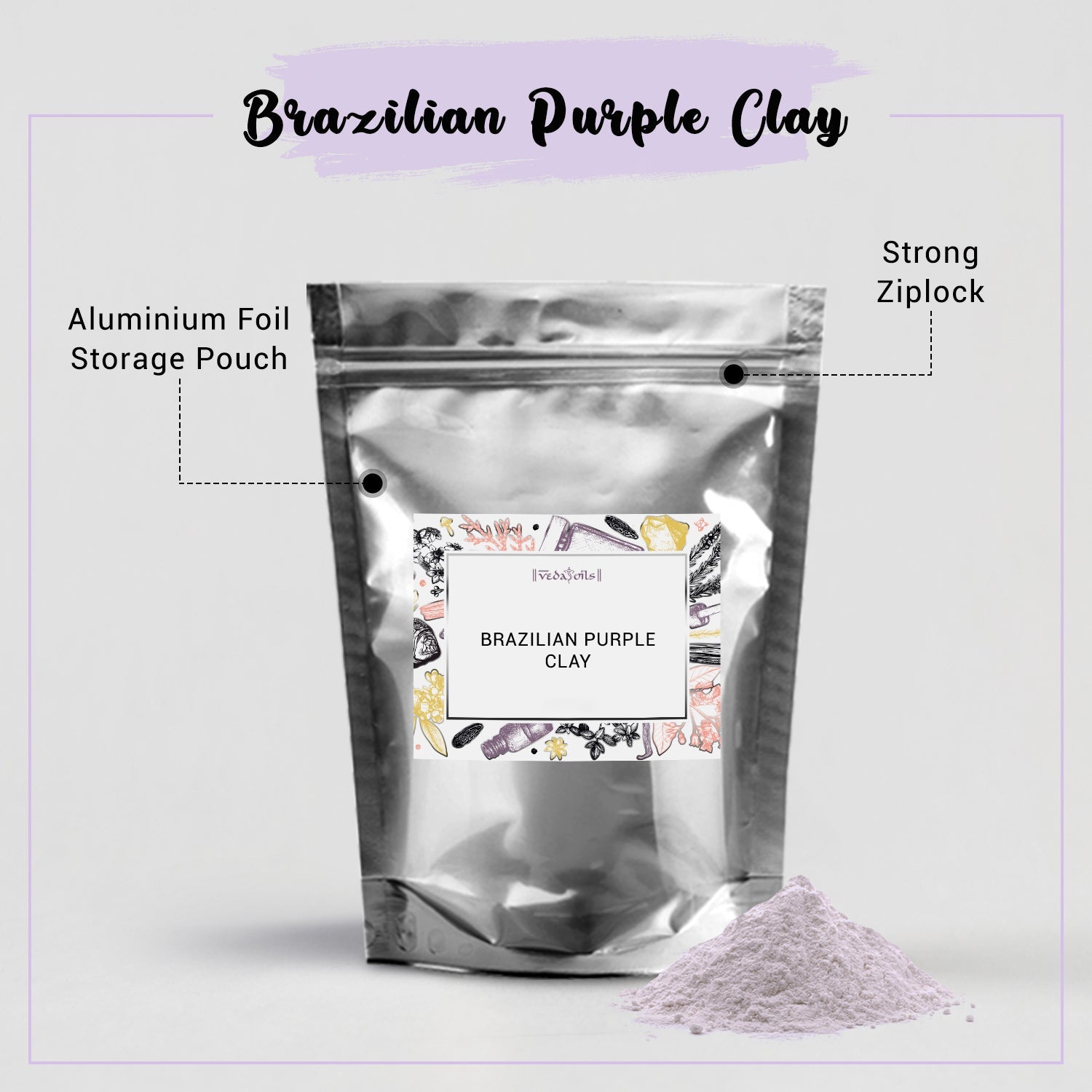 Our Certifications
Brazilian Purple Clay
Brazilian Purple Clay is a type of Kaolin Clay that is imported from Brazil. The Purple clay has a vibrant hue that looks very attractive and luxurious. This clay is rich in Vitamins, Minerals, and other nutrients which makes Skin Lustrous and Shiny. Natural Brazilian Clay is naturally rich in fatty acids containing Omega 3, 6, and 9, which effectively helps repair damaged tissue and cell regeneration.
Pure Purple Brazilian Clay contains high content of Magnesium which helps to slow down the process of skin aging as it has Antioxidant properties. Purple clay also helps in Skin Cells Regeneration making the skin look luminous and refreshing. The natural and Therapeutic Ingredients present in the purple Brazilian Clay helps to Re-Hydrate Dry Skin and prevents it from absorbing toxins caused due to pollution.
Organic Purple Brazilian clay is used as an Anti-aging agent as it diminishes visible wrinkles, fine lines, and other signs of aging. It also helps to heal acne & pimples by eliminating bacteria and other free radicals from the skin. The high content of Antioxidants present in organic Brazilian Purple Clay helps to constructively prevent skin from Sun Damage and Pollution.
VedaOils offers Premium Quality Brazilian Purple Clay that is free from any artificial additive or preservatives. It is used widely in Making Soaps and other Skin Care products that work miraculously on the face as well as the body.
Brazilian Purple Clay Use
Handmade Soaps
DIY Soaps bars made from Brazilian Purple Clay absorb the dirt, grime, and excessive oil from the skin. Purple Clay soap is a popular cleansing and moisturizing agent which helps to deeply nourish the skin.
Hydrating Facemasks
Purple Brazilian clay Facemasks are excellent skincare products that effectively help to absorb the oil and impurities from the skin. These facemasks also provide a hydrating and cooling effect on the skin.
Skincare Products
Natural Purple Clay provides has emollient and hydrating properties which are used in various Skincare products. The mixture of oil and Brazilian Purple clay powder gives products a lotion-like texture.
Face and Body Scrubs
Minute and fine grains of Brazilian Purple clay are used in scrubs which helps to gently exfoliate the impurities and dead skin cells from the body. These scrubs also help to get rid of stubborn blackheads.
Bath Bombs
Beautiful purple-colored Clay is used for making bath bombs. Brazilian Purple clay helps to hold the structure and sturdiness of bath bombs without getting crumbled. These bath bombs also help to nourish skin with nutrients.
Beauty Products
Natural Brazilian Purple clay is used in some products like eye shadow and blushes because of its smooth and powdery texture. Beauty products made from this clay are safe for the skin as it is naturally obtained.
Brazilian Purple Clay Benefits
Reduces Blemishes & Age Spots
Purple Brazilian Clay Powder contains powerful antioxidant compounds which help to lighten the age spots and blemishes from the skin. It also reduces the scars and hyperpigmentation from the skin.
Glowing & Youthful Skin
Fatty acids and minerals present in organic Purple Brazilian clay powder help suck out the impurities from the skin which eventually helps maintain youthful and lustrous skin. It also provides skin with a glass-like finish.
Regeneration of Skin Cells
Exfoliating and cleansing properties of the purple clay help to remove the dead skin cells and promote the regeneration of healthy skin cells. Purple Brazilian clay powder also prevents the accumulation of toxins on the skin.
Eliminates Harmful Bacteria
Antioxidants and antibacterial properties Present in Brazilian Purple Clay helps to fight free radicals. It also soothes the inflamed skin and controls acne and pimples caused due to bacterial infections.
Treats Acne & Pimples
Brazilian Purple Clay masks have excellent absorption potency which absorbs oil and impurities which cause acne, pimples, blackheads, and whiteheads. It also unclogs the pores by cleansing them out.
Minimizes Wrinkles
Anti-aging properties in Purple Brazilian Clay helps to diminish the appearance of wrinkles, fine lines, blemishes, and age spots. Purple Brazilian clay powder also tightens and shrinks the pores on the skin.
Buy Brazilian Purple Clay Powder at Wholesale Price
VedaOils is one of the fast-growing bulk manufacturers, suppliers, and wholesalers of the premium quality Brazilian Purple Clay Powder in United Kingdom. Our products are made from High-Quality natural ingredients that are safe for the face as well as the body. We offer our Clay powders at a Wholesale Price.
Our Purple Brazilian Clay Powder is unearthed naturally so it is completely Toxin-free. No artificial colors or fragrances are added to our clay powder. We do not even add any additives or preservatives in the manufacturing of our Brazilian Purple Clay Powder.
VedaOils Purple Clay Powder provides a soothing and cooling effect on the skin. It will also bring out the natural radiance and glow from within. Our Clay is also Vegan-friendly and Cruelty-free so it can suitable for all skin types. This clay powder is perfect for making various DIY products as it is free from impurities.
We make sure to follow certain packaging standards and quality check measures while packing our premium quality Purple Brazilian Clay so that you receive them safely at your doorsteps. We at VedaOils offer our Brazilian Purple Clay Powder in packages of different quantities (100gm, 500gm, 1kg) so that you can order them as per your needs. We export our Brazilian Purple clay to different countries like The USA, Canada, France, Australia, etc. through our logistic partners DHL, FedEx Blue Dart, India Post, etc.
Frequently Asked Questions
WE NOTICE YOU ARE FROM
US & CANADA LOCATION