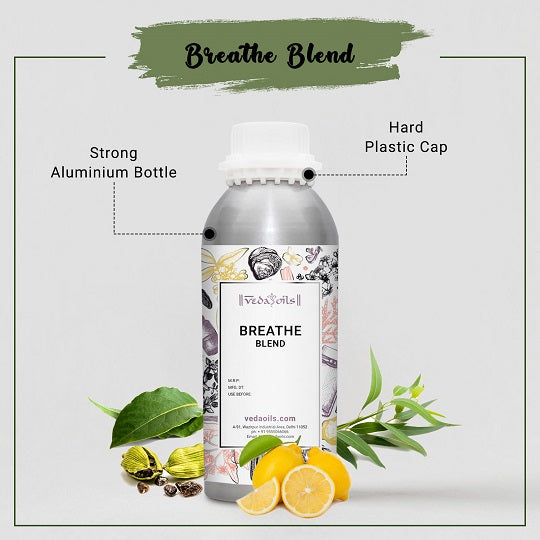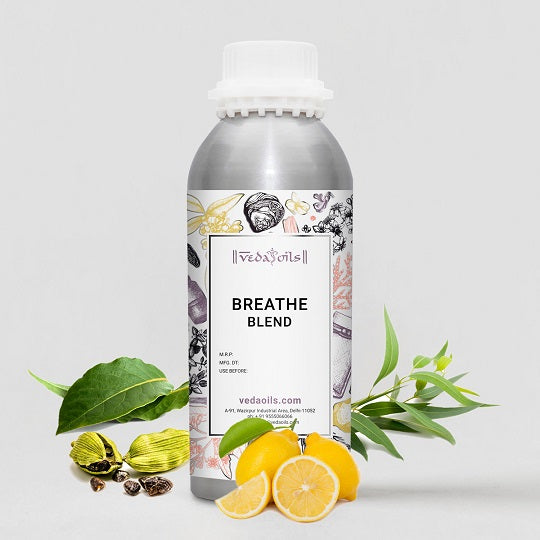 Our Certifications
Breathe Essential Oil Blend
Breathe Essential Oil Blend is a miraculous mix of essential oils that works to reduce the impact of seasonal risks that cause heavy breathing or airway obstruction. This 100% pure and natural blend is formulated to aid in the relief of breathing issues, the promotion of respiratory health, and the defense against seasonal and environmental dangers.
This natural oils' energizing scent can be utilized to induce clear, effortless, and easy breathing. Breathe Essential Oil has a relaxing smell that helps you breathe comfortably even at night. It is specifically intended to assist Melatonin in your body and to help regulate your body's circadian rhythm.
VedaOils' Breathe Essential Oil Blend is an exclusive formulation of essential oils like Cardamom, Eucalyptus, Bay Leaf, Lemon, Peppermint, and Tea Tree which are all proven to help the respiratory system. This blend can be used directly to the chest, back, or bottom of the feet, or it can be diffused at night to help relax the senses and induce sleep.
How to Use- Rub a few drops of this blend on your palm and inhale the aroma or you can inhale it through steam inhalation for respiratory congestion or sinus issues. You can also add 2 to 3 drops to your diffuser for a better breathing experience. This blend can also be applied to the body after Diluting it with a suitable carrier oil.
Breathe Essential Oil Blend Ingredients
Cardamom Essential Oil
The compounds present in Cardamom may assist in enhancing the airflow to your lungs and improve breathing. Cardamom has an energizing odor that improves your body's capacity to utilize oxygen during physical activity.
Eucalyptus Essential Oil
Eucalyptus oil is beneficial for respiratory diseases such as asthma and sinusitis. The oil interacts with mucous membranes for decreasing and loosening mucus, which allows easier breathing. This oil also helps to alleviate respiratory infection symptoms.
Pine Oil
Notable and uplifting clearing scent of Pine Essential Oil refreshes your room and effectively neutralises the odour. Using Good Sleep Essential Oil Blend in a diffuser can work as a room freshener and help create a sleep-inducing environment.
Lemon Essential Oil
Lemon Essential Oil's features and attributes are said to be useful for a healthy respiratory system and clear nasal passage. It also cures respiratory tract infections and persistent colds, both of which can cause inflammation and allergic responses.
Peppermint Essential Oil
Peppermint oil can assist to calm the bronchial muscles, which are the muscles that line the windpipe, therefore, it can help patients to breathe easier. This oil's strong menthol concentration also effectively helps to prevent sinus infections and respiratory problems.
Tea Tree Essential Oil
Tea tree oil has the ability to suppress the growth of harmful bacteria that cause sinus infections and respiratory problems. It also aids in the relief of respiratory symptoms such as heavy breathing, coughing, headache, and suffocation.
Breathe Essential Oil Blend Benefits
Easy Breathing
This essential oil blend can assist to relieve congestion, calm the airways, and improve general breathing. It improves the ability of the lung to accept air deep into the airway and promotes clear and effortless breathing.
Improves Respiratory Health
Breathe Essential Oil blend aids in the treatment of respiratory congestion. This combination improves the lung's ability to draw air deep into the airways while also relieving stress caused by colds, allergies, coughing, and even tuberculosis.
Treats Cough
Breathe essential oil combination has decongestant and antispasmodic qualities that aid in the treatment of respiratory difficulties including cough and cold. It also contains natural anti-allergenic characteristics that aid in the fight against infection and the treatment of dry coughing.
Fights Bacteria & Germs
This mix contains anti-allergen, antiseptic, and antibacterial agents that aid in the fight against infections and the removal of toxins from the body. It also protects against airborne microorganisms and alleviates congestion and stuffiness.
Soothes Sore Throat
Breathe essential oil blend is beneficial for sore throat because it aids in the breakdown of mucus that may develop in the respiratory system and decreases the pain associated with a sore throat, hence alleviating symptoms of respiratory diseases.
Reduces Inflammation
This essential oil blend's key ingredients are menthone, menthol, and eucalyptol, which assist to decongest the respiratory system and relieve inflammation. It also reduces throat swelling and discomfort produced by an inflammatory reaction.
Product Specifications
| | |
| --- | --- |
| Product Name: | Breathe Essential Oil Blend |
| Country of Origin: | India |
| Form: | Liquid |
| Color: | Transparent |
| Odor: | Minty |
| Solubility: | It is soluble in alcohol and some fixesd oils. |
| Packaging Type: | As Per Requirement |
| Shelf Life: | 2 years |
| Ingredients: | Lemon Essential Oil, Eucalyptus Essential Oil, Bay Leaf Essential Oil, Lemon Essential Oil, Peppermint Essential Oil, Tea Tree Essential Oil |
| COA: | |
| MSDS: | |
Packaging Sizes
Please Note: The packaging shown above is a General Representation of the various sizes and types of packaging available for this product. Not all sizes and types of packaging for this product maybe available at all times.
Buy Breathe Essential Oil Blend Online In UK at Low Price
If you are looking for a therapeutic remedy that relieves your breathing problems and gives you a relaxing experience, then Breathe Essential Oil Blend is for you. VedaOils is one of the leading manufacturers and suppliers of pure essential oils, essential oils blends, and other natural raw materials In United Kingdom. Our Breathe Essential Oil Blend is a beautiful concoction of pure essential oils beneficial for your health and overall well-being.
VedaOils' Breathe Essential Oil Blend is prized for its ability to relieve breathing problems and improve easy breathing. When it comes to preparing the essential oils blends our experts stick to our long-lived organic roots and prepare a remedy that is so versatile in use. We provide premium quality pure Breathe Essential Oil Blend at the best price in United Kingdom.
Buy Breathe Essential Oil Blend online through our online shopping portal. Our portal uses a smooth transaction process, and our customer care services are available to help you out shopping or getting the answer to your queries. We deliver our Breathe Essential Oil Blend all over United Kingdom and in other countries using our logistic partners DHL, FedEx BlueDart, India Post, etc.
Frequently Asked Questions
WE NOTICE YOU ARE FROM
US & CANADA LOCATION