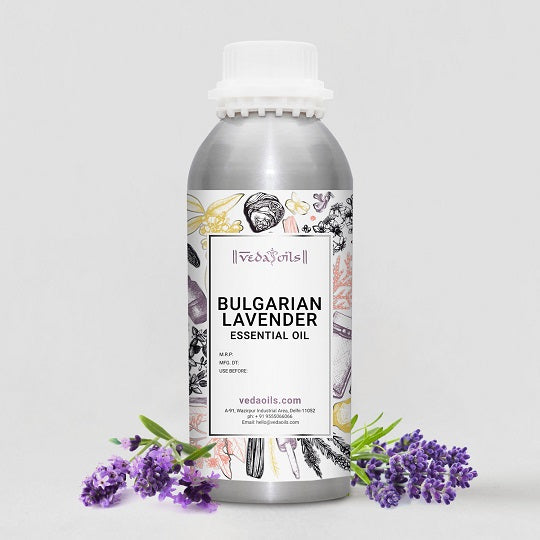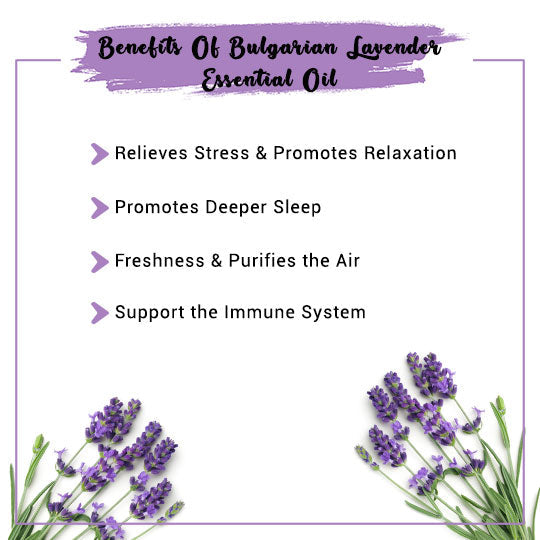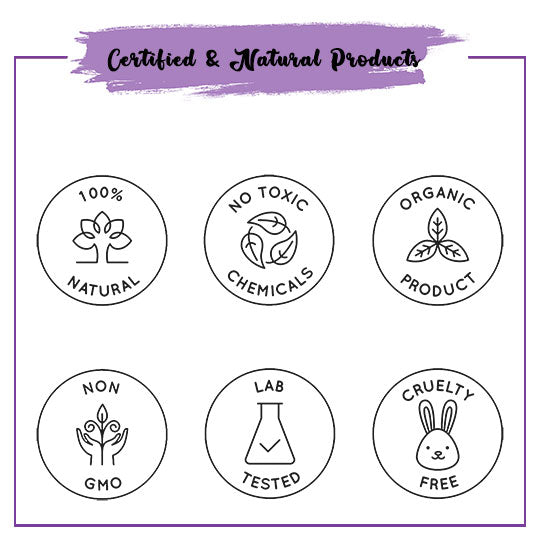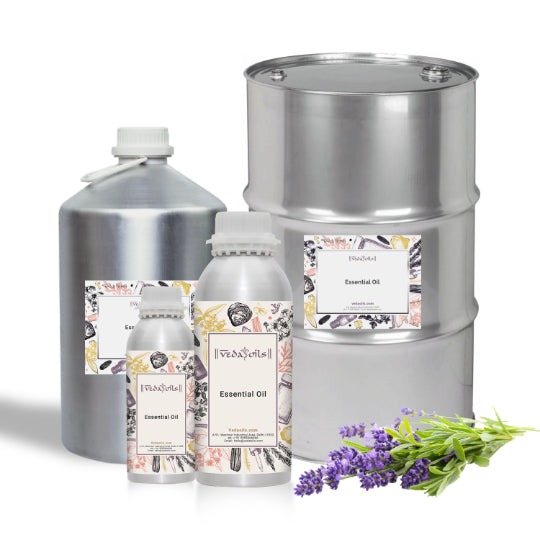 Our Certifications
Bulgarian Lavender Essential Oil
Lavender Essential Oil Bulgarian is an excellent scented essential oil used in Aromatherapy. The Lavender flowers that are used to extract this oil are imported from the farms of Bulgaria. It has a more pronounced and assertive aroma. The Bulgarian Lavender essential oil is filled with high linalool and linalyl acetate content, making it beneficial for therapies.
VedaOils natural Bulgarian Lavender Essential Oil is extracted by steam distillation, i.e. the flowers, steams are harvested then crushed. Besides being an Excellent Perfume, it is a natural pain reliever. Bulgarian Lavender Oil Reduces Headaches and Body Aches, increases our immunity, and gives better sleep.
Natural Bulgarian Lavender Essential Oil is helpful in several ways as it is rich in Medicinal Properties. Its linalool property helps to reduce anxiety and stress. Lavender essential oil is also used as an insect repellent. Bulgarian Lavender Oil can be used for soap making. It plays a significant role in therapeutic, medicinal, and aroma fields.
Bulgarian Lavender Essential Oil Uses
Aromatherapy
Natural Lavender Essential Oil is known to be a great mood lifter. It helps you to fight anxiety, stress, and depression by making you feel relaxed and comfortable. Therefore, it proves to be an effective ingredient in aromatherapy.
Ideal For Candle-Making
Organic Lavender Essential Oil Bulgarian is used in making scented candles. It has a rich mix of floral, sweet, and herbaceous aromas that can be ideal for making candles. When lighted, its smoke fills the rooms with a pleasant aroma and drives away foul odor.
Treats Acne
Our organic Lavender Essential Oil is an excellent skin toner. You can apply it to your skin after mixing it with your cream. Bulgarian Lavender oil consists of antioxidants and helps to get rid of lingering toxins present on your skin.
Fragrance Soap Making
Our best Lavender Essential Oil Bulgarian has a rich floral scent fruity and herbaceous. Lavender essential oil contains linalool and also exhibits antibacterial properties. It can be used with soaps and applied on our body for clean skin with a tinge on the aroma.
Hair Care Products
The vitamins and minerals that are present in Bulgarian Lavender oil make it effective for restoring the strength and volume of your hair strands. You can also use it in DIY soaps. It promotes rapid hair growth and can be added to hair oils and shampoos to get long, shiny, and thick hair.
Skin Lightening
The skin lightening properties of our pureLavender Bulgarian Essential Oil can give you a lighter complexion. It can also be useful for restoring the skin that gets tanned due to exposure to sunlight. Manufacturers of fairness creams will find them useful for their products.
Bulgarian Lavender Essential Oil Benefits
Instills Vibrant Energy
Pure Lavender essential oil Bulgarian has a lot of medicinal properties. You can also put a diffuser in your workplace or your bedroom to remain energetic and focused. Thus, it is recommended for students who feel a lack of motivation and concentration while studying.
Treats Common Cough And Cold
Natural Lavender Essential Oil gives you relief from common cough and cold. You can put a drop of Lavender oil on your handkerchief and inhale, or you can drop a few while steaming inhalation. It strengthens your immune system and helps you to get rid of the cough and cold.
Reduces Dandruff
Pure Lavender Essential Oil Bulgarian has got antibacterial and antifungal properties. It can cure irritation, itchiness and prevent dandruff. You can massage this essential oil by mixing two drops of it with your regular oil to prevent or reduce dandruff.
Promotes Blood Circulation
Pure Bulgarian Lavender essential oil helps to promote better blood flow and circulation by relaxing our blood vessels. One can use it by diffusing or mixing a few drops of the essential oil while bathing. It will help you to lead a healthy lifestyle.
Pain Relief
Organic Lavender Essential Oil Bulgarian is an efficient, natural analgesic and pain reliever. It reduces general migraines and headaches. It is also used as a muscle relaxant. Massaging this essential oil mixed with your everyday oil will give you relief from muscle strain and body pain.
Improves Sleep Disorder
Pure Lavender Essential Oil Bulgarian works well for people who have insomnia. The critical ingredient of Linden Blossom is its sedative property that helps to relax our cardiovascular system. It has got sedative properties that allow you to relax and get sleep.
Product Specifications
| | |
| --- | --- |
| Product Name: | Lavender Bulgaraian Essential Oil |
| Botanical Name: | Lavandula Angustifolia oil |
| CAS No: | 8000-28-0 |
| Country of Origin: | United Kingdom |
| F.E.M.A #: | 2622 |
| Specific Gravity: | 0.860 - 0.950 @ 25°C |
| Optical Rotation: | -27 to +24° |
| Moisture Content: | 0.01% |
| Refractive Index: | 1.459 |
| Flash Point: | 100°C |
| Acid Value: | 0.04% |
| Relative Density: | 0.886 gm/ml |
| Origin of part used: | Leaves |
| Form: | Liquid |
| Shelf Life: | 2 years |
| Packaging Type: | As Per Requirement |
| Extraction or Processing Method: | Steam Distillation |
| Solubility: | Soluble in Alcohols and Fixed oils. |
| Consistency: | Thin |
| Colour | Clear to pale yellow |
| Alternative Name | Lavender Bulgaraian Oil |
| Odor | Rich floral scent that is fruity and herbaceous. |
| Lavender Bulgaraian Oil Blends with | Ylang ylang, citronella, clary sage, orange, thyme, rosemary, jasmine, lemon, bergamot, and chamomile. |
| COA: | |
| MSDS: | |
CAUTION: CAUTION: It is meant only for external use. Therefore, do not consume Bulgarian Lavender Essential Oil internally and also keep it away from your eyes as it might irritate.
Packaging Sizes
Please Note: The packaging shown above is a General Representation of the various sizes and types of packaging available for this product. Not all sizes and types of packaging for this product maybe available at all times.
Buy Bulgarian Lavender Essential Oil Online In UK at Low Price
VedaOils is one of the leading Wholesale Suppliers, Manufacturer, and Exporter of Bulgarian Lavender essential oil and other Essential oil in United Kingdom. We offer the purest forms of essential oils to our customers. No chemicals, additives, or fillers are added to them. They also do not contain any artificial colors, preservatives, and fragrances. Therefore, they prove to be ideal for daily use. Though entirely natural, you should dilute Bulgarian Lavender essential oil before using it for topical application as it is highly concentrated.
We employ numerous tests and quality checks to ensure that only Premium-quality and Bulgarian Lavender essential oil reaches you. The highest quality and packaging standards are employed to deliver desirable results on usage. Also, our portal uses a secure payment gateway to safeguard your transactions. Buy Bulgarian Lavender oil from VedaOils Online according to requirements at the best competitive prices in the market. You can order Bulgarian Lavender oil for your daily purposes such as dark circles, skin lightening, hair growth, arthritis, digestion, and better oral health. Check out Bulgarian Lavender oil price per Kg, even you can purchase Lavender essential oil in bulk quantity.
We are one of the largest manufacturers, suppliers, and exporters of top-quality Bulgarian Lavender Essential Oil and other essential oils in UK. We also export our high-quality essential oils to the US, Canada, Australia and other countries. Our products follow the highest standards when it comes to quality and purity. We assure you that you will not regret choosing us! We also deliver the products throughout the world using our logistic partners DHL, FedEx Blue Dart, India Post, etc. Do not miss this excellent opportunity to buy chemical-free, fresh, and multi-purpose Lavender oil from VedaOils.
Frequently Asked Questions
WE NOTICE YOU ARE FROM
US & CANADA LOCATION