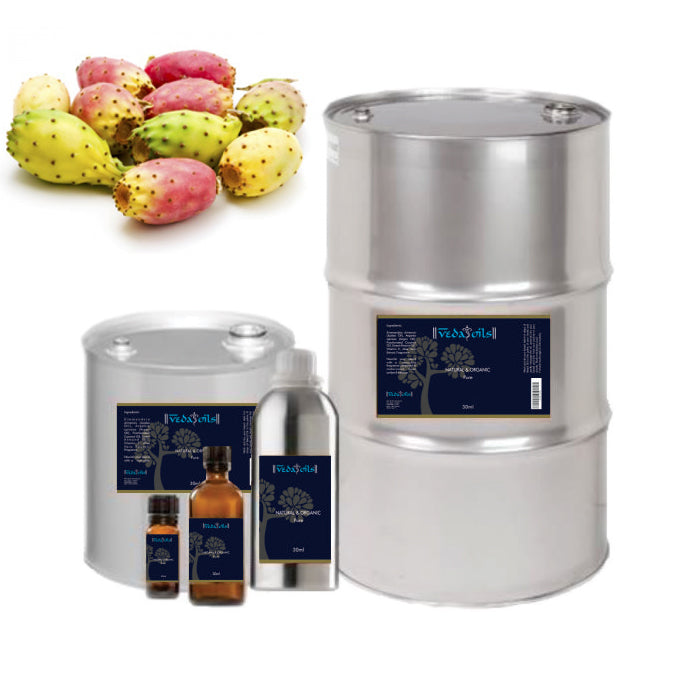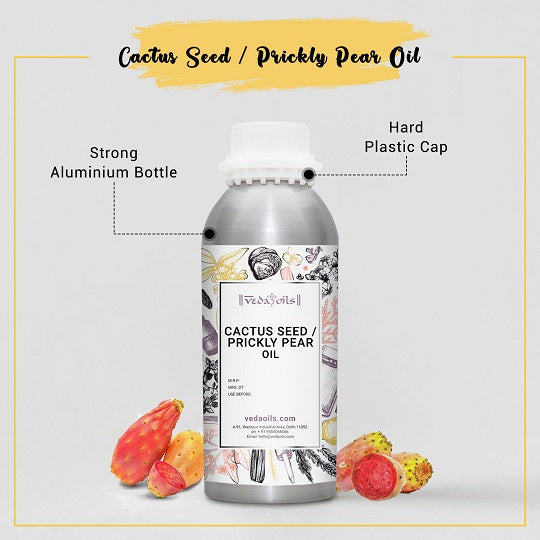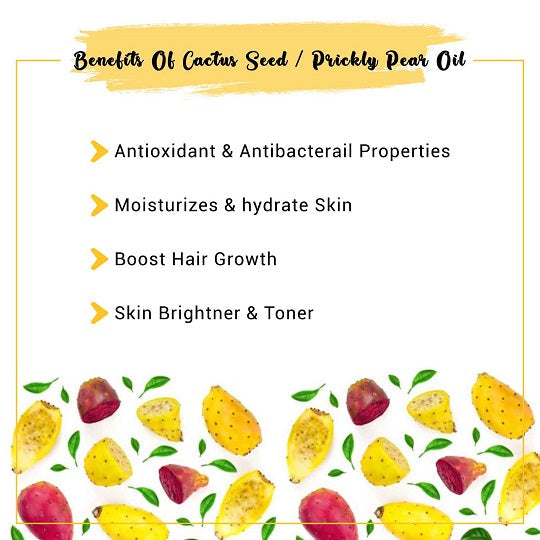 Our Certifications
Cactus Seed Oil / Prickly Pear Cactus Oil
Prickly Pear Cactus is a delicious fruit that has seeds that contain oil. The oil is extracted by cold-pressed method and known as Cactus Seed Oil or Prickly Pear Cactus Oil. Prickly Pear Cactus is found in many regions of Mexico. It is now common in many semi-arid zones of the world.
Our Organic Cactus Seed oil is from Morocco. The plant is called the name 'Miracle plant,' as it can survive water scarcity and still produce healthy, juicy fruits. We extract the pure refined prickly pear oil from the black seeds of the fruit. The manufacturing of Prickly Pear Seed Herbal Medicinal Oil is done by following high international standards.
Natural Cactus Seed oil carries fatty acids, nutrients, phenols, phytosterols, antioxidants, and Vitamin E. Prickly Pear Cactus oil is used as a skincare product to Nourish Skin, heal acne, psoriasis, sunburn, cuts, scars, etc. Cactus herbal and medicinal oil is also suitable for Hair Care.
Prickly Pear Cactus Oil Uses
Aromatherapy
Organic Cactus Seed oil plays a vital role in Aromatherapy. Prickly Pear Herbal Medicinal oil has anti-stress properties that help to reduce stress and anxiety. It cools down the nerves and allows you to relax. It keeps the mind fresh and stress-free.
Candle Making
Pure Prickly Pear Seed oil has a sweet fruity, nutty aroma. It is ideal for making scented candles. Manufacturers prefer cactus herbal oil for its lingering fragrance and refreshing aura. When you light the candles, there's a sweet essence which will uplift the mood.
Cosmetic Products
Our Organic Cactus Seed oil is used with Skincare creams and Cosmetics. Organic Prickly Pear herbal oil can retain water for a long time. It helps in nourishing the skin and locking the moisture. Natural Prickly pear cactus seed prevents dry and rough skin.
Soap Making
Rich exfoliating properties of Prickly Pear Cactus oil make it suitable for soap manufacturing. When infused in soaps, Prickly pear herbal medicinal oil does deep cleansing and removes dead cells from the skin. It cactus keeps the skin smooth and supple.
Under Eye Creams
Dark Circles are a common issue in today's world. Prickly Pear Cactus oil help in getting rid of this issue. Pure cactus herbal oil is rich in essential fatty acids that have skin brightening properties. It reduces the dark circles, lightens and brightens your skin.
Hair Care Products
Natural Cactus Seed oil is very beneficial for hair treatment. Prickly pear herbal medicinal oil prevents hair loss and promotes hair growth. The vitamin E-rich oil adds volume and shine to your hair. Apply pure cactus oil daily to get a quick result.
Cactus Seed Oil Benefits
Tighten Skin Pores
Pure Cactus seed oil has many fatty acids in its primary constituent. The essential fatty acids help in keeping the collagen layer of the skin moist and healthy. Pure Prickly Pear seed oil keeps your skin pores tight.
Conditions Hair
You can use natural Cactus Seed oil with your go-to hair conditioner. The herbal oil has conditioning properties that heal rough hair and split-ends. You can directly apply cactus oil after washing with shampoo, or mix it with a conditioner.
Anti-aging
Our pure Prickly Pear Cactus oil works as an anti-aging agent. The herbal medicinal oil has a high amount of Betalains which are antioxidants with anti-aging properties. It helps in slowing down the aging effects on your skin.
Reduces Acne
Natural Cactus Seed oil is rich in amino acids. The amino acids in prickly pear seed oil herbal oil promote collagen production and encourage faster cell turnover. When you apply prickly pear oil to the affected areas, it heals and renews the skin.
Induces Good Sleep
Natural Cactus Seed oil brings in good and sound sleep. It has sedative properties that cool down your nerves and relaxes the mind. Apply prickly pear oil on your temples and behind the ears before sleeping to get a sound and peaceful sleep.
Sunscreens
Prickly Pear Cactus oil protects your skin from UV rays and gives comfort from sunburn. You can apply this oil with your sunscreen cream. It provides relief to you from the redness of your skin and keeps it tan-free.
Product Specifications
Product Name:

Prickly Pear Cactus Oil

Botanical Name:

Opuntiaficus-indica

CAS No:

90082-21-6

Country of Origin:

India

F.E.M.A:

N/A

Specific Gravity:

0.9200 @20C

Optical Rotation:

N/A

Refractive Index:

1.465 to 1.472 @20C

Acid Value:

0.04%

Relative Density:

0.886 gm/ml

Origin of part used:

Cactus Seed

Form:

Liquid

Shelf Life:

2 years

Packaging Type:

As Per Requirement

Extraction or Processing Method:

Cold Pressed

Solubility:

Soluble In Alcohol And Most Fixed Oils

Color:

Clear light yellow

Odor:

Nutty

Primary Constituents:

Fatty acids, nutrients, phenols, phytosterols, antioxidants, and Vitamin E.

Cactus Seed Oil Blends with:

Sunflower Oil, Organic Jojoba Oil, Coconut Oil & Essential Oils etc.

COA:
MSDS:
CAUTION: It is meant for external purposes. Keep it away from the reach of your kids and avoid direct contact with eyes
Packaging Sizes
Please Note: The packaging shown above is a General Representation of the various sizes and types of packaging available for this product. Not all sizes and types of packaging for this product maybe available at all times.
Buy Prickly Pear Cactus Oil Online In UK
VedaOils is one of the leading Wholesale Suppliers, Manufacturer, and Exporter of Cactus seed Oil and other Carrier oil in United Kingdom. We offer the purest forms of Carrier oils to our customers. No chemicals, additives, or fillers are added to them. They also do not contain any artificial colours, preservatives, and fragrances. Therefore, they prove to be ideal for daily use.
We employ numerous tests and quality checks to ensure that only Premium-quality and prickly pear Oil reaches you. The highest quality and packaging standards are employed to deliver desirable results on usage. Also, our portal uses a secure payment gateway to safeguard your transactions. Buy Cactus seed oil from VedaOils Online according to requirements at the best competitive prices in the market. You can order prickly pear oil for your daily purposes such as dark circles, skin lightening, and hair growth . Check out prickly pear oil price per Ltr, even you can purchase Cactus seed Oil in bulk quantity.
We export our high-quality Carrier oils to the US, Canada, Australia and other countries. Our products follow the highest standards when it comes to quality and purity. We assure you that you will not regret choosing us! We also deliver the products throughout the world using our logistic partners DHL, FedEx Blue Dart, India Post, etc. Do not miss this excellent opportunity to buy chemical-free, fresh, and multi-purpose prickly pear oil from VedaOils.
Frequently Asked Questions
WE NOTICE YOU ARE FROM
US & CANADA LOCATION