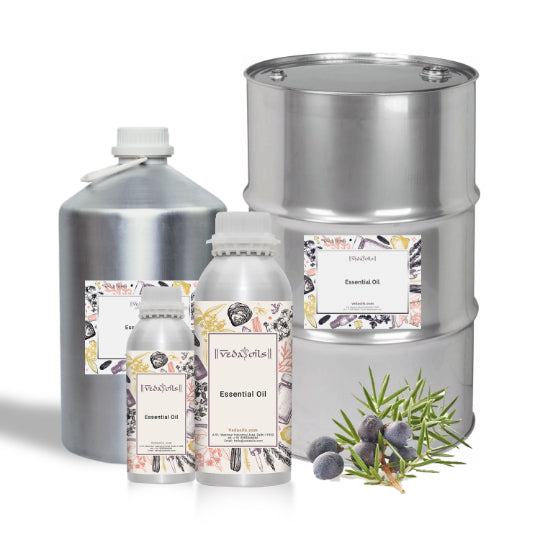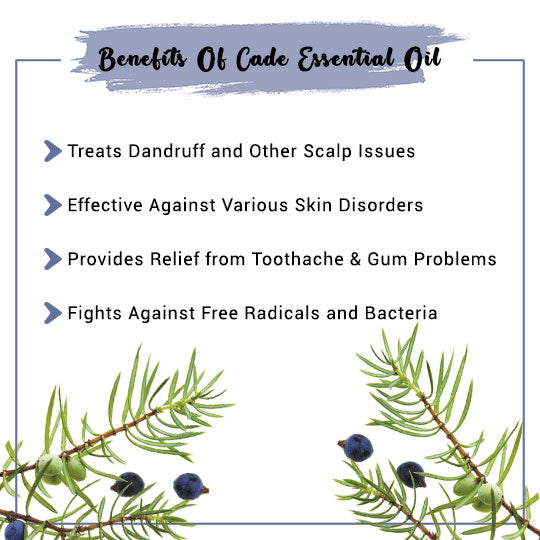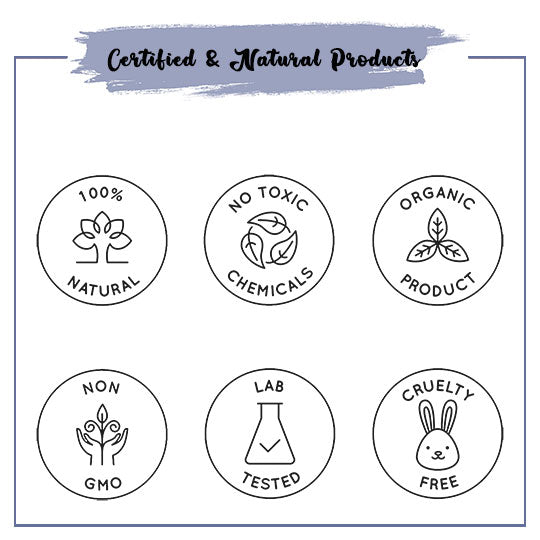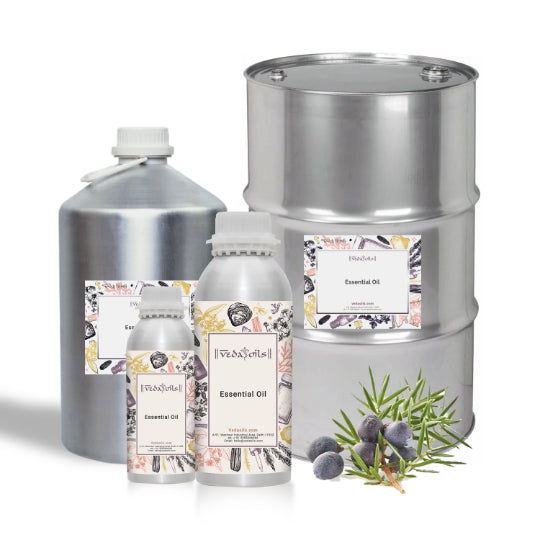 Our Certifications
Cade Essential Oil
Cade Essential Oil is prepared from the wood and branches of the Prickly Juniper that is also known as the Juniper Tar plant. The process of steam distillation is preferred while making this oil. Cade Essential Oil has a dark hue and a powerfully smoky aroma that is incorporated in skincare and cosmetic formulations. It is also utilized while making incense sticks due to its unique and blissful scent.
Cade Essential Oil exhibits strong disinfectant, antiseptic, anti-microbial, and analgesic properties. Therefore, it proves to be vital for treating several skin conditions and ailments. It soothes scalp irritation and is added to several hair care formulations. Skin irritation or itching can be minimized by applying a diluted form of this oil.
Manufacturers of skin creams, lotions, and ointments include it in their products because of its therapeutic benefits. Cade Essential Oil is preferred for meditation and aromatherapy uses as it promotes a feeling of deep calmness and relaxation when diffused. It is also added in deodorants, perfumes, and similar products as a base note. Its calming properties make it a useful ingredient in bath care products as well. As it is a concentrated oil, avoid applying it directly to the skin.
Cade Essential Oil Uses
Perfume Blends
Cade Essential Oil blends perfectly with lemon, rosemary, geranium, and several other essential oils. Therefore, it is preferred in perfume blends, deodorants, body sprays, colognes, and perfumes. It is also used in the perfume industry due to its fixative properties.
Haircare Products
Cade Essential Oil prevents hair loss by strengthening the hair roots. It is also effective in treating scalp irritation and dandruff. It is added in hair loss, anti-dandruff formulas, and other hair care products. It maintains the overall health of your hair and scalp.
Lotions
Antiseptic properties of Cade Essential Oil can be beneficial while making ointments and lotions. Moreover, its antimicrobial effects can be used for treating wounds and skin itching. It also provides relief from skin conditions caused due to germs and parasites.
Incense Sticks
Woody, smoky, and intense aroma of Cade Essential Oil can be added to incense sticks. It gives a unique and fresh fragrance to these incense sticks. Also, its scent has a calming aroma that creates a serene ambiance.
Anti-Acne Creams
Cade Essential Oil is known for its ability to minimize and heal skin eruptions. As a result, it proves to be an excellent remedy for acne. It also works against pimples and can be added directly to creams and moisturizers for getting acne relief.
Aromatherapy
Comforting scent of Cade Essential Oil has a positive impact on your mind. It soothes negative thoughts and balances emotions. Aromatherapists have been using it for since long for treating stress and anxiety. It also improves concentration and combats depression.
Cade Essential Oil Benefits
Healing Wounds
Cade Essential Oil possesses disinfectant properties that prove helpful for treating wounds, and cuts. Its antibacterial and antiseptic properties support faster healing of cuts and scrapes. Moreover, it soothes the inflammation that is associated with cuts and wounds.
Banishes Pain
Mix Cade Essential Oil with Cedarwood, Thyme, and Rosemary oil to create a massage blend. This massage blend can provide relief from joint pain and muscle stiffness. You can even utilize it for making bath oils for enjoying a rejuvenating bath.
Nourishes Scalp
Cade Essential Oil nourishes the scalp and resolves issues like scalp irritation. It is also effective against head lice and helps to strengthen hair roots as well. It promotes the healthy growth of air by inhibiting the growth of harmful microbes.
Boosts Energy
Feeling of fatigue or drowsiness can reduce your energy levels and affect your mood. Diffuse this oil or utilize it via aromatic baths or massage therapies to counter the negative feelings and fatigue. Its scent will revive your mood and energize your senses.
Combats Skin Infection
Cade Essential Oil combats skin infection due to its powerful disinfectant properties. It is added to skin cleansers, face cleansers, and soaps due to its ability to protect your skin from viruses, bacteria, and fungi. You may also treat conditions like eczema and psoriasis with it.
Soothes Throat Infection
Sore throat, cold, and ailments like bronchitis can be treated by diffusing Cade Essential Oil. Its expectorant qualities open up sinuses and break down mucus and phlegm to provide instant relief from cough, cold, congestion, and other symptoms.
Product Specifications
| | |
| --- | --- |
| Botanical Name: | Juniperus Oxycedrus |
| CAS#: | 90046-02-9 |
| Country of Origin: | India |
| F.E.M.A #: | 2108 |
| Specific Gravity: | 0.960 - 1.040 @ 68° F |
| Optical Rotation: | N/A |
| Refractive Index: | 1.510 - 1.535 @ 68° F |
| Flash Point: | °F > 194 |
| Origin of part used: | branches of Juniper Shrub |
| Form: | Liquid |
| Shelf Life: | 2 years |
| Packaging Type: | As Per Requirement |
| Extraction or Processing Method: | Steam Distillation |
| Solubility: | Soluble in alcohols and fixed oils and slightly soluble in water |
| Color & Odor: | Brown & amp; Characteristic |
| Major Constituents: | Cade Resin Extract |
| Blends with: | Lavender, Lemon, Neroli, Sandalwood, and Frankincense essential oils and all types of carrier oils. |
| COA: | |
| MSDS: | |
Packaging Sizes
Please Note: The packaging shown above is a General Representation of the various sizes and types of packaging available for this product. Not all sizes and types of packaging for this product maybe available at all times.
Buy Cade Essential Oil Online In India at Wholesale Prices
VedaOils is one of the leading Wholesale suppliers, manufacturer, and exporter of Cade Essential Oil and other Essential Oils in India. We offer the purest forms of essential oils to our customers. No chemicals, additives, or fillers are added to them. Our Cade essential oil or any other do not contain any artificial colors, preservatives, and fragrances. Therefore, they prove to be ideal for daily use. Though entirely natural, you should dilute cade essential oil before using it for topical application as it is highly concentrated.
We employ numerous tests and quality checks to ensure that only Premium-quality and Rectified Cade Essential Oil reaches you. The highest quality and packaging standards are employed to deliver desirable results on usage. Buy Essential Oil of cade from VedaOils online according to requirements at the best competitive prices in the market. You can order essential oils for your daily purposes such as dark circles, skin lightening, hair growth, arthritis, digestion, better oral health, and many more. Check out rectified cade essential oil price per Kg, and even you can purchase this essential oil in bulk quantity.
VedaOils are one of the Largest Manufacturers, suppliers, and exporters of top-quality Cade Essential Oil and other essential oils in India. We also export our high-quality essential oil to the US, Canada, UK, Australia and other countries. Our products follow the highest standards when it comes to quality and purity. We also deliver the products throughout the world using our logistic partners DHL, FedEx Blue Dart, India Post, etc. Do not miss this excellent opportunity to buy chemical-free, fresh, and multi-purpose essential oils from VedaOils.
Frequently Asked Questions
WE NOTICE YOU ARE FROM
US & CANADA LOCATION