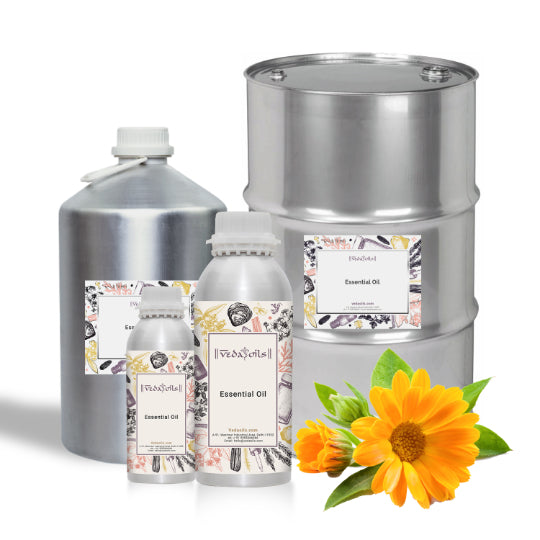 Our Certifications
Calendula Essential Oil
Calendula Essential Oil is made from the flowering tops of marigold that have a long history when it comes to the treatment of skin issues and ailments. Anti-inflammatory properties of Calendula oil make it effective against numerous skin issues. It also prevents swelling of the skin and soothes it to a great extent.
Our Pure Calendula Essential Oil possesses powerful antibacterial properties that make it effective against wounds, cuts, and rashes. Therefore, it is widely used in the manufacturing of wound healing creams and ointments. Marigold essential oil provides instant relief from diaper rashes.
Petals of marigold flower contain ample flavonoids that exhibit various Therapeutic Properties when used topically. Though a native plant of Canada, it is widely seen in many parts of Asia and Africa as well. Some women experience skin irritation and dermatitis while getting their breast cancer treatment done via Radiation Therapy. Ointments containing Calendula essential oil provide quick relief from these skin conditions. Calendula Essential Oil is used in Aromatherapy sessions for enhancing mental focus and concentration. You can inhale or take it by diffusing before the start of their day to remain calm and focused throughout the day.
Calendula Essential Oil Uses
Scented Candles & Soap Bars
Calendula Essential Oil proves to be an excellent ingredient for making Perfumes, Soaps, Scented Candles & Incense sticks. You may also add it to your natural bath oils to enjoy a great bathing experience.
Repels Mosquitoes
You can apply a diluted mixture of our best Calendula essential oil on your skin for keeping mosquitoes away at night. For that, you can blend it with a coconut carrier oil and apply it all over your body before going to bed.
Resists Skin Aging
Applying a diluted form of organic Calendula Oil on your face and skin every day prevents dullness of skin, removes fine lines, and evens skin tone and texture. It is a useful ingredient of numerous anti-aging creams and lotions.
Heals Pressure Ulcers
Bedsores or pressure ulcers can be very dangerous to your health. Ointments and creams containing marigold flower oil ensure a speedy recovery from this condition. This is due to its antimicrobial, antiseptic, and anti-inflammatory properties.
Relieves Cold Symptoms
Inhaling pure Calendula essential oil directly or through vapors reduces cold and cough symptoms. It is effective against congestion by supporting free breathing. Calendula oil is used to manufacture cold rubs or ointments sometimes.
Promotes Healthy Hair
Calendula essential oil is also used on a wide scale in shampoos and conditioners because of its ability to support scalp health. Calendula oil reduces dandruff and improves the overall health of your hair.
Calendula Essential Oil Benefits
Cures Ear Infection
Add garlic and mullein to Calendula extract can provide quick relief for the kids and teenagers who suffer from an ear infection. Even specialized ear infection products contain Calendula essential oil as one of their key ingredients.
Tones Skin
VedaOils Pure Calendula essential oil proves to be an excellent skin toner. It also makes your skin soft and rejuvenates it deeply. As a result, you will find many Calendula skin toners in the market.
Soothes Diaper Rashes
You can use a small and diluted quantity of this oil to heal diaper rashes. The anti-inflammatory properties of marigold oil will provide quick relief from skin irritation as well. You can blend it with Aloe Vera gel.
Deep Cleansing of Skin
Organic Calendula essential oil can clean your skin pores deeply by removing excess dirt, dust, and oil from it. Calendula oil is used in foaming face washes and other cleaning products.
Cures Cramps
Our Natural Calendula Essential Oil exhibits antispasmodic properties that can be used to get instant relief from muscle cramps, spasms, and sprains. Manufacturers use it to make ointments to relieve cramps and muscle stiffness.
Moisturizes Skin
Hydrating properties of our Organic Calendula Essential Oil will make your skin soft. It also nourishes the areas of your skin that are dry and patchy. It provides a glowing complexion to your face.
Product Specifications
| | |
| --- | --- |
| Product Name: | Calendula Essential Oil |
| Botanical Name: | Calendula Officinalis Flower Oil |
| CAS No: | 70892-20-5 |
| Country of Origin: | United Kingdom |
| F.E.M.A #: | 2658 |
| Specific Gravity: | 0.91000 @ 25°C |
| Optical Rotation: | NA |
| Moisture Content: | 0.01% |
| Refractive Index: | 1.459 |
| Flash Point: | >60°C |
| Acid Value: | 0.04% |
| Relative Density: | 0.886 gm/ml |
| Origin of part used: | Flowering tops |
| Form: | Liquid |
| Shelf Life: | 2 years |
| Packaging Type: | As Per Requirement |
| Extraction or Processing Method: | Steam Distillation |
| Solubility: | Soluble in Alcohols & Fixed Oils |
| Colour | Clear To Yellow Transparent Liquid |
| Odor: | Earthy |
| Major Constituents: | Calendula Officinalis Flower Extract |
| Blends with: | Cypress, Lavender, Lemon, Seabuckthorn, and Saw Palmetto essential oils and all types of carrier oils. |
| COA: | |
| MSDS: | |
CAUTION: CAUTION: It is meant only for external use. Therefore, do not consume Calendula Essential Oil internally and also keep it away from your eyes as it might irritate.
Packaging Sizes
Please Note: The packaging shown above is a General Representation of the various sizes and types of packaging available for this product. Not all sizes and types of packaging for this product maybe available at all times.
Buy Calendula Essential Oil Online in UK at Best Price
VedaOils is one of the leading Wholesale Suppliers, Manufacturer, and Exporter of Calendula Essential Oil and other Essential Oils in United Kingdom. We offer the purest forms of essential oils to our customers. No chemicals, additives, or fillers are added to them. They also do not contain any artificial colours, preservatives, and fragrances. Therefore, they prove to be ideal for daily use. Though entirely natural, you should dilute Calendula essential oil before using it for topical application as it is highly concentrated.
We employ numerous tests and quality checks to ensure that only Premium-quality and Calendula essential oil reaches you. The highest quality and packaging standards are employed to deliver desirable results on usage. Also, our portal uses a secure payment gateway to safeguard your transactions. Buy Calendula Oil from VedaOils Online according to requirements at the best competitive prices in the market. You can order Calendula oil for your daily purposes such as dark circles, skin lightening, hair growth, arthritis, digestion, and better oral health. Check out Calendula oil price per Kg, even you can purchase Calendula essential oil in bulk quantity.
We also export our high-quality essential oils to the US, Canada, Australia and other countries. Our products follow the highest standards when it comes to quality and purity. We assure you that you will not regret choosing us! We also deliver the products throughout the world using our logistic partners DHL, FedEx, etc. Do not miss this excellent opportunity to buy chemical-free, fresh, and multi-purpose Calendula Oil from VedaOils.
Frequently Asked Questions
WE NOTICE YOU ARE FROM
US & CANADA LOCATION