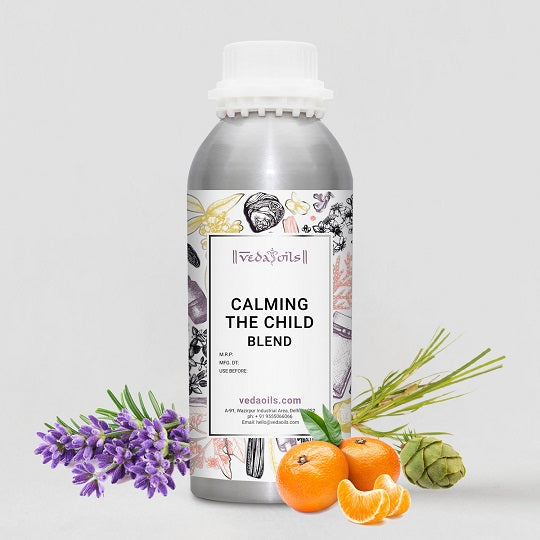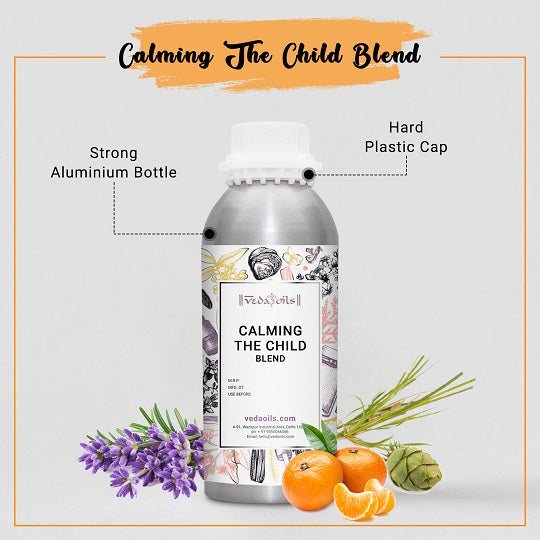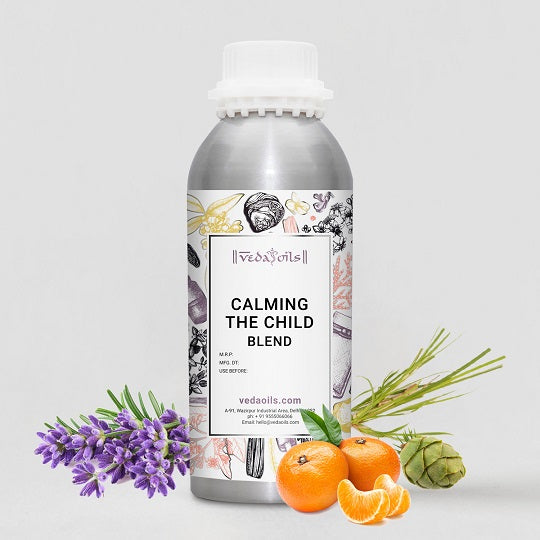 Our Certifications
Calming Child Essential Oil Blend
Formulated with pure essential oils, Calming the Child Essential Oil Blend is designed to bring a sense of peace and easiness while reducing anxiety in both children and adults. Our experts carefully crafted this miraculous blend while keeping your child's health and well-being in mind. Calming the child essential oil blend is an effective concoction of Lavender, Mandarin, Sandalwood Oils. This blend contains a lovely uplifting fragrance that instantly relaxes your mind and brings in a happy relaxing environment when diffused.
Rich in therapeutic and ayurvedic benefits, this blend helps fight viral disease and keeps the child protected. VedaOils' Calming the Child blend is the best choice for kids to get them at ease and reduce anxiousness. It is perfect for a soothing, cooling massage after a long day. The anti-inflammatory, antimicrobial and stress-relieving properties of this blend make it a magical ayurvedic remedy. Massage this oil blend on your feet and sole to get over the stress of the hunched day and relax your body with a relieving soothing potion.
How to Use: Dilute with a carrier oil for topical application. Pour a few drops of this soothing, fresh-smelling synergy blend in a diffuser or dilute it with a suitable carrier oil for massage purposes. You can massage this oil into your child's skin or gently rub it into their neck, chest, and feet.
Calming Child Essential Oil Blend Ingredients
Lavender Oil
Well known for its mild, gentle effect on babies, Lavender essential oil contains sleep-inducing properties. Infused with the soothing benefits of lavender oil, effectively promotes better sleep.
Mandarin Orange Oil
Sweet scent of mandarin tends to be a favorite of children. Mandarin essential oil's effects range from reducing stress, anxiety to pulse rate in children that keep them at ease.
Sandalwood Oil
Sandalwood Oil has a calming and soothing effect on your mind. This blend works effectively to improve the focus of your child and sharpen the memory when diffused. Rich in ayurvedic benefits, helps improve memory and enhances convention.
Calming Child Essential Oil Blend Benefits
Relieves Stress
Being the host of stress-relieving properties, our Calming The Child Essential oil reduces anxiety and stress. It also keeps in check the pulses, and it has a mild effect on children when topically used.
Promotes Better Sleep
Sleep-inducing properties of Calming the Child Blend relieve the uneasiness of the kids and help them sleep better at night. This blend will get you and your kid in deep slumber.
Energizes Body
Calming the child essential oil is designed to reduce kids' tiredness after playing too much. It uplifts the mood and reenergizes the body while relaxing the nerves.
Aromatherapy
Pour a few drops into an aromatherapy diffuser for relaxation and release your stiff and sour muscles. The invigorating aroma of this blend will help to calm your child and promote a sense of happiness.
Massage & Bath Oil
Rich in anti-inflammatory and pain-relieving properties VedaOils' Calming The Child Essential Oil Blend is a topical ailment for eases the pain and restlessness of viral fever and so on. Pour a few drops to either massage oil or bath oil for ultimate relaxation.
Insect Repellent
Synergy blend's antibacterial properties not only kill bacteria but also repel insects and mosquitos. You can pour a few drops of this oil into a carrier oil and rub it on your child's exposed hands and legs and let the blend do its magic by keeping mosquitoes and insects away.
Product Specifications
Product Name:

Calming Child Essential Oil Blend

Brand Name:

VedaOils

Country of Origin:

India

Form:

Liquid

Color:

Light Yellowish

Odor:

Fresh & Floral fragrance.

Consistency:

Light

Solubility:

It is soluble in alcohol and some fixesd oils.

Packaging Type:

As Per Requirement

Ingredients:

Lavender, Mandarine, Sandalwood

Shelf Life:

2 years

COA:
MSDS:
Packaging Sizes
Please Note: The packaging shown above is a General Representation of the various sizes and types of packaging available for this product. Not all sizes and types of packaging for this product maybe available at all times.
Buy Calming Child Essential Oil Blend In UK at Low Price
If you are looking for a therapeutic remedy that relieves your child's uneasiness and calms down the anxiousness, then Calming Child Essential Oil Blend is for you. VedaOils is one of the leading manufacturers and suppliers of pure essential oils, essential oils blends, and other natural raw materials In United Kingdom. Our Calming Child Essential Oil Blend is a powerful concoction of pure essential oils that are beneficial for your child's health and overall well-being.
VedaOils' Calming Child Essential Oil Blend is prized for its ability to calm and relax the mind and help the child sleep better. When it comes to preparing the essential oils blends, our experts stick to our long live organic roots and prepare a remedy that is so versatile in use. We provide premium quality pure Calming Child Essential Oil Blend at the best price in United Kingdom. Buy VedaOils' Calming Child Essential Oil Blend online through our online shopping portal.
Our portal uses a smooth transaction process, and our customer care services are available to help you out shopping or getting the answer to your queries. We deliver Calming Child Essential Oil Blend all over United Kingdom and in other countries using our logistic partners DHL, FedEx BlueDart, India Post, etc. We ensure you that our Calming Child Essential Oil Blend is completely free from any additives. We do not use any colored tints, preservatives, fragrances, or chemically infused ingredients to manufacture Calming Child Essential Oil Blend. Use our products without hesitation!
Frequently Asked Questions
WE NOTICE YOU ARE FROM
US & CANADA LOCATION