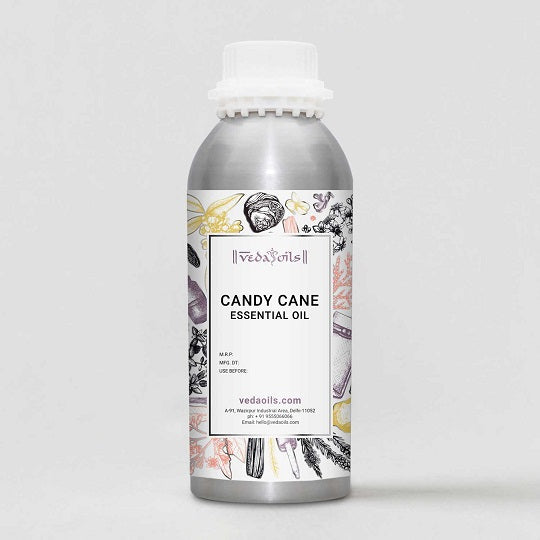 Our Certifications
Candy Cane Essential Oil Blend
The intoxicating yet warming scent of candy canes has a reassuring quality. It may instantly transport us back to more carefree days and is full of nostalgia and childhood delights. This got us wondering: "How can we bottle that feeling?" Candy cane essential oil is what comes of it. Take a stroll along Candy Cane Lane when you need a lift. You can rely on this essential oil combination for a cold and refreshing boost whenever the mood strikes you, featuring notes of Peppermint, Sugar, Vanilla, Amber and Musk.
It is a great aroma for seasonal home fragrance and skincare items.The flavorful blend of peppermint, vanilla, and sugar in the candy cane aroma is irresistible. Vanilla and peppermint combine to create a comforting sweetness. This makes the aroma both potent and pervasive.
Candy Cane Essential Blend Ingredients
Peppermint Essential Oil
Peppermint Oil is quite popular among the makers of scented candles. Minty, refreshing distinctive fragrance of peppermint eliminates the foul smell from your rooms.
Amber Essential Oil
Your hands and feet get cold frequently if the blood flow in your body is improper. The stimulant properties of organic Amber Rose Essential Oil will regulate blood circulation and avoid such issues.
Vanilla Essential Oil
Get refreshing scent of vanilla oil to your cosmetic, homemade candles and beauty care applications. Pour a few drops of vanilla essential oil in them. You will love its rich and deep aroma quite a lot.
Candy Cane Blend Uses & Benefits
Aromatherapy
Allow the stress and strains of daily life to be relieved by this tranquil combination, It quiet your nerves and assist you in relaxing. Use them for promote self-awareness, stabilization, & loss in stress and anxiety.
Soap Making
Candy cane essential oil's opulent and cozy perfume makes it perfect for scented soaps, bath bombs an other DIY peoducts. It can be used to make melt-and-pour soap as well as cold-process soap.
Candle Making
The traditional sweetness of vanilla, amber and musk in candy cane essential oil makes it appropriate for use in candle making. Sweet perfume boosts mood, & creates a cozy and comfortable atmosphere.
Product Specifications
Product Name:
Candy Cane Essential Oil Blend
Brand Name:
Vedaoils
Country of Origin:
India
Color:
Orange
Odor:
sweet sugary, comforting, caramel note.
Consistency:
Light
Packaging Type:
As Per Requirement
Ingredients:
Vanilla Essential Oil, Peppermint Essential Oil & Amber Essential Oil
Shelf Life:
2 years
COA:
MSDS:
Packaging Sizes
Please Note: The packaging shown above is a General Representation of the various sizes and types of packaging available for this product. Not all sizes and types of packaging for this product maybe available at all times.
Buy Candy Cane Essential Oil Blend In UK at Low Price
If you are looking for a rejuvenating and refreshing oil that makes the atmosphere lively and cheerful, then Candy Cane Essential Oil Blend is for you. VedaOils is one of the leading manufacturers and suppliers of pure essential oils, essential oils blends, and other natural raw materials in United Kingdom. Our Candy Cane Oil Blend is a beautiful concoction of pure essential oils beneficial for your health and overall well-being.
VedaOils' Candy Cane Oil Blend is prized for its ability to calm and relax your mind and uplift your mood. When it comes to preparing the essential oils blends our experts stick to our long live organic roots and prepare a remedy that is so versatile in use. We provide premium quality pure Candy Cane Oil Blend at the best price in United Kingdom.
Buy Pure Candy Cane Oil Blend online through our online shopping portal. Our portal uses a smooth transaction process, and our customer care services are available to help you out shopping or getting the answer to your queries. We deliver our Candy Cane Oil Blend all over United Kingdom and in other countries using our logistic partners DHL, FedEx, BlueDart, India Post, etc.
We ensure you that our Therapeutic Grade Candy Cane Oil Blend is completely free from any additives. To manufacture our Candy Cane Oil Blend, we do not use any colored tints, preservatives, fragrances, or chemically infused ingredients. Use our products without hesitation!
Frequently Asked Questions
WE NOTICE YOU ARE FROM
US & CANADA LOCATION