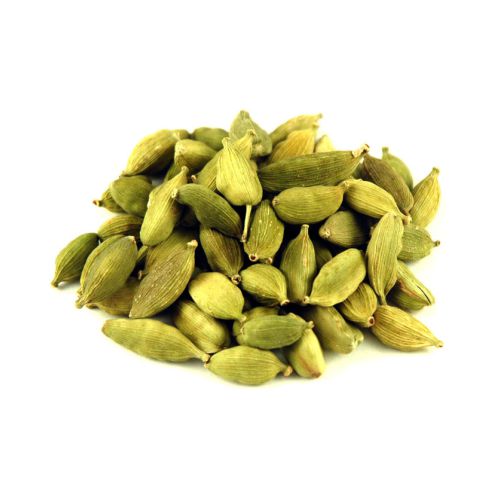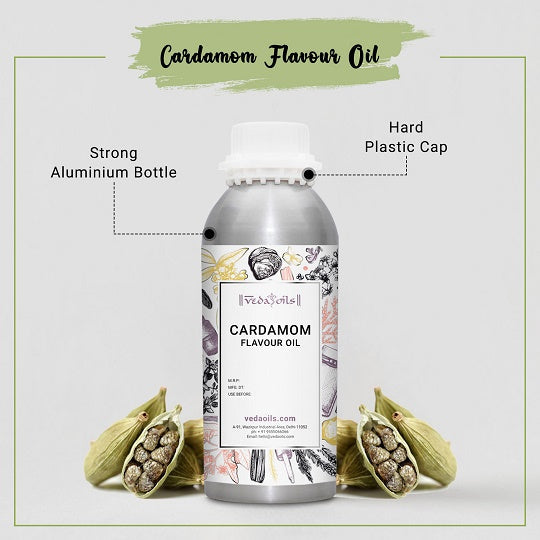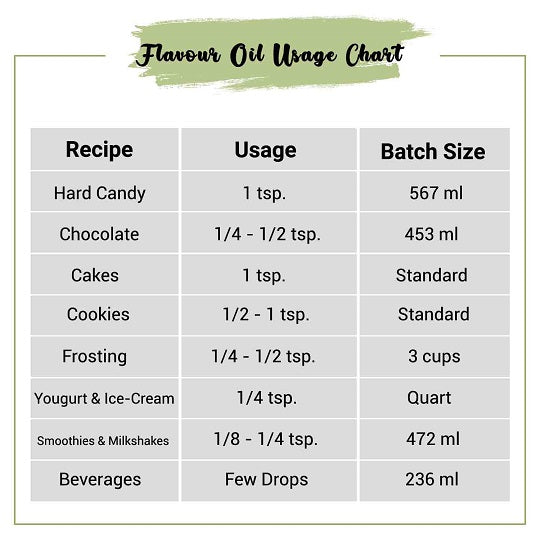 Our Certifications
Cardamom Flavor Oil
Cardamom is one of the most used spices in India, and its unique sweet and spicy aroma makes your sweets, juices, and chocolates taste awesome. We have brought this high-quality cardamom flavour oil, also known as Elaichi Flavour Oil, made only from natural ingredients. It is a concentrated flavour oil that is strong enough to flavour a large quantity of food easily.
Add it sparingly while using it to flavour your food items and beverages. Cardamom seeds are known for their supernatural scent and can be utilised in many different products because of their therapeutic and highly aromatic properties. Each one of the advantages of Cardamom seeds is acquired by removing the fragrant oils present in the seeds.
The unadulterated Cardamom Flavoured Oil is offered to you, being new and highly concentrated. The liquid essence of Cardamom is strong enough to provide the desired flavour to your food items with a small quality. VedaOils cardamom flavouring oil is suitable for baking purposes, and since it is water-soluble, you can use it in a variety of food items and juices. Also, Cardamom Flavouring Essence Oil retains its aroma and taste even when used at extremely high temperatures.
Cardamom Flavour Oil Uses
Lip Care Products
Use natural, organic, and significantly fragrant cardamom flavor oil in the preparation of top-level lip care products, for instance, lip shimmer, lipsticks, lip balms, and that's just the beginning.
Candies
Use cardamom flavour oil to add a fragrant smell and an amazing taste to confections and candies. It can be solubilized in a wide scope of mixtures and helps in giving an awesome punch to your recipes.
Frozen Yogurts
Add a mind-boggling exemplary bend to your frozen yogurts by adding the cardamom flavoring oil to the mixture, accordingly making your frozen yogurts minty, fragrant, and delectable.
Cakes
Cakes and baked goods prepared with the utilization of cardamom flavouring oil end up being a significant hit at celebrations for people of all sorts and other events as it helps add pleasantness of confections to your festivals.
Beverages
Utilize cardamom flavored oil to add a sharply fragrant character to your beverages. This minty, camphor character helps brighten up the beverages, particularly when the previous contains a trace of menthol.
Cooking
Utilize cardamom flavoured oil in aromatizing and adding awesome character to your recipes. It very well may be utilized to enhance a portion of the famous preparations like soups, non-vegetarian items, curries, and that's only the tip of the iceberg.
Cardamom Flavour Oil Benefits
Gluten-Free
It is a food-grade cardamom flavor oil free from gluten, liquor, other engineered synthetic compounds, and fragrances. Consequently, it is alright for utilization.
Vegan
Cardamom flavour oil is free from dairy items and doesn't contain any creature-derived ingredients. It is made according to Kosher and Halal guidelines, and Vegans can use it too.
Versatile
Since it is water-soluble flavor oil, you can use it to flavor a wide range of food items and beverages. Cardamom flavoring oil blends with honey, sugar, milk, and other natural ingredients seamlessly.
Ideal For Cooking
You can use cardamom flavouring oil as a substitute for cardamom seeds in your curries, vegetable side dishes, non-vegetarian dishes, etc., as it is organic and safe.
Used In Shakes
Cardamom flavored oil comprises a rich taste and aroma that adds a unique twist to your candies, chocolates, frozen desserts, ice creams, etc. You can even use it to flavor your juices and milkshakes.
Rich and Flavorful
Refined, slightly minty taste of the cardamom flavoured oil can give a unique twist to your recipes and preparations, thereby adding a mildly minty and camphor-like rich flavor.
Product Specifications
| | |
| --- | --- |
| INCI Name: | Proletariat Cardamom um Flavouring Essence |
| Raw Material Source: | Cardamom Seeds |
| Manufacturing Process: | Edible Vegetable Oil, Permitted Nature Identical & Flavouring substances |
| Suitable For Flavouring: | Curries, cakes, pastries, baked goods, juices, sherbets, mocktails, ice creams, etc. |
| Aroma: | Mint and Pepper Aroma |
| Colour: | White |
| CAS Number: | 8000-66-6 |
| GMO: | It is GMO-free since no plant-derived ingredients are used for making it. |
| Tested On Animals?: | No |
| Vegan: | As it is free from animal-derived ingredients, vegans can use it without any doubts. |
| Alcohol-Free: | Yes |
| Storage: | Store the bottle in a cold and dry place away from direct sunlight for prolonged use. |
| Shelf Life: | 2 Years |
CAUTION: It is meant for external purposes. Keep it away from the reach of your kids and avoid direct contact with eyes
Packaging Sizes
Please Note: The packaging shown above is a General Representation of the various sizes and types of packaging available for this product. Not all sizes and types of packaging for this product maybe available at all times.
Buy Cardamom Flavour Oil Online in UK at Low Price
VedaOils is one of the leading Wholesale suppliers, manufacturer, and exporter of Cardamom Flavour Oils and Food Flavour Oil in United Kingdom. We specialize in both oil and water-soluble flavouring oils and our catalog is wide enough to serve all your requirements. Our food flavour oils are gluten-free and naturally prepared.
Buy Cardamom flavour oil at the best price in United Kingdom through VedaOils online portal. We ensure smooth and safe transactions. We also employ a high standard of delivery to supply your order in the best quality. You can buy Cardamom Essence Oil at wholesale prices as we are offering them in bulk quantities.
We also export our high-quality Cardamom Flavouring Oil to the US, Canada, Australia, and other countries. Our products follow the highest standards when it comes to quality and purity. We assure you that you will not regret choosing us! We also deliver the products throughout the world using our logistic partners DHL, FedEx Blue Dart, India Post, etc.
Frequently Asked Questions
WE NOTICE YOU ARE FROM
US & CANADA LOCATION