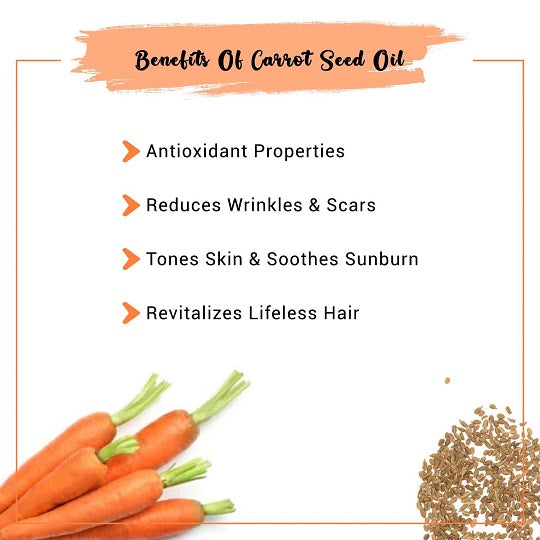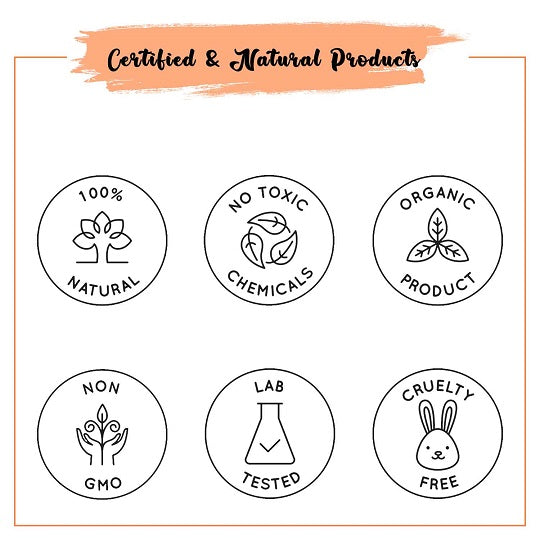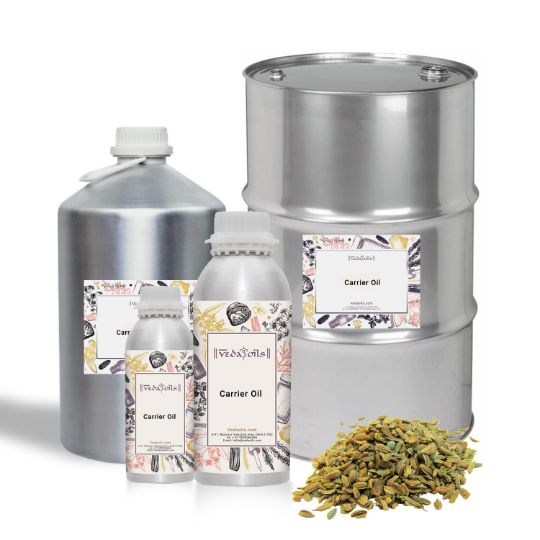 Our Certifications
Carrot Seed Oil
Made from the seeds of Carrot, the Carrot Seed Oil consists of various nutrients that are healthy for your skin and overall health. It is rich in vitamin E, vitamin A, and beta carotene that make it useful for healing dry and irritated skin. It possesses antibacterial, antioxidant, and anti-inflammatory properties that make it helpful against various skin issues and conditions.
Carrot Seed Oil is completely different from the Carrot Oil that is made from the roots of carrot. It exhibits anti-aging properties that enable you to use it for making DIY skincare and cosmetic products. Though it is a chemical-free and skin-friendly il, we recommend you to dilute it before applying it to the skin. You may even conduct a patch test on your elbow to check its compatibility with your skin.
Cold pressed from the seeds of the wild carrot plant, also known as Queen Anne's Lace (in North America) which is a flowering plant in the Apiaceae family, the plant is known for it's potent natural vitamins and minerals for intense moisturization and healing power. Pure Carrot Seed Oil has a naturally earthy aroma that is slightly sweet even though it has no added fragrances. It is not the same as carrot oil that's distilled as an essential oil that would need its own carrier oil. The Veda Oil's Carrot Seed Oil is IDEAL AS A CARRIER OIL for essential oils and custom beauty blends. Best used daily and applied directly to skin and hair - not intended for diffusers.
Organic carrot seed oil proves to be effective against skin infections, acne due to its antifungal properties. Apart from skincare purposes, you can also use it for improving the health of your scalp, eczema, scars and hair. As a result, it can be considered to be a multi-purpose oil that is golden-yellow and has a thin consistency. It is insoluble in water but can be dissolved in alcohol and some fixed oils.
Carrot Seed Oil Benefits
Use as Hair Tonic - It not only repairs damaged hair but also makes it shinier and healthier than before. Therefore, it proves like an excellent hair tonic for your hair strands.
Alleviates Cold Symptoms - Cold, cough, and other symptoms that may occur due to viral infections can be eased by inhaling this oil. You will also experience the same results when you diffuse it.
Antiseptic - The antiseptic properties of organic carrot seed oil can be used to prevent the spreading of wound infections. Therefore, you can use it to treat minor wounds, scrapes, and cuts.
Induces Sleep - The calming effects of this oil can promote a sound sleep when diffused. For better results, you can diffuse this oil after blending it with Lavender Essential Oil.
Relaxes Body - For relaxing your mind and body, you can combine Carrot Seed oil with Dead Sea Salt and pour it into your bathtub filled with warm water. It will soothe your senses and refresh your spirits instantly.
Regenerates Skin Cells - When you add wild carrot seed oil in skincare products such as lotions and creams. It exhibits properties of skin skin lightening. By doing so, keeps your skin light, white, regenerationm healthy, and makes it appear youthful.
Aromatic - It's warm and earthy fragrance soothes your mind and provides relief from fatigue and stress. The refreshing scent of this oil can also be used to deodorize your rooms.
Tightens Skin - When used as a cosmetic ingredient, it tightens your skin and tones your body. Thus, it prevents your skin from getting saggy and improves its texture as well.
Massage Oil - Organic Carrot Seed Oil is one of the best massage oils as it reduces joint, stretch marks and muscle strain owing to its anti-inflammatory properties. The benefits of aromatherapy can also be retrieved via massage to some extent.
Detoxifying Agent - It also detoxifies your skin by removing dead skin cells, dust, oil, and other impurities. As a result, your skin feels light and fresh after its use.
Antibacterial -Antibacterial and antifungal properties of wild carrot seed oil make it useful for treating skin infections. By killing the harmful bacteria it protects your skin from issues like acne and pimples.
Moisturizing - Pure Carrot Seed Oil acts as a natural moisturizer and keeps your skin supple and soft throughout the day. For that, you need to add it to your moisturizers and body lotions.
Carrot Seed Oil Uses
Energizing, Mind & Body - The stimulant properties of Natural Carrot Seed Oil proves to be effective for energizing your mind and body. For that, you need to diffuse this oil in a diffuser.
Strengthening Mucous Membranes - When you use this oil via aromatherapy, it strengthens your mucous membranes and blocks unwanted viruses and parasites from entering your body. As a result, it is healthy for your respiratory system.
Repairing Damaged Skin - Damaged skin can be cured by incorporating Carrot Seed Oil in your daily skincare regime. It also protects your skin from external factors like pollution and sunlight.
Rejuvenating Effects - The rejuvenating effects of this oil make your skin smoother, firm, and revitalized. Softening your skin also heals scars and reduces irritation.
Repairing Hair Issues - Hair issues like split ends can be repaired by massaging your scalp and hair strands with a diluted form of this oil. It also enhances your scalp's health naturally.
Treating Dandruff - By improving blood circulation in the scalp area, it reduces issues like irritation and dandruff. It also kills harmful fungus and bacteria that may cause scalp itchiness.
Product Specifications
| | |
| --- | --- |
| Product Name: | Carrot Seed Oil |
| Botanical Name: | Daucus Carota Sativa |
| CAS No: | 8015-88-1 |
| Country of Origin: | India |
| F.E.M.A #: | N/A |
| Specific Gravity: | N/A |
| Optical Rotation: | -4 to -30 |
| Moisture Content: | 0.01% |
| Refractive Index: | 1.495 |
| Refractive Density: | 0.901g/ml |
| Flash Point: | >200 °C |
| Origin of part used: | Seeds |
| Form: | Liquid |
| Shelf Life: | 2 years |
| Packaging Type: | As Per Requirement |
| Extraction or Processing Method: | Cold Pressed |
| Solubility: | Soluble in Alcohols and Fixed oils. |
| Color | Light Yellow To Amber Colored |
| Odor | earthy odor |
| Major Constituents: | Carrot Seed Extract |
| Blends with: | Cedarwood, Geranium, Lemon, and Cinnamon essential oils |
| COA: | |
| MSDS: | |
CAUTION: t is meant only for external use. Do a patch skin test before applying it to your skin.
Packaging Sizes
Please Note: The packaging shown above is a General Representation of the various sizes and types of packaging available for this product. Not all sizes and types of packaging for this product maybe available at all times.
Buy Carrot Seed Oil Online in UK
If you are in search of Premium Grade and Natural Carrot Seed Oil Online or any other oils and carrier oils in bulk then VedaOils is the best place to shop. This is because we are not only one of the largest manufacturers, suppliers, and exporters of top-quality Carrot Seed Oil and other essential oils in India but we export our high-quality essential oils to the US, Canada, Australia, and many other countries. Our products follow the highest standards when it comes to quality and purity.
We do not use any harsh chemicals, pesticides, or fillers while producing oils. Therefore, oils can be incorporated into your daily skincare and hair care routine. Though skin-friendly and safe, you must dilute the essential oils with a compatible carrier oil as it is fully concentrated.
We offer attractive discounts on bulk order of Carrot Seed Oil. Apart from that, a secure payment gateway is provided to ensure the safety of your transactions. The best packaging standards and collaboration with top logistic companies like DHL, India Post, BlueDart, etc. enable us to provide undamaged and effective essential oils to our customers. Buy your favorite oil at lowest price today and we assure you that you will be able to reap many benefits from it!
Frequently Asked Questions