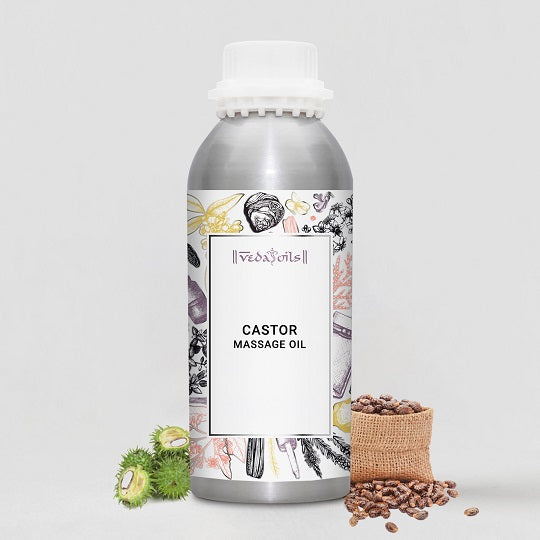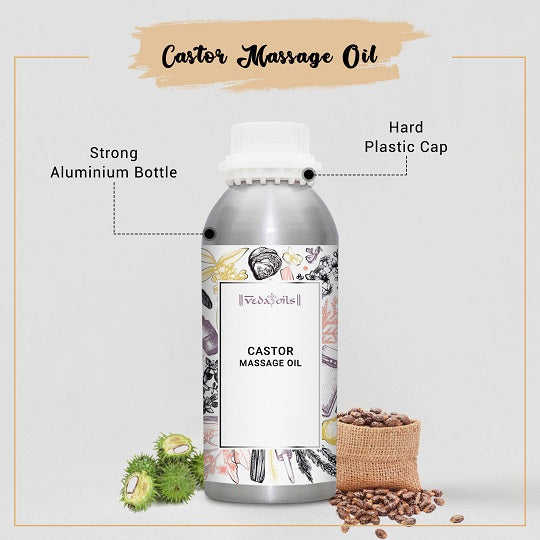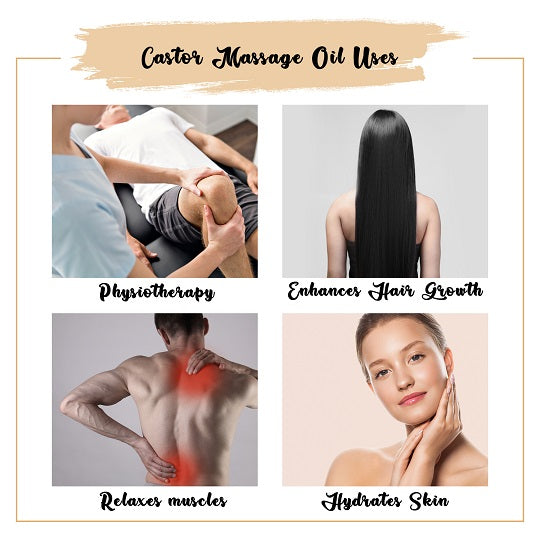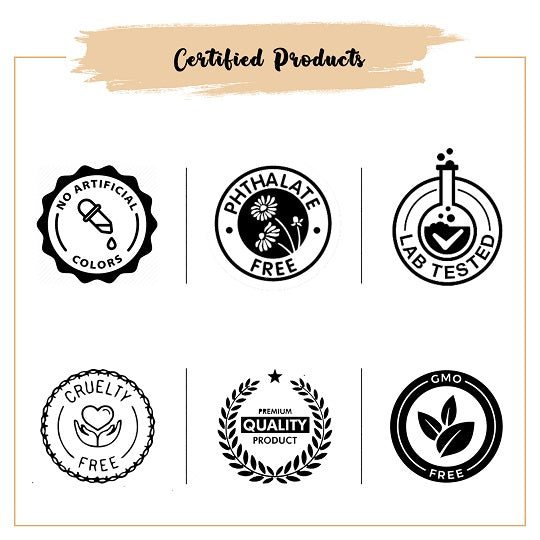 Our Certifications
Castor Massage Oil
Castor Massage Oil is made from the raw castor bean plant. It is traditionally used to cure various skin, hair, and other common health issues. Castor oil is a good source of Vitamin E, Omega-9 fatty acids, and Omega-6 fatty acids. It also possesses a large amount of ricinoleic acid and fatty acid content which enhance the absorption of other agents across your skin. Its potent antibacterial and antimicrobial properties are also highly beneficial for overall health.
Castor Massage Oil has antimicrobial, and anti-inflammatory properties that inhibit the growth of bacteria that cause acne. Additionally, Pure Castor Massage Oil contains other fatty acids, which can improve the smoothness and softness of skin when applied to the face. The fatty acids in castor oil also promote collagen production, making it helpful for restoring uneven skin tones.
Castor Oil is beneficial for relieving arthritic joints, nerve inflammation, and sore muscles. Massage using this oil leads to better absorption through the skin which eventually increases lymphocyte count in our body's immune system. It also increases lymph flow which results in the removal of toxins and a decrease in swelling in lymph nodes.
How to Use: Take a few drops of Castor massage oil and apply it all over your body. Gently massage the body in a circular motion for 25-30 minutes. Leave it on for at least 30 mins so that nutrients can absorb deeply into the skin.
Castor Massage Oil Benefits
Hydrates the Skin
Castor Massage Oil contains triglycerides, which maintain the skin's moisture, making it an excellent treatment for dull and pallid skin. It may even have humectant properties, which means it can draw moisture from the atmosphere into the skin, keeping it hydrated.
Combat Dryness
Castor massage oil contains emollient properties which aid in retaining moisture and Vitamin E provides soothing relief for irritation caused by dry skin and rough skin. Therefore, it has been used to treat eczema, dermatitis, and other skin conditions caused by dryness.
Reduces Inflammation
Presence of powerful vitamins and minerals in Castor Oil makes it excellent for strengthening the muscles and tissues. Castor Oil massage can also reduce inflammation and improve blood circulation. It is also helpful for relieving muscle pain and stiffness.
Stimulates Blood Circulation
Castor massaging oil can aid in reducing oxidative stress and reducing muscle spasms. It also enhances a healthy complexion by enhancing blood circulation. Castor oil facial massage may make the skin healthy and glowing.
Reduces Stretch Marks
Castor oil is rich in vitamin E, fatty acids, vitamins, and minerals, making it useful for improving skin tone and fading stretch marks. The oil also increases the blood circulation in the skin, making it more glowing, soft, and supple.
Reduces Stress and Anxiety
Castor oil increases energy levels as well as induces relaxation and sleep by relieving anxiety and stress from the body. By massaging the body deeply with Castor oil, toxins are removed for a more youthful appearance and a smoother appearance.
Product Specifications
| | |
| --- | --- |
| Product Name: | Castor Massage Oil |
| Brand: | VedaOils |
| Country of Origin: | United Kingdom |
| Form: | Liquid |
| Usage/Application: | Body Massage / Aromatherapy |
| Packaging Type: | As per requirement |
| Storage: | Store in a Cool & Dry place. |
| Shelf Life: | 2 years |
CAUTION: It is meant only for external use. Do a patch skin test before applying it to your skin. Dilute it before topical application. Avoid direct exposure to sunlight. Pregnant women should consult a doctor before using it.
Packaging Sizes
Please Note: The packaging shown above is a General Representation of the various sizes and types of packaging available for this product. Not all sizes and types of packaging for this product maybe available at all times.
Buy Castor Oil Online In UK at Low Price
VedaOils is one of the leading suppliers of Castor Oil and other carrier Oils in United Kingdom. We offer the purest forms of raw Castor Massage Oil to our customers. Our massage oils do not contain any additives, chemicals, artificial colors, or fragrances. Our real castor massage oil goes through numerous tests and quality checks to ensure that only premium quality reaches you.
VedaOils pure and natural castor massage oil is 100 % organic and naturally extracted. It is beneficial for massaging the face, skin, and hair. Order Natural Castor Massage Oil buys online at the best price in United Kingdom from VedaOils. Our online portal uses a safe payment gateway for smooth transactions and hustle-free shopping.
We also deliver ideal castor oil all over the world using our logistic partners DHL, FedEx BlueDart, India Post etc. Do not miss this wonderful opportunity to buy chemical-free, fresh, and multi-purpose massage Oils from VedaOils. You can also buy castor massage oil in bulk from us as we offer them at wholesale prices. Leave a bulk inquiry and we will get back to you right away!
Frequently Asked Questions