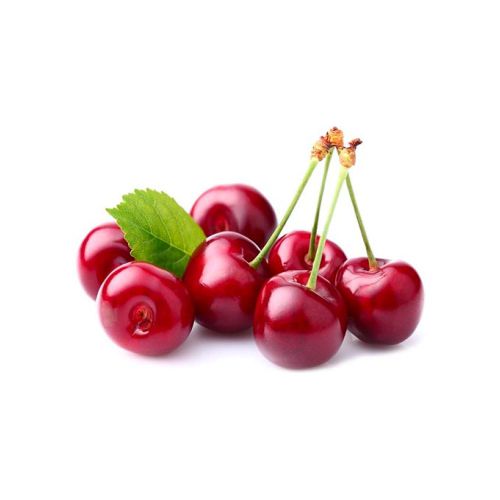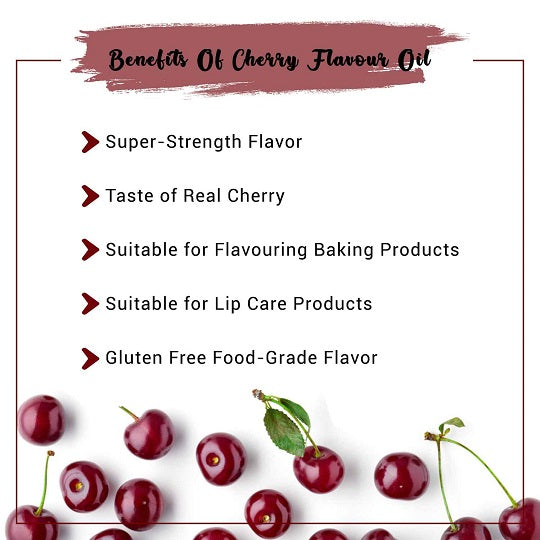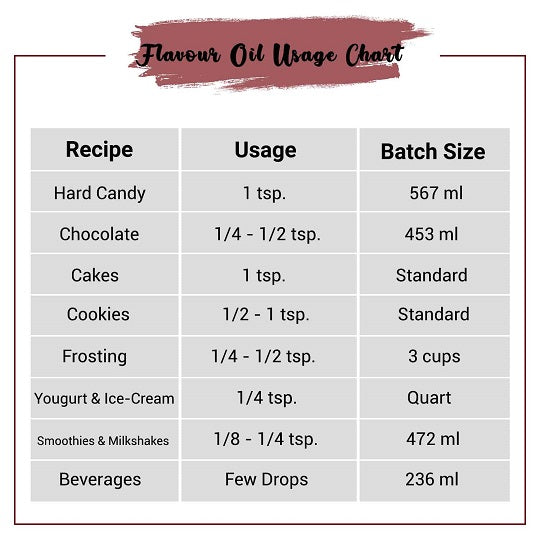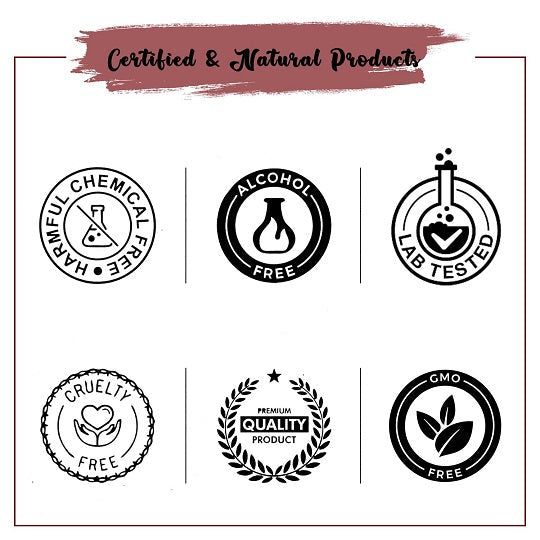 Our Certifications
Cherry Flavour Oil
Experience the rich and tangy flavour of fresh cherries with a hint of fruity deliciousness with this amazing Cherry Flavour Oil. Its appetizing taste and aroma will fill your kitchen with the fragrance of sugary delightfulness. You can add this flavouring oil to your drinks, cocktails, and mocktails due to its thin consistency and colourless form. This flavoured oil also does not alter the texture or appearance of your food products in any way.
Cherry flavoured oil is suitable for baking purposes, and since it is water-soluble, you can use it in a variety of food items and juices. The liquid essence of cherry is strong enough to provide the desired flavour to your food items with a small quality. VedaOil's Cherry Flavour Essence retains its aroma and taste even when used at extremely high temperatures. Also, you can use this flavour Oil in your lip balms, body scrubs and waxes, and other cosmetic products.
Made by employing the highest quality and safety standards to provide premium food-grade favour oil to the customers, the Cherry Kiss Flavour Oil has no chemicals, fillers, or synthetic colours. Only the best quality flavours are used while manufacturing. They are completely natural, healthy, and suitable for regular use. Kindly read the labels thoroughly to completely understand the dosage, directions, and warnings as it is a concentrated flavour. Also, it is recommended to use this flavour oil at low dosages for the best results.
Cherry Flavour Oil Uses
Lip Care Products
Utilize the alcohol-free, natural and profoundly aromatic cherry kiss oil in the creation of top-class lip care items, for example, lip sheen, lipsticks, lip balms, and the sky's the limit from there. It helps add a delightful sparkle and a flawless tangy cherry fragrance to your lips.
Candies
Utilize the cherry kiss flavour oil to add a beautiful tangy fragrance and a superb taste to hard candies. It is dissolvable in a wide range of blends and helps in giving a heavenly, extraordinarily rich punch to your hard confections.
Cakes
High dissolvability property alongside a fantastic, reviving, and exemplary smell of cherry flavour oil can be used broadly in baking. It adds a rich, tangy character alongside a tempting smell to bakery items like breads, cakes, pastries and many more.
Mocktails
Utilize the cherry kiss flavour oil in adding rich energy and a scrumptious contort to your mocktails and drinks. Being high in insolubility and free from liquor helps blend in quicker and spreads flavour without any problem.
Yoghurts
Gluten-free, vegetarian, and food-grade properties of the cherry flavour oil can be utilized to prepare frozen yoghurts. Adding a couple of drops of this concentrate makes your frozen yoghurts taste delightful and aromatized.
Scratch-n-Sniff Artwork
Utilize the cherry kiss flavour oil to create perfectly imaginative scratch-n-sniff artwork. Applying some oil under the foil makes your work of art fragrant without creating any side effects.
Cherry Flavour Oil Benefits
Efficiently Concentrated
Fluid nature of cherry kiss flavour oil is sufficiently able to give the ideal character to your food with the best quality. Likewise, this product holds its fragrance and taste in any event when utilized at amazingly high temperatures.
All-Natural
Organic and natural cherry kiss flavour oil comprises naturally determined components. No synthetic substances, manufactured flavours, or additives are used for the preparation of the seasoning fluid.
Ideal For Desserts
Cherry flavouring is perfect for chocolates, cakes, pastries, and candies. You may even use this flavouring oil to flavour frozen desserts, ice creams, juices, and milkshakes.
Better For Cosmetics
Use Cherry flavour oil for Lip Balms, Lip Gloss Body scrubs and other cosmetic products. It gives a brilliant flavour and an awesome aroma to your best quality cosmetic products.
Gluten-Free
Cherry Flavour Oil is a food-grade flavour free from gluten, alcohol, and other synthetic chemicals and scents. It is completely safe for consumption.
Vegan Product
Cherry Flavour Oil is free from dairy products and does not contain any animal-derived components. It is manufactured as per Kosher, and Halal standards and Vegans can use it as well.
Product Specifications
| | |
| --- | --- |
| Product Name: | Cherry Flavour Oil |
| INCI Name: | Prunus Avium Flavoring Essence |
| Brand Name: | VedaOils |
| Ingredients: | Edible Vegetable Oil, Permitted Nature Identical & Falvouring substances |
| Suitable For Flavoring: | Ice creams, Soft Drinks, Soda, Baking, Jellies, Candies, Chocolates, Sherbets, Juices, Lip Gloss, Lip Balm, other bakery items, mocktails, and cocktails. |
| Aroma: | Nutty |
| Colour: | Light Yellow To Dark Yellow |
| Alcohol-Free: | Yes |
| Storage: | Store the bottle in a cold and dry place away from direct sunlight for prolonged use. |
| Shelf Life: | 1 Year |
| COA: | |
| MSDS: | |
Packaging Sizes
Please Note: The packaging shown above is a General Representation of the various sizes and types of packaging available for this product. Not all sizes and types of packaging for this product maybe available at all times.
Buy Cherry Flavour Oil Online in UK at Low Price
VedaOils leading manufacturer, distributor, and supplier of premium-quality Cherry Kiss Essence, We specialize in both oil and water-soluble flavour oil and our catalog is wide enough to serve all your requirements. Our food-grade flavour oils are gluten-free and naturally prepared. Organic Cherry Flavour Oil does not include any toxins or chemicals that may harm your health in any way. It is free from alcohol, animal-based ingredients, and artificial preservatives. Even vegans may use it as per their requirements.
High stability of essence oils enables you to add them to numerous DIY and commercial products. We are offering Best Cherry Kiss Food Essence at cost-effective and wholesale prices for commercial users and also provide discounted rates and offers to make them economical for everyone. Our quick delivery and high standards of quality and packaging enable us to deliver effective and high-quality products at your doorsteps.
Vedaoils Cherry Kiss Essence is available in packages of 0.100 KG, and 1.0 Kilogram through our website, we are exporting them in various countries like the USA, Australia, and Canada. Our logistics partners like FedEx, Blue Dart, India Post, DHL, etc that make it possible to deliver our products in real-time.
Frequently Asked Questions
WE NOTICE YOU ARE FROM
US & CANADA LOCATION