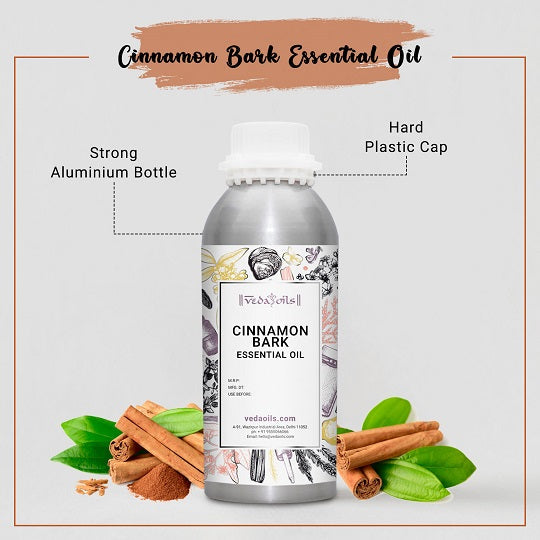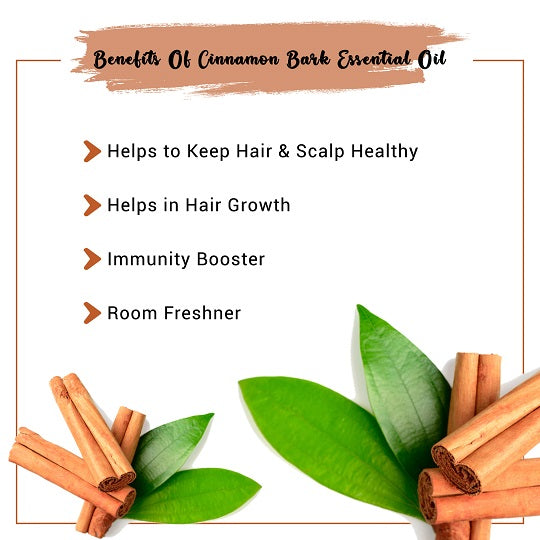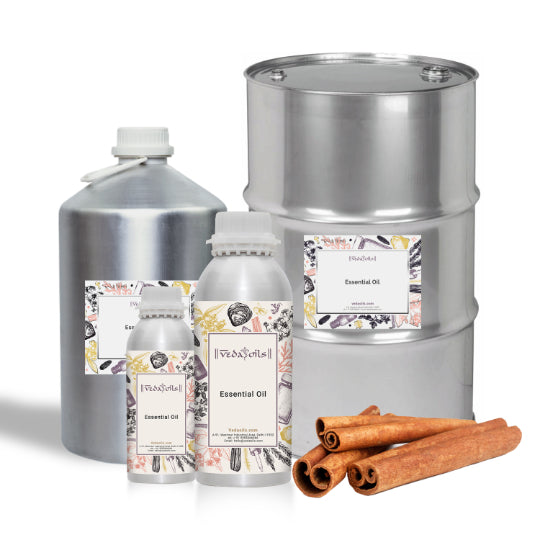 Our Certifications
Cinnamon Bark Essential Oil
Extracted by steam distilling the barks of the Cinnamon tree, the Cinnamon Bark Essential Oil is popular for its warm invigorating fragrance that soothes your senses and makes you feel comfortable during the cold chilly evenings in winter.
Cinnamon Bark Essential Oil is utilized in Aromatherapy due to its soothing influence on the mind and body. It promotes Healthy Breathing as is used to treat some respiratory problems as well. Perfume makers also like to experiment with its spicy-sweet scent and utilize it for making oriental Diffuser Blends that come with a Spicy Twist.
We are providing Premium-Quality and pure Cinnamon Bark Essential Oil that is widely used in Cosmetic applications due to the various skin and hair care benefits it provides. Our organic Cinnamon Bark Essential Oil is non-irritant oil that is exclusively used for Massages, Aromatherapy, Soap Making, and various other purposes. Get it today and explore its magical benefits for improving your overall health!
Cinnamon Bark Essential Oil Uses
Hair Care Products
Including our natural Cinnamon Bark Essential Oil in hair oils and shampoos can promote hair growth. This is possible due to its astringent and moisturizing properties that cleanse and rejuvenate your scalp respectively and add thickness and volume to your hair.
Soap Making
Cleansing properties pure of Cinnamon Bark Essential Oil make it a useful ingredient in soaps. Soap makers prefer this oil because of its soothing properties that heal skin irritation and rashes. It may also be added in soaps as a fragrance ingredient.
Aromatherapy
When diffused, our best Cinnamon Bark Essential Oil relieves your mind from stress and improves mood by helping you to curb negative thoughts and feelings. Aromatherapy professionals use Cinnamon Bark Oil widely in their sessions these days.
Candle Making
Spicy and woodsy scent of our fresh Cinnamon Bark Essential Oil has also an undertone of sweetness to it. Its mesmerizing fragrance makes it one of the popular choices among perfume makers and it can also be used for making scented candles, incense sticks, etc.
Rejuvenating Bath Oil
You can add our best Cinnamon Bark Oil in bath salts and bath oils to enjoy a rejuvenating and relaxing bathing experience. Its wonderful spicy scent soothes your senses and eases out stressed muscle groups and joints. It also proves to be effective against body pain.
Anti Aging Products
Including organic Cinnamon Bark Essential Oil in skin care and face care routine proves to be great as it minimizes wrinkles and fades scars and age spots. It also cubs fine lines and improves complexion by balancing your skin tone.
Cinnamon Bark Essential Oil Benefits
Tightens Skin Pores
Natural exfoliating and skin tightening properties of our organic Cinnamon Bark Essential Oil can be used for making face washes and face scrubs. It also balances oily skin and moisturizes your skin to give you a smooth and youthful face.
Reduces Muscle Soreness
When used for massages, Cinnamon Bark Oil creates a warming sensation that helps to get rid of muscle soreness and stiffness. It creates a feeling of comfort and provides relief from joint pain and muscle pain.
Treating Dandruff
Blend organic Cinnamon Bark Essential Oil in a carrier oil and apply it on your scalp nicely. After 40 minutes, wash it with lukewarm water and shampoo. This will not only remove dandruff but will also keep your scalp healthy. It is also used for making hair masks and shampoos.
Healing Cold And Flu
Warm and energizing fragrance of our pure Cinnamon Bark Essential Oil makes you feel comfortable. It also opens your nasal passages and promotes deep breathing and proves to be useful for treating cold, congestion, and flu.
Reduces Fatigue
To deal with the symptoms of fatigue or lack of energy, you can create a diffuser blend from Cinnamon Bark Essential Oil, Sweet Orange, Rosemary, and Clove essential oils. It not only cheers you up but revitalizes your mind and body seamlessly.
Treat Acne
Powerful bactericidal and fungicidal properties of Cinnamon Bark Essential Oil and its strong antioxidants prove to be effective in treating acne. It boosts blow flow in the region to fade away scars and blemishes. It can be a perfect ingredient in anti-acne creams.
Product Specifications
| | |
| --- | --- |
| Product Name: | Cinnamon Bark Essential Oil |
| Botanical Name: | Cinnamomum zeylanicum |
| CAS No: | 8015-91-6 |
| Country of Origin: | India |
| F.E.M.A: | 2291 |
| Specific Gravity: | 0.970 to 1.100 @ 20°C |
| Optical Rotation: | -9to +9 20°C |
| Refractive Index: | 1.545 @ 20°C |
| Moisture Content: | 0.01% |
| Acid Value: | 0.04% |
| Flash Point: | 160°F |
| Origin of part used: | Bark |
| Form: | Liquid |
| Shelf Life: | 2 years |
| Packaging Type: | As Per Requirement |
| Extraction or Processing Method: | Steam Distillation |
| Solubility: | Soluble in alcohols and fixed oils and slightly soluble in water. |
| Color: | Dark Yellow to Dark Brownish |
| Odor: | Rich and sweet scent |
| Major Constituents: | Cinnamaldehyde & eugenol |
| Blends with: | Bergamot, Grapefruit, Lemon, Lavender, and Wild Orange essential oils and all types of carrier oils. |
| Consistency: | Thin |
| COA: | |
| MSDS: | |
Packaging Sizes
Please Note: The packaging shown above is a General Representation of the various sizes and types of packaging available for this product. Not all sizes and types of packaging for this product maybe available at all times.
Pure 100% Cinnamon Bark Oil Manufacturer, Wholesale Supplier and Exporter
VedaOils is one of the leading Wholesale Suppliers, Manufacturer, and Exporter of Cinnamon Bark essential oil and other Essential oil in India. We offer the purest forms of essential oils to our customers. No chemicals, additives, or fillers are added to them. They also do not contain any artificial colors, preservatives, and fragrances. Therefore, they prove to be ideal for daily use. Though entirely natural, you should dilute Cinnamon Bark essential oil before using it for topical application as it is highly concentrated.
We employ numerous tests and quality checks to ensure that only Premium-quality and Cinnamon Bark essential oil reaches you. The highest quality and packaging standards are employed to deliver desirable results on usage. Also, our portal uses a secure payment gateway to safeguard your transactions. Buy Cinnamon Bark oil from VedaOils Online according to requirements at the best competitive prices in the market. You can order Cinnamon Bark oil for your daily purposes such as dark circles, skin lightening, hair growth, arthritis, digestion, and better oral health. Check out Cinnamon Bark oil price per Kg, even you can purchase Cinnamon Bark essential oil in bulk quantity.
We export our high-quality essential oils to the US, Canada, UK, Australia and other countries. Our products follow the highest standards when it comes to quality and purity. We assure you that you will not regret choosing us! We also deliver the products throughout the world using our logistic partners DHL, FedEx Blue Dart, India Post, etc. Do not miss this excellent opportunity to buy chemical-free, fresh, and multi-purpose Cinnamon Bark oil from VedaOils.
Frequently Asked Questions
WE NOTICE YOU ARE FROM
US & CANADA LOCATION