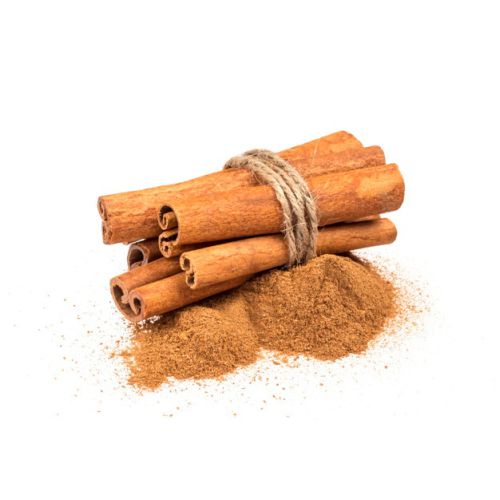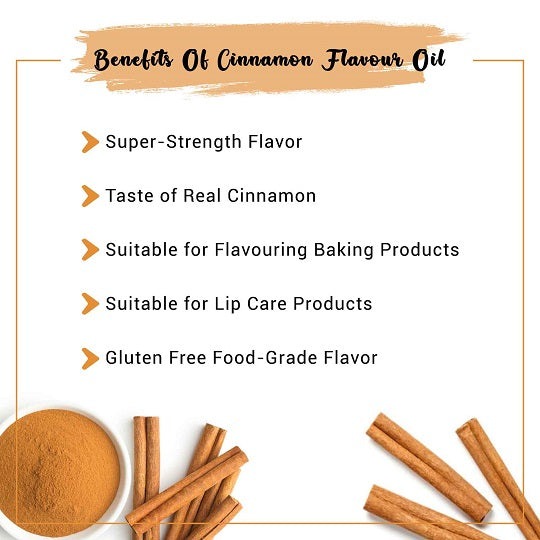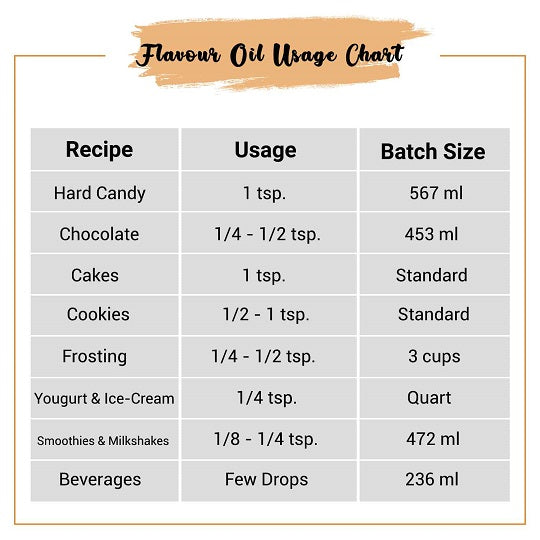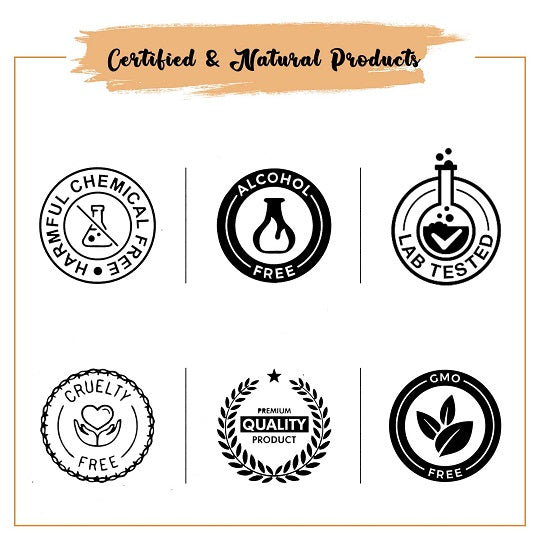 Our Certifications
Cinnamon Flavour Oil
Made from the real Cinnamon spice, Cinnamon Flavour Oil is known for its strong, woody, and spicy flavours. It is mainly used to flavour chocolates and proves to be an excellent ingredient for coatings. It might result in the thickening of the solution. You can add other ingredients like cocoa butter (melted) or coconut oil to maintain the smooth consistency of your final products.
Apart from chocolates, you can try cinnamon flavouring oil for various dishes like cakes, buns, pies, pastries, flavoured drinks, etc. Therefore, it is a truly versatile flavouring essence that can fill your kitchen with an amazing fragrance. Cinnamon Food Flavour Oil is suitable for baking purposes, and since they are water-soluble, you can use them in a variety of food items and juices.
The liquid essence is strong enough to provide the desired flavour to your food items with a small quality. Also, the high-quality, best standard Cinnamon flavouring essence retains its aroma and taste even when used at extremely high temperatures.
Cinnamon Flavour Oil Uses
Cooking
Use the cinnamon flavour oil to aromatize and add incredible taste to your food. It will, in general, be used to prepare a piece of renowned recipes like pastas, risottos, pizzas, and that is just a hint of something larger.
Salad Dressing
Cinnamon flavour oil can be used in a significantly fruitful and capable manner to prepare salad dressings. By adding several drops to the dressing mix, you can add heavenliness to the servings of blended greens.
Sauces and Dips
Cinnamon flavour oil is the most beneficial product in preparing extraordinary yummy sauces and dips. You can use it to prepare cinnamon sauces, soup bases, pizza sauces, pasta sauces, and many more.
Bakery Products
Utilize the cinnamon flavour oil in the unfathomably beguiling course of upgrading your bakery treats. It helps with upgrading a wide scope of things, including rolls, pastries, cakes, and the sky's the limit from that point.
Confectionery Items
Utilizing the chocolate flavour oil to prepare excellent Chocolate store items can help enhance them superbly and add the energy of uniqueness to your prepared merchandise.
Mocktails
Use the cinnamon flavour oil to add a beautifully fragrant taste and aroma to your drinks. This fragrant character helps breathe life into the refreshments, especially when it contains the enchanting taste of cinnamon.
Cinnamon Flavour Oil Benefits
Efficient Solvent
Use cinnamon flavour oil in various culinary preparations. It doesn't change the inevitable results' consistency and concealing as it is available in effective liquid form.
Blends Perfectly
Cinnamon flavour oil blends in with various foods and ordinary preparations immaculately. It is like manner works enjoyably and holds its character and aroma even at high temperatures.
Rich Aroma
A trademark and reasonable Cinnamon Flavour Oil offers an inconceivable, strong smell. You can, in that manner, mix it in a couple of different edible items to make your insides warm in cold and fresh winter nights and evenings.
Cooking Recipes
Cinnamon flavour oil is particularly wonderful for cooking a large number of dishes like cinnamon rolls, cinnamon souffle, cinnamon coffee, etc.
Gluten-Free
Food-grade flavour oil free from gluten, alcohol, and other fabricated and engineered synthetic materials and aromas. It is awesome to use.
Vegan Friendly Product
Flavouring oil is free from dairy items and doesn't contain any animal-derived parts. Ready as per Kosher and Halal standards, Vegans can use it as well.
Product Specifications
| | |
| --- | --- |
| Product Name: | Cinnamon Flavour Oil |
| INCI Name: | Cinnamomum Verum |
| Raw Material Source: | Cinnamon Spice |
| Manufacturing Process: | Edible Vegetable Oil, Permitted Nature Identical & Falvouring substances |
| Color: | Ochre Yellow Color |
| Aroma: | Spicy |
| Suitable For Flavoring: | Cakes, candy, jellies, pastries, gum, dark and milk chocolates, juices, confectioneries and baked food items and other beverages. |
| GMO: | It is GMO-free since no plant-derived ingredients are used for making it. |
| Tested On Animals?: | No |
| Vegan: | As it is free from animal-derived ingredients, vegans can use it without any doubts. |
| Alcohol-Free: | Yes |
| Storage: | Store the bottle in a cold and dry place away from direct sunlight for prolonged use. |
| Shelf Life: | 2 Years |
CAUTION: It is meant for external purposes. Keep it away from the reach of your kids and avoid direct contact with eyes
Packaging Sizes
Please Note: The packaging shown above is a General Representation of the various sizes and types of packaging available for this product. Not all sizes and types of packaging for this product maybe available at all times.
Buy Cinnamon Flavour Oil Online in UK at Low Price
VedaOils leading manufacturer, distributor, and supplier of premium-quality Cinnamon Flavour Oil, We specialize in both oil and water-soluble flavour oil and our catalog is wide enough to serve all your requirements. Our food-grade flavour oils are gluten-free and naturally prepared. Organic Cinnamon Flavouring Oil does not include any toxins or chemicals that may harm your health in any way. It is free from alcohol, animal-based ingredients, and artificial preservatives. Even vegans may use it as per their requirements.
High stability of essence oils enables you to add them to numerous DIY and commercial products. We are offering Best Cinnamon Food Flavouring Oil at cost-effective and wholesale prices for commercial users and also provide discounted rates and offers to make them economical for everyone. Our quick delivery and high standards of quality and packaging enable us to deliver effective and high-quality products at your doorsteps.
Vedaoils Cinnamon Flavoured Oil is available in packages of 0.100 KG, and 1.0 Kilogram through our website, we are exporting them in various countries like the USA, UK, Australia, and Canada. Our logistics partners like FedEx, Blue Dart, India Post, DHL, etc that make it possible to deliver our products in real-time.
Frequently Asked Questions
WE NOTICE YOU ARE FROM
US & CANADA LOCATION