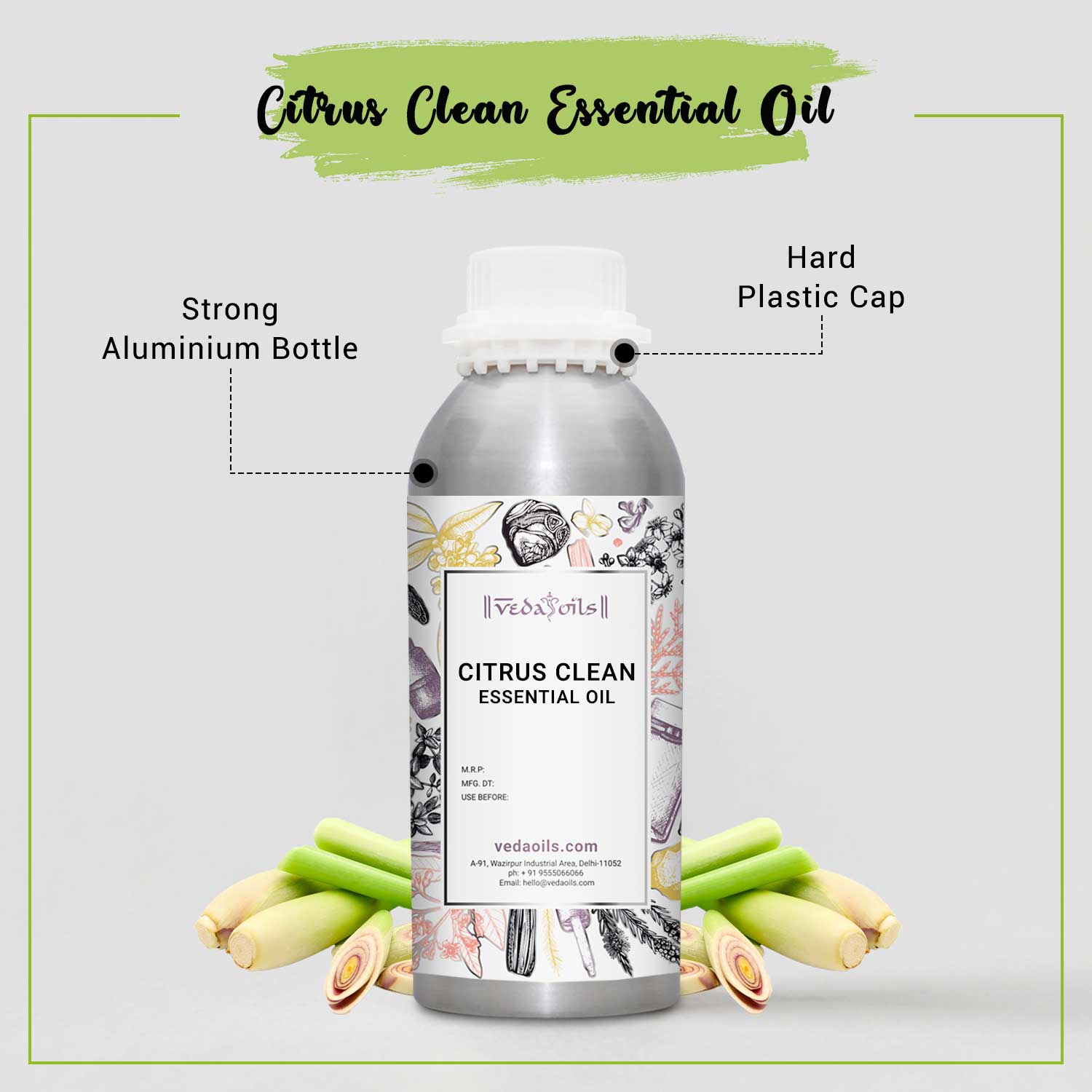 Our Certifications
Citrus Clean Essential Oil Blend
Citrus Clean Oil Blend is a refreshing cleansing oil with a citrusy aroma. It contains Essential Oils of sweet orange and lemon & Grapefruit. This blend was created to be used with wool dryer balls, but it can also be inhaled, diffused, and applied topically.
Remove any potentially harmful chemicals, additives, or artificial fragrances and replace them with Citrus Clean Blend, which is intended to kill germs, bacteria, and fungi while also cleansing the air by removing toxins and pollutants. This blend has been carefully crafted to be a natural disinfectant and insect repellent that cleans your home while repelling bugs, mosquitos, and insects while providing crisp, aromatic scents
How to Use: Use 3-5 drops of this oil blend in 30 ml of distilled water or regular water as an air freshener or surface cleaner. Add a few drops of this blend to your daily home cleaning routine to achieve a fresh and clean environment. This blend is designed for use with Woolzies wool dryer balls.
Citrus Clean Oil Blend Ingredients
Lemon
Lemon essential oil has a powerful fresh citrus scent. Lemongrass oil is an effective aromatherapy technique for reducing stress, anxiety, and depression.
Sweet Orange
Sweet Orange has a cheerful and upbeat scent reminiscent of summer and warm weather. It improves mood, reduces stress, and adds a fresh, citrusy aroma to a room. It has antimicrobial and anti-pain properties.
Grapefruit
Grapefruit makes an excellent natural cleaner. Its antibacterial and immune supportive properties help kill bacteria, reduce ordors and freshen the air.
Citrus Clean Oil Blend Benefits
Personal Care Product
Add a refreshing and citrus aroma to your daily care. Anti-inflammatory and pain-relieving properties abound. Citrus Clean Blend Blend is a topical treatment for viral fever pain and agitation. Add a few drops of massage oil or bath oil for maximum relaxation.
Aromatherapy
Citrus Clean Blend kills bacteria while also supporting a healthy immune system. This blend's aromatherapy cures many viral, colds, coughs, and other diseases caused by germs, bacteria, and fungus. This energising citrus scent will fill your space with energy and positivity.
Room Freshener
Citrus Clean Blend's refreshing tangy and cool fragrance keeps odours at bay in your living space. This blend can freshen your room, house, and car by removing odours and filling the space with natural soothing scents.
Product Specifications
| | |
| --- | --- |
| Product Name: | Citrus Clean Blend |
| Brand: | VedaOils |
| Country of Origin: | India |
| Form: | Liquid |
| Ingredients: | Lemon Oil & Pink Grapefruit,Sweet Orange Essential Oil |
| Color: | Oilve Yellow |
| Odor: | Sweet, sour and aromatic undertones, |
| Consistency: | Light |
| Shelf Life: | 1 years |
| Applications: | Stripping, Degreasing, Cleaning |
| Packaging Type: | As Per Requirement |
| COA: | |
| MSDS: | |
Packaging Sizes
Please Note: The packaging shown above is a General Representation of the various sizes and types of packaging available for this product. Not all sizes and types of packaging for this product maybe available at all times.
Buy Pure Citrus Clean Blend In UK at Low Price
If you are looking for a rejuvenating and refreshing oil that makes the atmosphere lively and cheerful, then Citrus Clean Essential Oil Blend is for you. VedaOils is one of the leading manufacturers and suppliers of pure essential oils, essential oils blends, and other natural raw materials in United Kingdom. Our Citrus Clean Blend is a beautiful concoction of pure essential oils beneficial for your health and overall well-being.
VedaOils' Citrus Clean Oil Blend is prized for its ability to calm and relax your mind and uplift your mood. When it comes to preparing the essential oils blends our experts stick to our long live organic roots and prepare a remedy that is so versatile in use. We provide premium quality pure Citrus Clean Blend at the best price in United Kingdom.
Buy Pure Citrus Clean Essential Oil Blend online through our online shopping portal. Our portal uses a smooth transaction process, and our customer care services are available to help you out shopping or getting the answer to your queries. We deliver our Citrus Clean Blend all over United Kingdom and in other countries using our logistic partners DHL, FedEx, BlueDart, India Post, etc.
We ensure you that our Therapeutic Grade Citrus Clean Oil Blend is completely free from any additives. To manufacture ourCitrus Clean Blend, we do not use any colored tints, preservatives, fragrances, or chemically infused ingredients. Use our products without hesitation!
Frequently Asked Questions
WE NOTICE YOU ARE FROM
US & CANADA LOCATION