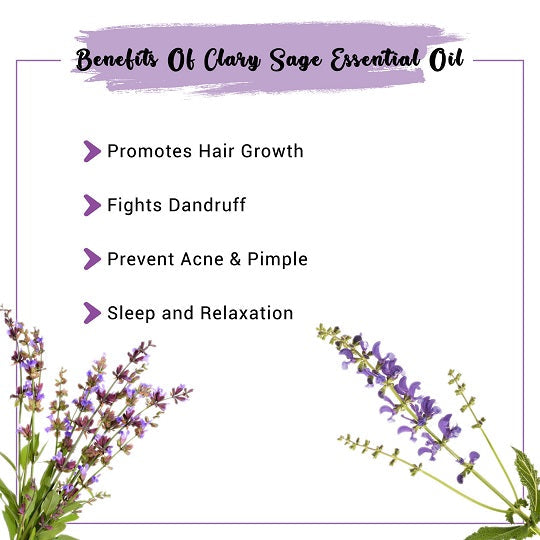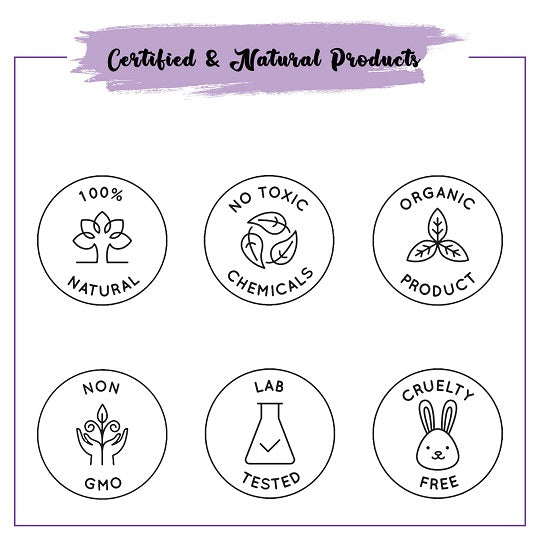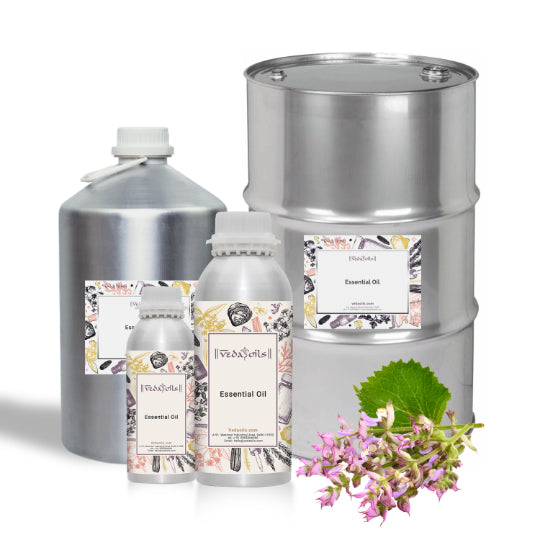 Our Certifications
Clary Sage Essential Oil
Clary Sage is an herb that possesses powerful medicinal properties. The oil obtained from its leaves and flowers is widely used to manufacture different types of skin and hair treatments. Therefore, we are providing pure and Organic Clary Sage Essential Oil to our customers. It is also effective in helping to relax the Spasms of Asthma.
Our natural Clary Sage essential oil can be used in aromatherapy to get relief from different types of mental health issues. This is mainly due to its antidepressant property. It is also Beneficial for Your Skin and Hair due to its ability to nourish them deeply. It is powerful antibacterial oil that can be used to treat various types of skin issues. Clary Sage Essential Oil proves to be an excellent ingredient for making Perfumes, Soaps, Scented Candles & Incense sticks. You may also add it to your natural bath oils to enjoy a great bathing experience.
Pure Clary Sage essential oil exhibits powerful Anti-inflammatory properties that can be used to heal skin rashes and irritation. It contains powerful antioxidants that support your skin health in various ways. We extract this oil by a process called steam distillation to retain the maximum benefits of the properties of Clary Sage flowers and leaves.
Clary Sage Essential Oil Uses
Anit Dandruff Hair Products
Add a few drops of our pure Clary Sage essential oil in your hair oil and massage it nicely on your scalp or you can add it to your shampoo. This will provide quick relief from dandruff and will also boost hair growth.
Air Cleanser
Clary Sage essential oil is an effective air cleanser. It not only kills airborne bacteria and other microorganisms that pollute the air. It is a popular choice of several manufacturers of room refreshers and air sprays.
Soap Bars
Powerful astringent properties of clary sage oil can fade scars and black spots effectively. It is a good ingredient for Soap Bars, Beauty Creams and Lotions. It makes your skin tight to give a youthful appearance to your face.
Treats Congestion
For blocked nasal passages, you can inhale this oil directly or you can also add Clary sage essential oil to diffusers. The decongestant properties of this oil will provide quick relief from cold, and cough as well.
Relief From Menstrual Cramps
Massaging a diluted form of our best clary sage oil on the lower abdomen can provide instant relief from menstrual cramps. Therefore, it is special oil for women who feel extreme pain and cramps during menstrual cycles.
Aromatherapy Oil for Sleep
Diffuse Clary sage essential oil before going to bed, the amazing aroma of this oil will reduce your stress levels and you will be able to sleep peacefully. This oil also supports mental health and overall well-being.
Clary Sage Essential Oil Benefits
Heals Stretch Marks
Massage our pure Clary Sage essential oil if you have stretch marks on your shoulders or abdomen. It will fade the stretch marks and can also reduce the appearance of dark spots and blemishes that may be on your skin and face.
Eases Joint Pain
The powerful anti-inflammatory properties of this oil make it effective against all types of joint pain, back pain, & muscle stiffness or cramps. It is an ideal ingredient for making ointments and massage oils.
Treats Infections
The antibacterial properties of this organic Clary Sage oil can be used to heal skin infections and bedsores. However, as it is a concentrated essential oil, you must dilute it before applying it to the infected areas.
Reduces Swelling
The soothing properties of this oil will not only reduce the swelling but will also minimize the pain associated with it. Makers of pain-relieving ointments and creams can use it as one of the key ingredients of their products.
Relaxing Aroma
The cheerful and clean scent of this oil can be used to get relief from fatigue and restlessness. You can add a few drops of clary sage oil in your massage oil or bath tub to boost your spirits and rejuvenate your skin.
Facilities Wound Healing
The antimicrobial properties of our best Clary Sage essential oil prevent the spreading of germs and expedite the process of healing of wounds. You can also use it to reduce foot aches, strains, and muscle sprains.
Product Specifications
| | |
| --- | --- |
| Botanical Name: | Salvia Sclarea |
| CAS#: | 8016-63-5 |
| Country of Origin: | United Kingdom |
| F.E.M.A #: | 2321 |
| Specific Gravity: | 0.9200 @ 20°C |
| Optical Rotation: | -6 to -20° |
| Refractive Index: | 0.924 @ 20°C |
| Flash Point: | 79 °C |
| Origin of part used: | Leaves and flowers |
| Form: | Liquid |
| Shelf Life: | 2 years |
| Packaging Type: | As Per Requirement |
| Extraction or Processing Method: | Steam Distillation |
| Solubility: | Soluble in alcohols and fixed oils and insoluble in water |
| Colour & Odor: | Colourless & Herbaceous |
| Major Constituents: | Clary Sage Flower & Leaf Extract |
| Blends with: | Lemon, Wild Orange, Geranium, Cypress, and some other essential oils and all types of carrier oils. |
| COA: | |
| MSDS: | |
CAUTION: It is meant for external purposes. Keep it away from the reach of your kids and avoid direct contact with eyes.
Packaging Sizes
Please Note: The packaging shown above is a General Representation of the various sizes and types of packaging available for this product. Not all sizes and types of packaging for this product maybe available at all times.
Buy Clary Sage Essential Oil in UK
VedaOils is one of the leading Wholesale suppliers, manufacturer, and exporter of Clary Sage essential oil and other Essential oil in United Kingdom. We offer the purest forms of essential oils to our customers. No chemicals, additives, or fillers are added to them. They also do not contain any artificial colours, preservatives, and fragrances. Therefore, they prove to be ideal for daily use. Though entirely natural, you should dilute essential oil before using it for topical application as it is highly concentrated.
We employ numerous tests and quality checks to ensure that only Premium-quality and clary sage essential oil reaches you. The Highest Quality and packaging standards are employed to deliver desirable results on usage. Also, our portal uses a secure payment gateway to safeguard your transactions. Buy Clary Sage oil from VedaOils online according to requirements at the best competitive prices in the market. You can order Clary Sage oil for your daily purposes such as dark circles, skin lightening, hair growth, arthritis, digestion, and better oral health. Check out clary sage oil price per Kg, even you can purchase this essential oil in Bulk Quantity.
We are one of the largest manufacturers, suppliers, and exporters of top-quality Clary Sage Essential Oil and other essential oils in UK. We also export our high-quality essential oils to the US, Canada, Australia and other countries. Our products follow the highest standards when it comes to quality and purity. We assure you that you will not regret choosing us! We also deliver the products throughout the world using our logistic partners DHL, FedEx Blue Dart, India Post, etc. Do not miss this excellent opportunity to buy chemical-free, fresh, and multi-purpose Clary Sage oil from VedaOils.
Frequently Asked Questions
WE NOTICE YOU ARE FROM
US & CANADA LOCATION