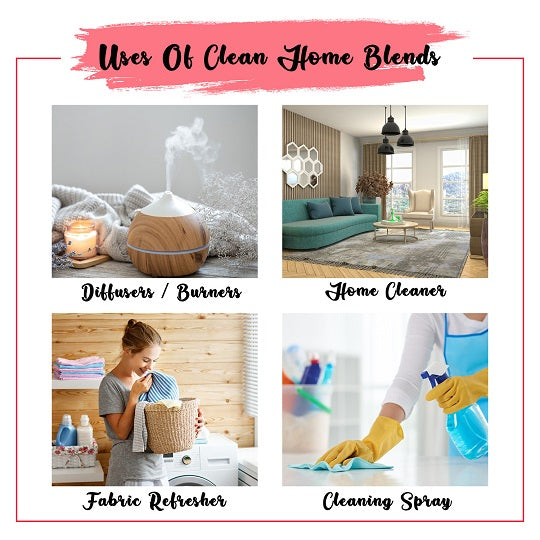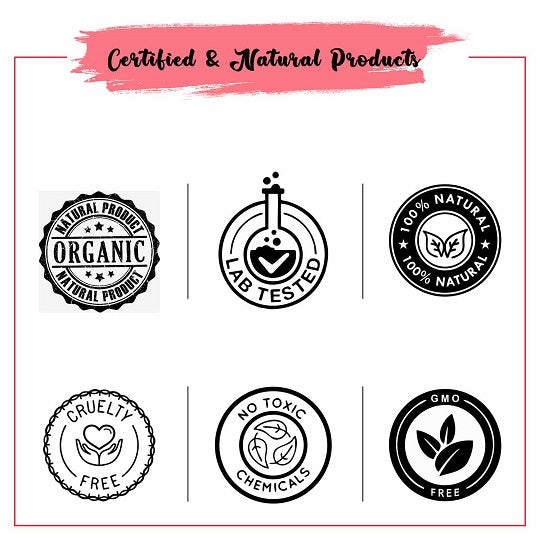 Our Certifications
Clean Home Essential Oil Blend
Clean Home Oil Blends is a pure essential oils mixture that makes it a safe and non-toxic ingredient to clean your home. This carefully crafted blend of oils is best suited for purifying and detoxifying the environment. This refreshing oil blend dissolves dirt that comes in the contact, and a natural anti-odor exudes a fresh citrusy scent.
Clean Home Essential Oil Blend inlcudes Lemon, Lemon grass, Lavender, Peppermint Oil an excellent natural cleaner as its antibacterial and immune-supportive properties kill bacteria, germs, and pollutants in the air. Adding this oil to the surface cleaners, mop water, diffuser or glass cleaner enhances the natural properties and helps you do the cleaning better.
Devoid harmful chemicals, additives, or artificial fragrances. Essential Oil Blend is designed to kill germs, bacteria, and fungus, and it also cleanses the air by removing toxins and pollutants in the air. This blend is carefully designed to be a natural disinfectant and insect repellent that cleans your home and keep bugs, mosquitos, and insect at bay.
Rich in antifungal, antibacterial, antiviral, and antiseptic properties, this clean home blend is suitable for all types of kitchen, bathroom, and surface cleaning. This blend allows you to replace toxic cleanser with a natural alternative, and it is also great for shining wood floors and furniture. When used around the home, it can improve seasonal allergies as well.
How to Use:
Diffuse: Add the recommended number of drops to water in an ultrasonic diffuser.
Laundry: Add 3-4 drops to a wool dryer ball.
Cleaning: Add 3-4 drops to your water for mopping floors.
Clean Home Essential Oil Blend Ingredients
Lemon Oil
Lemon Essential Oil is proved to be effectively used as a disinfectant for surface cleaning. Infused with antibacterial properties of lemon oil Clean Home Blend is a versatile blend for cleaning sinks, toilets, furniture, and surface.
Lemongrass Oil
Lime essential oil refreshing fragrance boasts added cleansing properties by freshening the air and making your home smell amazing. The antimicrobial and antiviral properties work to disinfect surfaces, and the oil may effectively remove grease stains.
Orange Sweet Oil
Cleaning applications of Sweet Orange Essential oil make it effective in removing dirt, bacteria, and germs. Its uplifting aroma refreshes the mood and energizes the body. The germ-killing effects of this oil make our Clean Home Blend a great insect repellent.
Clean Home Essential Oil Blend Benefits
Kill Bacteria & Germs
Beautifully crafted with potent essential oils, our Clean Home Blend can kill bacteria & germs and protect the body from external threats. The regular use of this blend in diffusion or daily cleaning provides ultimate shield protection to maintain healthy wellbeing.
Eliminates Foul Odor
Refreshing fragrance of Clean Home Blend keeps your living space free from stinking smells. You can use this blend to freshen your room, house, and cars as it eliminates the foul odor and fills the space with natural soothing scents.
Insect Repellent
Infused with antibacterial and antifungal properties, Clean Home Blend is useful in repelling mosquitoes, bugs, insects. Few Drops of this, whether applied topically or diffused, are enough to keep you protected from unwanted insects and mosquitos.
Surface Cleaner
Rich surface cleaning benefits our Clean Home Blend removes dirt, oil, grease from the surface. It is also effective in adding to your mop water, cleaning detergent or can be utilized as an alternative to artificial and toxin products in the market.
Disinfectant
Clean Home Blend not only makes your home clean but also disinfects your surroundings and living space by killing microbes and bacteria. Its refreshing aroma uplifts your mood, makes your home fresh and makes the air free from radicals.
Greasy Dirt Cleaner
Deep-cleaning properties of the Clean home blend removes dirt and greasy stains from the glass and windowpane of your house as it contains effective essentials that polish the glass of any type to make your home look tidy.
Packaging Sizes
Please Note: The packaging shown above is a General Representation of the various sizes and types of packaging available for this product. Not all sizes and types of packaging for this product maybe available at all times.
Buy Clean Home Essential Oil Blend In UK at Low Price
VedaOils is one of the leading manufacturers and suppliers of pure essential oils, essential oils blends, and other natural raw materials in United Kingdom. Our Clean Home Diffuser Blend is a powerful concoction of pure essential oils that clean and disinfects your home. VedaOils' Clean Home Essential Oil Blend is prized for its ability to kill bacteria and make your home clean and healthy.
When it comes to preparing the essential oil blends, our experts stick to our long live organic roots and prepare a remedy that is versatile in use. We provide premium quality Pure Clean Home Diffuser Essential Oil Blend at the best price in United Kingdom. Buy VedaOils' clean house diffuser blend online through our online shopping portal. Our portal uses a smooth transaction process, and our customer care services are available to help you out shopping or getting the answer to your queries.
We deliver oil blends all over United Kingdom and other countries using our logistic partners DHL, FedEx BlueDart, India Post, etc. We ensure you that our Clean House Oil Diffuser Blend is completely free from chemicals, artificial fragrances, or any additives. We do not use colored tints, preservatives, fragrances, or chemically infused ingredients to manufacture Clean Home Blend. Use our products without any hesitation!
Frequently Asked Questions
WE NOTICE YOU ARE FROM
US & CANADA LOCATION