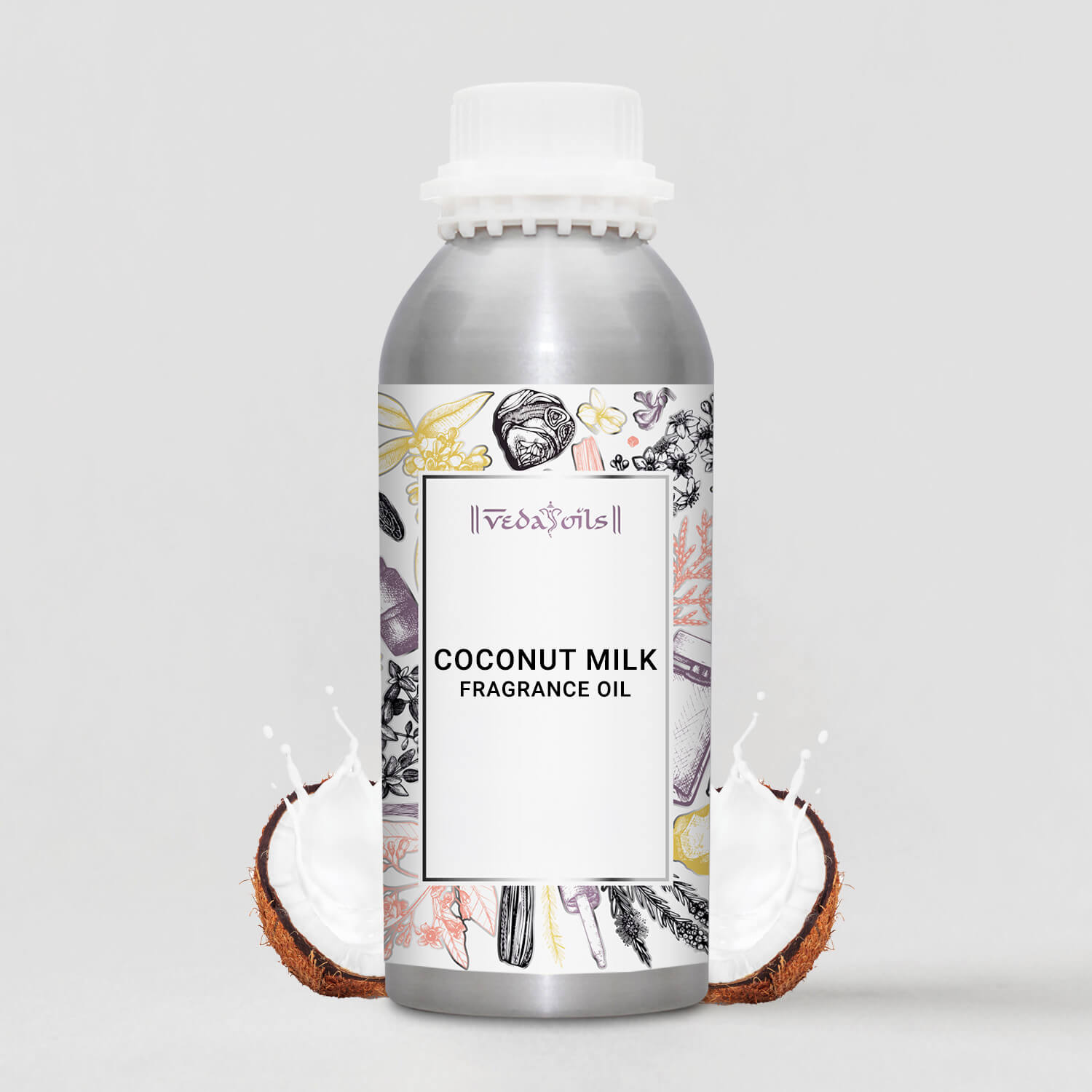 Our Certifications
Coconut Milk Fragrance Oil
The scent of fresh coconut milk can be obtained by using our coconut milk fragrance oil. It exudes the scent of ripe coconut fruit and has a vanilla base scent. The mesmerising fragrance of this oil can be used in soaps, cosmetic products like body lotions, shower gels, etc. You can also incorporate it in your perfume blends.
Its soothing scent has a positive influence on the mind. As we offer 100% natural and pure fragrance oils, you may use it for aromatherapy and other uses as well. They can also be incorporated in DIY haircare and skincare products to enhance their scent and make them appealing.
Coconut Milk Fragrance Oil Uses & Benefits
Body & Face Mist
Fresh and aquatic scent of Coconut Milk Fragrance Oil is used for making Body and Face Mist that will intensely hydrate your skin making it soft, supple, and smooth. It will provide a garden-fresh feeling throughout the day.
Candle Making
Scented candles made from soy wax, paraffin wax, beeswax, etc tend to hold Coconut Milk scent introduced by fragrance oil for a longer time. These candles also help in eliminating the foul smell from the room.
Face & Body wash
Phthalate and Paraben-free Coconut Milk Scented Oil is used for making face and body washes because it is safe for the skin. Its crisp and cool fragrance also brings a feeling of freshness along with it.
Skin Care
Coconut Milk Fragrance Oil is widely used to add lotions and creams to relieve dry and sensitive skin. The mild and sensitive fragrance of this scented oil is allergen-free so it can easily be applied to the skin.
Aromatherapy
Fresh and invigorating fragrance of Coconut Milk Fragrance Oil can provide you relief in the summer heat. It can also be used in aromatherapy to heal mental fatigue. Coconut Milk aromatic oil has an aquatic aroma that calms the mind.
Soap Making
Coconut Milk Fragrance Oil is mainly used for making soaps, perfumes, deodorants, and other personal care products. Coconut Milk scented Oil can even be used for making DIY bath care products and natural fragrances.
How to Use Coconut Milk Fragrance Oil?
Scented Candle: Scented candles with Calm and comforting aromas are made using Fragrance oil. You can use 2 ml of Coconut Milk for 250 grams candle wax flakes to obtain perfect smelling scented candles. Make sure you measure your quantities correctly so that the fragrance doesn't get overpowered.
Soap Making: A nice fragranced soap bar gives a luxurious and rich feel to the skin. You can add your favorite 5 ml of aroma oil in a 1 kg soap base to get perfectly scented soap bars.
Aromatic Bath: A good aromatic bath in a bathtub helps to relax and calm the body. You can add 5-6 drops of fragrance oil in a bathtub to enjoy a rejuvenating and relaxing session of the aromatic bath.
Skin Care and Cosmetic Products: Mild and gentle scented cosmetic products are made using Fragrance oil in very little proportion to react to the skin.
Note: Make sure you use the fragrance oil in calculated quantities so that it does not react with your skin.
Product Specifications
| | |
| --- | --- |
| Product Name: | Coconut Milk Fragrance Oil |
| Country of Origin: | India |
| Foam: | Liquid |
| Color: | Light Yellow |
| Aroma: | Aroma Of Coconut Milk |
| Suitable for: | Bath Bombs, Lipsticks, Lip Balms, Facial and Body Scrubs, Creams, Perfume Oils |
| Packaging Type: | As per requirement |
| Storage: | Store in a Cool & Dry place. |
| Shelf Life: | 2 years |
| COA: | |
| MSDS: | |
Packaging Sizes
Please Note: The packaging shown above is a General Representation of the various sizes and types of packaging available for this product. Not all sizes and types of packaging for this product maybe available at all times.
Buy Coconut Milk Fragrance Oil Online In UK
VedaOils Coconut Milk Fragrance Oilis made from freshly extracted Coconut Milk in the United Kingdom. It has a fresh and aquatic aroma with the hint of wild mint-like fragrance. The mild and gentle scent of this scented oil does not trigger any allergy and neither does it cause any headache. This aromatic oil is a versatile product so it can be added to infuse Coconut Milk Fragrance in many products.
We are a leading manufacturer, distributor, supplier, and wholesaler of the Best-quality Coconut Milk Scented Oil. We offer all of the fragrance oil on our website at wholesale prices and in bulk quantities. We do not use any chemical-based ingredient like SLS, parabens, phthalates, etc., in the manufacturing of our Coconut Milk Fragrance Oil. It is also Vegan-friendly and Cruelty-free so it will be safe for your skin. Our Aromatic oil is highly stable so it can ideally be added to various DIY products.
We ensure to follow certain standard packaging methods and quality check measures while packing our high-grade fragrance oil so that you can receive them in perfect condition at your doorsteps. VedaOils offer its Coconut Milk scented oil in packages of different quantities (100ml, 500ml, 1L, 5L, 10L) so that you can order them as per your needs from our website. We export our Coconut Milk Aroma Oil in bulk quantities to various countries like The USA, Canada, Australia, etc., through our logistics partners DHL, FedEx Blue Dart, India Post, etc.
Frequently Asked Questions
WE NOTICE YOU ARE FROM
US & CANADA LOCATION