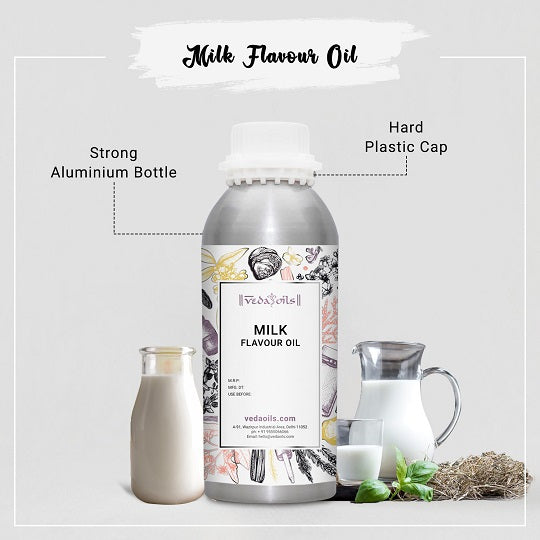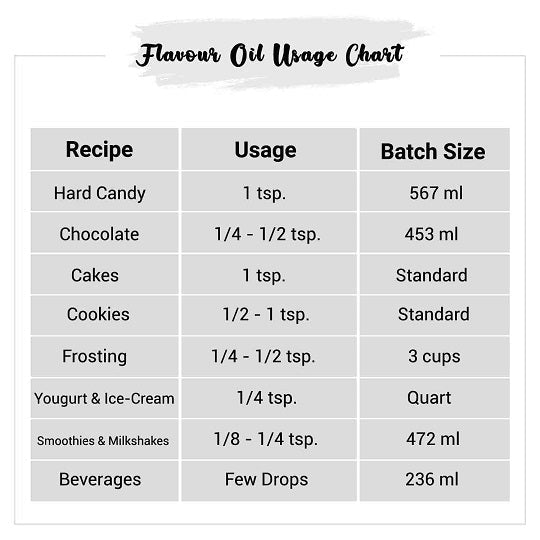 Our Certifications
Condensed Milk Flavour Oil
Milk Flavour Oil is made from fresh dairy milk, which will provide you an original creamy taste of milk. You can use it to flavour all kinds of coffees, chocolates, and candies. Pure Condensed Milk Flavour Oil also proves to be a key ingredient in bakery items. Condensed Milk flavour oil is a skin-friendly product. You can add it to your DIY natural homemade products like lip balms and lipsticks, etc.
Condensed Milk Flavour Oil essence is a natural product. It does not consist of any preservatives, chemicals, or synthetic colour, so you can easily use milk flavour oil in milkshakes, sorbets, cupcakes, drinks, etc. The thin liquid essence is so strong that a small quantity of it will provide you a perfect and desirable flavour to your food items. Also, Condensed Milk Flavouring Essence reserves its smell and taste when it is used at extremely high temperatures.
Milk Flavouring Oil Uses
Puddings
You can make a proficient and amazing utilization of the milk flavored oil in the act of custom made puddings. It adds a model character and a stimulating smell to your preparations.
Bakery Products
High dissolvability property and an uncommon, empowering fragrance of milk flavoring oil can be used normally in the pastry shop items. It adds an exquisite taste and aroma to your recipes.
Lip Care Items
You can utilize the organic, natural and significantly fragrant milk flavored oil in the readiness of top level lip care items, for instance, lip shimmer, lipsticks, lip balms and more.
Whipped Cream
Condensed Milk flavour oil might be utilized in the preparation of extremely excellent and essential tasteful seasoned whipped creams. It gives an assortment and an energy of milk goodness to the cream.
Chocolates & Candies
Use Milk flavouring oil for a fragrant smell and an astonishing character to confections and chocolates. It is solvent in a gigantic assortment of mixes and permits in giving a stunning punch in your recipes.
Beverages
You can utilize the milk flavoured oil in adding a rich fitness and a yummy contort for your drinks. Being a successfully thought item and liberated from liquor, it helps in mixing in speedier and spreads taste easily.
Milk Flavouring Oil Benefits
For Baked Goods
You can utilize VedaOils Natural milk flavoring oil in making different kind of desserts and recipes like cakes, pies, tart, chocolate, toffees, treats, frozen yogurts, and so on.
Blendable
Condensed Milk flavor oil is an adaptable and multi-use item and can be utilized in many dishes and sweets for both fluid and food flavorings like baked goods, fondants, icing, sorbets, and some more.
Mixes Easily
Condensed Milk flavor oil mixes effectively with different elements of the dishes and sweets since it has a slender consistency. It will add a velvety and rich kind of milk to your dish.
Gluten-Free
Natural Milk flavouring oil is a food-grade seasoning oil liberated from gluten, liquor, and other engineered synthetics and aromas. It is totally ok for utilization.
Vegetarian Product
VedaOils Pure Milk flavoured oil is liberated from any creature-determined parts. It is produced according to Kosher and Halal norms, and Vegans can utilize it too.
For Frozen Goods
Use of the Condensed milk flavour oil in the effective and efficient preparation of frozen goods. They may include flavored yoghurts, ice creams, sorbets and many more.
Product Specifications
| | |
| --- | --- |
| Product Name: | Condensed Milk Flavour Oil |
| Raw Material Source: | Milk |
| Manufacturing Process: | Edible Vegetable Oil, Permitted Nature Identical & Flavouring substances |
| Suitable For Flavouring: | Flavouring: Bread, pies, smoothies, milkshakes, latte, mousse, cakes, ice-creams, and other food items. |
| CAS Number: | 8024-37-1 |
| GMO: | It is GMO-free since no plant-derived ingredients are used for making it. |
| Vegan: | As it is free from animal-derived ingredients, vegans can use it without any doubts. |
| Alcohol-Free: | Yes |
| Storage: | Store the bottle in a cold and dry place away from direct sunlight for prolonged use. |
| Shelf Life: | 2 years |
CAUTION: It is meant for external purposes. Keep it away from the reach of your kids and avoid direct contact with eyes
Packaging Sizes
Please Note: The packaging shown above is a General Representation of the various sizes and types of packaging available for this product. Not all sizes and types of packaging for this product maybe available at all times.
Buy Condensed Milk Flavor Oil Online in UK at Low Price
VedaOils is one of the leading Wholesale suppliers, manufacturer, and exporter of Condensed Milk Flavour Oil and Food Flavour Oil in United Kingdom. We specialize in both oil and water-soluble flavouring oils and our catalog is wide enough to serve all your requirements. Our food flavour oils are gluten-free and naturally prepared.
Buy Condensed Milk Flavour Oil at the best price in United Kingdom through VedaOils online portal. We ensure smooth and safe transactions. We also employ a high standard of delivery to supply your order in the best quality. You can Buy Condensed Milk Flavour Oil at wholesale prices as we are offering them in bulk quantities.
We also export our high-quality Condensed Milk flavouring oil to the US, Canada, Australia, and other countries. Our products follow the highest standards when it comes to quality and purity. We assure you that you will not regret choosing us! We also deliver the products throughout the world using our logistic partners DHL, FedEx Blue Dart, India Post, etc.
Frequently Asked Questions
WE NOTICE YOU ARE FROM
US & CANADA LOCATION