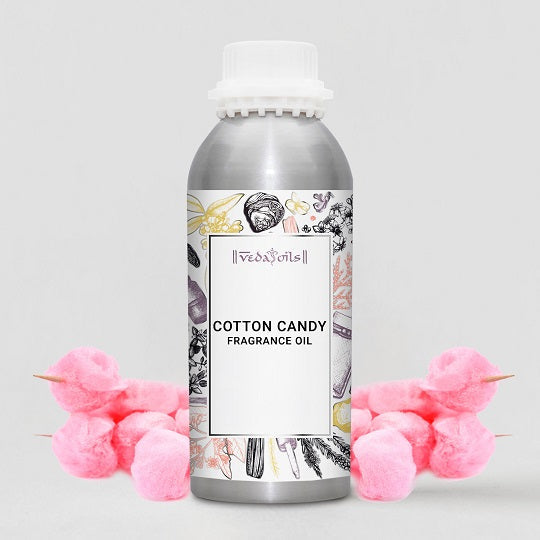 Our Certifications
Cotton Candy Fragrance Oil
Cotton Candy Fragrance Oil is one of our most popular fragrance oils, combining the sweet and fluffy perfume of cotton candy with notes of strawberry, vanilla, and pink sugar to create a delightful treat for the senses. It smells like one of the sweetest spun sugar treat imaginable. A fresh and potent combination. A cotton candy aroma that is sweet and delicious. Fresh strawberry, sugar, and sweet vanilla are the most evident notes. It transports you right back to your childhood. The scent is sticky sweet vanilla with mild fruity overtones.
This cotton candy fragrance oil has the same scent as the real cotton candy. It will be a hit in handcrafted soap, lotion, and bath bombs. If you are looking to make candles, the sugary raspberry, strawberry, and sweet vanilla scents work well with paraffin and soy waxes as well.
Cotton Candy Fragrance Oil Uses & Benefits
Soaps Making
Owing to its enticing aroma, Cotton Candy Scented Oil is used to make soap bars. This fragrance oil is easy to combine with melt & pour and liquid soap bases.
Scented Candles
Cotton Candy scented oil has the sweet and delightful smell of fresh and fragrant strawberries, which is commonly used to make scented candles. The scent of of these candles quickly improves one's mood.
Skin Care
Cotton Fragrance Oil is used in scrubs, creams, lotions, moisturisers, facewashes, and toners to give them a sweet and strong aroma. It can also be found in a variety of cosmetics and beauty items.
Bathing Products
Cotton Candy Aroma oil is used in shower gels, body washes, bath bombs, and bath salts because of its creamy, silky, and delectable smell, which delivers the perfect bathing aroma.
Lip care Products
Cotton Candy fragrance oil is used in lip care products such as lip balms, lip gloss, lipstick, and other cosmetics because of its opulent and rich gourmet smells such as strawberries, raspberries and all things sweet.
Fragrance Diffuser
Cotton Candy fragrance oil is used in aroma diffusers and reed diffusers because of its delicate and pleasant perfume. It removes all the nasty and pungent odour from the environment and makes the ambience sweet-smelling.
How to Use Honey Dew Melon Fragrance Oil
Soap Making: A refreshingly fragranced soap bar gives a luxurious and rich feel to the skin. You can add your favourite 10 ml of Cotton Candy aroma oil in a 150 grams soap base to get perfectly scented soap bars.
Scented Candle: Scented candles with calm and comforting aromas are made using Fragrance Oil in a calculated quantity. To obtain perfect smelling scented candles, you can use 15 ml of Cotton Candy perfume oil for 250 grams candle wax flakes. Make sure you measure your quantities correctly so that the fragrance doesn't get overpowered.
Skin Care & Cosmetic Products: Mild and gentle scented cosmetic products are made using Cotton Candy fragrance oil in very little proportion to not react to the skin.
Aromatic Bath: A good aromatic bath in a bathtub helps to relax and calm the body. You can add 5-6 drops of Cotton Candy fragrance oil in a bathtub to enjoy the aromatic bath's rejuvenating and relaxing session.
Note: The concentration of pure Cotton Candy scented oil needs to be varied according to the purpose of use.
Product Specifications
| | |
| --- | --- |
| Product Name: | Cotton Fragrance Oil |
| INCI Name: | N/A |
| Country of Origin: | India |
| Foam: | Liquid |
| Flash Point: | N/A |
| Color: | N/A |
| Aroma: | Fresh, Earthy, and Sweet Floral fragrance |
| Suitable for: | Bath Bombs, Lipsticks, Lip Balms, Facial and Body Scrubs, Creams, Perfume Oils |
| Packaging Type: | As per requirement |
| Storage: | Store in a Cool & Dry place. |
| Shelf Life: | 2 years |
| COA: | |
| MSDS: | |
Packaging Sizes
Please Note: The packaging shown above is a General Representation of the various sizes and types of packaging available for this product. Not all sizes and types of packaging for this product maybe available at all times.
Buy Cotton Candy Fragrance Oil At Wholesale Price In UK
VedaOils Cotton Candy Perfume oil is one of the most attention-grabbing scents. Rich and deep, with a hint of delicious Sweet Floral fragrance. It'll undoubtedly become your new favourite macho smell! Notes of Fresh, Earthy, and Sweet Floral are present in our luxurious Cotton Candy fragrance oil.
We are a leading manufacturer, distributor, supplier, and wholesaler of the best quality Cotton Candy Perfume Oil in United Kingdom. We offer a wide range of fragrance oil at wholesale prices and in bulk quantities. It is also Vegan-friendly and Cruelty-free so that it will be safe for your skin. Our Cotton Candy Aromatic oil is highly stable, so it can ideally be added to various DIY products.
We ensure to follow certain standard packaging methods and quality check measures while packing our high-grade Scented oil so that you can receive them in perfect condition at your doorsteps. VedaOils offer its Cotton Candy scented oil in packages of different quantities (100ml, 500ml, 1L, 5L) so that you can order them as per your needs from our website. We export our Cotton Candy Aroma Oil in bulk quantities to various countries like USA, Canada, Australia, etc., through our logistics partners DHL, FedEx, Blue Dart, India Post, etc.
Frequently Asked Questions
WE NOTICE YOU ARE FROM
US & CANADA LOCATION