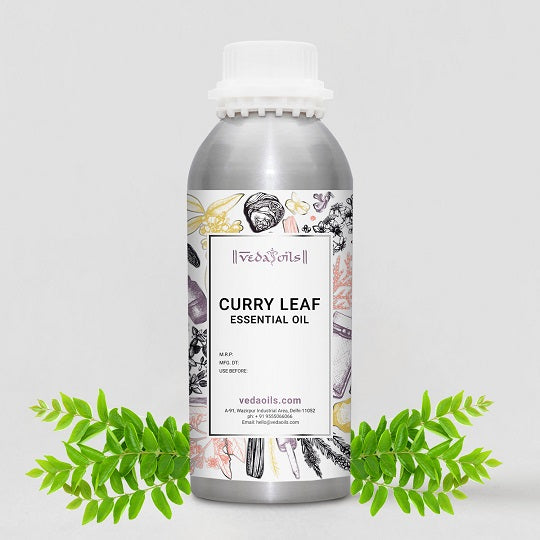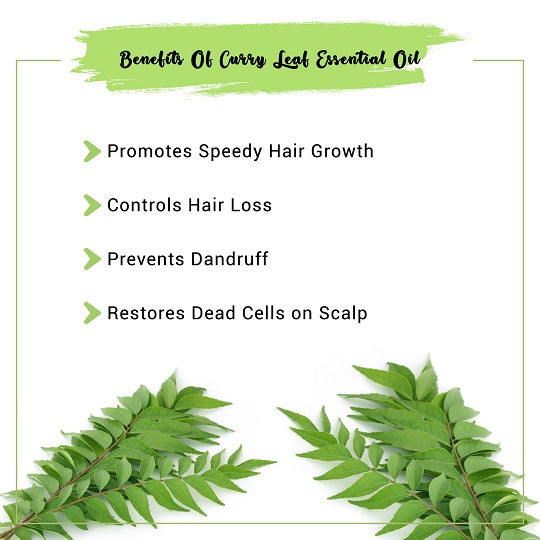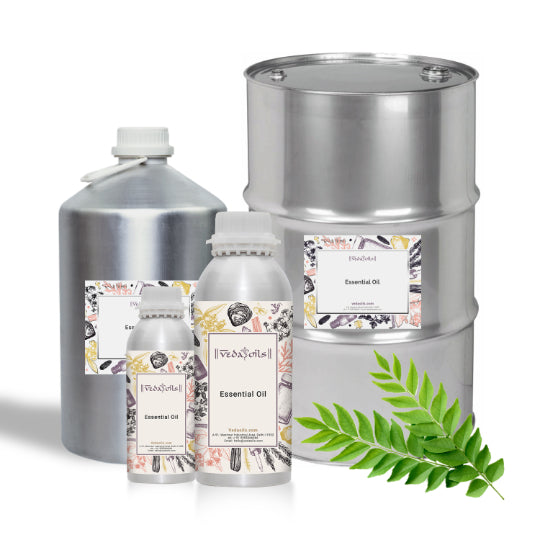 Our Certifications
Curry Leaf Oil
Made from the leaves obtained from the Curry tree, the Curry Leaf Essential Oil is extracted through a process called steam distillation. Curry leaves are popular in India and are used mainly for culinary purposes. However, it has been established that the oil obtained from the Curry leaves is healthy for both skin and hair.
We are providing high-quality and pure Curry Leaf Oil that possesses powerful antimicrobial, anti-inflammatory, and antiseptic properties. The energizing aroma of this oil proves to be effective against many mental issues as well.
It is mainly used in diffuser blends due to its stimulant and deodorizing effects. Our organic Curry Leaves Oil is also used widely in cosmetic applications, massage oils, and personal care products due to its various therapeutic and medicinal features and benefits. As a result, it is a multi-purpose oil that can prove to be a cure for many of your minor skin and hair issues.
Curry Leaf Essential Oil Uses
Hair Care Products
Our natural Curry Leaf Essential Oil is effective against hair loss. It improves your scalp health and strengthens your hair roots to prevent hair fall to a great extent. You can also use it to obtain strong, smooth, and lustrous hair.
Relief from Cuts & Bruises
The anti-inflammatory properties of this oil provides instant relief from the pain and inflammation that is associated with minor wounds, cuts, and bruises. Its antibacterial and antiseptic properties prevent the growth of infection and protect your wounds from getting septic.
Bath & Soap Making Oil
Mesmerizing aroma of our curry leaf essential oil can be used to enjoy a relaxing bath session and soap making. Just add a few drops of oil to your bathtub and fill it with warm water. This bath therapy will rejuvenate your body and provide instant relief from body pain and uneasiness.
Aromatherapy Oil
The antispasmodic properties of our pure Curry Leaf Essential Oil can be used to reduce muscle stiffness, spasms, and joint pain. As a result, it is an excellent addition to massage oils. Make DIY massage oils by mixing them with jojoba or coconut carrier oil.
Stomach Bloating Products
If your stomach is paining due to excess gas in the intestines then you can apply a diluted form of this oil on your abdomen. The carminative qualities of this oil will release the gases from your intestine and provide instant relief from stomach ache.
Skin Care Products
Our fresh Curry Leaf Essential Oil can help reduce skin pigmentation. It also prevents the formation of blackheads and other skin issues due to its antibacterial and analgesic properties. You may also use it for the treatment of skin infections.
Curry Leaf Essential Oil Benefits
Promotes Hair Growth
Curry Leaf Essential Oil nourishes your scalp and boosts hair growth. You can add curry leaf oil to your shampoos or hair oils to obtain long, silky, and beautiful hair. Therefore, manufacturers of hair oils and shampoos are using it on a wide scale these days
Reduces Fatigue
The refreshing and strong scent of our best Curry Leaf Essential Oil fights against mood swings, fatigue, and depression. It boosts mental health by regulating blood pressure and balancing emotions. As a result, it is used extensively for aromatherapy purposes.
Reduces Dandruff
Incorporate our natural curry leaf essential oil in your daily hair care regime for reducing dandruff, scalp irritation, and split ends. This essential oil also prevents untimely hair graying and maintains the natural shine and condition of your hair.
Prevents Tanning
The powerful antioxidants that are present in our pure Curry Leaf Essential Oil couples with its strong antimicrobial properties to brighten your skin tone. It also prevents issues like skin tanning and proves to be a vital ingredient in numerous skin care and beauty care products.
Heals Sunburns
The strong anti-inflammatory properties of our organic curry leaf essential oil can be used to treat skin irritation and sunburns. It also provides relief from skin irritation and can be used to restore the nourishment of dry and sensitive skin.
Great for Memory
Diffusing our fresh curry leaves essential oil can prove to be excellent for memory. It will provide relief from morning sickness and rejuvenates your mind and body as well. Therefore, it is a must-have essential oil for every home.
Product Specifications
| | |
| --- | --- |
| Product Name: | Curry Leaf Essential Oil |
| Botanical Name: | Murraya Koenigii |
| CAS No: | 8008-52-4 |
| Country of Origin: | United Kingdom |
| F.E.M.A #: | 2334 |
| Specific Gravity: | 0.860 - 0.950 @ 25°C |
| Optical Rotation: | -27 to +24° |
| Moisture Content: | 0.01% |
| Refractive Index: | 1.459 |
| Flash Point: | 100°C |
| Acid Value: | 0.04% |
| Relative Density: | 0.886 gm/ml |
| Origin of part used: | Leaves |
| Form: | Liquid |
| Shelf Life: | 2 years |
| Packaging Type: | As Per Requirement |
| Extraction or Processing Method: | Steam Distillation |
| Solubility: | Soluble in Alcohols and Fixed oils. |
| Consistency: | Thin |
| Colour | Colourless to Pale Green with Reflection of Yellow |
| Alternative Name | Curry Leaf Oil |
| Odor | Deep and Refreshing scent |
| Curry Leaf Oil Blends with | Lemon, Lime, Neroli, Clary Sage, and Lavender essential oils, and all types of citrus oils. |
| COA: | |
| MSDS: | |
CAUTION: It is meant for external purposes. Keep it away from the reach of your kids and avoid direct contact with eyes.
Packaging Sizes
Please Note: The packaging shown above is a General Representation of the various sizes and types of packaging available for this product. Not all sizes and types of packaging for this product maybe available at all times.
Buy Curry Leaf Oil Online in UK
VedaOils is one of the leading Wholesale suppliers, manufacturer, exporter of Curry Leaf essential oil and other Essential Oils in United Kingdom. We offer the purest forms of essential oils to our customers. No chemicals, additives, or fillers are added to them. They also do not contain any artificial colours, preservatives, and fragrances. Therefore, they prove to be ideal for daily use. Though entirely natural, you should dilute Curry Leaves Oil before using it for topical application as it is highly concentrated.
We employ numerous tests and quality checks to ensure that only premium-quality Natural Curry Leaf Essential Oil reaches you. The highest quality and packaging standards are employed to deliver desirable results on usage. Also, our portal uses a secure payment gateway to safeguard your transactions. Buy Curry Leaf oil from VedaOils online according to requirements at the best competitive prices in the market. You can order Curry Leaf oil for your daily purposes such as anti-depressant, anti-inflammatory, clams mind. Check out Curry Leaf essential oil price per Kg, even you can purchase this essential oil in bulk quantity.
We are one of the largest manufacturers, suppliers, and exporters of top-quality Curry Leaf Essential Oil. We also export our high-quality essential oils to the US, Canada, Australia and other countries. Our products follow the highest standards when it comes to quality and purity. We assure you that you will not regret choosing us! We also deliver Curry Leaf absolute essential oil acrss different countries using our logistic partners DHL, FedEx Blue Dart, India Post, etc. Do not miss this excellent opportunity to buy chemical-free, fresh, and multi-purpose Organic Curry Leaf Oil from VedaOils.
Frequently Asked Questions
WE NOTICE YOU ARE FROM
US & CANADA LOCATION