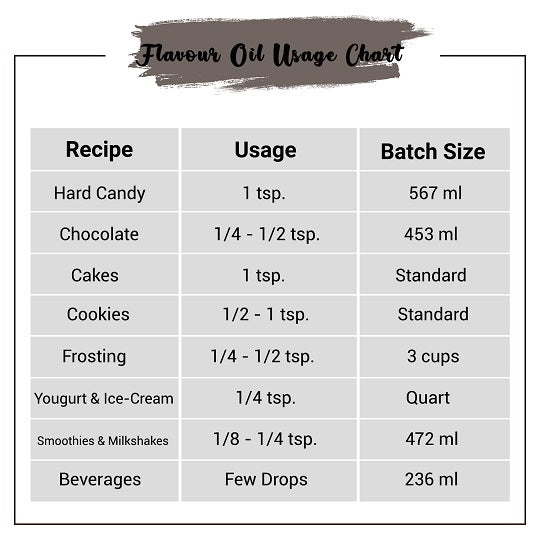 Our Certifications
Chocolate Flavour Oil
If you want to add the delicious creamy flavour of chocolates to your food items, then Dark Chocolate Flavour Oil will prove to be perfect. It is ideally made to flavour chocolates, bakery items, toffees, and pastries, but you can also use it to make chocolate milkshakes and ice creams. Refreshing taste of rich and dark chocolate can be used in varied proportions as per the intensity of the chocolate flavour you require.
Do not add too much chocolate flavour oil as it may make your food items too dark chocolatey with an undertone of bitterness. It is slightly more viscous than some other flavouring oils, and therefore, you can dilute it a bit with water before adding it to your preparations. We provide flavouring essence oils that are made up of natural ingredients only.
No chemicals, synthetic flavours, or preservatives are used for making flavouring liquid. Dark Chocolate Food Flavour Oil is suitable for baking purposes, and since they are water-soluble, you can use them in a variety of food items and juices. The liquid essence is strong enough to provide the desired flavour to your food items with a small quality. Also, chocolate flavouring oil retains its aroma and taste even when used at extremely high temperatures.
Dark Chocolate Flavour Oil Uses
Cooking & Baking
fdsaafsdfsdfsf
Product Specifications
| | |
| --- | --- |
| Product Name: | Dark Chocolate Flavour Oil |
| Brand Name: | VedaOils |
| INCI Name: | Theobroma Cacao Flavouring Oil |
| Ingredients: | Edible Vegetable Oil, Permitted Nature Identical & Flavouring substances |
| Aroma: | Mid notes of chocolate & Sweet Honey |
| Chocolate Flavour Suitable For: | Cakes, candies, pastries, candies, chocolate milkshakes, and other bakery goods and confectioneries. |
| CAS Number: | 84649-99-0 |
| Alcohol-Free: | Yes |
| Storage: | Store the bottle in a cold and dry place away from direct sunlight for prolonged use. |
| Shelf Life: | 2 years |
CAUTION: It is meant for external purposes. Keep it away from the reach of your kids and avoid direct contact with eyes
Packaging Sizes
Please Note: The packaging shown above is a General Representation of the various sizes and types of packaging available for this product. Not all sizes and types of packaging for this product maybe available at all times.
Buy Chocolate Flavour Oil Online in UK at Low Price
VedaOils leading manufacturer, distributor, and supplier of premium-quality Dark Chocolate Flavour Oil, We specialize in both oil and water-soluble flavour oil and our catalog is wide enough to serve all your requirements. Our food-grade flavour oils are gluten-free and naturally prepared. Organic Chocolate Flavouring Oil does not include any toxins or chemicals that may harm your health in any way. It is free from alcohol, animal-based ingredients, and artificial preservatives. Even vegans may use it as per their requirements.
High stability of essence oils enables you to add them to numerous DIY and commercial products. We are offering Best Dark Chocolate Food Flavour Oil at cost-effective and wholesale prices for commercial users and also provide discounted rates and offers to make them economical for everyone. Our quick delivery and high standards of quality and packaging enable us to deliver effective and high-quality products at your doorsteps.
Vedaoils Dark Chocolate flavour oil is available in packages of 0.100 KG, and 1.0 Kilogram through our website, we are exporting them in various countries like the USA, Australia, and Canada. Our logistics partners like FedEx, Blue Dart, India Post, DHL, etc that make it possible to deliver our products in real-time.
Frequently Asked Questions
WE NOTICE YOU ARE FROM
US & CANADA LOCATION