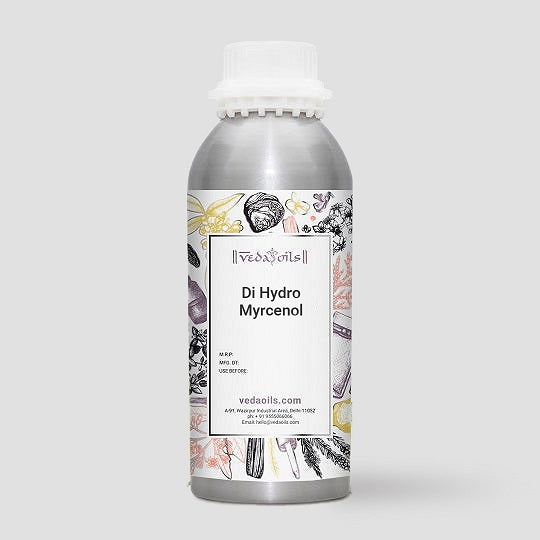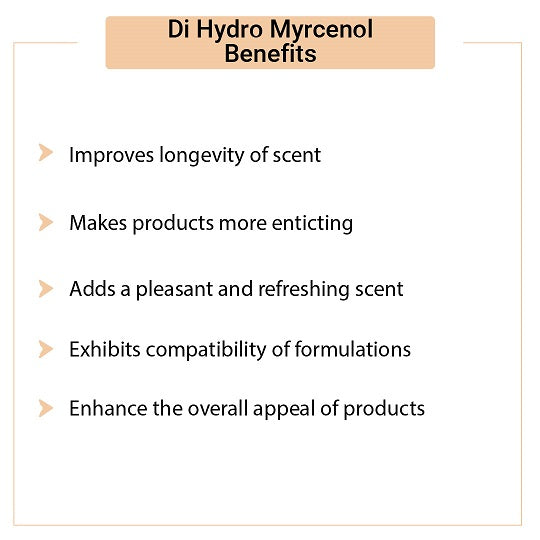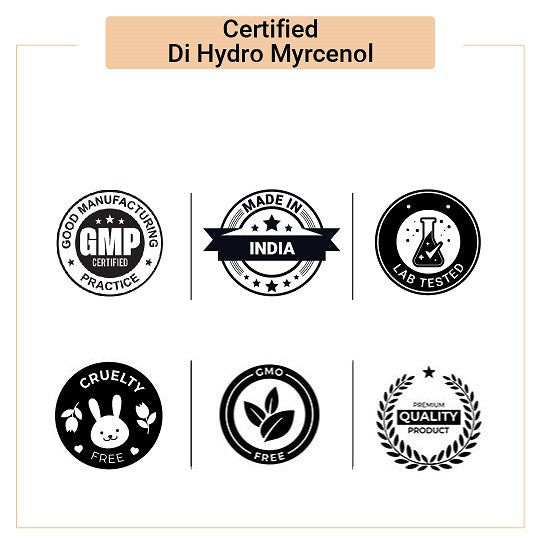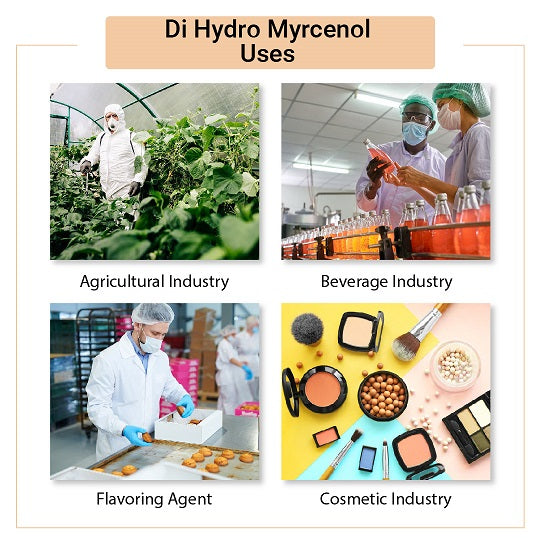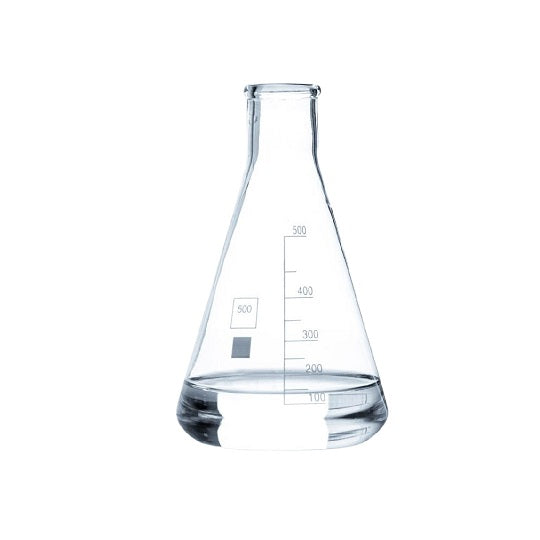 Our Certifications
Dihydromyrcenol
Dihydromyrcenol, also known as dihydromyrcenol or DHM, is a fragrance ingredient that is commonly used in the perfume and fragrance industry. It is a synthetic compound derived from myrcene, a natural fragrance compound found in various plants and essential oils. Dihydromyrcenol has a fresh, citrusy, and slightly floral scent. It is often described as having a clean, uplifting, and energetic aroma. The compound is valued for its versatility and its ability to enhance and blend well with other fragrance ingredients.
In the fragrance industry, Dihydromyrcenol is widely used as a top note or middle note in perfumes, colognes, and personal care products. It adds a bright and refreshing character to fragrance compositions and is often found in citrus, floral, and aquatic-themed fragrances. The compound's fresh and clean scent makes it suitable for a variety of products, including soaps, shower gels, shampoos, and air fresheners. Dihydromyrcenol's fragrance is often associated with a sense of cleanliness and revitalization.
Furthermore, Dihydromyrcenol is known for its good stability and long-lasting scent, making it a valuable ingredient in fragrance formulations. It's important to note that Dihydromyrcenol is a synthetic compound, and its use and concentration may vary depending on the specific fragrance or product formulation. As with any fragrance ingredient, it is necessary to follow regulatory guidelines and safety recommendations when incorporating Dihydromyrcenol into formulations.
Dihydromyrcenol Benefits & Uses
Perfumes and Colognes
Dihydromyrcenol is often used as a key ingredient in perfumes and colognes. Its fresh and citrusy aroma adds a vibrant and energetic note to fragrance compositions.
Personal Care Products
Dihydromyrcenol is used in body lotions, shower gels, shampoos, and deodorants. It contributes to the overall scent profile, providing a clean and invigorating fragrance.
Home Care Products
Dihydromyrcenol is used household cleaning products such as surface cleaners, air fresheners, and laundry detergents. Its helps create a clean and pleasant environment.
Candle Making
Dihydromyrcenol is also used in scented candles.Dihydromyrcenol made candles releases a refreshing and uplifting scent that can create a cozy and inviting atmosphere.
Cosmetic Products
Dihydromyrcenol used in various cosmetic products, including creams, lotions, and makeup. Its fresh and clean fragrance enhances the sensory experience of the products.
Bathing Products
Dihydromyrcenol is used in making soaps, bath salts, and bath bombs. It adds a pleasant and invigorating aroma, turning the bathing experience into a refreshing and revitalizing one.
Product Specifications
Product Name :

Dihydromyrcenol

Brand Name:

VedaOils

Chemical Formula:

C10H20O

CAS Number:

18479-58-8

Color:
Colorless
Shelf Life:

12 months

Form:

Liquid

Applications:

Decorative cosmetics, Fine fragrances & Non-cosmetic products
Packaging Sizes
Please Note: The packaging shown above is a General Representation of the various sizes and types of packaging available for this product. Not all sizes and types of packaging for this product maybe available at all times.
Buy Dihydromyrcenol Online at Low Prices In UK
VedaOils is one of leading Wholesale suppliers, manufacturer, and exporter of Dihydromyrcenol in United Kingdom. Vedaoils manufactures highest quality Dihydromyrcenol cosmetic that does not compromise with your health and beauty. Our Cosmetic Ingredients does not contain any harmful preservatives, fragrances, additives and filler. Order Organic raw ingredients at a low price for Industrial & Personal end products.
We employ numerous tests and quality checks to ensure that only Premium-quality Dihydromyrcenol reaches you. The highest quality and packaging standards are employed to deliver desirable results on usage. Also, our portal uses a secure payment gateway such as Visa, Mastercard to safeguard your transactions. Order Dihydromyrcenol online in Bulk Quantity at Wholesale different packages so that you can order and use them as per your needs.
We export our Dihydromyrcenol to the US, Canada, Australia, and worldwide. Our products follow the highest standards when it comes to quality and purity. Your orders are delivered to your doorstep, so you don't have to worry about going outside. We assure you that you will not regret choosing us! We also deliver the products worldwide using our logistic partners DHL, FedEx, Blue Dart, India Post, etc. Get great cashback, combo offers, deals and discount offers while buying Dihydromyrcenol online from VedaOils store.
Frequently Asked Questions