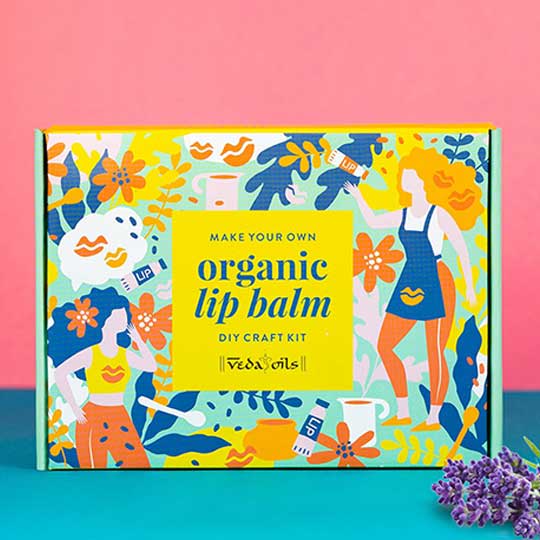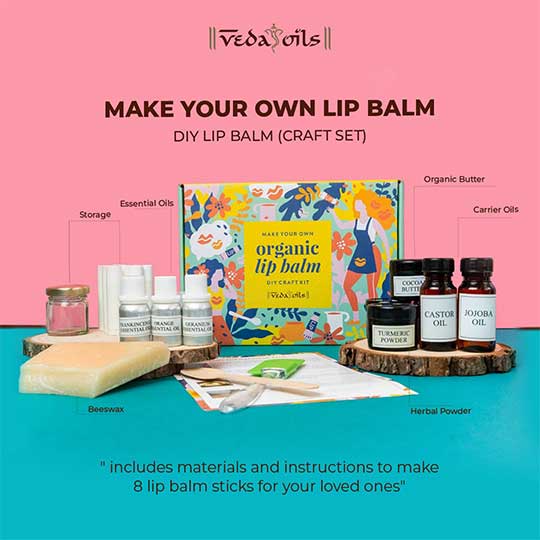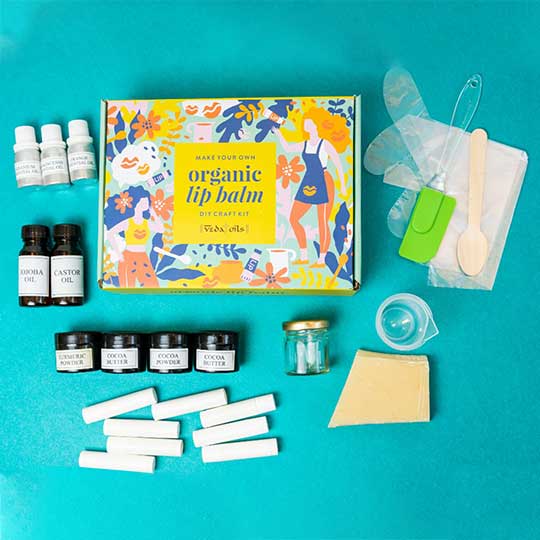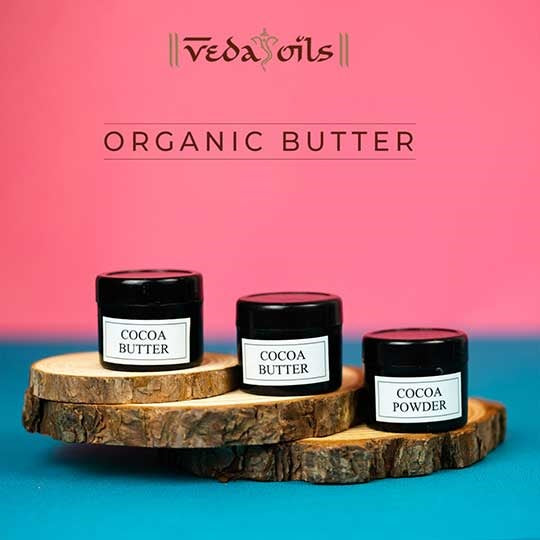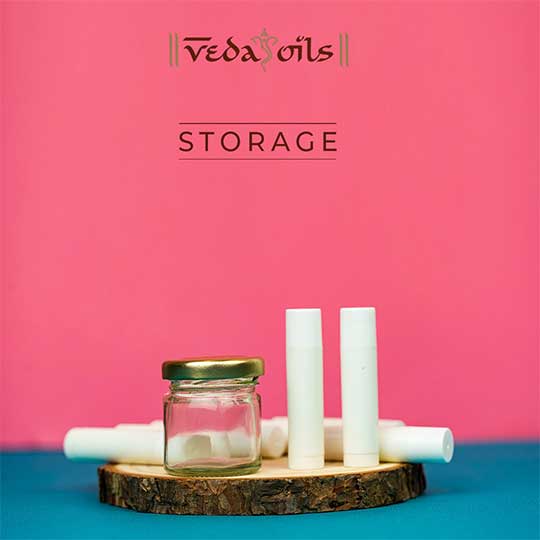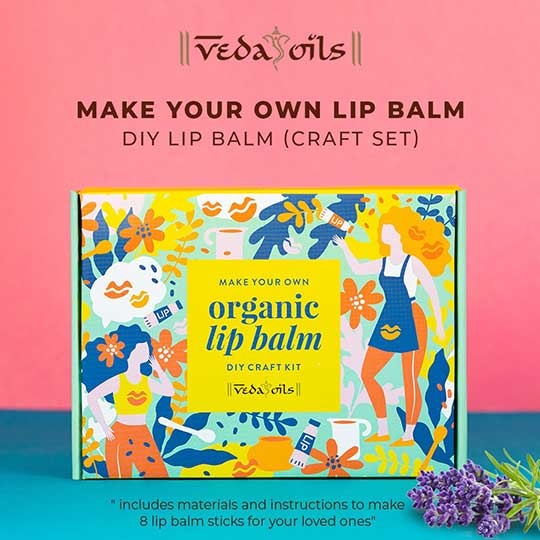 Our Certifications
Diy Lip Balm Kit
Now you can get natural lip balms with ultimate lip moisturizing properties that make your lips super soft and plum. With VedaOils Organic Lip Balm Making Kit, you can make your own lip care balms and mold it exactly how you like it for Lip Lightening, Pigmentation or Dry Lips Treatment. This DIY Lip Balm Crafting Kit allows you to pamper yourself with all-natural emollients while providing step by step lip balm making instructions.
Each kit includes everything you'll need to make your very own Moisturizing Lip Balm. Organic DIY Lip Balm Making kit includes natural ingredients that are rich in Antioxidants, Anti-inflammatory and moisturizing properties to save your lips from getting Dark and protect them from harmful UV rays. The lip balm made from homemade organic lip balm kit provides not only tint to your lips but also makes your lips baby soft and Moisturizes Dark Chapped Lips.
The DIY Lip Balm Making kit is a delectable and refreshing fusion of coco and tangy touch, allowing your lip balm to have a natural flavor. Inside the lip balm kit box, crafters will find a vibrant recipe card and valuable information about the contents of their lip balm to be. You can make 8 Lip Balm Sticks from one kit; it includes organic ingredients that have many benefits.
Ingredients List of Homemade Lip Balm Kit
Beeswax
Acts as natural emulsifiers and good for dry, damaged lips. The rich nourishing properties of this organic lip balm will give your dry lips a long lasting softening effect that keeps your lips baby soft.
Turmeric & Cocoa Powder
Turmeric & Cocoa Powder is a great source of antioxidants that helps lighten your lips and rubs dry dead skin cells. The lip balm made from this organic lip balm making kit will keep your lips moisturized.
Cocoa Butter
Cocoa Butter is an emollient that is great source of natural antioxidants. It adds a protective hydrating layer to lips, helping protect them from extreme temperatures. Organic Cocoa Butter is a great base for lip balms.
Jojoba & Castor Oil
Warry texture of jojoba oil and castor oil forms a protective barrier over dry and chapped lips to lock in the moisture and make it look soft, smooth and moisturized. It also removes dryness.
Flavour Oils
Use Strawberry / Bubblegum & Watermelon Flavor Oil is a long lasting moisturizer for your lips. Lip balms made with flavour oil will not dry out your lips. The natural properties of orange oil make your lips baby pink and soft.
Storage Jar & Lip Balm Set
VedaOils Lip Balm Making Kit contains a storage jar for you to mix all the ingredients well and mold it into a lip balm stick. It comes with a Lip Balm set to provide you with perfect lip balm sticks.
Recipe for Making Organic Lip Balm
Glass Bowl
A glass bowl will be perfect to make the balm. If you don't have it then you can also use a bowl made up of stainless steel. To set the balm, you can either choose a lip balm tube or a glass jar.
Melt Beeswax
Firstly, you will need to melt 8 to 9 grams (one pouch) of Beeswax in a double boiler. For that, you will need to heat the water and keep the vessel that contains the Beeswax on top of it to melt it gently.
Add Cocoa Butter
After melting the Beeswax completely, you will need to add around 5.2 grams (1 pouch) of Cocoa Butter to the bowl. Stir it well and let them mix completely and then turn the flame off.
Add Castor Oils
Now, add 15 ml of Castor Oil & Jojoba oil each immediately to the blend and use a spatula to mix them thoroughly. Don't over blend it as we need to have the consistency that is perfect for the balm. Don't forget to wear gloves and also keep a spatula ready for mixing purposes.
Add Cocoa or Turmeric Powder
Since your mixture is still warm hot, you can add Turmeric or Cocoa Powder first and then you can pour a blend of Strawberry / Bubblegum & Watermelon Flavour Oil into it. As we are using these oils for fragrance purposes as well, add them to your mixture only at the end.
Allow Lip Balm to Set
Now for the last step, you need to leave the setting bowl aside for some time or you can also keep it inside a refrigerator by closing it from the top with a lid if you want it to set rapidly. You can utilize the labels we have provided to give a professional and aesthetic look to your lip balms.
Product Specifications
| | |
| --- | --- |
| Product Name: | Lip Balm Kit |
| Castor Oil: | 1 Unit - 15 Ml |
| Jojoba Oil: | 1 Unit - 15 Ml |
| Turmeric Powder: | 20 Gm |
| Cocoa Butter: | 20 Gm |
| Beewax : | 1 Unit - 50 Gm |
| Strawberry Flavour Oil: | 1 Unit - 15 Ml |
| Bubblegum Flavour Oil: | 1 Unit - 15 Ml |
| Watermelon Flavour Oil: | 1 Unit - 15 Ml |
| Spatula: | 1 Unit |
| Beaker: | 1 Unit |
| Hand Gloves: | 1 Pair |
| Storage Jar: | 1 Unit |
| Lip Balm Stick: | 6 Units |
Buy Organic Lip Balm Kit Online Best Price
VedaOils is one the leading manufacturers and suppliers of Organic Lip Balm Making Kit other natural raw ingredients. VedaOils with its wide range of beauty products promises purity and quality of the products. Our Natural Lip Balm Crafting Kit is the first choice for a beginner or a pro because it provides all the required ingredients and materials for one to try their hands in Natural Lip Balm Making.
We at VedaOils offer our Premium Quality Lip Balm Making Kit that is Vegan-friendly and free from any animal-derived ingredients. We do not even test our products on any animals. The ingredients provided in the Organic DIY Lip Balm kit are free from additives like artificial fragrances, color dyes, and chemically infused ingredients. Buy Organic Lip Balm Making Kit Online at the best price in United Kingdom through Vedaoils online shopping portal that will inspire you to DIY your favorite lip balms more and more not only for Lip Care but also for skin ad face problems.
We ensure to follow standard packaging and quality check measures while packing the finest quality of our lip balm making kit. We vacuum seal our products packages so that you can receive them safely at your doorsteps. We deliver our products all around the globe using our logistics partner DHL, FedEx BlueDart, India Post, etc. We ensure to follow standard packaging and quality check measures while packing the finest quality of our lip balm making kit.
Frequently Asked Questions
WE NOTICE YOU ARE FROM
US & CANADA LOCATION