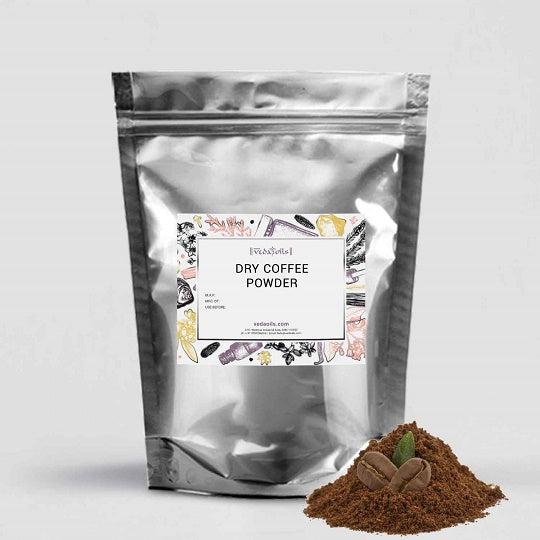 Our Certifications
Dry Coffee Powder
Dry Coffee Powder is made from the Coffee plant seeds and ground into a fine powder to make it compatible with skincare and cosmetic applications. It is packed with antioxidants and shows anti-aging properties as well. This coupled with its skin brightening and exfoliating properties makes it one of the best cosmetic ingredients in beauty care and skin care products. It decreases the trans epidermal loss of water from the surface of your skin and keeps your skin hydrated for a long time.
Dry Coffee Powder also proves to be effective to improve your skin tone and makes it more elastic and firm than ever. However, for that, you would have to use the products containing dry coffee powder regularly. Its exfoliating properties make it one of the most preferred ingredients in face scrubs, peel-off masks, face cleansers, etc. Also, it blends with other natural ingredients well and so you don't have to worry about its use with other cosmetic ingredients.
Face gels, face masks, lotions, face scrubs, anti-aging products, skin brightening products, and other skincare and face care products contain dry coffee powder as one of the primary constituents.
Dry Coffee Powder Benefits
How to Use Dry Coffee Powder?
Product Specifications
| | |
| --- | --- |
| INCI Name: | Coffea Arabica Seed Powder |
| Raw Material Source: | Dried Coffee Beans |
| Manufacturing Process: | Dried Coffee Beans are crushed and ground to obtain a fine powder. It is then filtered to remove any sharp particles or abrasives. |
| Tested On Animals?: | No |
| GMO: | GMO-free but not certified for it. |
| Vegan: | Vegans can use it because it does not contain any animal-derived components. |
| Shelf Life: | 2 years |
CAUTION: It is meant for external purposes. Keep it away from the reach of your kids and avoid direct contact with eyes
Packaging Sizes
Please Note: The packaging shown above is a General Representation of the various sizes and types of packaging available for this product. Not all sizes and types of packaging for this product maybe available at all times.
Buy Dry Coffee Powder Online in UK at Best Price
VedaOils is one of the prominent manufacturers, suppliers, & wholesale distributors of Dry Coffee Powder and other herbal powders in United Kingdom. Our products are trusted all over UK for their high quality and purity. No artificial colours, preservatives, or fragrances are added while making Dry Coffee Powder. Hence our Dry Coffee Powder is 100% natural and organic.
Order Dry Coffee Powder online through VedaOils' shopping portal according to your requirements. We deploy high standard delivery to ensure that the best quality product reaches you in time. Dry Coffee Powder is now available in packets of 100gm, 500gm, 1kg, and 5kg.
You can also Buy Dry Coffee Powder in Bulk at wholesale prices from us. We offer discounts and wholesale rates for bulk purchases. you can leave a query in our Bulk Enquiry section to buy orange peel powder at the best price in UK.We export Organic Aloe Vera Powder in bulk quantities to The USA, Canada, Australia, and many more countries using our logistic partners DHL, FedEx Blue Dart, India Post, etc.
Frequently Asked Questions