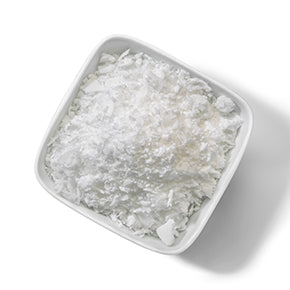 Our Certifications
Emulsifying Wax
Emulsifying Wax is made from vegetable fats that are extracted from plant-based ingredients. The base of this wax contains fatty acids and natural oils. Our natural emulsifying wax is available in the form of flakes or granules. Organic Emulsifying wax acts as a Binding Agent between oil and water that is why it is used in many Beauty Products. It acts as a mild thickener and stabilizer which help in giving perfect consistency to the products made using it.
Candles, Soap Making, Lotion, and Lip Balms use emulsifying wax formula because of its even texture. Our plant based emulsifying wax is also widely used in Cosmetics as well as Pharmaceutical companies to manufacture moisturizers, ointments, lotions, creams, etc. It is even used in Hair Care products like hair masks and Hair Conditioners. Organic Emulsifying wax is completely safe and natural so it can be used in baby products at well.
Pure Emulsifying wax regulates the thickness and smoothness of the products in which it is used so it allows the easier application. It also spreads very smoothly because of its consistent and shiny texture. Our vegetable derived Emulsifying wax possesses Emollient and Anti-allergic properties which moisturize the skin and protect it from any kind of allergy, therefore emulsifying wax is used in many Body Butters and Skin Care Products.
We at VedaOils provide the finest quality Emulsifying wax that is Vegan-friendly, chemical-free, cruelty-free, and eco-friendly. Our Emulsifying wax is free from any artificial additives or chemically infused ingredients so it is a perfect wax choice for DIY, hobbies, and crafts.
Emulsifying Wax Uses
Candle Making
Natural Emulsifying wax is used to make candles as it burns without producing harmful smoke or soot. It is completely eco-friendly because it is made from plant-based ingredients. It is a perfect choice for making floating candles as it is hydrophobic by nature.
Moisturizers & Lotions
Organic Emulsifying wax is used to make moisturizers and lotions as it regulates the thickness and creaminess of its formula. Our plant based emulsifying wax is good for skin as it has emollient property, which hydrates and moisturizes the skin.
Lip balms & Lip Gloss
Lip balms and lip glosses are also made using emulsifying wax as its creamy texture absorbs completely into the lips, making it soft and supple. Face Care Products and Lip products made from our best quality emulsifying wax tend to last for a longer time.
Hair Care Products
Hair Mask, Hair Conditioner, and Hairs Mousse use natural emulsifying wax as it thickens and smoothens the consistency making it easier to apply. It nourishes the hair and makes it silky and soft.
Soap Making
Emulsifying wax is used for making Soap Bars and Lotion Bars as it is soft and smooth in texture. It also glides on the skin very easily and makes skin look shiny and hydrated.
Baby Care Products
Baby Care Products like soaps, moisturizers, lotions, etc. use pure emulsifying wax as it is completely safe and healthy for baby skin. It also provides nutrients to the skin.
Emulsifying Wax Benefits
Increase Viscosity
Emulsifying wax is used to regulate the thickness and creaminess of the products in which it is used. It has a smooth and even formula that makes it easier to apply on skin and hair.
Emollient Property
Organic Emulsifying wax has an emollient property that conditions and nourishes the skin as well as hair. It has fatty acids and natural oils which penetrate the skin easily.
Longer Shelf Life
Pure Emulsifying wax has excellent binding properties which hold the oils and water together. This binding property of our vegetable emulsifying wax helps to retain the moisture for a longer time.
Anti-allergic Properties
Natural Emulsifying wax possesses anti-allergic properties which heal irritated skin, rashes, or any other kind of allergies. It soothes and calms down the allergy-prone area.
Frizz-free Hair
Emulsifying wax has emollient and conditioning properties that reduce hair's frizziness and dryness. It nourishes the scalp as well as hair strands and prevents hair-related issues.
Non-comedogenic
Emulsifying wax is non-comedogenic which means that it does not clog or block the pores on the skin. It prevents the skin from breaking out. It also naturally reduce pimples and acne.
Product Specifications
Product Name:

Emulsifying Wax

INCI Name:

Cetyl Stearyl Alcohol, Polysorbate 60

CAS Number:

8014-38-8

Suitable for:

Lotions, Creams, Cosmetic & Beauty, Skincare Products

Saponification Value:

87 – 104

Color:

White

Melting Point:

144 to 147 °F

Storage:

Store in a Cool & Dry place.

Shelf Life:

2 years

COA:
MSDS:
Emulsifying Recipes Ingredients:
Packaging Sizes
Please Note: The packaging shown above is a General Representation of the various sizes and types of packaging available for this product. Not all sizes and types of packaging for this product maybe available at all times.
Buy Emulsifying Wax Online In UK at Low Price
VedaOils is one of the leading manufacturers, suppliers, distributors, and premium quality Emulsifying wax wholesalers. Buy Emulsifying Wax at a very reasonable price. Our Emulsifying wax is made from all Plant-Based Ingredients.
Our emulsifying wax is vegan-friendly. Chemical-free, and cruelty-free. We do not add any preservatives or chemically infused ingredients to our wax. We do not even add artificial fragrances or colored dyes in our Emulsifying wax. The consistency of our emulsifying wax is specially formulated so that you can enjoy using them creatively in your DIY.
We offer our Emulsifying Wax in Bulk in different packages (100gm, 500gm,1kg) so that you can order them as per your needs. We even export our Emulsifying Wax to The USA,Canada, Germany, Dubai, Australia, etc. using our logistic partners DHL, FedEx Blue Dart, India Post, etc. So, order the best quality Emulsifying Wax from VedaOils for a wonderful experience.
Frequently Asked Questions
WE NOTICE YOU ARE FROM
US & CANADA LOCATION