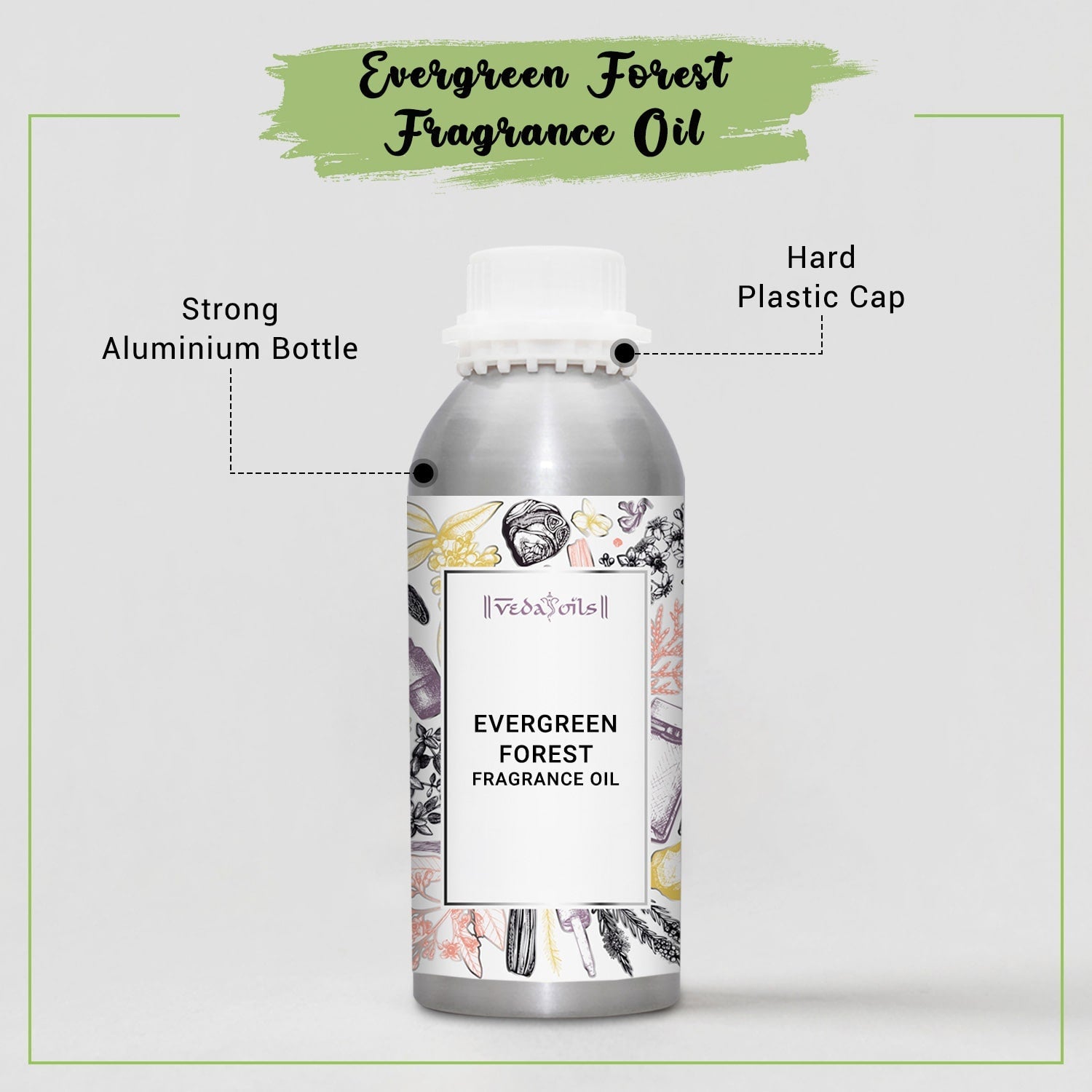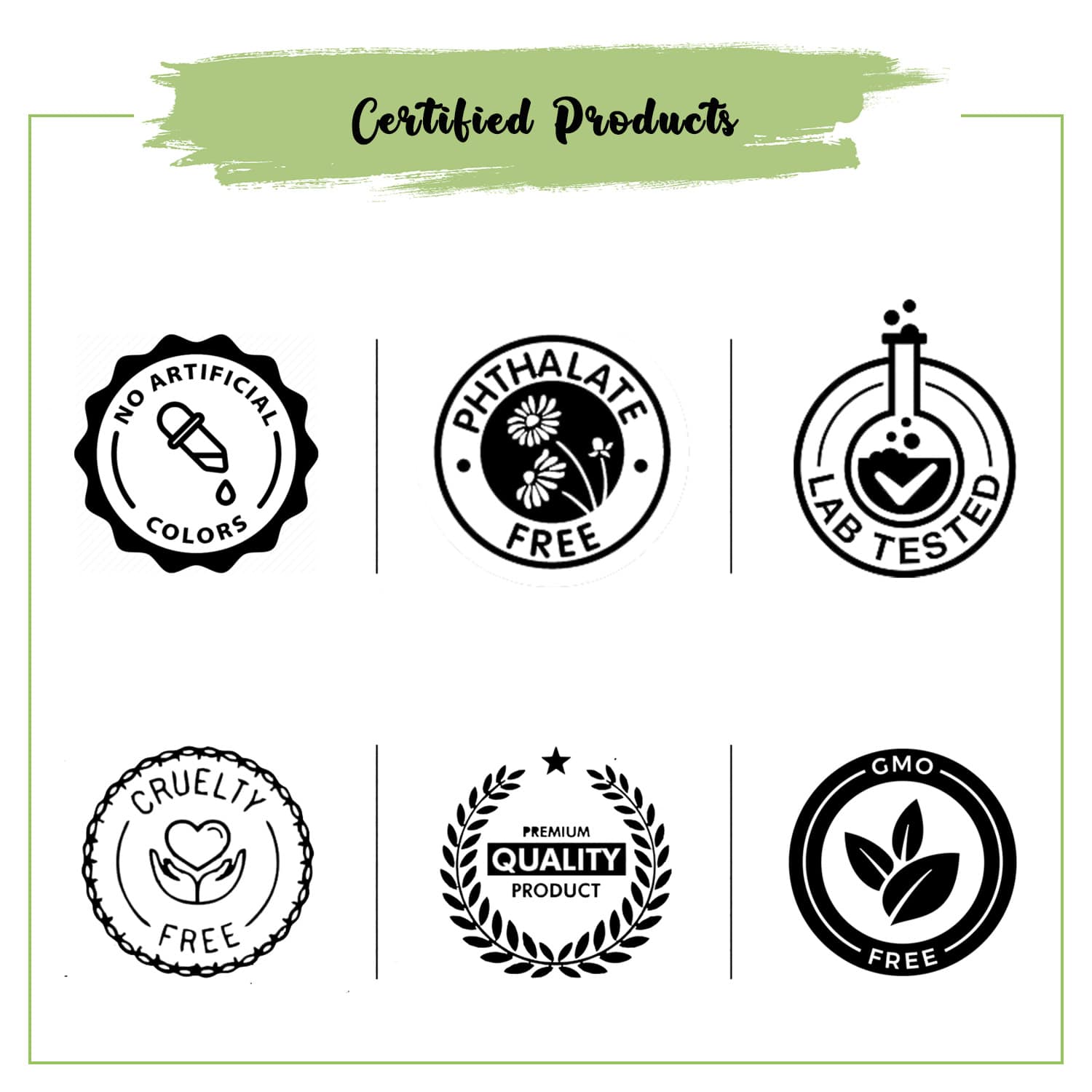 Our Certifications
Evergreen Forest Fragrance Oil
Vedaoils create this premium topical-grade fragrance oil to precisely replicate the aroma of an Evergreen Forest. The scents of an evergreen tree-filled forest are familiar to almost everyone. You are transported to a forest glen full of pine notes and cedar's deep, woodsy scent when you inhale this uplifting and lovely fragrance.
Infused with the charms from the green herbal undernotes of Fraser fir, balsam, blue spruce, and cedarwood bundles with a touch of aqua from ice-covered pinecones and earthy juniper root, this fragrance is skin-safe for bath and body goods, such as melt and pour soap bases, cold process soaps, lotions, creams, air freshener, and body splash bases, potpourri, and potpourri refresher oils, in addition to serving as an appealing candle smell.
As this olfactory adventure progresses, refreshing peppermint tones blend with deep, resinous pine notes. A lovely, crisp, energetic, and stimulating woodsy scent fills your space. It is 100% natural and is free of any chemically infused ingredients.
Evergreen Fragrance Oil Uses & Benefits
Candle Making
Evergreen forest fragrance oil has a lovely and classic perfume that works well in candles. It has a fresh, mystically woody, and uplifting scent. The soothing undertones of green pines and cedar add to the welcoming mood.
Scented Soap Making
Evergreen forest fragrance oil, explicitly created to provide the most natural aromas, can make a range of soaps. This fragrance oil can be used to produce liquid soap bases as well as conventional melt-and-pour soap bases.
Skin Care Products
Add the stimulating and revitalizing scent of cool aqua and lush green pines in moisturizers, lotions, face washes, toners, and other skincare products, evergreen forest fragrance oil can be used. These products are safe to use on the skin.
Cosmetic Products
Evergreen forest fragrance oil can give toners, moisturizers, face washes, face packs, and other products the energizing and skin-beneficial excellent, deep, woodsy-tinged perfume of ice-covered pine and cedar with the hint of juniper.
Room Freshener
Evergreen forest fragrance oil acts as an air and room refresher when blended with carrier oils and dispersed in the air. This can get rid of any dangerous pathogens that could be there and also cleans the air of any undesirable odors.
Incense Sticks
Light Agarbatti or incense sticks infused with organic flower fragrance oil to emit the alluring aroma of blossoming flowers. These eco-friendly incense sticks will add a musky, powdery, and sweet undertone to your space.
Product Specifications
| | |
| --- | --- |
| Product Name: | Evergreen Forest Fragrance Oil |
| INCI Name: | Evergreen Forest Fragrance Oil |
| Country of Origin: | India |
| Foam: | Liquid |
| Flash Point: | N/A |
| Color: | Black |
| Aroma: | Green Herbal, Auqa, And Mist Notes |
| Suitable for: | Bath Bombs, Lipsticks, Lip Balms, Facial and Body Scrubs, Creams, Perfume Oils |
| Packaging Type: | As per requirement |
| Storage: | Store in a Cool & Dry place. |
| Shelf Life: | 2 years |
| COA: | |
| MSDS: | |
Packaging Sizes
Please Note: The packaging shown above is a General Representation of the various sizes and types of packaging available for this product. Not all sizes and types of packaging for this product maybe available at all times.
Buy Evergreen Forest Fragrance Oil In The Uk At Wholesale Price
Vedaoils Evergreen Forest Perfume oil is one of the most addictive and attention-grabbing scents due to its rich fragrance of Evergreen Forest Green Herbal note with touch of auqa and mist. Its lovely and obsessive aroma is quite awakening and refreshing to smell. Evergreen Forest aromatic oil is a very versatile product so it can easily be added to infuse the fragrance of Evergreen Forest in many products.
We are a leading manufacturer, distributor, supplier, and wholesaler of the best quality Evergreen Forest Perfume Oil. We offer all of the fragrance oil on our website at wholesale prices and in bulk quantities. We do not use any chemical-based ingredients like SLS, parabens, phthalates, etc., in the manufacturing of our Evergreen Forest Fragrance Oil. It is also Vegan-friendly and Cruelty-free so it will be safe for your skin. Our Aromatic oil is highly stable so it can ideally be added to various DIY products.
We ensure to follow certain standard packaging methods and quality check measures while packing our high-grade Scented oil so that you can receive them in perfect condition at your doorsteps. VedaOils offer its Evergreen Forest scented oil in packages of different quantities (100ml, 500ml, 1lt, 5lt, 10 lt) so that you can order them as per your needs from our website. We export our Evergreen Forest Aroma Oil in bulk quantities to various countries like The USA, UK, Canada, Australia, etc., through our logistics partners DHL, FedEx Blue Dart, India Post, etc.
Frequently Asked Questions
WE NOTICE YOU ARE FROM
US & CANADA LOCATION