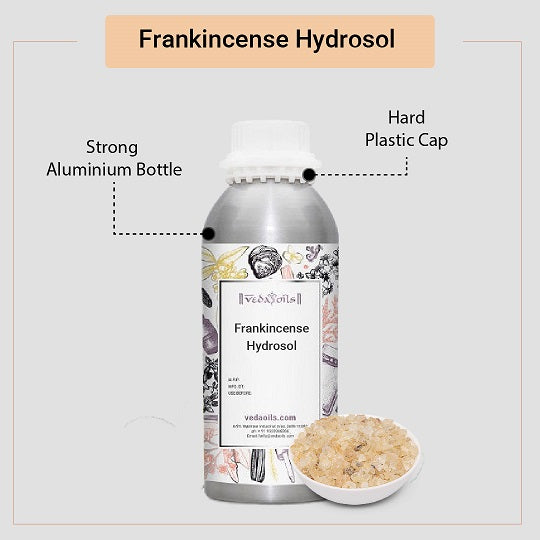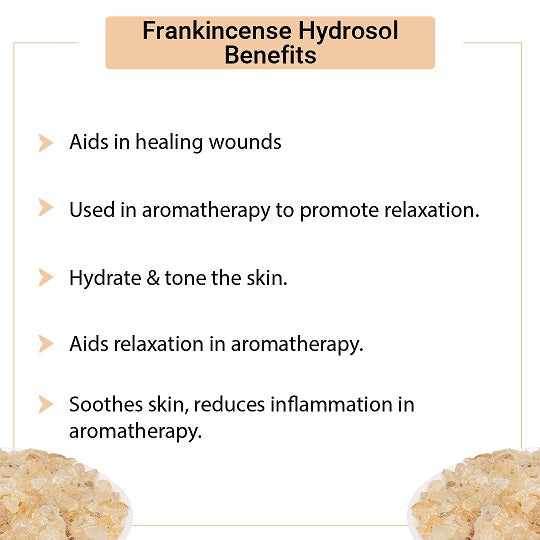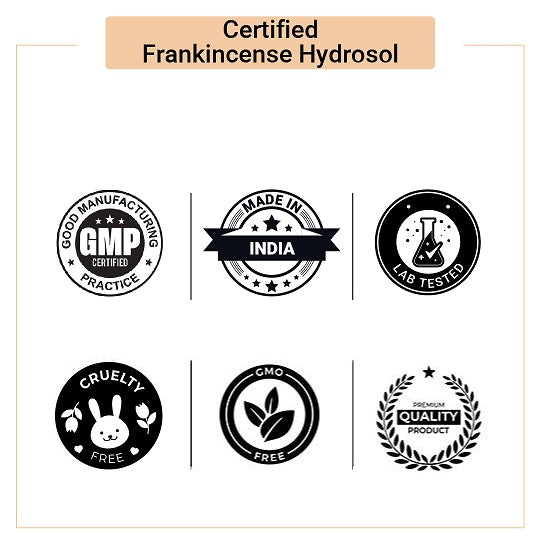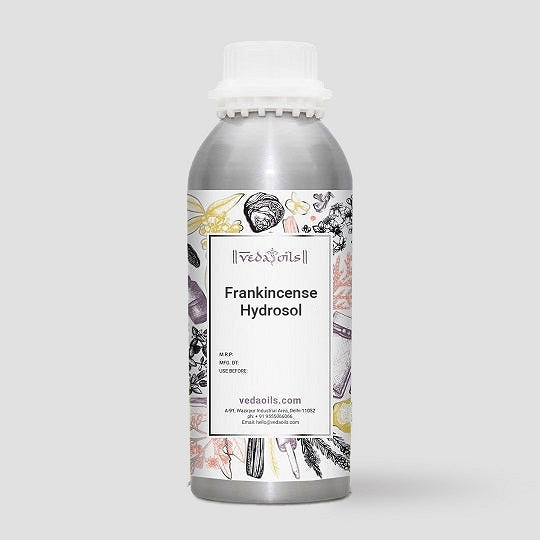 Our Certifications
Frankincense Hydrosol Water
Frankincense hydrosol is a fragrant and versatile botanical water derived from the resin of the Boswellia tree, known for its historical significance and therapeutic properties. This aromatic hydrosol has been treasured for centuries in various cultures for its myriad of uses. With a subtle, earthy scent reminiscent of the resin itself, frankincense hydrosol is renowned for its calming and rejuvenating properties, making it a popular choice in aromatherapy and natural skincare.
Frankincense hydrosol is believed to possess numerous benefits, from soothing skin irritations and promoting a youthful complexion to reducing stress and enhancing mental clarity when used in aromatherapy. Its gentle nature makes it suitable for all skin types, while its grounding aroma is valued for its ability to create a sense of tranquility and inner balance. Whether used as a facial mist, body spray, or as an ingredient in homemade cosmetics, frankincense hydrosol is a beloved botanical elixir that encapsulates the essence of ancient wisdom and modern well-being.
Frankincense Hydrosol Water Uses
Face Toner
Frankincense hydrosol is gentle on the skin and can be used as a natural facial toner. It helps balance the skin's pH, tighten pores, and can promote a more youthful complexion. Simply spray it onto your face after cleansing or as part of your skincare routine.
Hair Care Products
Incorporate frankincense hydrosol into your hair care routine by using it as a final rinse after shampooing and conditioning. It can help nourish the scalp, strengthen hair, and add a subtle fragrance.
Skin Soothing
Frankincense hydrosol has anti-inflammatory and skin-soothing properties. It can be applied to minor skin irritations, such as insect bites, sunburns, rashes, or minor cuts and scrapes, to help reduce redness and discomfort.
Aromatherapy Mist
Use frankincense hydrosol as an aromatherapy mist by spraying it in the air or on your body and surroundings. Its pleasant and grounding scent can help reduce stress and anxiety while creating a calm atmosphere.
Room Spray
Spray frankincense hydrosol in your living spaces as a natural air freshener. Its subtle, woody aroma can help eliminate odors and create a serene ambiance in your home.
Spiritual and Meditation Practice
Frankincense has a long history of use in spiritual and meditation practices. You can use frankincense hydrosol to cleanse your meditation space or spray it on yourself before meditation or prayer to create a sacred and focused atmosphere.
Frankincense Hydrosol Water Benefits
Skin Rejuvenation
Frankincense hydrosol promotes a youthful complexion by reducing the appearance of wrinkles and fine lines, while also toning and revitalizing the skin.
Stress Reduction
In aromatherapy, this hydrosol helps alleviate stress and anxiety, fostering a sense of calm and relaxation.
Wound Healing
Its natural antiseptic properties make it effective in aiding the healing of minor cuts, wounds, and skin irritations.
Emotional Balance
Frankincense hydrosol is known to uplift mood, reduce emotional tension, and enhance mental clarity.
Respiratory Support
Inhaling the mist can help relieve congestion and support respiratory health.
Meditation Aid
The grounding aroma of frankincense hydrosol makes it a popular choice for enhancing meditation practices, promoting focus and spiritual connection.
Product Specifications
| | |
| --- | --- |
| Product Name: | Frankincense Hydrosol |
| INCI Name: | Boswellia Carterii Gum Extract |
| Raw Material Source: | Frankincense |
| CAS Number: | Frankincense |
| Country of Origin: | United Kingdom |
| Suitable For: | Creams, Lotions, Facial steam |
| Solubility : | Soluble In Water And Alcohol, Insoluble In Fixed Oils |
| Storage: | Store in a Cool & Dry place. |
| Shelf Life: | 2 years |
| COA: | |
| MSDS: | |
CAUTION: It is meant for external purposes. Keep it away from the reach of your kids and avoid direct contact with eyes
Packaging Sizes
Please Note: The packaging shown above is a General Representation of the various sizes and types of packaging available for this product. Not all sizes and types of packaging for this product maybe available at all times.
Buy Frankincense Hydrosol At Wholesale Price
VedaOils is the largest manufacturer, supplier, wholesaler and seller of varied types of hydrosol waters, We promises to indulge you in the freshness and quality of our wide-range products, including our Organic Frankincense Floral Water. Vedaoils do not compromise with the quality of the products when it concerns your health and beauty. We assure you that we adopt the highest quality standards both in production and packaging, delivering to you the ultimate, premium quality product.
We follow strict packaging standards while packing our high-grade hydrosol water so that you can receive them in perfect condition at your doorstep. We offer VedaOils Pure Distilled Frankincense Hydrosol in packages of different quantities (1kg, 5kg, 10kg, 25kg) so that you can order them as per your needs from our website. We aim to provide you with the finest of the goods, giving to you the richness and the goodness of pure natural ingredients.
You can purchase VedaOils Frankincense Floral Water from our online store, from the comfort of your home at the most affordable prices and safe payment methods. Our hydrosol waters not only caters to your cosmetic and beauty needs, but also to preparation of cleaners, room sprays and more. Check out the bulk prices of our products and avail huge discounts.
Apart from being a fine manufacturer in the United Kingdom market, VedaOils is quickly emerging as a leading producer, and exporter of global quality Natural Frankincense hydrosol water. We are exporting products globally to countries like the USA, Canada, Australia and many more. It does not contain any chemicals or artificial preservatives and is, therefore, a good alternative to synthetic fragrances and oils. Our logistics partners like DHL, India Post, Blue Dart, FedEx, etc.
Frequently Asked Questions
WE NOTICE YOU ARE FROM
US & CANADA LOCATION