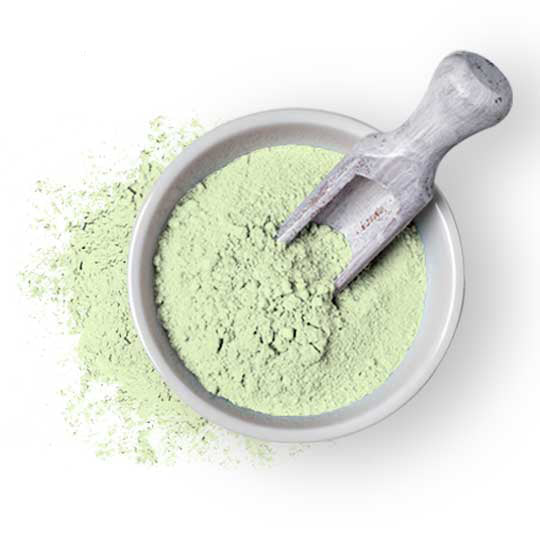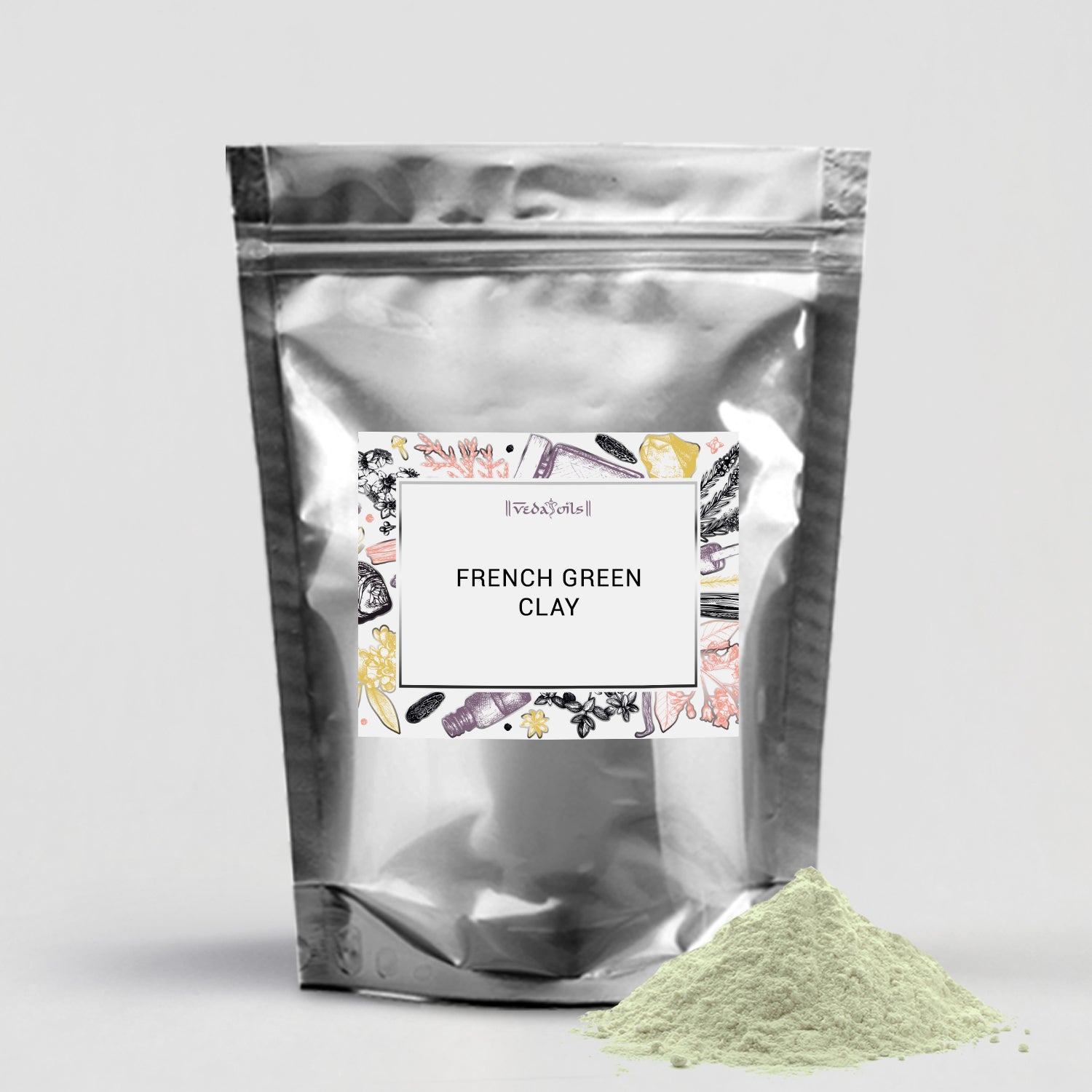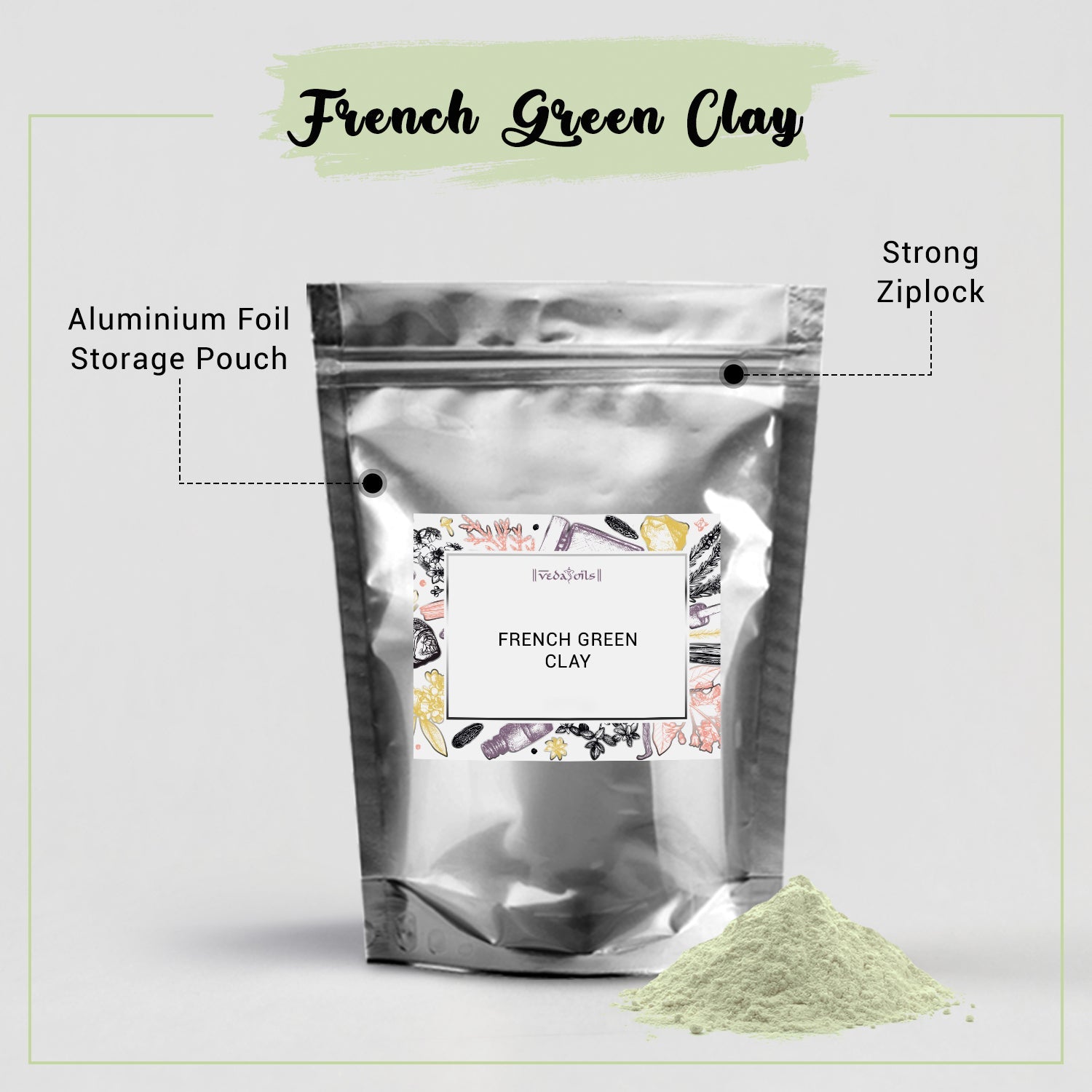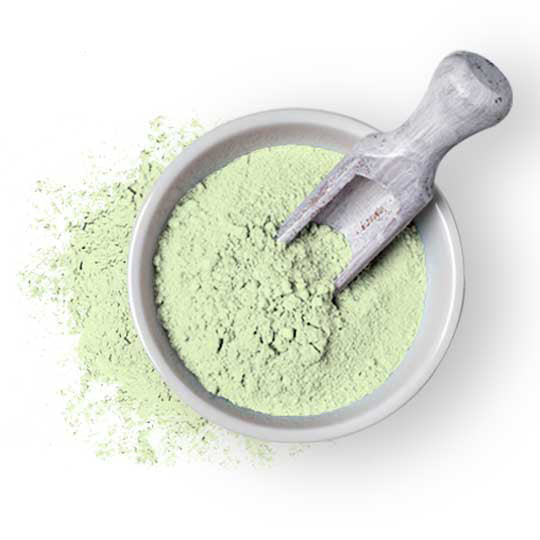 Our Certifications
French Green Clay Powder
French Green Clay which is also known as Sea Clay is extracted from the deep mineral-rich mines which usually occur in France. This fine and soft textured clay are in color sage green or light green because it contains iron oxide and decomposed plant matter. Organic French Green Clay Powder contains a blend of minerals like magnesium, zinc, potassium, selenium, etc which makes it extraordinary Cosmetic Clay.
The presence of ions in French Green Clay helps to detoxify the dirt and impurities from the skin. It has exceptionally well exfoliating qualities which help to stimulate Blood Circulation and remove dead skin cells. Pure French Green Clay acts as a magnet that sucks all the toxins and poison from the skin, leaving it smooth and evenly toned.
Natural French Green Clay is suitable for oily, dry, combination as well as Acne-prone Skin. Green Clay deeply cleanses the pores and removes impurities from the oil glands, narrowing the risk of breakouts. Antioxidants and Essential vitamins present in this clay balance the skin's pH levels and Hydrate it completely. Natural French Green Clay effectively promotes the growth of Healthy Skin Cells by reducing wrinkles, age spots, and visible fine lines.
Apart from benefiting the skin this naturally extracted Green clay effectively detoxifies the scalp by washing away all the greasiness, oiliness, and product build-up. It also heals the dry and flaky scalp, dandruff, and frizzy hair. VedaOils offers the Best Quality French Green Clay which is free from impurities and toxins. It is also completely Vegan-friendly and safe for sensitive skin. This clay powder is widely used in various cosmetic and beauty products as it has implicit healing and soothing properties.
French Green Clay Uses
DIY Facemask
Facepack and facemasks can be made at home using French green clay to cleanse and nourish the skin with the goodness of antioxidants and nutrients. You can mix your favorite essential oil in this facemask to make it even more skin-loving.
Cosmetic Products
Soothing salves & balms, manicures & pedicure kits, hair conditioner, face, and hair masks, etc use organic French Green Clay because of its unique properties. The cosmetic products containing sea clay make skin smooth and healthy.
Hair Mask
Nutrients-packed French Green Clay makes hair and scalp healthy by removing the impurities and toxins. It makes hair shiny, soft, and bouncy. Organic French Green Clay hair mask can also be used as a hair conditioner.
Soap Making
Handmade Soap bars can be made using French Green mineral-rich clay as it has excellent cleansing and hydrating properties. These soaps will be suitable for all skin types as they are completely safe and healthy.
Bath Bombs
French Green Clay is used in making Bath Bombs as it is very mild and skin sensitive. Natural French Green clay bath bombs pamper the skin and add a relaxing sensation. It also makes skin soft and hydrated.
Body & Face Scrub
Body and face scrubs made from pure sea clay helps to deeply cleanse the pores and minimize the large pores. It soothes ultra-sensitive skin by providing it with a calming effect. French Green Clay scrub effectively exfoliates the dead skin cells.
French Green Clay Benefits
Cleanses Pores
French Green Clay helps absorb impurities, gunk, dirt, and excess sebum from the pores which effectively prevents acne and breakouts. It also shrinks the pores making the skin feel firmer and tighter.
Reduces Cells Degeneration
Application of this clay helps in the exfoliation of dead skin cells. It reduces the cell's degeneration by providing it with Vitamins, minerals, and antioxidants. Green clay makes skin appear fresh and rejuvenated.
Tones Skin
French Green clay contains plant matter and healthy skin benefitting compounds which makes the skin firm and toned. It also reduces the sagginess and skin loosening by slowing down the skin aging process.
Stimulates Blood Circulation
Exfoliation and healing properties in natural French green clay enhance blood circulation and stimulate the blood vessels bringing a natural glow to the skin. French Green Clay also makes skin appear radiant and bright.
Detoxifies Scalp
French Green clay effectively removes the product's build-up and cleanses clogged hair follicles which get build-up due to the application of various products on hair and scalp. It also nourishes and conditions the scalp naturally.
Soothes Irritated Skin
Irritation of the skin due to rashes, allergies, infections, sunburns, etc can be cured with the application of French Green Clay. It calms skin and provides a cooling and comforting effect which reduces the irritation of irritated skin.
Packaging Sizes
Please Note: The packaging shown above is a General Representation of the various sizes and types of packaging available for this product. Not all sizes and types of packaging for this product maybe available at all times.
Buy French Green Clay Powder at Wholesale Price
VedaOils is a leading Bulk Manufacturer, supplier, and wholesaler of Organic and Pure French Green Clay Powder in United Kingdom. Our clay powder is made from High-quality unearthed clay so it is completely safe for your skin and hair. We offer our Green Clay at a Wholesale Price.
Our Sea Clay Powder does not contain toxins and chemicals. We do not even add any artificial colorant and fragrances to our clay. We ensure it is free from any kind of fillers, additives, or preservatives. Our Green clay is also Vegan-friendly and Cruelty-free so you can enjoy using them to the fullest.
We pack our French Green Clay in a strong aluminum ziplock bag so that it does not spill or get damaged in transit. We also follow quality check measures while packing our Premium Quality Clay so that you can receive them safely at your doorsteps. Green clay powder has a perfect texture so you can certainly use it to make various DIY products.
We at VedaOils offer our French Green Clay Powder in packages of different quantities (100gm, 500gm, 1kg) so that you can order them on our website as per your needs. We export our French Green clay in bulk quantities all around the globe which includes countries like The USA, Canada, Australia, and many more countries using our logistic partners DHL, FedEx Blue Dart, India Post, etc.
Frequently Asked Questions
WE NOTICE YOU ARE FROM
US & CANADA LOCATION