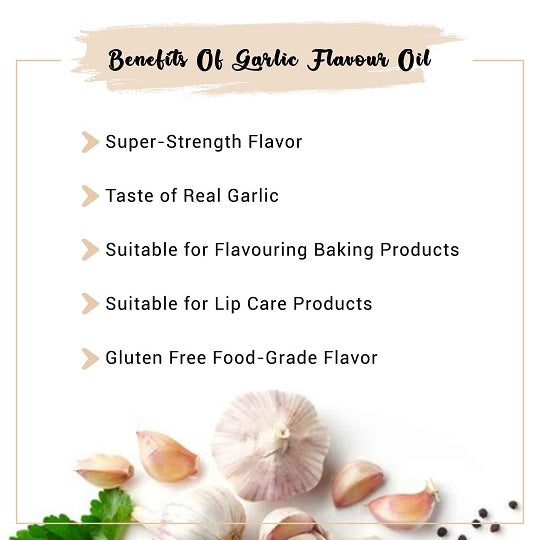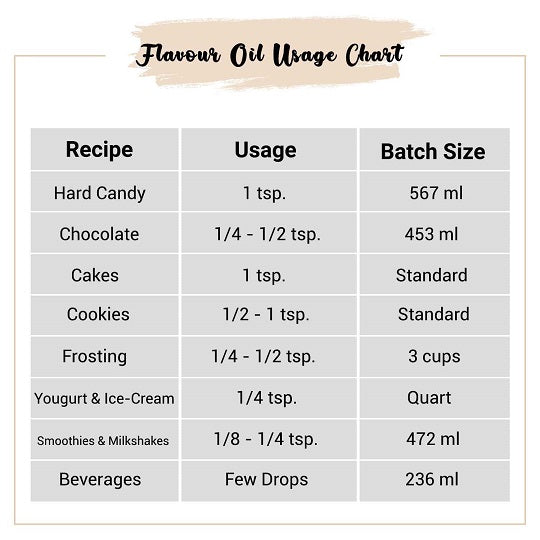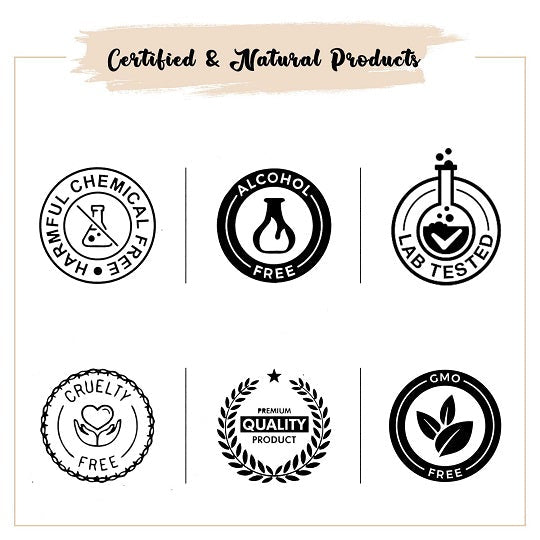 Our Certifications
Garlic Flavour Oil
Garlic Flavour Oil is made from freshly peeled and chopped Garlic cloves. It has a slightly pungent and spicy taste with a hint of mustard kind of flavours. Garlic flavouring oil's strength and intensity are greatest when extracted from its raw state, which not only adds tons of flavour to a recipe but can also have a long-lasting aftertaste. Made from fresh and natural garlic, this super strength Natural Garlic Flavoured oil is used for a variety of cooking and baking purposes.
The liquid essence of organic garlic flavour oil has a concentrated formula which means that it can provide the desired flavour to your food items with a small quality. Garlic Essence also proves to be a good seasoning agent, and therefore, you can add it as one of the main ingredients in various delicacies and recipes. The distinct aroma of Garlic flavouring oil makes the food even more tempting and appetizing.
Garlic Flavour Oil is oil as well as water-soluble, making garlic flavouring essence suitable for use in a wide variety of foods. Also, Pure Garlic Flavouring Essence retains its flavour and aroma even when cooked at extremely high temperatures. We at VedaOils provide garlic flavoured essences that consist of only natural ingredients. It is free from chemicals, synthetic flavours, or preservatives which makes garlic flavouring liquid safer for consumption.
Garlic Flavoured Oil Uses
Bakery Items
Garlic flavoring essence to add a unique flavor to bakery items like roasted garlic loaf, garlic bread, etc. Pure Garlic flavor oil does not contain any artificial additives which makes it perfect to satisfy cravings. It is suitable for adding flavor to packaged food.
Drinks & Juices
Pungent and spicy flavors of garlic flavor oil are used in a variety of drinks and juices as it adds a unique twist to the beverages. Mocktails, juices, canned drinks also use Garlic flavored oil as its taste remains the same even if it's put under freezing temperature.
Cooking Recipes
Natural Garlic flavored cooking oil is derived from natural sources so it adds a real and rich taste to your food items. It is popularly added in lentils, stew, curries, and other Indian recipes as it adds an intense flavor of real garlic into food items.
Flavored Candies
Garlic brittle, hard candies, and chocolates use VedaOils organic Garlic flavoring oil to add a unique accent to the taste palette. The pungent and slightly nutty flavors of this food-grade Garlic essence oil make the candies taste like real garlic.
Soups & Salad
Garlic flavour oil is added in a wide range of soups and salad as it has very smooth and rich flavors of real Garlic. It is used for seasoning different food items due to its unique taste. Salad dressings use Garlic flavoring oil makes the veggies interesting.
Teas & Tonic
Garlic flavouring oil is used popularly in herbal tea and herbal tonic as it has a natural taste. Garlic flavoured oil is easily blendable with other natural ingredients like lemon, honey, milk, water, etc. Garlic oil is suitable for hot beverages and drinks.
Garlic Flavouring Oil Benefits
Blends Perfectly
Food Essence of Garlic Flavor Oil blends perfectly with other flavors and natural ingredients. Garlic flavoring oil can also be used to flavor and enhance many culinary preparations without changing the final product's consistency or color.
Enriching Taste
Garlic super strength oil will entice your taste buds with its perfect aroma and flavor. Garlic Flavoring Oil should be used with caution since it is concentrated and strong enough to easily overpower other ingredients.
Bold & Powerful Scent
Bold, spicy, and powerful scent of Garlic flavour oil can be used to flavor food items. Its pungent aroma adds a unique essence of real garlic into the preparation of food, making it even more mouthwatering and tempting.
Gluten-Free
Food-grade garlic flavor oil contains only non-gluten ingredients. It does not even contain alcohol, and other synthetic chemicals or scents. Gluten intolerant or Gluten allergic people can use organic garlic flavoured oil absolutely safely.
Vegan Product
Natural Garlic flavoring oil from VedaOils is dairy-free and does not contain any animal-derived ingredients. It is also been verified by the kosher and Halal certification, making it safe for the Vegans to consume on regular basis.
100% Food-grade
Garlic flavouring oil is 100% food-grade, which means it is safe for consumption as it contains no synthetic additives or chemicals. It is also free of preservatives, chemicals, and fillers, which makes it even better.
Product Specifications
| | |
| --- | --- |
| INCI Name: | Allium Sativum Bulb Flavouring Oil/span> |
| Raw Material Source: | Garlic |
| Manufacturing Process: | Edible Vegetable Oil, Permitted Nature Identical & Flavouring substances |
| Suitable For Flavouring: | Bread, pies, salad dressings, and other food items. |
| CAS Number: | 8000-78-0 |
| GMO: | It is GMO-free since no plant-derived ingredients are used for making it. |
| Vegan: | As it is free from animal-derived ingredients, vegans can use it without any doubts. |
| Alcohol-Free: | Yes |
| Storage: | Store the bottle in a cold and dry place away from direct sunlight for prolonged use. |
| Colour: | Pale Yellow |
| Aroma: | Spicy taste |
| Shelf Life: | 2 years |
CAUTION: It is meant for external purposes. Keep it away from the reach of your kids and avoid direct contact with eyes
Packaging Sizes
Please Note: The packaging shown above is a General Representation of the various sizes and types of packaging available for this product. Not all sizes and types of packaging for this product maybe available at all times.
Buy Garlic Flavor Oil Online in UK at Low Price
VedaOils is one of the leading Wholesale suppliers, manufacturer, and exporter of Garlic Flavour Oils and Food Flavour Oil in United Kingdom. We specialize in both oil and water-soluble flavouring oils and our catalog is wide enough to serve all your requirements. Our Garlic food flavour oil is gluten-free and naturally prepared.
Buy Garlic Flavour Oil Online at the best price in United Kingdom through VedaOils online portal. We ensure smooth and safe transactions. We also employ a high standard of delivery to supply your order in the best quality. You can buy Garlic Essence Oil at Wholesale Prices as we are offering them in bulk quantities.
We also export our High-quality Garlic Flavouring Oil to the US, Canada, Australia, and other countries. Our products follow the highest standards when it comes to quality and purity. We assure you that you will not regret choosing us! We also deliver the products throughout the world using our logistic partners DHL, FedEx Blue Dart, India Post, etc.
Frequently Asked Questions
WE NOTICE YOU ARE FROM
US & CANADA LOCATION