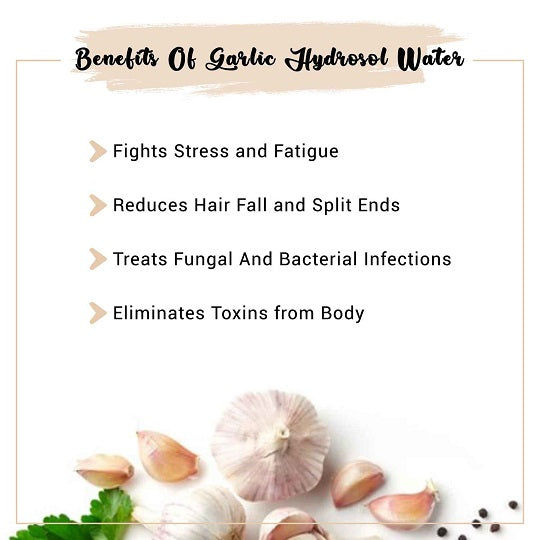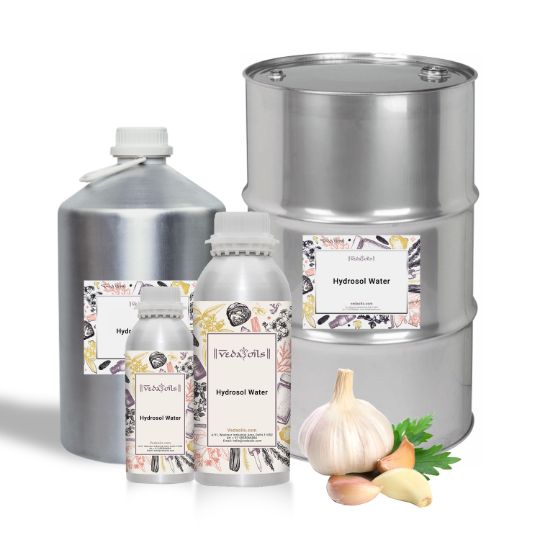 Our Certifications
Garlic Hydrosol
Derived from garlic cloves, Garlic Hydrosol is known for its strong scent of garlic spice. Due to its unique scent, it may be used to make DIY body sprays and deodorants. Moreover, it possesses several therapeutic properties that make it perfect for skincare and hair care purposes. Natural Garlic Hydrosol exhibits antibiotic properties that make it effective against ear pain.
Its highly powerful antiseptic properties enable you to get relief from fungal infections. You may also utilize it to prevent boils from getting infected. Using Organic Garlic Hydrosol for hair care or skincare is better than using freshly cut garlic cloves. It is because hydrosols are much lighter and milder on the skin. Also, due to its high moisture content, it gets easily absorbed into the skin. The fresh and spicy aroma of this floral water can help you overcome dull mood and fatigue.
Garlic Hydrosol Uses
Ear Drops
Antibiotic properties of Garlic Hydrosol enable makers of ear drops to use it as a main component in their products. You may also place a few drops of this floral water in your ear directly to get instant relief from paining.
Hair Growth Formulas
Our organic Garlic Floral Water is added as one of the key ingredients in hair growth formulas. It is due to its ability to stimulate hair growth by ensuring enough blood and nutrients to your hair roots.
Body Washes
Garlic Flower Water is added to body washes, face washes, and other products known for exfoliating oil, dust, and other toxins from your skin cells. It makes your skin clean and also rejuvenates it to make it soft and smooth.
Facial Toners
Suffering from a dull or clumsy-looking face, you can apply our natural Garlic Hydrosol on your face. It acts as a natural face toner and makes your facial muscles firm and smooth. As a result, you look much younger when using it regularly.
Pain Relieving Creams
Creams formulated for joint or muscle pain can contain our best Garlic Floral Water as an important ingredient. This floral water's antiseptic properties and soothing effects will reduce the pain in real-time and without any side effects!
Aromatic Bath
Fresh and mesmerizing scent of Garlic Flower Water can relax your body and mind, it is often added in aromatic baths. It will reduce your body pain and make you feel lighter after the bath. You may also add it as a key ingredient in bath oils.
Garlic Hydrosol Benefits
Even Skin Tone
Garlic Hydrosol fades acne pimple marks, dark spots, and other blemishes to give you a perfect-looking face. Also, it proves to be beneficial for correcting skin discoloration and pigmentation. By regularly including this hydrosol in your face care routine, you can ensure that your face looks flawless.
Heals Wounds
Anti-inflammatory, antifungal, and antibacterial properties of Garlic Floral Water make it ideal for healing wounds, cuts, and scrapes. You may also apply it on the razor cuts to get instant relief from inflammation. It is also effective against moles and warts.
Mood Uplifter
Garlic Flower Water proves to be perfect as a mood uplifter due to its fresh and sharp odor. Its unique, spicy, and zesty aroma makes you feel better after a tiring day at the gym or office. It revives your spirits and rejuvenates your senses by spreading its invigorating aroma.
Cold Treatment
Strong antiviral properties of organic Garlic Hydrosol provide relief from cold and throat infections. It also supports healthy breathing and provides relief from breathing issues. It may also prove to be effective against flu and other issues.
Improves Immunity
You can boost your immunity by diffusing Garlic Floral Water or using it via aromatic baths, massages, and other ways. It is possible due to this floral water's antibiotic, antifungal, and several other therapeutic benefits.
Reduces Scalp Itching
Incorporate our pure Garlic Flower Water in your scalp care and hair care routine to get relief from scalp itchiness and dandruff. Due to these benefits, it may be included in several hair care products like shampoos, hair conditioners, etc.
Product Specifications
| | |
| --- | --- |
| Product Name: | Garlic Hydrosol |
| INCI Name: | Allium sativum (Garlic) Distillate Water |
| Raw Material Source: | Bulb |
| Extraction: | Steam Distillation |
| CAS Number: | 8008-99-9 |
| Country of Origin: | United Kingdom |
| Suitable For: | Hair Growth Products, Immunity Booster, Skin Care. |
| Color: | N/A |
| Storage: | Store in a cool & dry place. |
| Shelf Life: | 2 years |
| COA: | |
| MSDS: | |
CAUTION: It is meant for external purposes. Keep it away from the reach of your kids and avoid direct contact with eyes
Packaging Sizes
Please Note: The packaging shown above is a General Representation of the various sizes and types of packaging available for this product. Not all sizes and types of packaging for this product maybe available at all times.
Buy Garlic Hydrosol Online In UK at Low Prices
Vedaoils is the largest manufacturer, supplier, wholesaler and seller of Garlic Hydrosol. We promise to indulge you in the freshness and quality of our wide-range products, including our Organic Garlic Flower Water. Vedaoils do not compromise the quality of the products when it concerns your health and beauty. We assure you that we adopt the highest quality standards in production and packaging, delivering the ultimate, premium quality product to you.
We follow strict packaging standards while packing our high-grade Garlic Floral Water so that you can receive them in perfect condition at your doorstep. We offer Vedaoils Pure Distilled Garlic Floral Water in packages of different quantities (1kg, 5kg, 10kg, 25kg) to order them as per your needs from our website. We aim to provide you with the finest of the goods, giving you the richness and the goodness of purely natural ingredients.
You can purchase Vedaoils Garlic Hydrosol from our online store, from the comfort of your home at the most affordable prices and safe payment methods. Our Garlic Flower Water not only caters to your cosmetic and beauty needs but also the preparation of cleaners, room sprays and more. Check out the bulk prices of our products and avail of huge discounts.
Apart from being a fine manufacturer in the United Kingdom market, Vedaoils quickly emerges as a leading producer and exporter of Organic Garlic Hydrosol. Therefore, it does not contain chemicals or artificial preservatives and is an excellent alternative to synthetic fragrances and oils. We export products globally to countries like the USA, Canada, Australia and many more. Our logistics partners like DHL, India Post, Blue Dart, FedEx, etc.
Frequently Asked Questions
WE NOTICE YOU ARE FROM
US & CANADA LOCATION