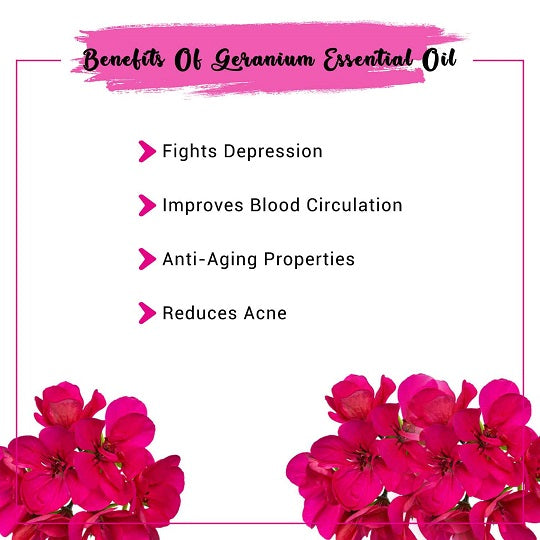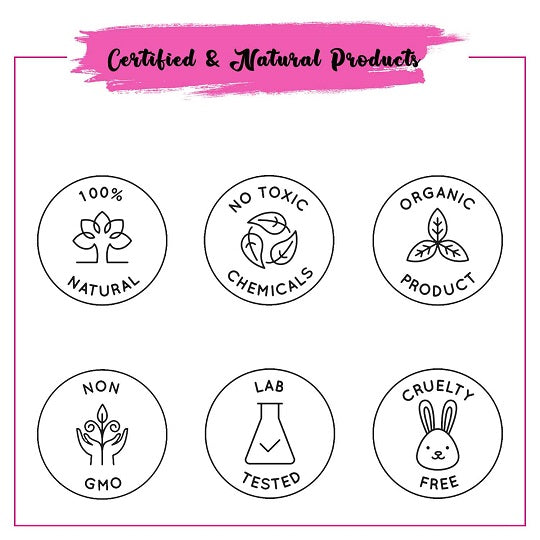 Our Certifications
Geranium Essential Oil
Geranium Organic Essential Oil is produced from the stem and leaves of the Geranium plant. It is extracted with the help of a steam distillation process and is known for its typical sweet and herbal odor that makes it fit to be used in aromatherapy and perfumery. No chemicals and fillers used while manufacturing organic geranium essential oil. It is entirely pure and natural, and you can use it regularly for aromatherapy and other uses.
The powerful antioxidants of pure geranium oil remove fine lines and wrinkles from your skin. It makes your skin firmer, tighter, and smoother than before. Its soothing effects on the skin make it an ideal Cosmetic Ingredient for skin care products and cosmetic applications. It is free from parabens, sulfates, and mineral oil. Pure Geranium oil can reduce the appearance of scars, black spots, stretch marks, marks left by scars, cuts, etc.
Natural Geranium essential oil also possesses Anti-aging properties due to the presence of powerful compounds and Antioxidants. The strong antibacterial properties of geranium oil make it effective against numerous bacterial strains. It also shows astringent, antimicrobial, anti-inflammatory, and antibacterial properties. As a result, you can use it to treat a variety of skin conditions. These properties make it powerful enough to treat some hair issues and conditions as well.
Geranium organic essential oil is often used to Treat Acne and fades acne scars. It also Promotes New Cells' Growth, essential for healing skin that is left damaged due to acne marks. To obtain a firm and clear face, you can massage with natural geranium oil on your face regularly after diluting it with coconut or some other carrier oil. The astringent properties of this oil remove sagginess and eliminate symptoms of aging.
Geranium Essential Oil Uses
Peaceful Sleep
Geranium essential oil's healing and relaxing aroma will help you sleep peacefully. Use a few drops of this essential oil in your bathtub water and enjoy a rich bathing experience before bed.
Calming Effect
Inhaling this essential oil directly or via aromatherapy can reduce symptoms of anxiety and stress. The herbaceous and sweet fragrance of geranium essential oil has a calming effect on the mind.
Repelling insects
Use geranium essential oil for repelling insects, bugs, etc. For that, dilute the essential oil with water and fill it in a spray bottle to keep unwanted insects and mosquitos away.
Aromatherapy Oil
Using this essential oil in aromatherapy improves concentration and helps you achieve a balanced state of mind. Geranium essential oil instills a sense of calmness by combating fatigue and stress.
Improves Hair Texture
Geranium essential oil nourishes your hair and makes them thick & shiny. This essential oil's conditioning and stimulating properties will make your hair softer and silkier after every use.
Soap & Candle Making
Sweet and refreshing aroma of geranium essential oil can be used for making scented candles. You can add a few drops of this essential oil with a carrier oil or your skincare products such as soap bars, lotions, creams, etc.
Geranium Essential Oil Benefits
Anti-allergic
Geranium essential oil contains citronellol compound that can curb allergies and skin irritation. The anti-inflammatory properties of this essential oil make it suitable for soothing itching and allergies.
Antiseptic
Geranium essential oil promotes faster recovery due to its antimicrobial properties. The antiseptic properties of this essential oil make it ideal for healing wounds and preventing getting them a further infection.
Clear Skin
Geranium essential oil exhibits some exfoliating properties. Therefore, it can eliminate dead skin cells and unwanted dirt from your skin. This essential oil gives you clear and blemish-free skin.
Scalp Nourishment
Geranium essential oil improves blood circulation and can be used to balance oil & sebum production. You can massage this oil on your scalp to nourish and relieve the scalp irritation.
Promotes Hair Growth
Geranium essential oil promotes healthy hair growth by enhancing blood circulation to your hair roots. You can add a few drops of this essential oil to your shampoos and hair oils to obtain similar results.
Increase Collagen Production
Maintain the natural softness and smooth texture of your skin. Even after exposing it to harsh sunlight and pollution, you can incorporate geranium essential oil into your skincare regime.
Product Specifications
| | |
| --- | --- |
| Botanical Name: | Pelargonium Graveolens |
| Family Name: | Geraniaceae |
| INCI : | Pelargonium graveolens flower oil |
| CAS#: | 8000-46-2 |
| Country of Origin: | India |
| F.E.M.A #: | 2508 |
| Specific Gravity: | 0.892 - 0.894 @ 20°C |
| Optical Rotation: | -14 to -6 |
| Refractive Index: | 1.51800 - 1.52000 @ 20°C |
| Flash Point: | >64° C |
| Origin of part used: | Flower, Stem & Leaves |
| Form: | Liquid |
| Shelf Life: | 2 years |
| Packaging Type: | As Per Requirement |
| Extraction or Processing Method: | Steam Distillation |
| Solubility: | Soluble In Alcohol and Oil; Insoluble In Water. |
| Color & Odor: | Yellow green & it exhibits a herbaceous, green, and sweet odor. |
| Major Constituents: | Pelargonium Graveolens Leaf Extract |
| Blends with: | Basil, Bergamot, Grapefruit, and Cedarwood essential oils |
| COA: | |
| MSDS: | |
CAUTION: It is meant for external purposes. Keep it away from the reach of your kids and avoid direct contact with eyes
Packaging Sizes
Please Note: The packaging shown above is a General Representation of the various sizes and types of packaging available for this product. Not all sizes and types of packaging for this product maybe available at all times.
Buy Geranium Essential Oil Online In UK at Best Price
VedaOils is one of the leading wholesale suppliers, manufacturer and exporter of best Geranium Essential Oil in United Kingdom. We offer the Purest Forms of Essential Oils to our customers. No chemicals, additives, or fillers are added to them. They also do not contain any artificial colours, preservatives, and fragrances. Therefore, they prove to be ideal for daily use. Though entirely natural, you should dilute essential oil before using it for topical application as it is highly concentrated.
We employ numerous tests and quality checks to ensure that only Premium Quality Organic Geranium Essential Oil reaches you. The highest quality and packaging standards are employed to deliver desirable results on usage. Also, our portal uses a secure payment gateway to safeguard your transactions. Buy Geranium Essential Oil from VedaOils online according to requirements at the best competitive prices in market.
You can order organic geranium essential oil online for your daily purposes such as dandruff issue, joint pain, hair growth and acne problem. We also export Wholesale Geranium Essential Oil worldwide, including the Australia, Dubai, USA, Canada, etc. We also deliver the products throughout the world using our logistic partners DHL, FedEx BlueDart, India Post, etc. Do not miss this excellent opportunity to buy chemical-free, fresh, and multi-purpose oil from VedaOils. We assure you that you will not regret choosing us!
Frequently Asked Questions
WE NOTICE YOU ARE FROM
US & CANADA LOCATION