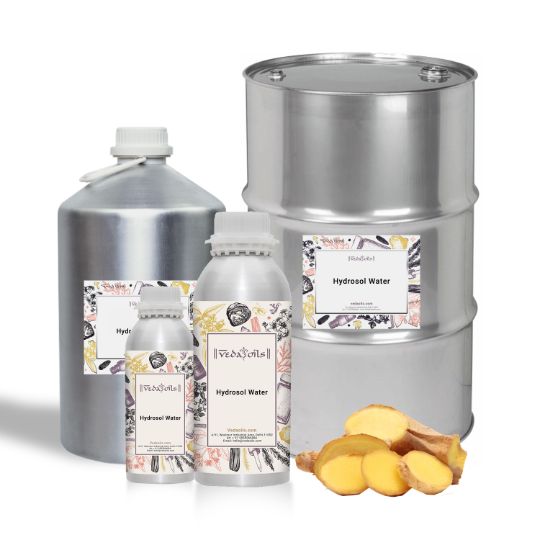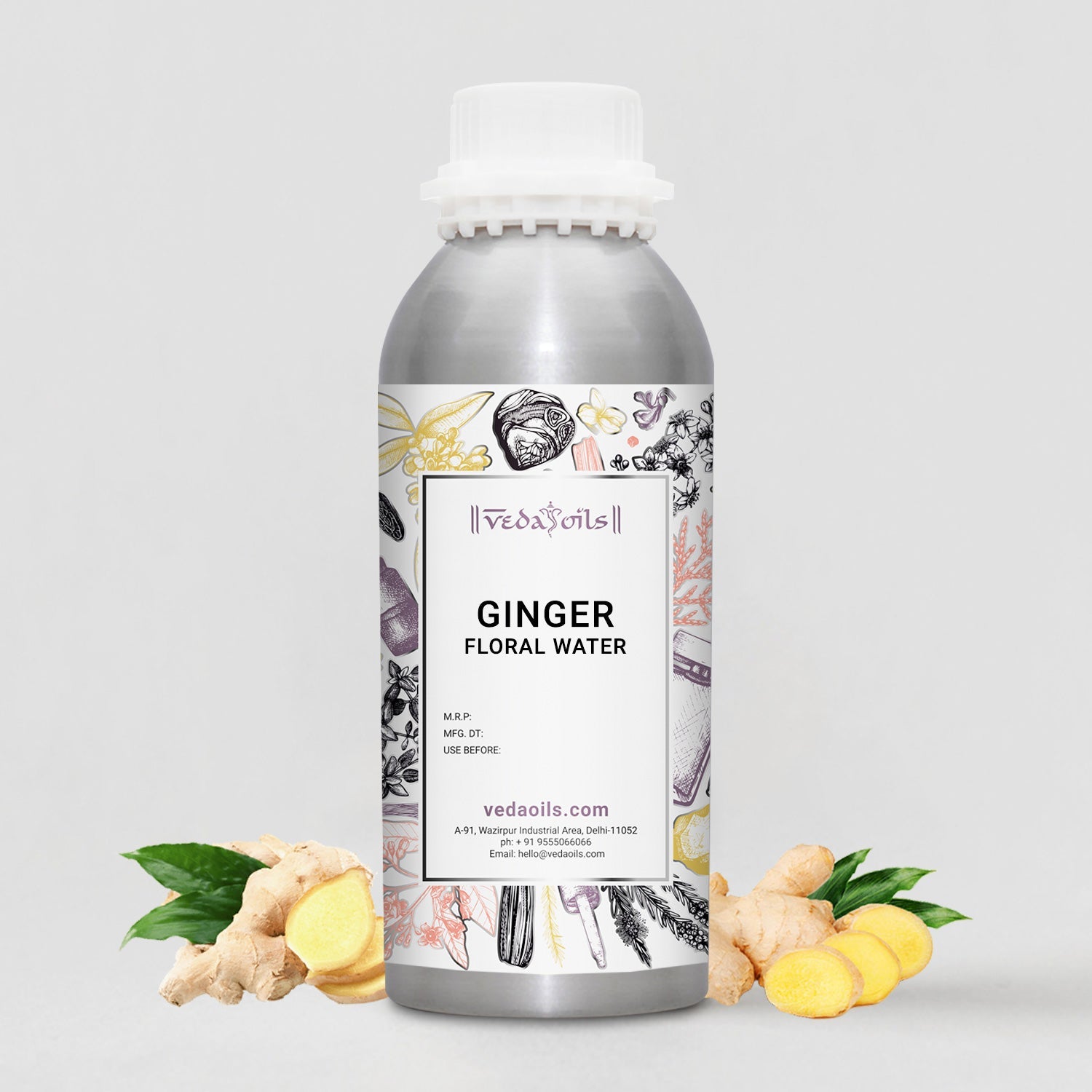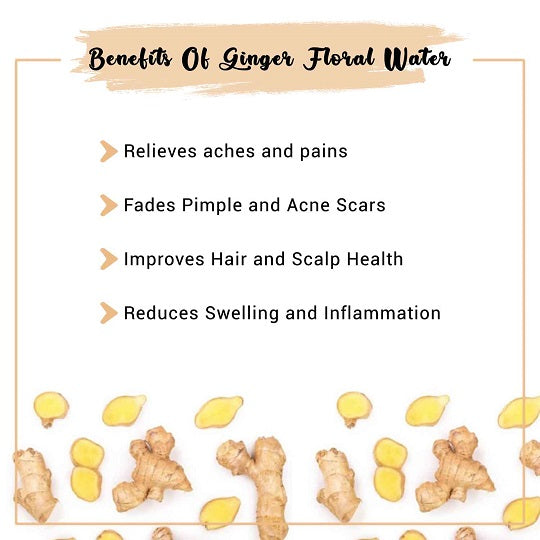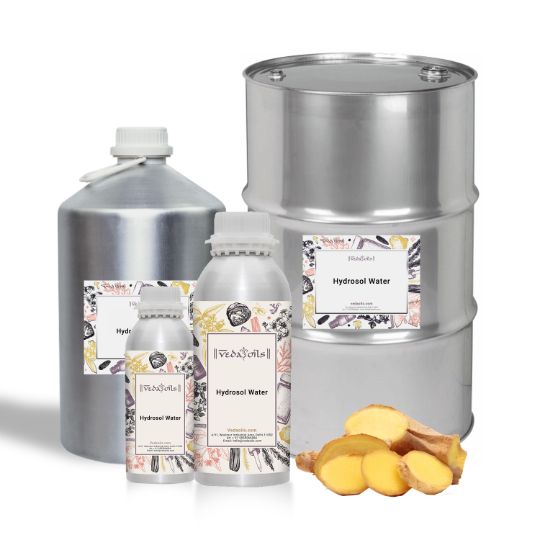 Our Certifications
Ginger Hydrosol
Obtained by steam distillation of fresh roots of ginger, Ginger Floral Water can be identified by its peculiar strong, warm, and zesty aroma. The spicy aroma of this floral water can soothe your cold and cough during winter and seasonal changes. Pure Ginger Hydrosol is known for its powerful anti-inflammatory properties, ideal for treating wounds and joint pain. Our natural Ginger Flower Water is also beneficial for the skin as it detoxifies your body and eliminates unwanted oils and dirt.
Ginger Root Hydrosol is an effective ingredient when it comes to hair care and skincare products. If you suffer from restlessness or lack of energy, you can diffuse Organic Ginger Hydrosol to get instant relief. It gives an even tone to your skin and stimulates hair growth naturally. It can also be used to enhance the aroma of lotions and ointments. The scent of freshly cut gingers will have an invigorating effect on your mood and senses.
Ginger Floral Water Uses
Pain Relieving Lotions
Ginger Hydrosol is often added in pain-relieving lotions and creams. Due to its warming and desensitizing effects, it reduces joint pain and makes you feel better. You may use it to relieve headaches and muscle strains owing to its analgesic properties.
Hair Growth Formulas
Ginger Floral Water stimulates blood flow to the hair roots. This increases the overall strength of your hair follicles. Its soothing effect on the scalp and hair enables it to enhance hair growth. Therefore, it is widely incorporated in hair growth formulas.
Face Toners
Ginger Flower Water can act as a natural face toner when applied. It prevents facial muscles from becoming loose and also restores the natural radiance and texture of your skin. You may even blend it with essential oils and other floral waters to maximize its usefulness.
Aromatic Bath
People often suffer from body pain, fatigue due to excessive work and other issues related to our body. By adding a few drops of pure ginger root hydrosol to the bathwater, they can enjoy a relaxing and rejuvenating bathing experience that will banish all the pain away.
Linen & Room Sprays
Eliminate foul odor from the fabrics like bedding accessories, you can sprinkle some ginger hydrosol. Diffuse it to remove bacteria, viruses, and other germs from the air. It is useful for creating a friendly and cozy ambiance during the cold winter season.
Perfume Blends
Add our natural ginger hydrosol to perfume blends to add a zesty or spice note to them. It is excellent for making DIY perfumes, colognes, and body sprays. It will keep the foul smell emanating from dust and sweat particles in check to keep you fresh for the day.
Ginger Flower Water Benefits
Healing Wounds
Ginger Hydrosol is beneficial for healing wounds. Its disinfectant properties make it excellent for cleansing wounds, and its anti-inflammatory effects make sure that the healing process is rapid. Due to its antiseptic and antibacterial properties will prevent the wounds from becoming septic.
Prevents Dandruff
Powerful cleansing effects of ginger hydrosol can prove to be beneficial for cleansing your hair as well. It exfoliates the dead skin cells and other toxins from your scalp. By improving blood flow in the scalp area, ultimately helps to prevent the formation of dandruff.
Prevents Pimples and Acne
Our natural ginger root hydrosol helps prevent acne and pimples by regulating the oil production in the skin pores. It proves to be excellent for people who have oily skin. Organic Ginger Hydrosol is perfectly and chemical-free, and therefore, it suits all skin types.
Uplifts Mood
Our best Ginger Hydrosol proves to be effective in relaxing your mind. Its invigorating and fresh fragrance uplifts your mood and soothes your senses. Many aromatherapy professionals swear by its properties when it comes to calming thoughts and balancing emotions.
Cleanses Skin
Organic Ginger Hydrosol is an excellent skin cleanser, and it cleanses your skin deeply. It eliminates dirt, grime, sweat, oil, and other toxins from your skin easily. It also makes your skin soft, hygienic, and fresh. Ginger Floral Water is an excellent remedy for dull-looking faces.
Expels Cold and Cough
Ginger Hydrosol can help to break phlegm and provides instant relief from cough when inhaled. It even soothes sore throat and can be effective against chest congestion when added to bath oils. You may also massage it on your chest and neck for getting relief from congestion.
Product Specifications
| | |
| --- | --- |
| Product Name: | Ginger Hydrosol |
| INCI Name: | Zingiber Officinale |
| Raw Material Source: | Fresh Ginger Roots |
| Extraction Process: | Steam Distillation |
| CAS Number: | N/A |
| Country of Origin: | United Kingdom |
| Suitable For: | N/A |
| Solubility: | Water Soluble |
| Color: | Colorless to pale yellow clear with Spicy and rich smell like actual cloves. |
| Storage: | Store in a Cool & Dry place. |
| Shelf Life: | 2 years |
| COA: | |
| MSDS: | |
CAUTION: It is meant for external purposes. Keep it away from the reach of your kids and avoid direct contact with eyes
Packaging Sizes
Please Note: The packaging shown above is a General Representation of the various sizes and types of packaging available for this product. Not all sizes and types of packaging for this product maybe available at all times.
Buy Ginger Hydrosol Online In UK at Low Price
Vedaoils is the largest manufacturer, supplier, wholesaler and seller of Ginger Hydrosol. We promise to indulge you in the freshness and quality of our wide-range products, including our Organic Ginger Flower Water. Vedaoils do not compromise the quality of the products when it concerns your health and beauty. We assure you that we adopt the highest quality standards in production and packaging, delivering the ultimate, premium quality product to you.
We follow strict packaging standards while packing our high-grade Ginger Floral Water so that you can receive them in perfect condition at your doorstep. We offer Vedaoils Pure Distilled Ginger Floral Water in packages of different quantities (1kg, 5kg, 10kg, 25kg) to order them as per your needs from our website. We aim to provide you with the finest of the goods, giving you the richness and the goodness of purely natural ingredients.
You can purchase Vedaoils Ginger Hydrosol from our online store, from the comfort of your home at the most affordable prices and safe payment methods. Our Ginger Flower Water not only caters to your cosmetic and beauty needs but also the preparation of cleaners, room sprays and more. Check out the bulk prices of our products and avail of huge discounts.
Apart from being a fine manufacturer in the United Kingdom market, Vedaoils quickly emerges as a leading producer and exporter of Organic Ginger Hydrosol. Therefore, it does not contain chemicals or artificial preservatives and is an excellent alternative to synthetic fragrances and oils. We export products globally to countries like the USA, Canada, Australia and many more. Our logistics partners like DHL, India Post, Blue Dart, FedEx, etc.
Frequently Asked Questions
WE NOTICE YOU ARE FROM
US & CANADA LOCATION